TikTok is the latest social media platform where you can dub over different voices and songs and create videos and share them with your followers.
Soon after this app was launched, it became viral and was used by thousands of users currently TikTok is a mega social media platform and millions of users are using it every day.
And you can not only make videos but you can also add pictures and videos, compile them together and create a new video as well.
And in this article, I will tell you how to do that. So stick around till the end of the article to find out how to do that.
How to Make a cool TikTok with pictures and videos?
Before you begin with these steps. I would recommend you to compile all your pictures and videos that you would like to add to your TikTok in a separate folder. So that it will be easy for you to select them while making a TikTok. Instead of finding them by going back and forth.
Once you have created that separate folder of pictures, simply follow the steps given below to learn how to make a TikTok with pictures and videos easily.
Now go to effects and then go to green screen and tap on the first tab.
Now flip your screen so that your back camera is on use. Now click on + icon in order to select pictures and videos from your device. Make sure that your selected pictures are at least 480x360p.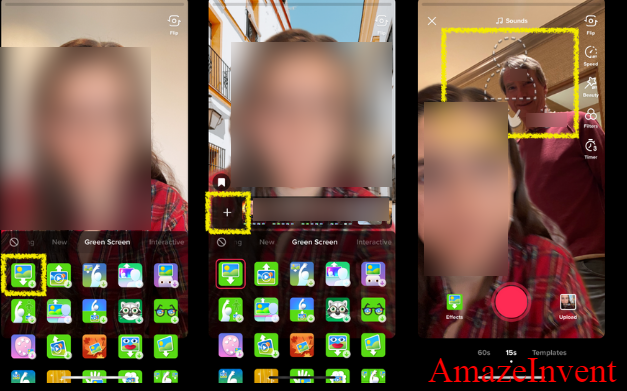 Now click on that red button in order to record your picture. Make sure that you have pressed that red button for at least 3 seconds. Now add all the remaining pictures by the similar tip. By going to the effects and select the image and record it for 3 seconds. Once you are done with all the pictures, click on next and post the video on your TikTok account.
How to Make a TikTok slideshow?
If the above-mentioned seems a bit tricky to you. Then there is another tip to make a TikTok with your pictures and videos.
Follow the given steps to learn how to do that.
Open your TikTok app and click on that + icon to create a TikTok.
Now click on upload on the right side of the red button.
Now select all the images and videos you would like to add to your TikTok from under the image folder.
Now click on next and add the relevant effects, texts and music of your choice.
Now select whether you want a vertical or horizontal slide transition and then click on next.
And now upload your TikTok on your account for your followers to enjoy.
Conclusion
These are the two tips through which you can make TikTok with pictures and videos.