Last Updated on June 22, 2020 by admin
Choose our Best Budget Action Camera that can capture your best action sports moments without having to spend a fortune.
I should tell you than an action camera can be a greater option to invest some money on just because of a few reasons which you might also consider.
The first reason is that these action cameras tend to be more rugged, strong, and much more waterproof than most of the smartphones. This means that you can take these action cameras easily into places where you would feel a little afraid to take your iPhone or Android smartphone.
All thanks to the wide accessories we get with these action cameras which allow us to attach these greatly portable action cameras into helmets, surfboards, cars, and other objects as well to record some cool and great videos.
Some of the latest models of these action cameras like from GoPro also offer us polished shooting modes like HyperLapses, which are moving time-lapses.
And in case if you talk about or consider buying GoPro Max, you get an option to shoot a 360-degree video which later allows you to choose the position from where the camera should be looking during a particular scene after you completely shoot it.
If you are familiar with these action cameras, then you would be aware of that whenever somebody talks about action cameras, the very first thing that comes in the mind is the GoPro.
GoPro is the biggest name that comes in the mind because this GoPro is considered as the best of all action cameras until now.
Just because GoPro is the best budget action camera for vlogging right now in the market, most of the people prefer and simply go for this particular action camera only.
I believe that no doubt this GoPro in the market but there are some alternatives available in the market as well, some of them are much cheaper, some of them are smarter and some of them can offer better quality.
But there is no action camera designed which can offer all these three qualities together, this is the only reason that GoPro is still at the top of the line.
There are several other companies/brands which offer other great options of action camera to buy at a lower price consideration than the price tag of Hero 8 Black (GoPro's top of the line model).
8 Best Budget Action Camera 2020
GoPro Hero 8 Black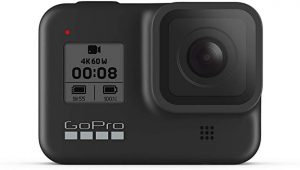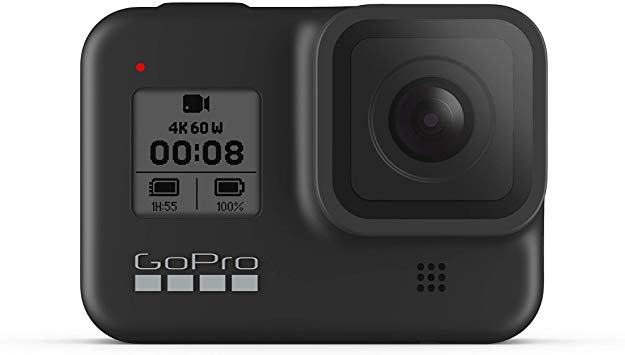 Just as I mentioned earlier that whenever you talk about action cameras, you will see GoPro everywhere for sure. There is no doubt that GoPro has created a sensational action camera in the form of the exceptional and frameless Hero 8 Black. Image source: here
Hero 8 Black was the first-ever action camera to bring HyberSmooth 2.0 and TimeWarp 2.0 in the party, as well as some greatly enhanced functionality.
GoPro Hero 8 Black has a lot of easy to use presets for you if you are into the enhanced level of action photography, regardless of whether if you are a beginner and new to this action camera photography or you are more experienced with this stuff.
I should not forget to mention that there is a new system of GoPro accessories for this Hero 8 Black which is called GoPro Mods.
The clearest and noticeable thing about this GoPro Hero 8 Black new camera is that the design of this device is frameless and fitted with two folding fingers at the base of it.
These magnetic fingers on this GoPro Hero 8 Black lie flat when the device is not in use, but you will have to pop them out to use the camera with the amount.
There is no integrated front-facing display on this GoPro Hero 8 Black just like you can find on the DJI Osmo Action (you will read the review of this action camera down below as well).
GoPro Hero 8 Black action camera features four digital lenses for you and this makes this device very simple to select any particular ideal field of view of whatever you want to shoot / record. You can choose between SuperView, Wide, Narrow, and Linear view.
All of this stuff takes out the guesswork off action photography for everyone. In addition to this, there is all new capture presets as well which the GoPro company/brand has created and designed following that you can intuitively select the right setting according to whatever you are recording at that moment.
GoPro Hero 7 Black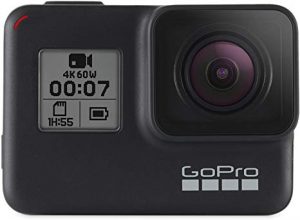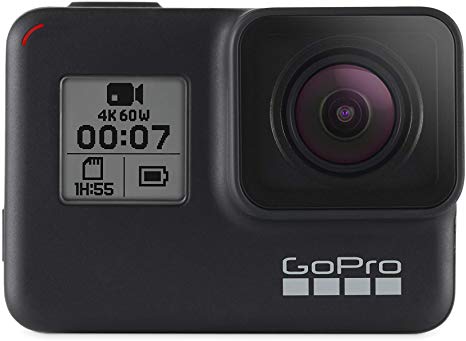 The flagship action camera of GoPro just got even better with this GoPro Hero 7 Black. There is no doubt that this action camera scooper the award of Best Action Camera at the T3 Awards of 2019. You will receive a bevy of updates and refinements on this GoPro Hero 7 Black.
Though it has been a long time, still this GoPro has remained truly unchallenged in this arena of action cameras. There is no doubt about the fact that now the drown king DJI has come back along and royally has put pay on that free sovereignty and time in power. AmazeInvent
This GoPro action camera comes downs to what kind of pursuits you normally record, and whether the look and feel of a camera, as well as the capability of live streaming and last but not the least, great functionality of the application, are very important for you.
If all of these are available, then you are just at the very right place with your Hero 7 Black.
This GoPro Hero 7 Black is waterproof down to 10 meters deep on its own, and you can expand the length to an impressive 30 meters but with an optional GoPro waterproof housing.
Additionally, there is a positive gargantuan amount of compatible mounts and all the extras which work with any of the GoPro action cameras.
One of the best budget action camera for blogging and most favorite features from this GoPro Hero 7 Black is the ability to record video at a frame rate of up to 60 fps, while the image stabilization has been much more improved and refined to the point where you don't need a gimbal any more.
You will see that there is a touchscreen on the rear of this GoPro Hero 7 Black and this touchscreen has also been improved to provide you much smoother gestures.
DJI Osmo Action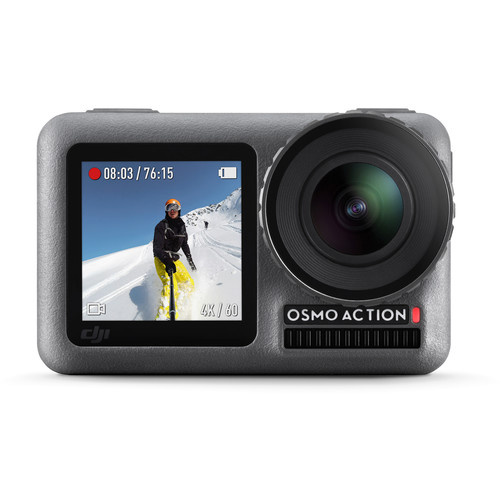 This action camera here is the fiercest competition to GoPro action cameras and it is a solid choice to make for all the bloggers out there reading my article.
There was a time when DJI was royally in power, as DJI has spent the better part of a decade by just dominating the world of aerial shooters, developing exceptional class-leading image stabilization technology and flight control that is intuitive.
This DJI Osmo Action is fractionally bigger and fractionally bigger than the GoPro Hero 7 Black that we have reviewed just before this DJI Osmo Action.
The only thing that is acceptable considering how this DJI Osmo Action is packing and featuring a color front-facing the screen in addition to a touchscreen of 2.25 inches at the backside.
DJI Osmo Action features a great range of control options just like the GoPro, such as voice activation feature.
There are two builds in microphones on this DJI Osmo Action camera, but I recommend you add and use an external microphone to have and enjoy the best audio quality.
There is a slight difference in specifications that are separating this DJI Osmo Action from the GoPro Hero 7 Black.
Also, this DJI Osmo Action is 50 euro cheaper than the Hero 7 Black and it offers a front-facing screen as well, which makes it a super great choice for vloggers to make or any pursuit where you want this action camera to be trained on you and need to see how great you are framed.
DJI Osmo Action is simple to use, it produces exceptional images that benefit all the users from electronic image stabilization that is considered as RockSteady.
SJCAM SJ8 PRO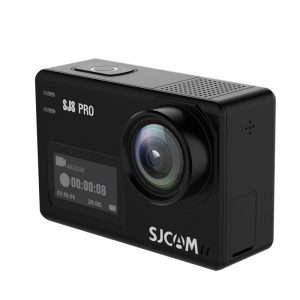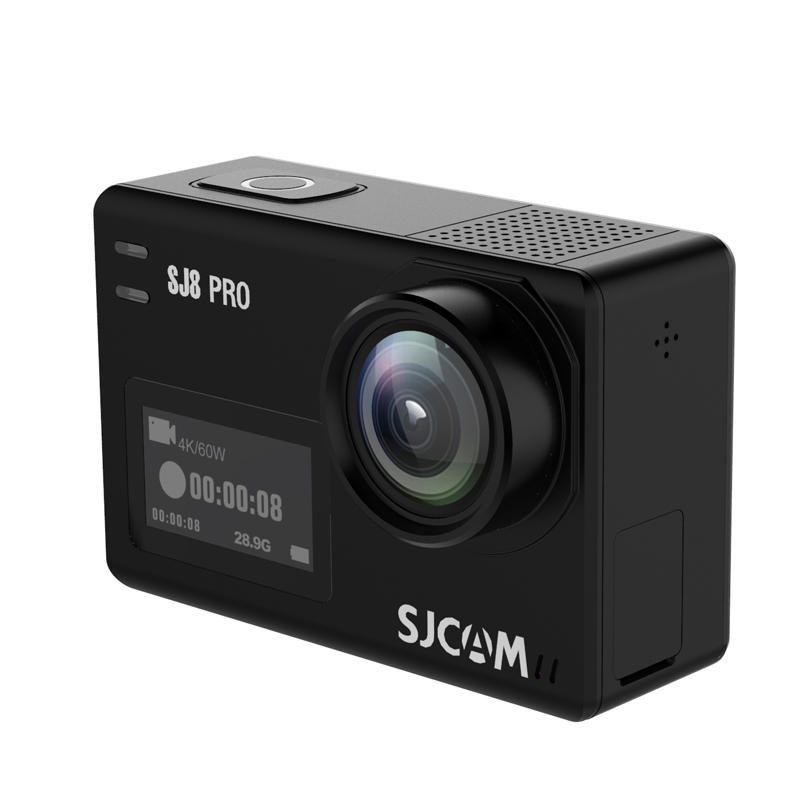 If you are on the hunt for GoPro matching 4K 60 fps resolution at a slice of my number one action camera, the SJ8 Pro is a valuable choice. This is a stealthy cam that offers plenty of other resolution options as well, including 1080p120 and 720p240 for capturing ace slow-motion shots.
With having a clear focus on shooting the best budget action camera for motovlogging quality of video footage which is possible, the SJ8 Pro's lens includes 7 layers of glass for added clarity and reduced distortion, along with a fixed 2.8mm focal length, f2.8 aperture and 170-degree field of view.
It offers a powerful Ambarella H22 S85 chipset and a SONY IMX377 sensor as well.
The top quality of this camera's sleeve is the 8x digital zoom feature, on-hand to capture those extreme action close-ups. To limit it all off, 6 axis image stabilization helps in smoothing out the footage during the bumpiest activities.
The outer back or rear is a 2.33 inch IPS Retina touch screen for a crystal clear playback and tweaking settings.
The SJCAM Zone app (which is available for the operating systems like iOS and Android), is a simple affair, but it makes the post-production and sharing very easy – the footage transfer takes place over a 2.4 GHz or zippy 5 GHz connections.
It may be lacking the voice control and native waterproofing of the GoPro Hero 7 Black (the SJCAM is waterproof only down to 30m once it is situated in the supplied case), but the SJ8 Pro is a great little shooter cam if the video quality is the main need and requirement of your next action camera.
SONY RXO II
The Sony RXO has been long sat in my best action cameras, and now it has been reimagined in the RXO II, a bit touch cam with a super rugged build quality to help it to withstand knocks, bumps, and scrapes during your outdoor shoots, adventures and on everyday use.
The RXO II camera represents a considerable update to the original RXO.
While the overall design is pretty much the same, with striking a new addition which is the 180 degrees tiltable 1.5 inch rear screen. This allows the users to capture some cool angles while avoiding direct sunlight during framing a shot.
Flip the screen 180 degrees upward and you can see there is a monitor for recording vlogs or taking selfies. It is not as effective and neat as the integrated front screen on the DJI Osmo Action, but it is a useful feature.
The RXO II is similar and the same in size, weight, and pretty much the same built to the likes of GoPro and DJI, and you may even prefer or choose Sony's smart ribbed aluminum body – this is tough by the way.
Despite that, it weighs over just a bit touch heavier than both the GoPro (116g) and DJI (124g) at the weight of 132g.
It is also waterproof to 10m, dustproof, crush-proof, and drop-proof as well from 6.5 feet. It is certainly the best budget action camera with an external mic designed for action, even if the reality is less white knuckle and more of a scenic stroll.
Overall, the video is impressive, offering fantastic and great quality sharp images, vivid color reproduction, and wide dynamic range, especially when filming slow or fixed shots. It is also impressively assured that when moving between the light and dark scenes.
GoPro HERO 5 BLACK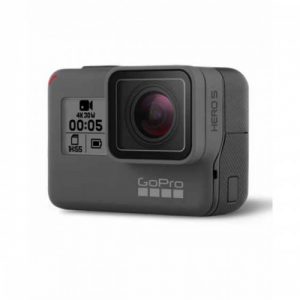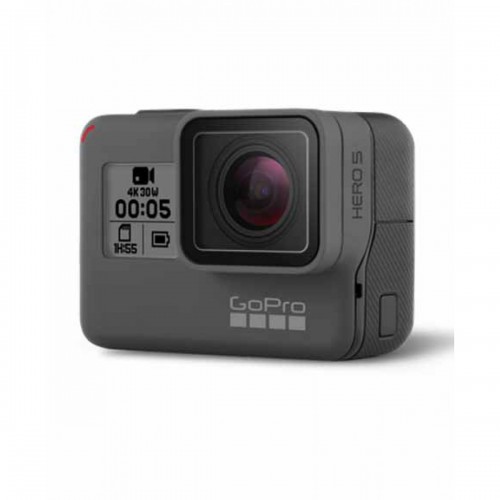 Like the GoPro Hero 7 Black is the current star in the GoPro's line up, the Hero 5 Black still got its way in our best action camera line up because it offers a decent amount of features which are at an affordable price.
Surfers, stand up paddle boarders and those of you who are into snorkeling will surely enjoy getting this tried and tested action cam, as it is a waterproof cam to 10 meters without a casing. It is just as durable, too, so it can survive up to some pretty brutal scrapes as well, and knocks into during filming.
The video can have recorded up to 4K at 30 fps, and the ca also snap 12 MP stills in RAW format.
The battery life is different depending on what settings you are using the cam, but you can expect to get anywhere between one to three hours of use when full charge.
This GoPro camera features a two-inch touchscreen on the rear, which makes it changing the settings much easier. The GPS captures your location and the action cam now makes use of video stabilization for nailing those buttery smooth shots.
A more experienced photographer can also investigate and look into the photo settings to alter the white balance, image sharpness, and the ISO.
The settings are accessed via the touchscreen at the back, or by a single press of the shutter button powers the camera and start recording automatically.
As with all the GoPro action cameras, the Hero 5 Black also connects to a smartphone app for remote control, image previews, and video playback, there is also micro USB, micro HDMI ad micro USB port as well.
This action camera almost mounts on anything using the existing system, so you won't have to go out and buy a load of extra accessories while controlling the camera is now easier than ever.
Lone users without a camera operator can now also say the commands, such as "GoPro, take a picture" and "GoPro, shoot burs", to get the camera rolling, it is handy, but is not Amazon Echo.
Once the commands have been mastered, the voice activation is successful maybe 70 percent of the time. One place it does not work is when you are speeding along the open road.
YI 4K+ Action Camera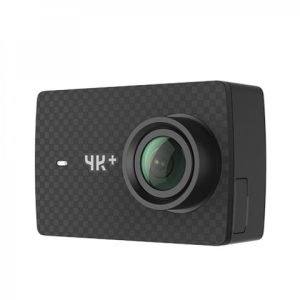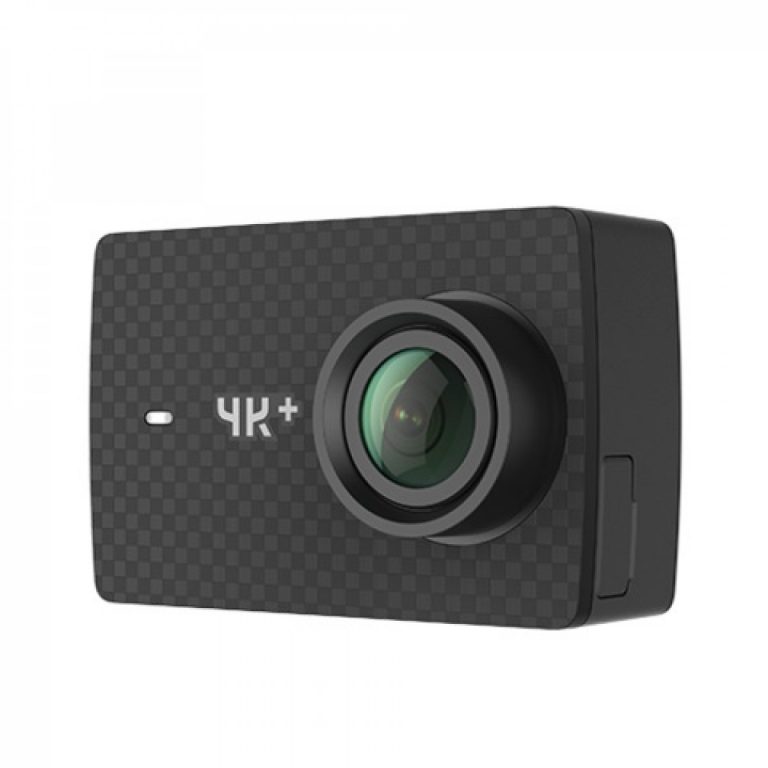 This device here is a well-rounded action camera that just won't break the bank.
If you are one of those people who admire and like the look and feel of the best GoPro action cameras but do not have quite the budget and lifestyle to afford one, then there are a few options that are very lookalike and this is one of them.
This YI 4K+ Action Camera is one of the very few lookalikes of GoPro and only this is the one that instantly comes in mind whenever someone talks about the similarity in looks of GoPro best budget action camera for mountain biking.
YI 4K+ Action Camera is a very well featured action camera that can record 4K videos at a great 60 fps. You will see that the video recording is so impressively smooth on this device, but I should mention that it is not as great and impressive as what the GoPro delivers at 4K recording at 30 fps.
This great technology from YI makes a big deal about the voice command function of 4K, but we all know that possibly it can have a little patchy.
The screen of YI 4K+ Action Camera is crisp and very much easy for you to read, this capability comes in handy for using this camera such as viewing and framing in sunlight.
GoPro Fusion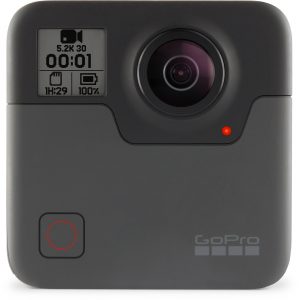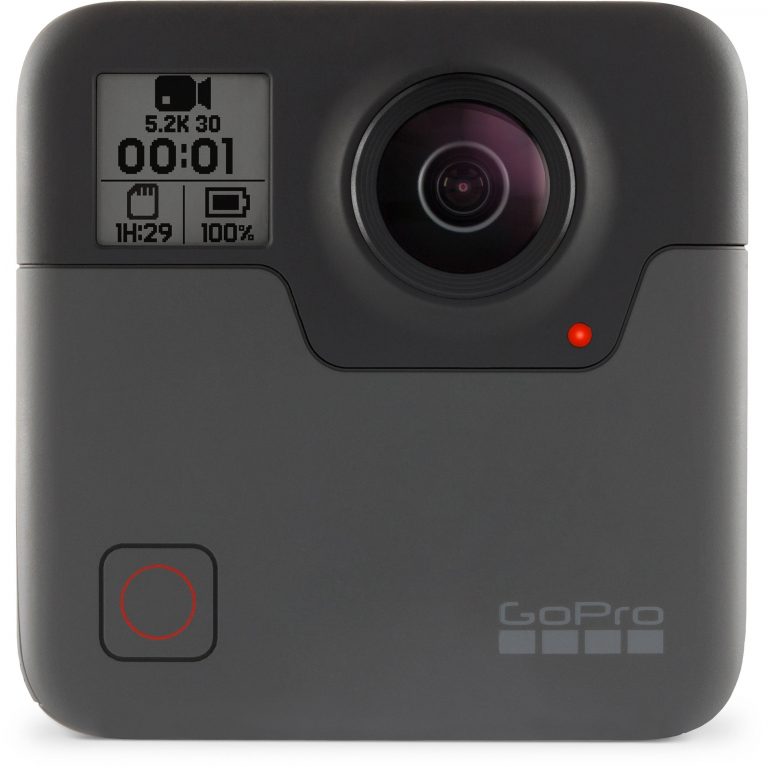 This little thing we are reviewing now is a rugged 360 action camera for capturing the whole picture in one and at once. GoPro Fusion is an action-ready 360-degree camera and there is no doubt that this is a logical next step for this great and exceptional GoPro.
This rugged and strong GoPro Fusion shoots / records an exceptional 5.2K spherical video of up to 30 fps via dual fisheye lenses on the front and back as well.
Settings of this device are accessed via a pair of buttons that are situated on the camera body itself or you can also manage the settings from the GoPro application.
Once you are done with all the settings and ready to roll, there is a single button only to start instant shooting or you can use voice commands for deeper control.
To go for playback, the digitally stabilized footage that is captured from both the lenses on the front and back is stitched together.
Image quality is exceptional and impressive and it is possible to explore every possible corner of the video footage you recorded through the application or with VR goggles as well.
Is there a better action camera than the GoPro?
Everyone looking to buy an action cam should have an eye on the 4K + action camera as it is almost identical and in some ways even better than the GoGo.
Are Cheap Action Cameras Good?
This is seriously good unless you want a motion sensor and GPS. Turning to the question, are cheap action cameras worth it?
The short answer is yes if you just want the best image quality. There's no reason why an action camera shouldn't be able to capture life in amazingly crisp detail today.
Which GoPro 2020 should I buy?
The good news is that there is a GoPro camera for all kinds of thrilling seekers and different budgets.
The T3 Star Rated GoPro Hero 7 Black is at the top of our best Gopro Guide. The range includes the Hero 7 White model for budget action fans and the mid-range 4K30 Totting Silver model.
Is the GoPro Hero 8 worth buying?
One last thing I would recommend the GoPro Hero 8 if you want the best if you talk about the action camera – but if you consider the price of the Osomo action and still need to consider a lot more ۔ Low price of the current Hero 7.