At long last, watches can accomplish something other than monitor time.
Just as similar to smartphones, Samsung is one of the brands that are considered as the very Best Samsung Smartwatches 2021 makers in this whole world and are competing against each other for a very long time.
It is not Samsung's smartwatches, there are other great devices in the market such as the Apple Watch 5, Garmin Fenix 6, and Fitbit Versa 2 as well.
With these types of devices,  the competition is always up in between these great brands.
Samsung has been designing and providing smartwatches since the year 2013, it was the time when it introduced the square-faced Samsung Galaxy Gear in the market.
Not only me and you, but everyone has seen a range of iterations of the wristwear from Samsing over these last seven years.
And not only this but now the company has come into its very own latest series of rebooted wearable devices that are much greater than ever before.
If you are wondering what kind of software is used on these devices, well, the name of the software is Tizen, and this software offers a pretty similar experience to the range of Apple Watches and Wear OS watches as well.
I need to tell you that the support for third-party applications is a little more limited on these smartwatches from Samsung than the watches from other brands.
But some of the very important and big applications such as WhatsApp, Facebook, and Spotify are supported and available on them.
One thing that makes these smartwatches from Samsung better than the Apple Watch, in my opinion, is that, unlike the Apple Watch, you can use these Samsung smartwatches with Android devices, and as well as they can work pretty great with iPhone.
Samsung smartwatches generally offer a much stronger battery life than some of the other brands as well, don't forget a plethora of top-end features.
I know most of you know about the 4G Smartwatches, but to all the people who are new to these, let me tell you what is a 4G Smartwatch.
What is a 4G Smartwatch?
Some smartwatch models come with 4G internet connectivity, which is also known as LTE.
This connectivity allows your smartwatch to access the internet when you don't have your phone together with you.
This LTE internet connectivity can be very useful for you in a lot of scenarios.
Just think about how you may run out somewhere without carrying your phone together.
But still have this smartwatch on your wrist so you can get connected to the internet and help yourself with daily life necessities and can also get connected to your loved ones.
10 Best Samsung Smartwatches 2023 You Must Keep One
So far, there are only some of the models of smartwatches from Samsung that include this feature of 4G LTE internet connectivity.
Samsung Galaxy Watch 46 mm (Silver)
This is a watch which you are going to fall in love with. It pairs flawlessly with your Samsung Smartphone. Image source: here
This smartwatch does everything which other smartwatches cannot do and it is much more than that.
Some of the models are not so cellular though they allow you to make calls or text if you are within the range of Bluetooth.
The battery of this watch can last for days which is way better than the other smartwatches from other brands. And this is not all. The health app of this version's watch is one of the best Samsung smartwatch apps.
It is going to help you live a stronger and much smarter life. The key reason is that it puts together all the information in a single location for ease of access.
Moreover, it supports Samsung pay which allows you to pay for your snacks or drinks when you have forgotten and left your wallet at your home.
Key Features
With this amazing smartwatch at your wrist, you can live a stronger, smarter life. You can take your rest well and stay active with its built-in health tracking and a Bluetooth connection that keeps everything at your wrist.
You can go for days without worrying about its battery can last for days without any charging. The wireless charger lets you power up without slowing it down.
It is available in two different sizes and three different colors, the Galaxy Watch offers you stylish watch faces which are so realistic they hardly look digital.
It can pair with both Android as well as iOS smartphones via Bluetooth connection.
Samsung Galaxy Watch Active2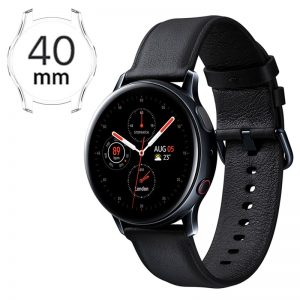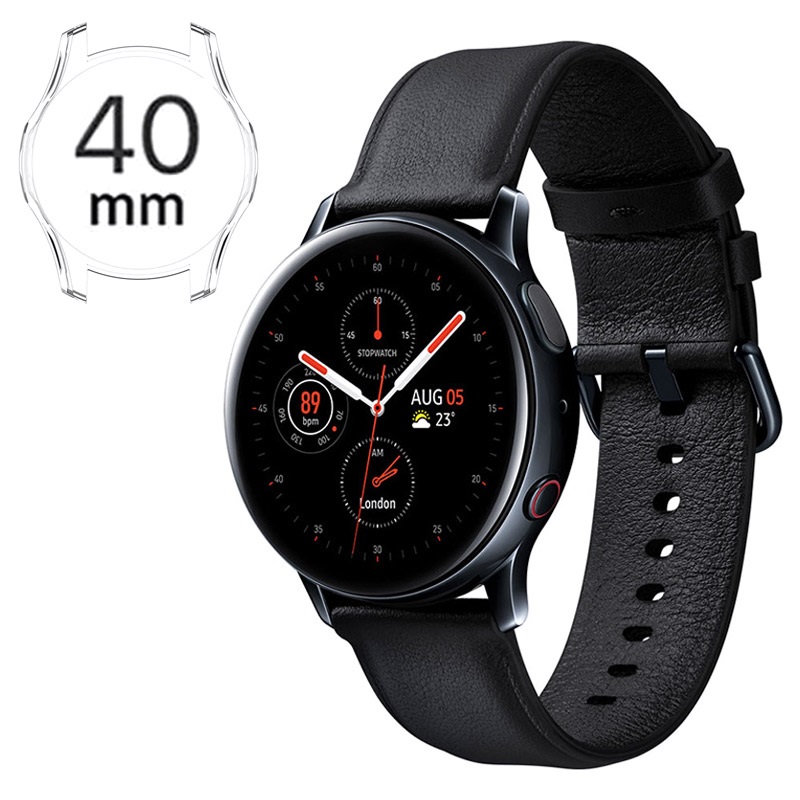 This is a sleek and smooth-looking smartwatch with amazing comfort wearing. This watch does it all single-handedly, it comes in 3 various colors, Aqua Black, Cloud Silver, and Pink Gold.
Not only this, it can tell you the time in a futuristic-looking way,  but it can also automatically track your most popular activities which can be from swimming, cycling or you are also able to add those activities manually.
This Samsung Smartwatch can monitor your stress level and it will help you lower that stress level with its built-in app which is called the Calm app. The sleep tracker in this watch will assist you to get a better approach on how to get a better night's sleep.
This is a watch which not only does that all, but it can change your whole lifestyle and it can make you stick to your healthy lifestyle which will result in making you a better person than you were before.
Key Features
It can help you to approach your fitness goals and get more out of your healthy lifestyle routine all thanks to the built-in pace coaching of this smartwatch. Its advanced sensors can keep your pace to help you in achieving your goals.
It has MP3, M4A, 3GA, AAC, OGG, OGA, WAV, WMA, AMR, AWB audio playing formats.
It is a very comfortable wearing watch with a sleek design and it is very lightweight which makes it very easy to wear. It comes in aluminum or stainless steel and with a variety of faces, brands, and finishes.
Samsung Galaxy Watch 42mm
Samsung has added this great new product to its line of smartwatches. It possesses if A 42 mm black bezel style display that can fit on your wrist perfectly.
Moreover, the device of this smartwatch counts your steps, your heart rate, sleep time, texts, emails as well as it allows you to make your PowerPoint presentations.
This is ideal for critical messages and can be customized to display the alerts which you want to view. It comes with both, small and large extra rubber straps as your wrist needs. You can use a preset clockface or download it online.
This product is a waterproof watch meaning that you can even shower or swim while wearing this amazing watch without having to worry about anything.
You can also install your favorite games to play in between your workouts. This device allows you to choose your specific physical activities to track but it can also auto-track your activities.
Last but not least, this Samsung smartwatch comes with a Samsung pay for online payments as well.
Key Features
It is available in two sizes and 3 colors.
You can use it for days with a single charge and without worrying about charging it again and again.
It can pair with both Android and iOS through a Bluetooth connection. The compatible devices include Samsung smartphone, known Samsung smartphone (Android OS 5.0 or above, RAM 1.5GB or above)
Samsung Gear Sports Smartwatch
The Samsung Gear Sports or S3 has taken the fourth position in this list of wearables for active people in Samsung's line which keeps on growing. The Gear S3 is the biggest and the boldest of the pack.
It also comes with a silver-on-black finish, a large bezel that allows you to receive and pick up your calls or texts and it has textured side buttons as well.
This is a device that stands out from the crowd. In addition to that, it has IP68 water-resistant rating which means that it is waterproof up to 50 meters, it has a Tizen operating system like the previous Samsung watches or fitness trackers, which it helps you make payments.
Key Features
This is a swim-ready watch and it is water-resistant up to 50 meters/5ATM
It can offer you accurate, all-day fitness tracking and an easy calorie entry, and your very own personal coach.
With the Samsung Pay NFC compatibility, you can easily make a payment from your wrist.
It is compatible with Android as well as iOS smartphones. The main display size is 1.2 inches.
Samsung Smart Watch Gear S3 Frontier
Whenever a person is looking for a Samsung smartwatch then this Samsung Galaxy S3 Frontier is surely the most logical option that I would tell you about to go for. It is targeted towards the people who are used to living their life with a more active lifestyle.
This is a military-grade smartwatch from Samsung that is sturdy, water-resistant and yes it withstands any extreme kind of temperature you put it through.
Furthermore, this device comes with a GPS tracker installed in it, a pulsing screen, a water-resistant silicone band, a built-in speaker, a heart rate monitor, action following actions, and an altimeter as well.
There are a few models of this product that accommodate LTE, and if you are thinking that this is all, it is not. This product I am reviewing here can track numerous exercises such as paddling and cycling, these are just to mention a few of them.
There is no doubt about the fact that the Samsung Gear S3 is one great option and is considered perfect to use with smartphones using the Android operating system with a RAM of more than 1.5 GB at least.
Key Features
It has an IP86 water resistance
It has accurate tracking capability
Samsung Pay
Bezel to receive calls, check for updates, make calls and send text messages
Compatible with both Android and iOS devices
Features GPS
Features AMOLED screen
Amazing battery life approximately 4 days
Features heart rate sensor
Features wireless charging
Samsung Gear S2 – Dark Grey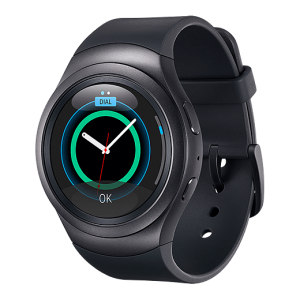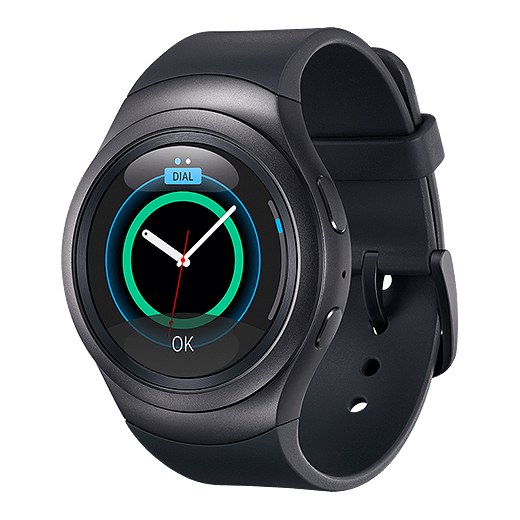 With some top quality, premium finishes, and some elegant curves, this product that I am reviewing right now will surely elevate your lifestyle and turn some heads for you.
The round display on this device and the rotating bezel as well make navigation a breeze for you.
The intuitive interface of it allows all the users to have access to some important notifications and texts, and yes for the updates from your smartphone as well, all of this just in a glance at your wrist, no matter where your smartphone is.
You will see there is an application called S Health in it, this app will help you in tracking your footsteps, your heart rate and it can even remind you of the time when you have to stand up and get active.
You also get an inbuilt wireless charging system that helps all the users to keep this smartwatch of yours powered up all the time so you don't run out of power at an uncertain time.
It doesn't matter whether you are at work, at home, or anywhere else, you can charge this device just by placing it on the wireless charging dock that you get with it.
With all these great and amazing capabilities, impressively sleek appearance, this Samsung Gear S2 will put a wide smile on the face of its users all day long.
Key Features
It has a classic watch style
The ceramic bezel helps for easy navigation
It has a genuine leather band
Provides you access to important text messages, updates, and notifications
Compatible with Android device
Easy wireless charging
Samsung Gear Fit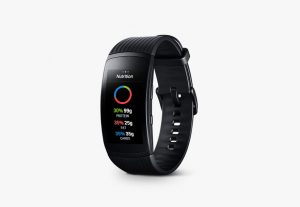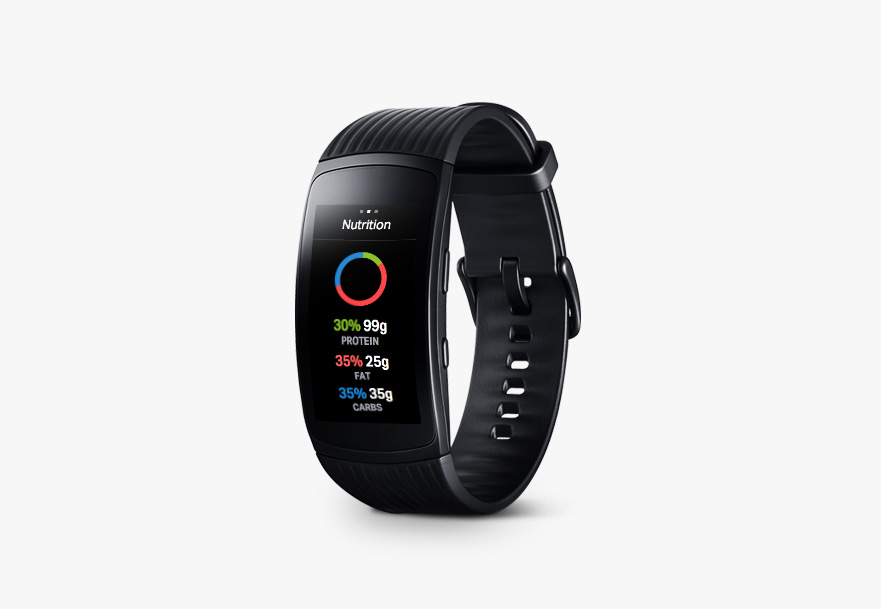 This product that I am reviewing right now works perfectly with almost all of the smartphones from Samsung.
It is another entrant into the crowded wearable category from one of the best Samsung smartwatches for ladies.
This device is designed and introduced in the market to be a great companion to all your smartphones.
It comes with a greatly curved Super AMOLED screen, a personalized fitness motivator, and a lot more great options and features that you will love to have.
If anyone of you is not a serious runner and considering buying this Samsung Gear Fit, then I need to tell you that it literally won't suit your lifestyle.
The main reason behind this statement of mine is that it is designed to be used for general health rather than some particular exercises only.
This smartwatch here is one great and useful accessory for everyone that will help all you guys in tracking your general activity and integrate with your smartphone from Samsung to provide you notifications, alerts, and alarms that you set for yourself.
Key Features
It has an optical heart rate sensor
It has a pedometer
It has an exercise recorder
It has a sleep monitor
It is resistant to dust and water
Great Bluetooth Connectivity
Features S Health application
It is light in weight
Great battery life
The band is one size
It has GPS
Gear S3 Frontier Verizon 4G LTE
Here I have another Samsung Gear S3 Frontier watch on this list of mine and I need to tell you that it is pretty similar to its predecessor.
But the ugly truth about these devices is that both of their specifications are also similar to each other, but the only difference that makes this one different than its predecessor is that you are getting internet connectivity here.
Internet connectivity in this device will allow all the users to play some songs, check their social media accounts, call a ride for themselves, and a lot more things without even using your smartphone for these small purposes.
All the users can easily get their text messages, receive alerts, and even download applications when you have left your smartphone behind in your home and you're outside.
It is designed and introduced to withstand the elements and the active lifestyle you have, this smartwatch stands up to military-grade tests.
It has this great stainless steel case with a great large black rubber band that will look pretty sleek and very attractive whenever you will put it on your wrist.
Key Features
It is scratch-resistant
It has better software than its predecessor
It has 4G connectivity
It is water-resistant
Samsung Pay
It features a round bezel
Compatible with Android and iOS
It features a curved AMOLED display
It features wireless charging
It features a heart rate sensor
42mm International Version Rose Gold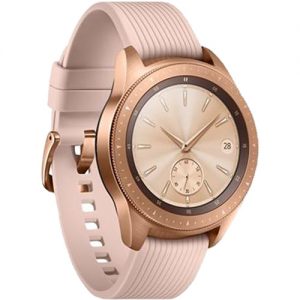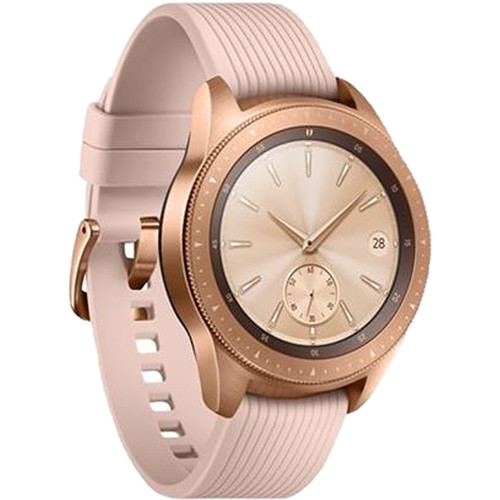 There is no doubt about the fact this is not the greatest one of all the Samsung Galaxy watches out there that you can buy while considering that there are already other watches in this range.
But this is an option for all the people who are hunting for a much more premium smartwatch but don't want to go for the 46 mm Samsung Galaxy Watch.
This timepiece that I am reviewing right now comes with a great high-end design and it really won't burn a hole in your pocket, if you know what I mean.
If you guys are looking for a smartwatch that can elevate your style with some great and impressive fitness features that are all together blended in just to enhance your lifestyle, this is the device you are looking for.
If you are wondering what an international version is, then let me tell you that many manufacturers adapt their products to meet the requirements of a customer or the technical needs of a specific country or region in the world.
Key Features
It features a 1.2 inches AMOLED screen
It features a 1.5 GHz dual-core memory
It features a 360 x 360 processor
Great Bluetooth connectivity
Reliable battery life
It has an Accelerometer
It has a Barometer
It has a Gyro sensor, Light sensor, and HR sensor as well
Easy wireless charging
Samsung Gear Fit 2 Pro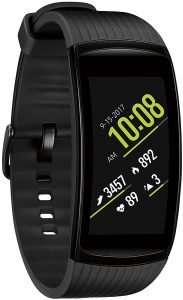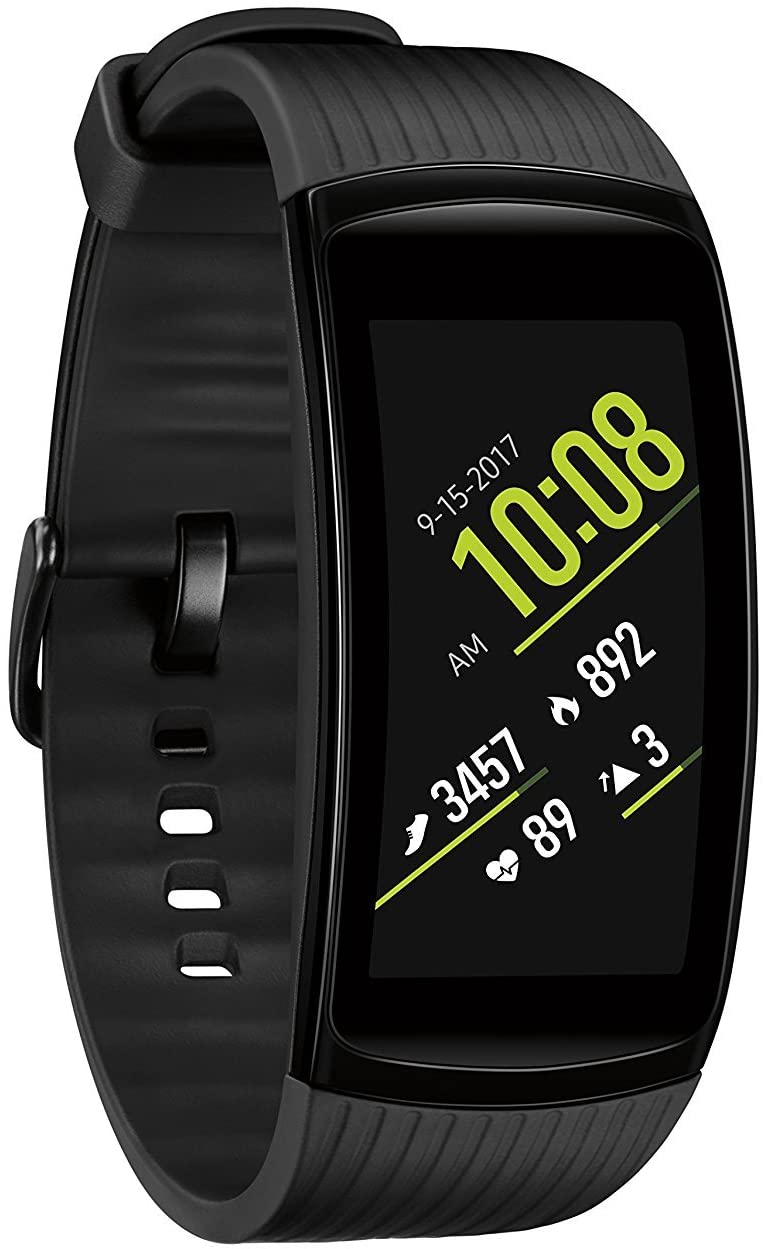 In case you are wondering, I need to tell you that these smartwatches are not reviewed accordingly, they are listed and reviewed randomly.
This Samsung Gear Fit 2 Pro smart fitness band is no doubt an excellent smartwatch to have with you, especially for all the fitness enthusiasts out there.
This is the third time that Samsung has tweaked the design and physique of this smartwatch range and it is all better for it without any doubt.
This timepiece comes along with a great large screen, a music player, a statistics reviewer, internet connectivity capability, and all other features that anyone has even expected from the predecessors of this device.
More visit: AmazeInvent
Key Features
It has a larger screen with 2 options
GPS
It has a Pedometer
It is resistant to dust and water
It has a Barometer
It has a heart rate monitor and sleep monitor
Great Bluetooth connectivity
It has an S Health application
It has one sized band
Reliable battery life
While having a look at these smartwatches, there is no doubt about the fact that smartwatches from Samsung will get much more advanced in these upcoming years for sure.