If you think that wireless earphones are not as good at functioning as the wired ones to this day, then you have underestimated them there.
Back in the early days of wireless earphones, they did have some issues with working. Bluetooth was not considered to be the best option to listen to your music.
They had some connection problems, plus the battery ran out quickly. But now technology has gotten better, the connection and battery life of the earphones have improved a lot.
There are a lot of perks o having wireless earphones, especially because they let you move freely without being restricted and tangled into those wires.
They are quite helpful in sports while running or doing yoga, you can listen to your music. But the advantages are not just limited to listening to music. They have noise-canceling technology, plus their cases also function as a portable charger and a heart rate monitor as well.
Wireless Wonder: Top 10+ Earphones for 2023
Some of these wireless earbuds give you access to the assistants as well. Like Google Assistant Alexa or Siri. Just speak your request and they will be doing it.
Optoma NuForce BE Sport4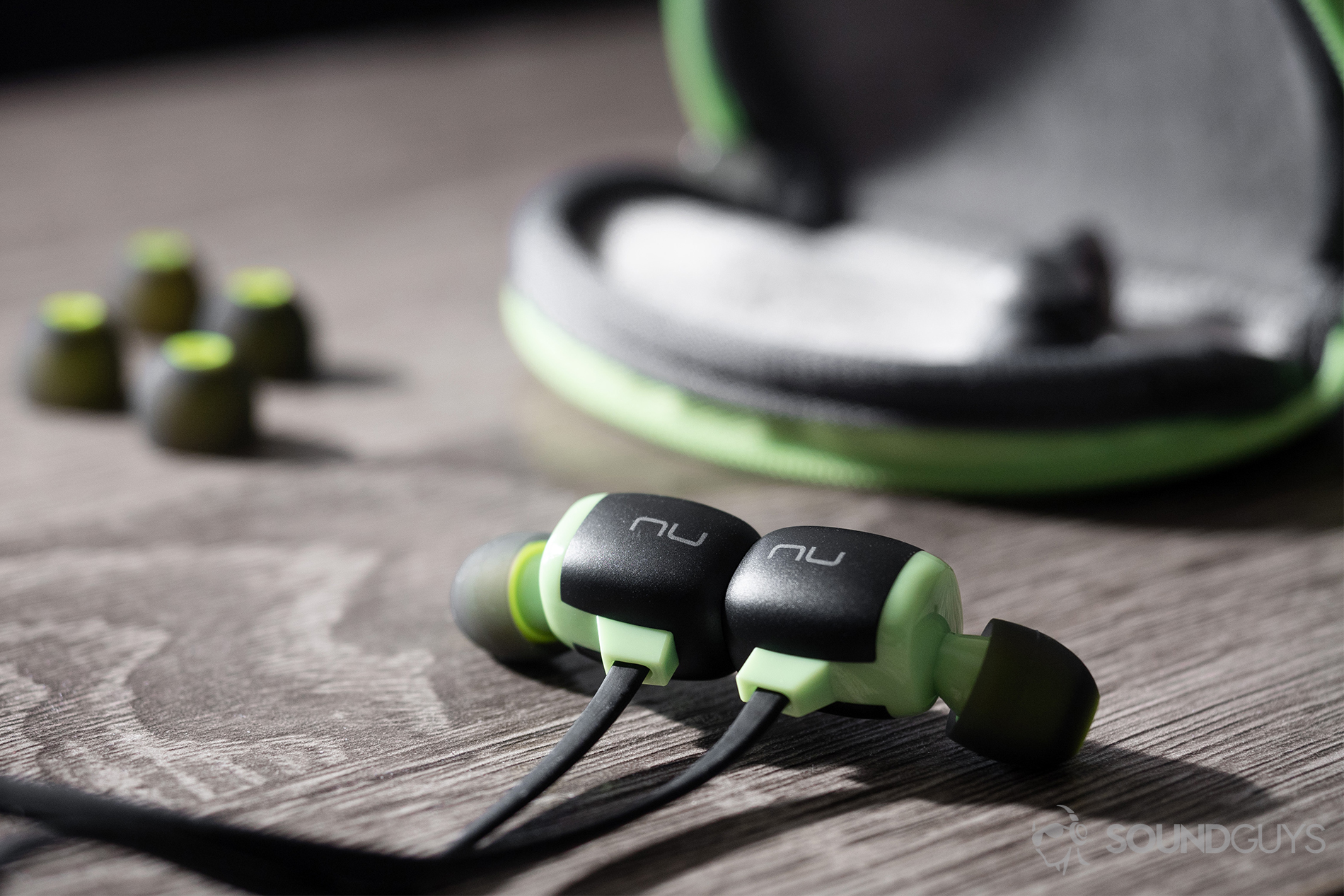 Optoma NuForce BE Sport4 wireless earbuds are that rare find: earbuds that are good for basically all situations, whether you're looking to take them out on a run or just wear them around town.
Glossy black metal is used in their making. The included fittings can be personalized according to what suits your ears and fit in there appropriately.
There are three pairs of silicone ear tips in different sizes, and a generous nine pairs of 'ear wings', help them to be more comfortable and do not drop off even while you are in the exercise session.
NuForce BE Sport 4 earbuds are fundamentally made for vigorous exercise sessions, So they deliver up to the mark.
These earphones do not seem to heat up when used excessively, and they also seem to be immune to the noise, when you are in a public place like a park or the gym. They intend to isolate the noise
Fortunately, it does not isolate the noise like the traffic or stuff so it would not put you in danger. NuForce BE Sport 4 earbuds manufacturers claim to have built a battery life of 10 hours and they also have proved up to the mark.
They work up to two hours just if you charge them for 15 minutes.
If you are listening to music and it starts raining, the good news is that these earphones are sweat and water-resistant. They might not survive a dive in a swimming pool but they will function properly during the rain.
The audio quality, of both the earbuds, is pretty impressive. Plus they are in the affordable range without having to sacrifice and compromise on the audio quality and build of the earbuds.
RHA MA390 Wireless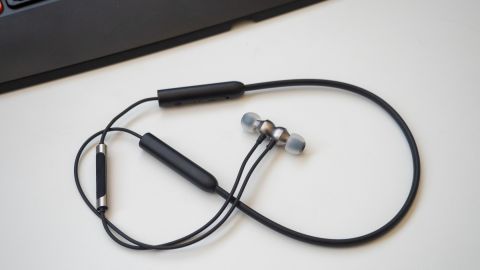 RHA MA390 Wireless is made of solid aluminum metal even the microphone is composed of aluminum metal.
The neckband is fortunately not made up of aluminum instead it is made up of silicone which is of course sweat and water-resistant.
Even the neckband terminates with the plastic at the end of both of its ends, the earphones are still lightweight.
Wireless Earphones design is great for long hours of listening to music even when you are working out, but they do not feature the ear wings to keep the earphones in place so the best wireless earphones with mic.
The RHA MA390 Wireless comes with smaller earbuds so they are more comfortable even when you put them on while you stay sound asleep.
Bass is full and punchy, mids let vocalists shine and the highs are energetic and feature a good amount of resolution thanks to aptX support.
Audio drop-out would not be experienced as is the case with most of the wireless earphones. If you stay close to your phone you will experience literally zero dropouts.
Read more: Top 10 Best Streaming Services
You can continuously listen to them for 7 hours though they claim to have an 8-hour battery life. USB C helps them to charge quickly.
OnePlus Bullets Wireless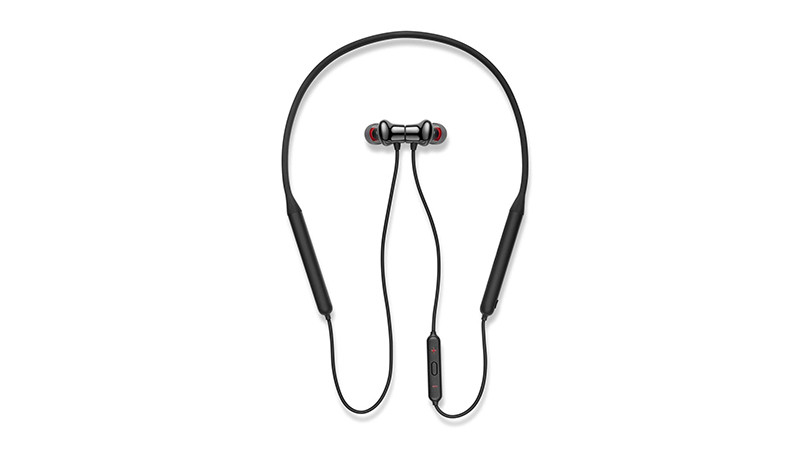 With OnePlus Bullets Wireless you will get long wires and a silicone-made neckband. The neckbands on both wireless headphones also feature very similar layouts with a remote with an integrated mic on the left earbud wire and the earbuds attach magnetically when not in use.
There is another trick to the earphones getting attached magnetically. The earphones automatically turn on while they are detached from each other, and turn off when they stay intact.
While working out, you do not have to worry about the earphones dropping off thanks, to the three ear wings and ear tips.
With the controls, situated on the inline remote, the volume can be adjusted and music can be played back.
The neckband has a turn-on and off button plus a USB C-type port. The earphones work up to 5 hours with just 10 minutes of Dash charging.
The connection is only lost when you move too far from the phone, otherwise, it works fine.
Beat X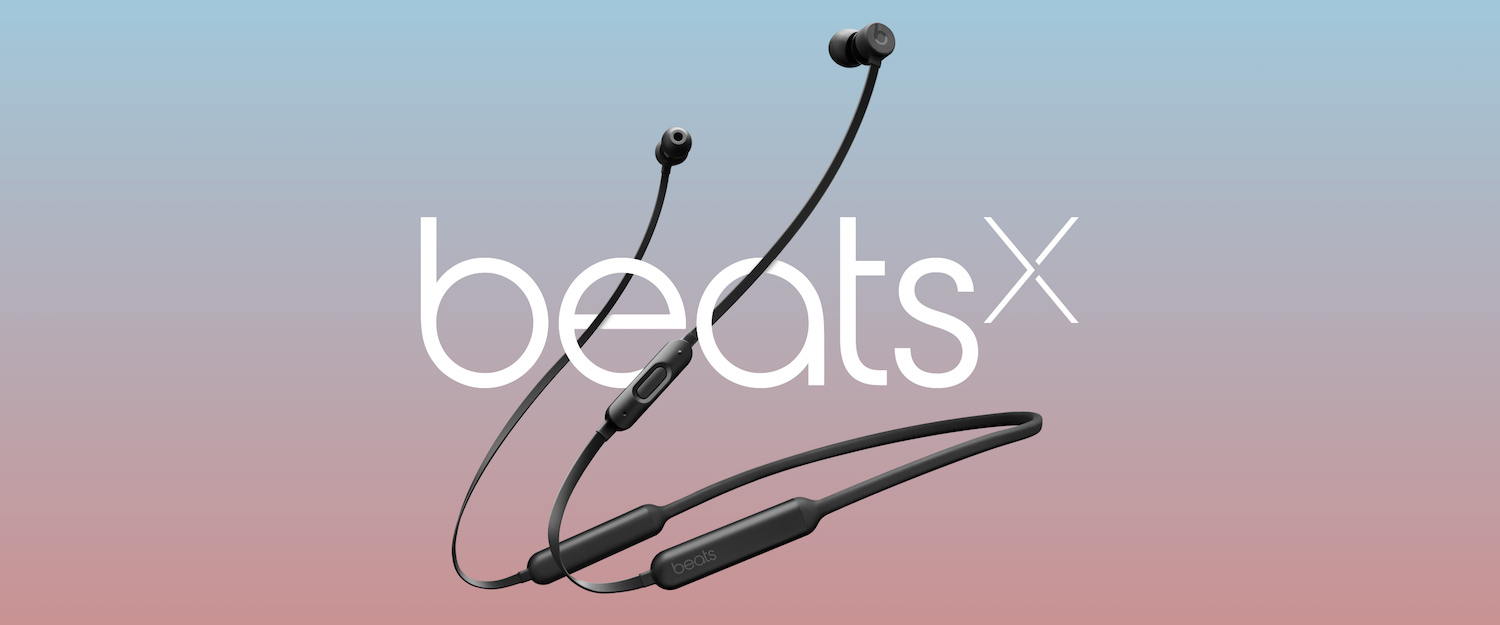 The Beat X earphones are connected to the cable, which you might think is a problem but they are not. They do not put weight on the earphones and cause them to drop off.
Instead, they have a controller for the volume adjustment and skipping tracks, pausing the music, or even rewinding plus the battery, which also allows you to communicate with your smart assistants.
In case you are afraid that your earphones might fall out, Apple gives you four different ear tips and two sets of ear wings.
Though, Beat X is waterproof but not fully. You can still work out while they are on, but taking them into the pool with you might not be a good idea.
To prevent the earbuds from snapping when you are not using them and they are just loosely hanging from the chest, magnets have been put so they connect instead of snapping.
Talking about the bass, you cannot expect tons of bass from Beat X, also the clarity of the audio is not good too. There is just some energy missing.
It also can be used to fire up Siri and calls can also be attended. The earphones can function continuously for up to 8 hours and you can Quick Charge like the best wireless earphones with a mic.
Sony WF-1000XM3 True Wireless Earbuds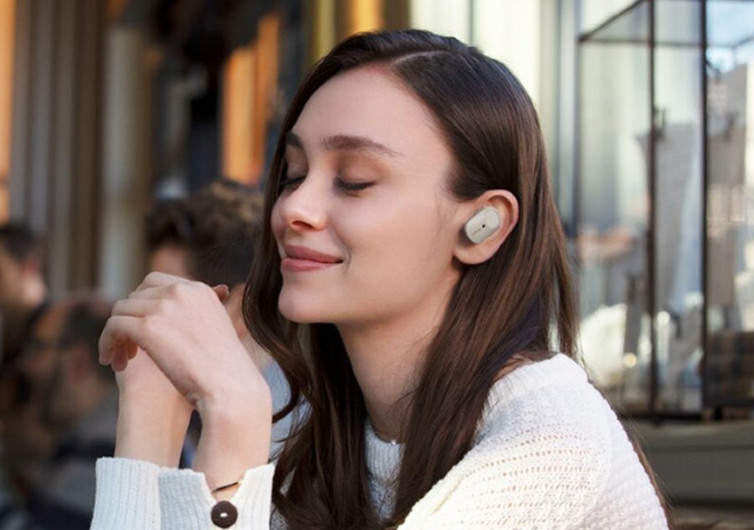 The headphones come in a smart rechargeable case, with an on-trend copper lid, and are held securely in place with magnets. The case itself doubles as a battery pack if you need a rescue recharge when out and about.
To find which earbud fits you best, you have been provided with three types of form and non-slippery rubber earbuds.
When you take one of the earphones out, the music will pause automatically until you place both in your ears.
There is no one bud volume control. The headphones are extremely good at eliminating nearby chatter, thanks to dual noise sensors in each bud.
Bluetooth stability is good and also reduces power consumption. You can also connect only one earbud if you want.
It gives you about 6 hours of battery life and functioning with a complete charge. If you forgo the noise-canceling feature you can save yourself a couple more hours.
Plugin for ten minutes and you'll get another 90 minutes of juice – perfect if you need a quick boost before a flight – and the case charges over USB-C in about three hours.
Bose QuietControl 30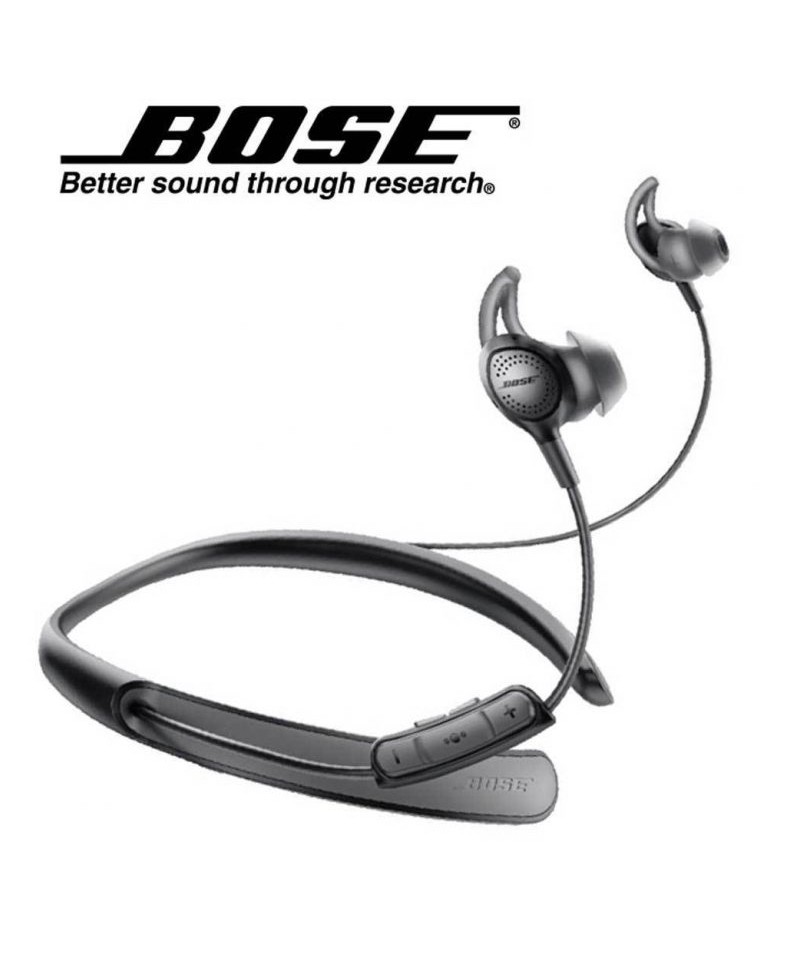 Even though QC 30 falls in the wireless category of earphones, you would be disappointed if you think that they are lightweight like other earphones.
The reason behind Wireless Earphones' weight is the neckband which connects the two earphones and might be considered ugly by some people.
Though all Wireless Earphones' weight, the advantage of Wireless Earphones' neckband is the greater battery capacity, which means the QC 30 has great battery life. Wireless Earphones can go up to 10 hours per charge.
The earbuds feature ear tips so they fit comfortably in your ears. The earbuds come in three standard sizes which are even labeled as small, medium, and large by the company themselves.
The inline control is situated on the neckband and has extra buttons than the standard control, including the level of noise cancellation.
There are also two LED lights present to indicate battery life and Bluetooth connectivity. The noise-canceling feature is quite impressive. What is disappointing is the quality of the sound itself.
The bass and mids are fine but the high notes do not shine up as they should. The quality of the sound is a little muddy and not as clear as was expected from QC 30.
Klipsch T5 True Wireless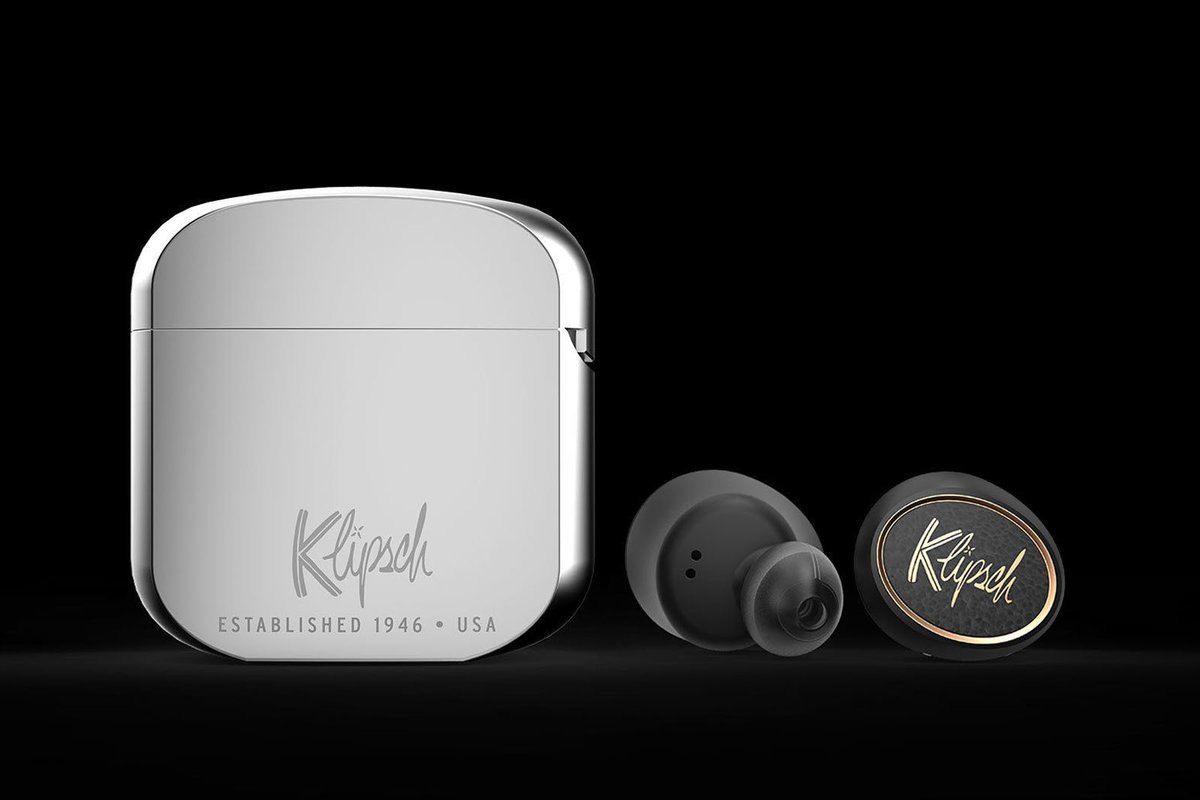 The Klipsch T5 true wireless earphones come in an aluminum case Wireless Earphones serve as a portable charger as well and are in the shape of a lighter.
The earphones are provided with magnets so they do not clash or snap with each other. In terms of features, the charging case features USB-C fast charging and three white LEDs that display the case's capacity.
Only small, medium, and large tips are included in the box by Klipsch so finding the one that suits you the fit would be quite difficult.
The Klipsch T5 True Wireless features the signature Klipsch sound, which is warm, detailed, and never harsh.
Klipsch shines as the acoustic music hits in because the mids are flawless and lush. Every single instrument can be heard clearly because of the great imaging.
Talking about battery life, Klipsch claims to have 8 hours of battery life per charge. Playing music at 50% volume found 7 hours per charge and the case gave three additional charges no problem.
The wireless stability of Klipsch is excellent, with great range and durability as well. Only a few disconnections were experienced over several weeks of testing.
RHA TrueConnect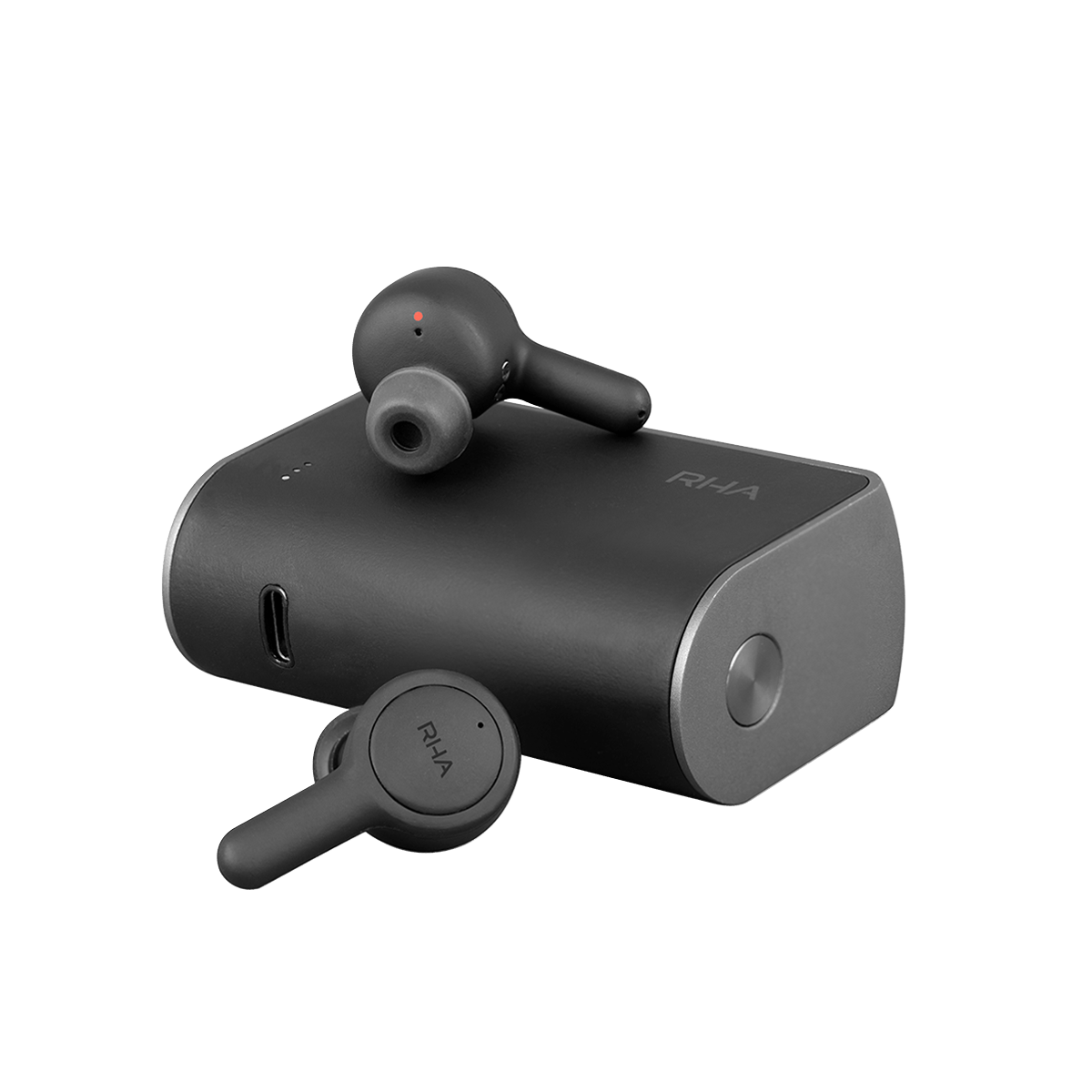 The RHA TrueConnect features an understated design with its matte-black-everything approach. The earbuds and cases are coated in a soft-touch rubber coating, making them feel warm to the touch against our ears.
All of the headphone's controls are activated via the single button on each earbud. You can control play or pause from either side, but only the left controls music playback while the right handles the volume.
If you double click on the right earbud the volume will increase by one step and it will lower on a triple press.
The case of the earphones is made of matte black aluminum and has a USB type C port at the bottom of the case.
Au audio drops out is rarely experienced every single time they are connected to the phone and taken out of the case, even after months of testing.
The quality of the sound in the headphones is quite impressive. Bass is deep without being overbearing, mids are lush with a nice texture, and highs are exciting without sounding sibilant.
The earbuds will provide you with 5 hours of non-stop music with great quality. The case will provide another 2 hours which means you get a total of 5 hours of your favorite music playing in your ears.
Plus it also features the Quick charging feature so you do not have to worry about the charging time because the RHA TrueConnect is something you can rely upon.
Jabra Elite 65t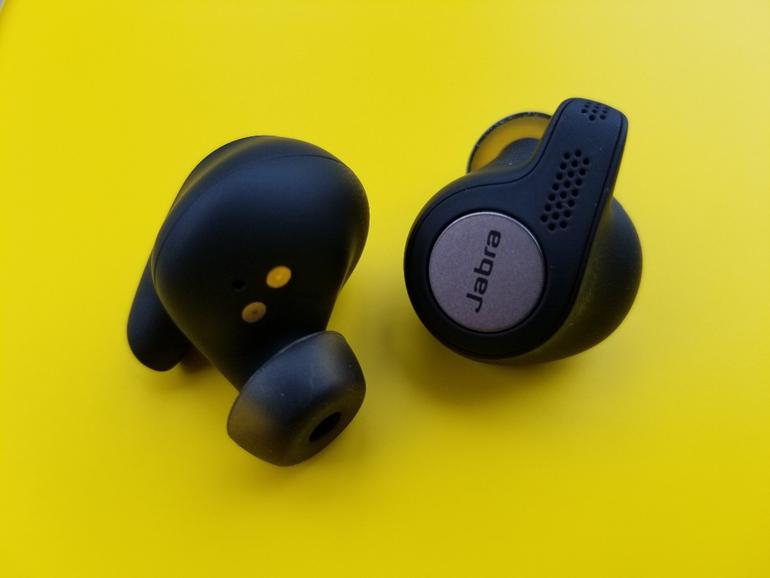 The overall design is not so impressive but can be called mature enough.
The case and the earphones themselves are made of plastic. Fortunately, the earbuds are made up of soft plastic so they are comfortable even when used for an extended period.
The earbuds contain perforations that serve as mics when you have to attend voice calls. Each earbud controls different things. Like the left ear, bud has a rocker to help you adjust the volume, long press will skip or move on to the next track.
The case features a micro USB charging port so in case you run out of battery, all you need to do is put the earphones back in the case and get them charging.
The earbuds do not feature magnets and neither does the case so you have to make sure the earbuds are put correctly inside the case before you close the lid. The earbuds turn on automatically when taken out of the case and turn off when placed back inside.
The headphones connected to our phone immediately and rarely stuttered.
The sound quality, similarly, is excellent – it's balanced with a slightly warm tilt. Wireless Earphones mean bass has a good impact and extension having the best wireless earphones with mic.
Highs are rolled off so the music never sounds harsh and while there's still a good amount of detail in the highs; the 65t lacks the sparkle and resolution of earphones.
They also have a noise cancellation feature. The company claims to give 5 hours of non-stop music per charge but the battery life has seemed to exceed the 5 hour time period when the music is played on medium and low volumes.
If 5 hours isn't enough time, the charging case is good for an additional two charges to give a combined 15 hours of listening. Charging the case is very fast, even without the help of USB-C.
Beats Power Beats Pro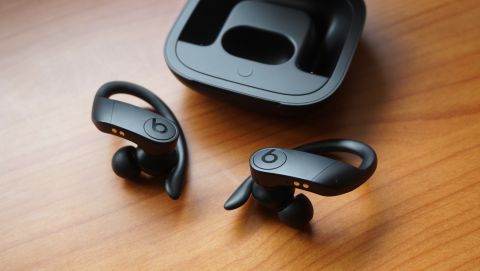 The design of the Beats Power Beats Pro has a sporty touch to it but still is comfortable and practical enough that you can wear it outside the gym as well.
Right where the Beats logo is situated, on each of the earbuds, there is a center playback control button plus a volume rocker as well.
Having a control button on both earphones is cool because you can control either of the earphones. The smart assistant Siri is also enabled on just the work wake and you can tell the assistant whatever you are going to do next.
Whether it is going to be a voice call or a text message or you want to check your emails, just use Siri with a voice command.
The nozzle of earbuds is extremely slim so they fit into your ears comfortably. Beats Power Beats Pro gives you four different options of earbuds though it is smaller than most of the true wireless earphones in the market.
One of the issues with Beats Power Beats Pro is that the case of headphones is just too large to carry that Wireless Earphones can only fit in your gym bag and can not take to the office because it might look a bit awkward.
These can last up to nine hours per charge and two charges can be stored in the case as well. The issue with these earphones could be that they are only splash-resistant.
They might still work while you are sweating but they can not survive a dive in the swimming pool. They are not water-resistant at all.
The overall audio quality is not quite impressive but it is fine. They do not offer the noise cancellation feature so along with the music you will be hearing everything. Unless you fire up the volume to the highest comfortable of yours, so would not hear what is going around you.
Samsung Galaxy Buds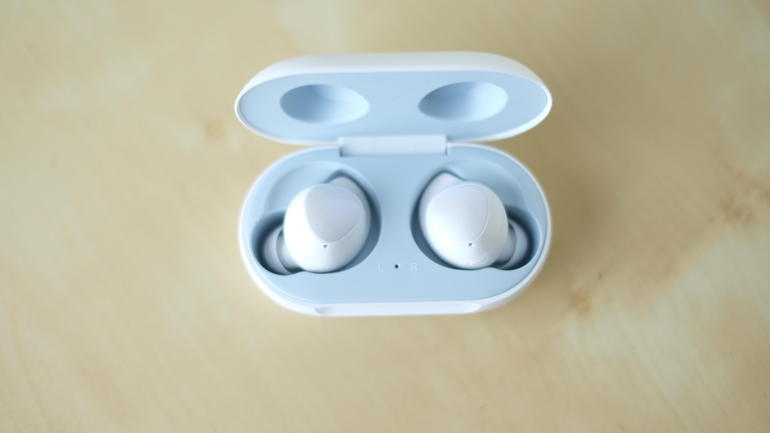 Overall, the Samsung Galaxy Buds look very attractive, with a slick all-white design comprising two earbuds and a charging case.
The earbuds themselves look sleek and compact, with subtle rubber wingtips for a secure fit. You get small, medium, and large wingtips and ear tips in the box, so you should be able to find a combination that fits your ear snugly.
The housing on the buds has touch controls on them, with which you can play/pause your music, skip tracks, answer and end calls, and launch Samsung's voice assistant Bixby on compatible devices.
The case of the earphones is pretty small so Wireless Earphones can fit into your pockets easily. The case has an LED outside which will tell how much battery is left in the case. The LED present inside the case indicates how much battery in the earphones is left.
The USB C charger port is situated at the back of the case, and with the USB cable that comes along with the Galaxy Buds, you can easily charge the case.
The earbuds can last up to six hours per charge along with the additional 7-hour charge provided by the case, you are pretty good to go.
The recent updates of these earphones seem to have no connection problem or Bluetooth dropouts.
The Galaxy Buds shine when it comes to bass frequencies, which becomes even more apparent when you listen to bassy tracks. The overall performance and quality of the audio of Galaxy Buds are quite impressive.
Conclusion
The second thing that is to be questioned about wireless earphones is whether their sound quality is as good as the wired ones or not.
One thing you should think about before buying wireless earphones for yourself is whether you want just a pair of wireless earphones or true wireless ones.
Don't miss out: Tips and Tricks To Store Your Photos Online
The wireless ones, though are powered by a battery but a wire connects both of the earphones and also runs behind your neck like a band.
The true wireless ones are those that have no cords at all. With them, you can easily play your music from feet away, and both the earbuds are not connected as well.
The wireless earphones mentioned above have up to 8 hours of battery like the Samsung Galaxy buds which are true wireless ones.
Some of the earbuds like Beats Power Beats Pro come with a charging case that is too heavy to carry around daily and can only fit in your gym bag.
Other such as Jabra Elite 65t come with a charging case with a USB charging port so you can charge wherever you are if you run out of battery.
These cases also have LED lights that tell you how much battery is left in the case and also in the earphones. The sound quality of the above-mentioned wireless earphones is quite bombastic as some of these function well even when one of them is used.
The earbuds turn off automatically when they are put back in their case which is a very useful feature for people who are somewhat careless about their things.
You can easily play, pause, skip tracks and increase and lower the volume as well by tapping on the right earbud. The only thing you would have to care about is that the tapping should precis.
The earphones also have noise-canceling features that complement the good audio quality.
Your choice will depend on which feature matters to you the most or what feature do you prefer to have the best in your earphones.
For instance, if the battery life matters to you more and you want to have the true wireless ones then you should go for the Samsung Galaxy buds.
But if the sound quality matters to you more and you want to hit the gym while your favorite music is being played in your ears then you should opt for the RHA True Connect, which will suit your sporting nature for sure as there is no compromise on the sound quality as well.