As you know the usage of computer technology is at its peak in this modern time world.
Like a good desk to work on his computer and manage all his files and documents.
There should be enough space on the desk that the user can put his Monitor / LED / LCD, Central Processing Unit (CPU), Keyboard, and Mouse.
The 6 Best Gaming Mouse Pads 2023
A computer mouse requires a good mouse pad to give the best performance it can. And what if you get a mouse pad that doesn't get your wrist in pain? Good, no? Let me tell you one mouse pad that you can buy.
Belkin Wavecrest Gel Mouse Pad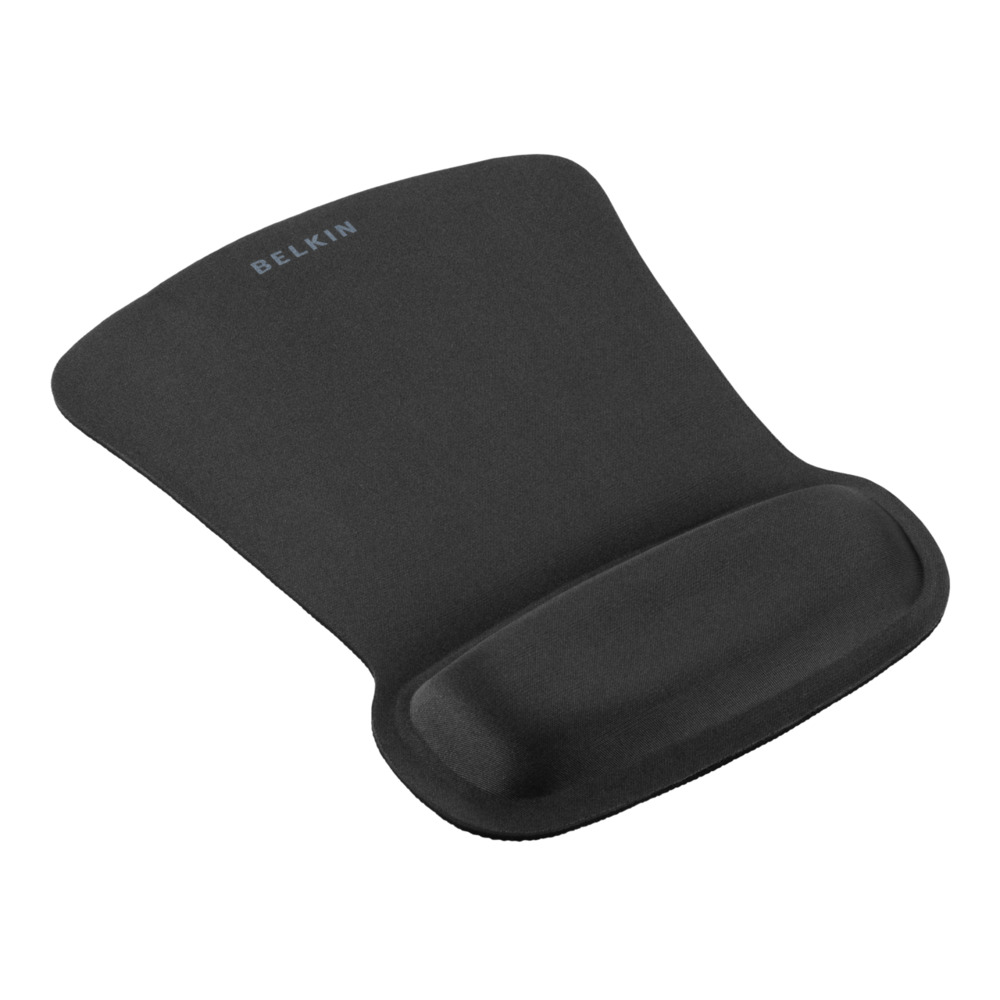 This product is very useful in terms of usage and with aspects of health as well. Image source: here
This mouse pad is made by the Belkin company. This mouse pad lets you use the mouse comfortably. It provides a very smooth tracking surface for you to work your mouse on.
What is good with this is that it has a specially designed ergo support pad for your hand. That makes long periods of surfing on the internet or working on the computer much easier for users like you.
That support on this mouse pad is known as the GelFlex comfort zone. That reduces the stress on the wrist and comforts your hand curves.
No worries if you have a wired mouse, wireless mouse, optical mouse, mechanical mouse, and laser mouse. This product, namely WaveRest Gel Mouse Pad from Belkin is compatible with a wide range of mice. You can choose to buy it in 2 different colors, blue and black.
Features
It creates a more comfortable environment for you to input data comfort.
It is an ergonomic mouse pad that provides offers wrist rest with comfort and support.
This pad has a designed ergo support pad that helps reduce wrist stress.
It has a non-slip rubber base below, that helps the pad to stay firmly in one place.
The surface of this mouse pad is made with durable polyurethane. This provides you with smooth and exceptional training.
It is super lightweight with a durable design that is reliable ensuring years of use.
With these features, this mouse pad is widely being used by people who are using the computer for office work or surfing the internet for long periods every day.
This mouse pad's surface is developed from durable and high-quality polyurethane. Polyurethane helps the surface of this mouse to adjust and maintain its original shape even after being used for years.
And the natural rubber base of this mouse is really good. It keeps the WaveRest Gel Mouse fixed firmly in one place on most of the surfaces you put it on.
Buy this great and useful Belkin WaveRest Gel Mouse Pad and make extended, everyday use of the computer with much ease and comfort now. This item is one to buy and use for your daily life computer usage.
3M Precise Mouse Pad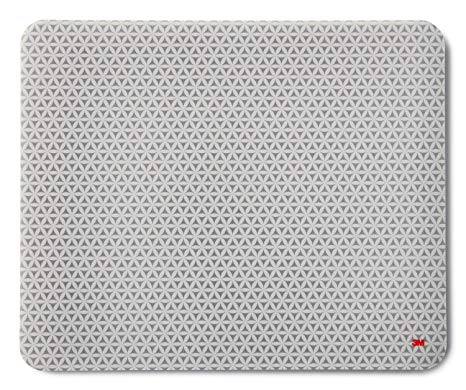 Each and everyone wants to get the most out of their wireless or optical mouse. Do you want the same? People say that good mouse pads enhance the performance of a mouse from zero to 100. Well, yes, that is the truth. I will let you know about a mouse pad that you can buy to enhance your mouse performance easily.
This 3M Precise Mouse Pad has been one of the best mouse pads on the market. By using the 3M Precise Mouse Pad, you can get the most out of your mouse whether it is a wireless mouse or an optical mouse. This mouse pad comes with Battery Saving Design.
If you want to enhance the precision of the optical mouse you are using at super-fast speeds, then the 3M Precise Mouse Pad is the pad you desire. And if you are a wireless mouse user, then this pad will extend the battery life of your wireless mice up to 50%.
It has an ultra-thin pad, the MP200PS. That helps the mouse pad to stay securely positioned on flat surfaces. It is effortless portable, you can store it easily on the back of your notebook or anywhere easily if not in use.
3M Precise Mouse Pad is exceptionally thin. Its dimensions are something like 1/32″, thickness equivalent to five sheets of paper. This one makes it so thin that if your mouse goes off the edge, it won't thunk into the desk and it doesn't need to be lifted up and then back to a mouse pad.
Features:
Specially designed and invented for wireless mice and optical mice.
Razer Firefly Chroma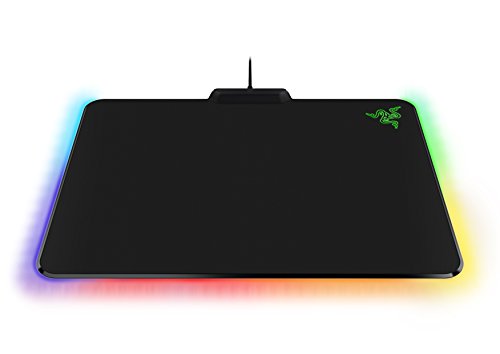 Razer is a well-known global gaming hardware manufacturing company/brand all over the world. It is an eSports and financial services provider as well.
This company began as a subsidiary of Karna LLC in the year 1998. Razer company is considered one of the biggest brands in eSports, today. As well it is considered one of the pioneers of eSports. Karna LLC was created to develop a high-end computer gaming mouse market.
This is an RGB Mouse Mat designed and developed by Razer. This is exclusively designed for gamer buddies out there.
Just in search of the balance between control and speed, this gaming mouse pad namely Razer Firefly Chroma features a cloth surface. That cloth surface on Razer Firefly Chroma gives you pinpoint accuracy and comfort with your mouse and gaming experience.
The brilliantly made surface of this mouse pad is so precise and consistent. Razer Firefly Chroma ensures the movement of any mouse you are using is translated into cursor movement. Action-packed gaming duels will be a hell of fun with this Razer Firefly Chroma in hand.
No matter which gaming mouse you are using, or what sensitivity settings you use. Razer Fly Chroma is designed in such a manner to give you complete control over the mouse and the game also. It is validated by Esports athletes.
This Razer Firefly Chroma has 16.8 million colors and many more different customizable lighting effects. You can discover a whole new level of personalization with this great mouse pad. It has lighting colors on the left, right, and bottom sides of the Razer Firefly Cloth Edition.
Specifications and Features
It has a cloth surface for balanced gameplay.
This mouse pad is optimized for highly responsive tracking and it is a textured weave.
It has customizable lighting effects.
Features an inter-device color synchronization for the users.
This one contains a nonslip rubber base at the bottom. That helps the mouse pad to stay still firmly in one place on a flat surface.
It has Razer Synapse enabled, for the option of Razer Chroma customizable lighting.
USB Connector of Razer Firefly Chroma is GOLD PLATED. Gold plated USB connector is to power up the Razer Chroma customizable lighting.
It is seven-foot-long, very lightweight. And it has a braided fiber cable.
It features a cloth surface for both types of gameplay, control, and speed. This Razer Firefly Chroma is designed and developed to provide uncompromising precision. No matter if you are having the toughest gaming duels.
While you are gaming, your mouse movements can get very intense. Razer Firefly Chroma has an anti-slip rubber base, that helps it to stay fixed to your desk or any surface you have put it on.
These were not all about the Razer Firefly Chroma, but it was enough to let you know what kind of product it is. What do you think is it worth buying? Let me know in the comments.
Belkin Standard Mouse Pad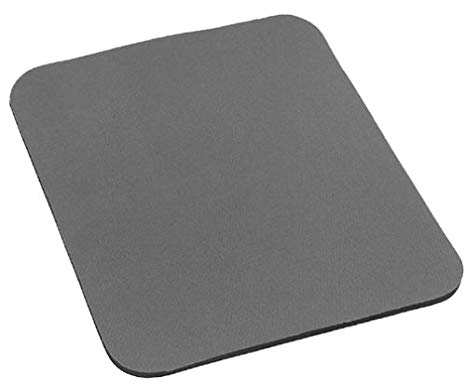 Another great product from Belkin. This mouse pad has really good reviews from users all over the world. People are surprised that at such a low price, it is a really good product to have with you. It is said to be comfortable and good, and it is holding up very well with its users according to its price.
Belkin is known for great products, such as this Standard Mouse Pad, and the WaveRest Gel Mouse Pad from Belkin that I reviewed before.
With this Standard Mouse Pad from Belkin, you enjoy much smoother mouse control than ever. The faster response of your mouse sensor and great accuracy with this great Belkin Standard Mouse Pad.
These have a smooth surface. That ensures smoother mouse control, pinpoint accuracy, fluid, and even performance of your mouse.
This Standard Mouse Pad from Belkin contains a durable jersey surface that provides excellent point and clicks precision.
This surface improves your mouse's tracking. And the neoprene non-slip backing helps to keep the mouse pad firmly static in one place on any surface.
This mouse pad works with any standard mouse you use for your daily use. Available in a variety of colors, you get to choose which one you want to buy.
Features
It has a Spiral shield, that reduces EMI / RFI interference.
24K gold-plated contacts, provide you with maximum conductivity and prevent corrosion.
Neither very big, nor small. It is good and standard in size.
This Standard Mouse Pad invented by Belkin is said to be compatible with all types of mice you use at the home, office, gaming zone, or anywhere.
It is said that even gaming-grade mouses are supportable. Optical gaming mouse, laser gaming mouse, or gaming ball mice, no matter which one you use.
Using your mouse on this Standard Mouse Pad from Belkin will double or maybe triple the performance of your mouse for sure.
After reading all these features of this Standard Mouse Pad from Belkin, what do you think about it? Is it worth a try? I think it is! Go and buy it online and do let me know in the comments how did it help you and how was your experience with this mouse pad.
Corsair Gaming MM600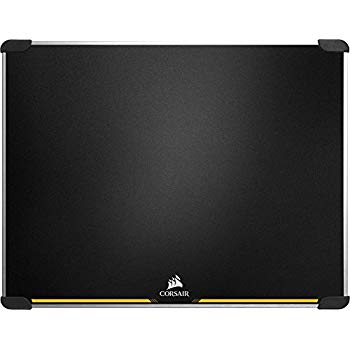 If you are a PC gamer, you will surely want a gaming mouse and keyboard. But the mouse still needs a mat. You could just go with any of the old mousepads, but a good gaming mouse surface will improve your aim and it will be more comfortable to use and much smoother.
These mats come in a variety of sizes and materials, so choosing the one you need can be a little tricky.
Corsair Gaming offers good quality and a variety of gaming mousepads. Their topmost model is the Corsair MM600 Double-Sided Gaming Mouse Mat.
Corsair Gaming MM600 is a hard aluminum mouse mat with two different textured sides. The MM600 is one of the most versatile mouse surfaces to be used.
The MM600's twin high-quality polymer surfaces are made and engineered to help and support two distinct play experiences.
Heavy textured finishes on one side for maximum handling and control. High-speed glide skin on the reversed side. Both sides have supreme accuracy with laser gaming mice.
MM600 is sturdy enough for lap use on the couch or anywhere else. It will not slide around even on a desk, all thanks to the rubber coverings on its corners. The rubber helps to hold the mat in place regardless of whichever side you choose or want to use.
MM600 precision side lacks the gray pattern, but it still features the white Corsair logo and several yellow stripes at the bottom. It is much more classy, it has a more work-oriented appearance.
The precision side has a much more pronounced texture. It feels good on the hands and the texture helps to keep a greater and fine control.
The idea behind two-sided mouse mats such as MM600 is that you get greater and more precise control over your mouse using a single product at a time.
You may prefer one side or the other. Or you can switch sides for different purposes like flipping to speed for gaming and precision for work.
Both of the sides of the Corsair MM600 feel great to use, as they made it versatile and that a single-sided mouse mat could never have or be as versatile as MM600.
Read more: Best Graphing Calculators
The sturdy and rigid aluminum engineering allows you to use this to the mat on a desk, a lap, or a couch.
No matter wherever you put it or use it, it won't bend or interfere with the mouse's movement. In conclusion, the Corsair MM600 is one of the best and most reliable high-quality mouse mats you can buy.
Features:
Corsair MM600 has a sturdy and rigid aluminum core
It is lightweight and durable for consistent glide and it has a long life
It has two unique surfaces. A low friction surface and high handling and control which can have used as an option for any gaming style.
The MM600 has expert grade tracking which is a precision making or engineering which ensures accurate tracking
MM600 has zero slip rubberized corners to make it more stable. It is designed for exceptional grip with minimal interference.
Insten Premium Leather Mouse Pad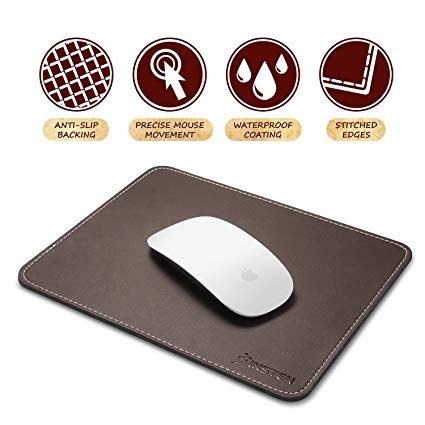 It is a Premium Leather Mouse Pad made by Insten. This Mouse Pad has a waterproof coating that is nonslip and has elegantly stitched edges. Insten Premium Leather Mouse Pad helps your mouse get accurate tracking and click.
This Pad is flexible means you can easily roll it over and keep it anywhere you want. It does not make any sound when a mouse is used upon it.
The Insten Premium Leather Mouse Pad is a durable, lightweight, and easy-to-use mouse pad. This is very nice looking with a rich leather with white stitching along, that is attractive and distinctive.
The laser mouse tracks perfectly on this mouse pad. It is a thicker pad than most of the rubber back mousepads, and it is easy on the hands.
The non-skid baking is nice, and the thick pad softens the edge of the wooden shelf. This thick mouse pad is also very comfortable for wrists and hands. It is a nice mouse pad to get one for yourself because it almost has everything one could ask for.
The smaller pads are good because they hide so well under heavy items. The dimensions of this are spot on which is as advertised.
Sleek Portable Design
If you own a wireless or an optical mouse, then you know that they need a proper surface to work on. Having a proper surface for a mouse will reduce the loss of signal and skipping errors.
Many people encounter that problem and think of it as a problem with the mouse.
It has a remarkably think design that measures up to 7 by 8.5 inches wide and thinks by 0.2 inches only. The bottom side of this pad has a 3M repositionable adhesive feature.
That allows the mouse pad to be securely attached, fastened to, and to be removed from flat surfaces again and again without any problem.
Extends Battery Life of Wireless Mice
Its surface features a unique battery-saving design. By extending the battery by 50%, it helps your wireless mouse battery.
The precise surface of the 3M Precise Mouse Pad enhances the precision of your mouse at fast speeds.
It has a bitmap design.
Measures 7″ x 8.5″, impressive.
It is a foam mouse pad with non-skid backing.
Improved Mouse Performance
Using this mouse pad will surely increase the accuracy of your mouse. As well as the control and responsiveness of your mouse are increased.
This will help you maintain a much more pleasant experience with the computer.
Universal Compatibility
This mouse pad supports and works with any standard mouse you use. That means you do not have to worry about your mouse sensor stopping tracking or being stuck anywhere in between use.
Nonslip Backing
This mouse pad has neoprene non-slip backing. This one backing helps the mouse pad to stay still firmly in one place. You or any other user wouldn't want to use or buy a mouse pad that is constantly sliding around your desk, would you? Exactly, No.
It provides you with excellent point-to-point and clicks accuracy. Key features of Belkin Standard Mouse Pad are "Jersey Surface" and "Nonslip Neoprene Backing".
Non-Slip Back
The anti-skid backing will make your mouse pad sit comfortably and is stable on your desk. The maximum grip which is provided helps in preventing accidents from taking place.
Silky Smooth
The super-smooth surface will make your mouse easily glide across the mouse pad. It helps your mouse get better accuracy with a much more improved and precise mouse movement.
Perfect Design
It also has a waterproof coating that will help your mouse get precise and accurate tracking and will also be very easy to clean.
Premium Look
It has an elegant, stylish, and sophisticated design that will complement a help upgrade your desk space.
Various Colors
This Mouse pad comes in various colors like black, brown, rose gold and black, rose gold white marble, gold white marble, etc.