If you are going to buy a new smartphone there are plenty of chances that you will get to choose between two Operating Systems which are iOS and the second one is Android. Android vs iOS?
These two platforms accounted for 99.7 percent of all new smartphones shipped in 2017, according to IDC, and that percentage rose even higher last year.
Microsoft has thrown in the towel on its Windows Phone, BlackBerry makes Android devices now, and there are very few other options worth considering.
Android vs iOS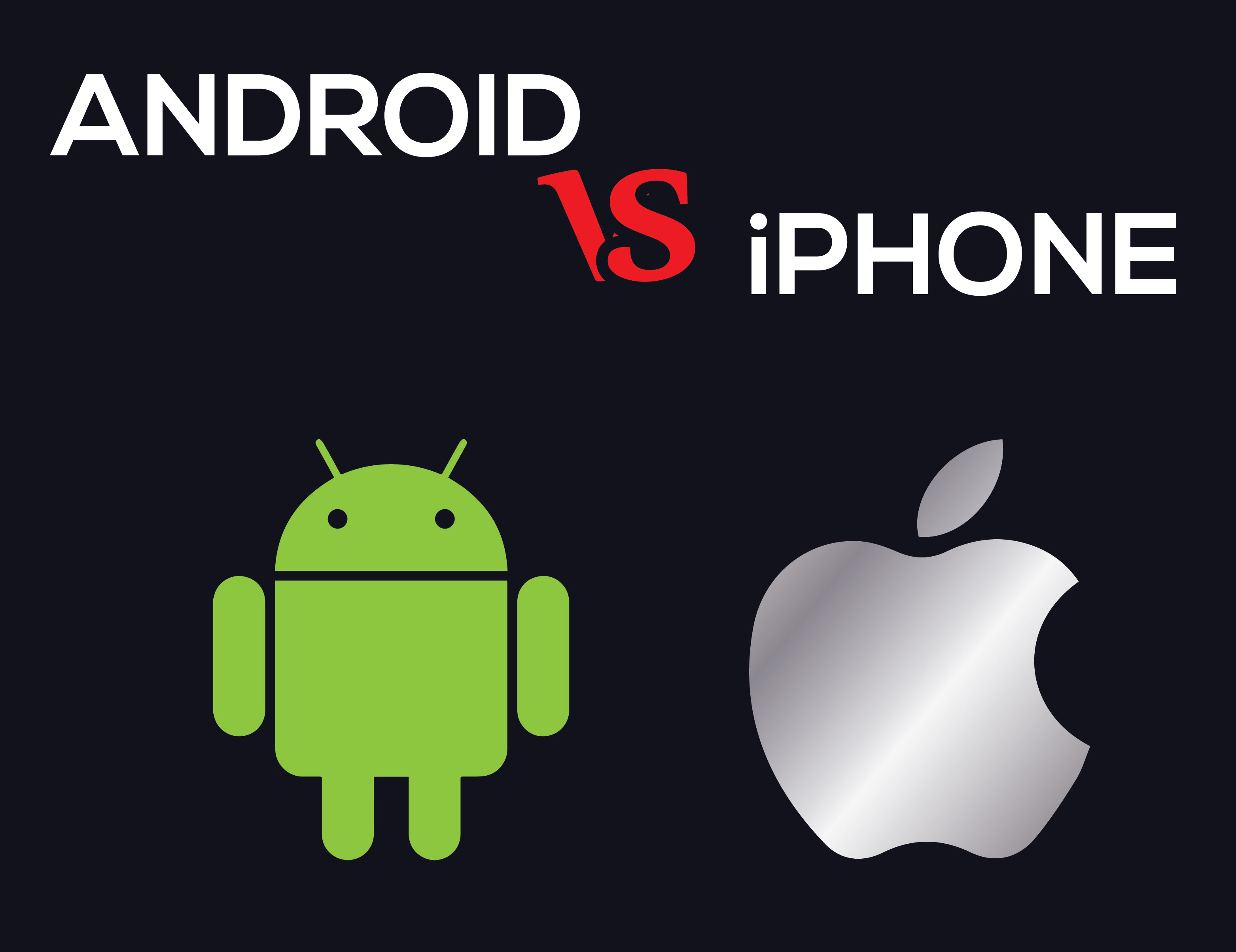 It might be hard to choose between the two and the choice will depend on what you are looking for.
Though both of the Operating systems might look like they are similar they are quite different when it comes down to cost and brand. But both of them offer a great lot of features.
| Android | iOS |
| --- | --- |
| Open source | Closed source |
| Developed by Google | Developed by Apple |
| Available on a wide range of devices from different manufacturers | Exclusive to Apple devices |
| Customizable interface with more flexibility | Uniform interface with less flexibility |
| More affordable options for a variety of budgets | Generally more expensive hardware options |
| More app choices in the Google Play Store | Strict app vetting process with the Apple App Store |
| Built-in Google services, such as Gmail and Google Maps | Built-in Apple services, such as FaceTime and Siri |
| Frequent updates from different manufacturers, lead to potential fragmentation | Consistent updates across all Apple devices |
| Greater variety of file types supported | Limited file type support |
As both, the Operating System is quite good when it comes to performance but they are quite a lot of differences when you take a closer look.
So here we are gonna put Android against iOS that is going to help you decide which phone and Operating System suits you better.
1. Affordability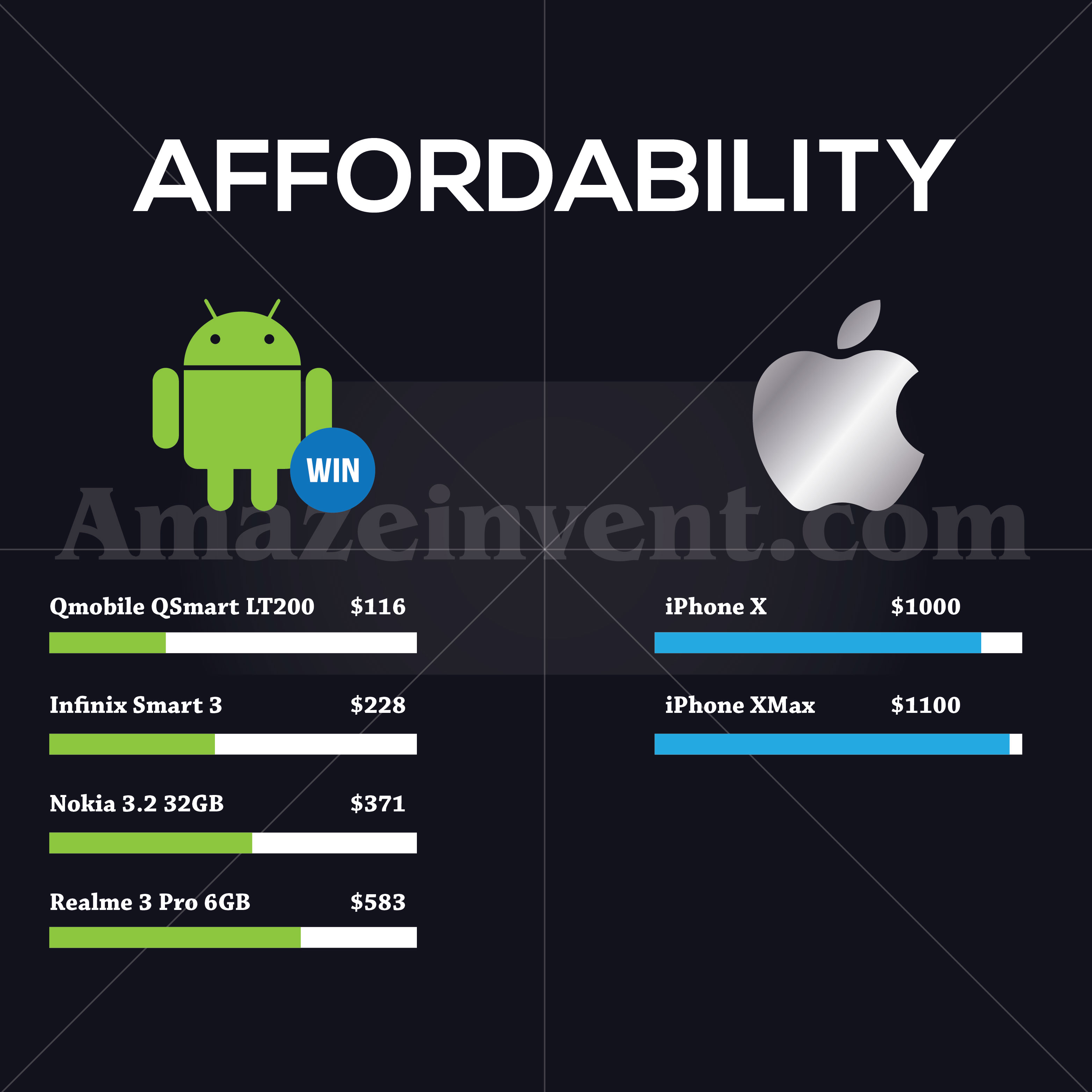 Apple phones have always been on the top-notch when it comes to price and always been out of reach. Take iPhone X which sets a new standard when it comes down to be expensive.
The iPhone X price starts from $1,000 and if you are looking for something more expensive go for iPhone X Max which starts at  $1,100.
If you are looking for something in your budget, you can also go for iPhone XR which starts at $750 and the iPhone 8 will cost you $600.
If it is still expensive for you and does not want to spend so much money you can opt for the two years older iPhone 7 which will cost you around $450.
The price will go down as you keep going for the older iPhones. The cost will drop down more if you chose to buy from the secondhand market.
If you are looking for a more affordable smartphone with a great variety from which you can choose from, nothing can Android in the department.
If you want to choose an Android phone you can still have an expensive choice as some smartphones such as Google's Pixel 3 XL and Samsung's Galaxy Note will still give Apple's iPhone a great competition when it comes down to price.
These Android phones can also be as expensive as Apple's. But you also get an enormous choice in low budget handsets with a great variety of manufacturers offering a lot of features. But the choice is still yours which manufacture you will go for or which suits you better.
Android is also a choice for most people with low budgets and who wants to buy a smartphone with better features is the fact that Android offers so many free apps that you can easily download or are already installed on the phone.
So when it comes down to which phones are more affordable and inexpensive Android would win the round as it offers more features and free apps while still being in your budget.
2. App Stores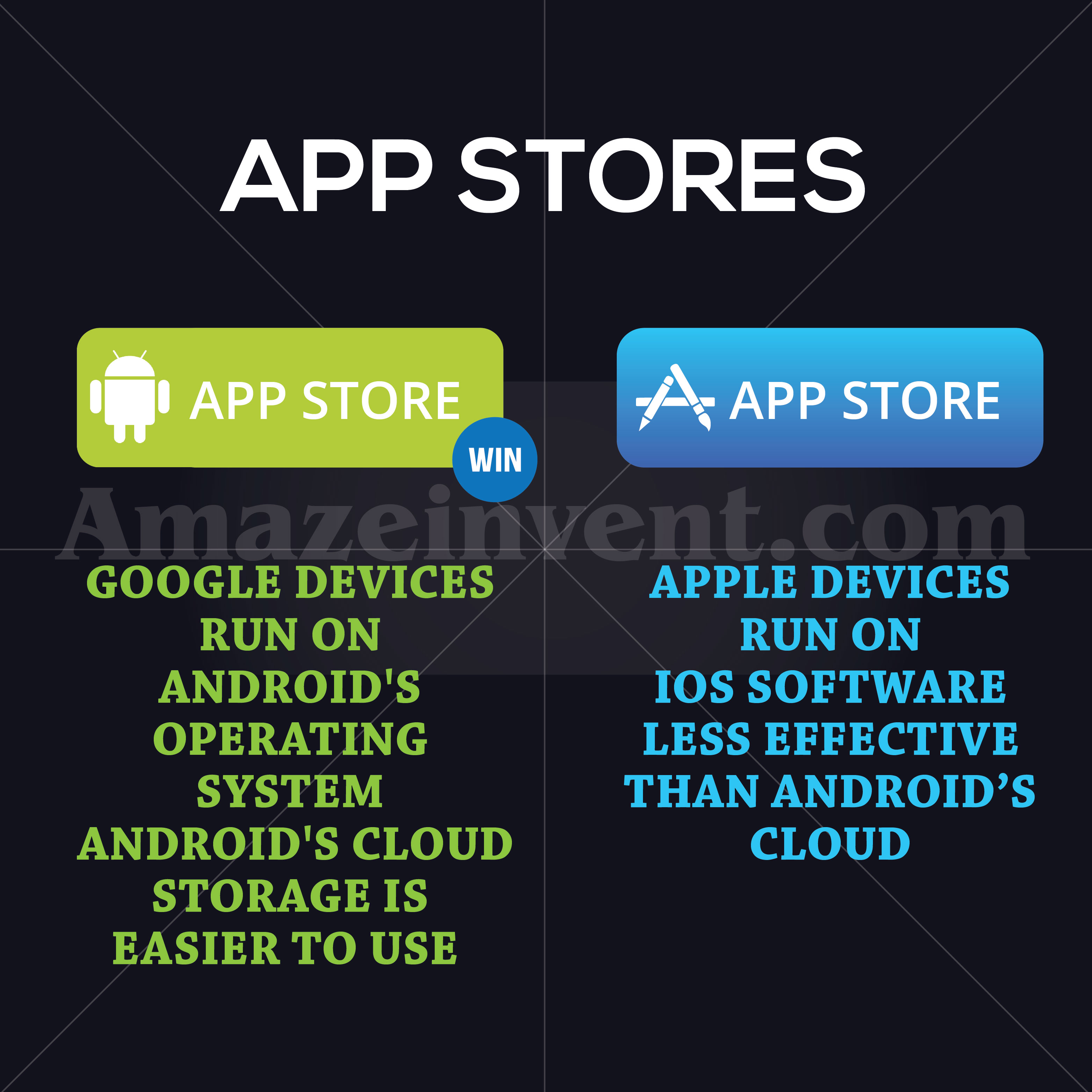 Neither the Apple store nor the Google play store is flawless at regulating and managing the millions of apps. But Apple's store is considered to be doing a bit better job than Google's when it comes down to a better browsing experience and better recommendations too.
However, the Play store is uncomplicated and troubles free with which you can easily look for the apps you want and install them either on your PC or your laptop by making use of the web browser.
When it comes to the buying of apps you can easily make use of your fingerprint by using the Touch ID on iPhones and the same goes for Android. Android also allows you to make app purchases just with the fingerprint sensor.
The Play Store wins points for having a no-quibble refund policy within two hours of purchase. Apple play store wins in being more stern and uncompromising when it comes to blocking certain apps that might be suspicious or might contain viruses.
The App Store edges the win for usability and curated content.
The winner here would be the Apple play store as it provides a better experience in browsing and also eradicates the suspicious apps.
3. Applications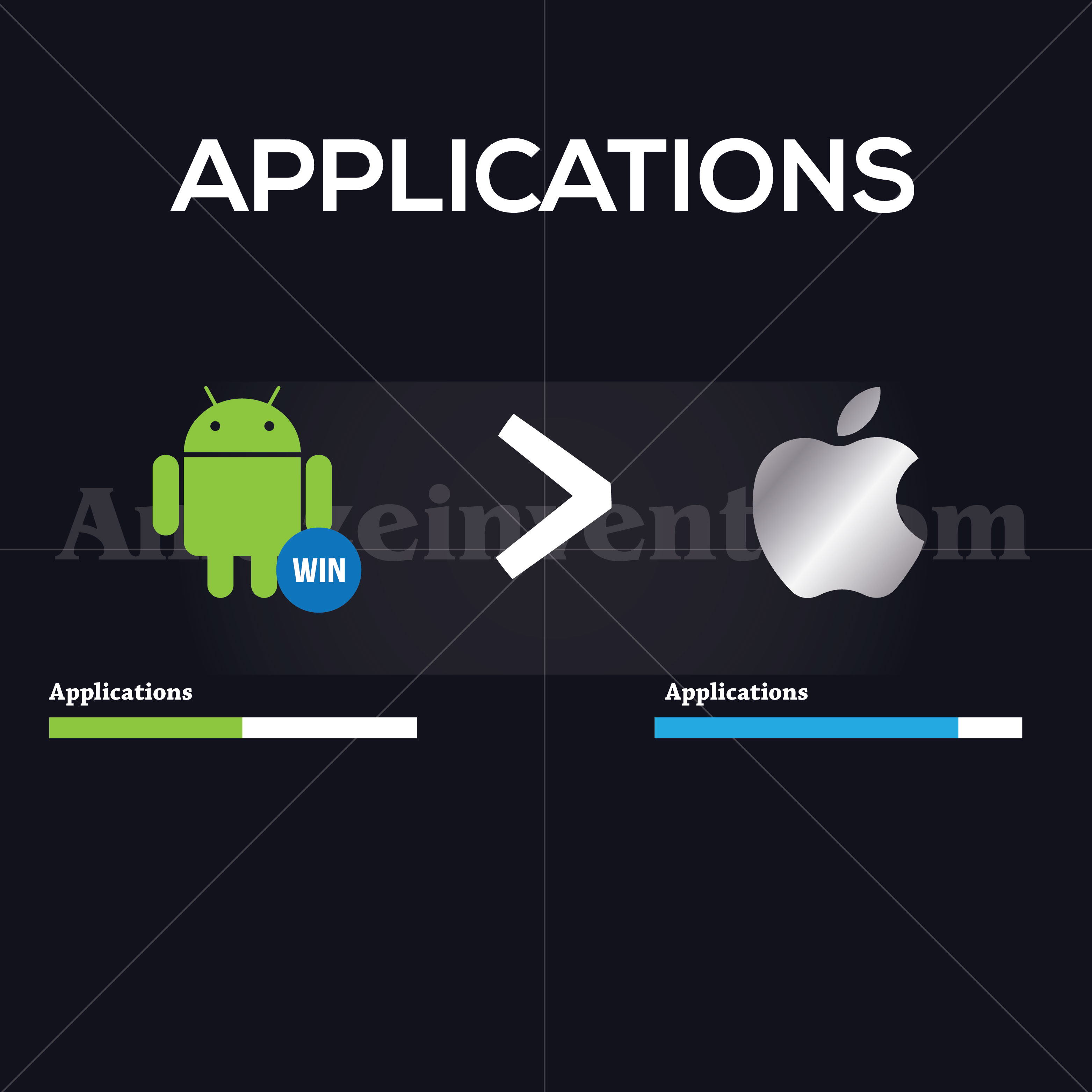 Coming down to the number of applications possessed by the stores, Google play store wins her as it has about 3.5 million apps, whereas, Apple play store only has 2.2 million apps.
These numbers do not matter a lot and can not be the standard to measure which is better as most of us only go for a certain few apps which are present in almost all of our smartphones.
These apps are of course most popular ones which include social media apps as well as Facebook, Twitter, etc and these are easily available in both of the play stores.
Conventionally, iOS has been always the better choice for the developers as it provides a more bankable and money-making platform to them.
Because of Android high income, most developers tend to develop new apps first but that does not mean that Android is lacking in any way from Apple's.
The Android market is also changing and is extending its roots while continuing to grow. But the iOS is leading the way in the US but the developers in other places of the world are making Android as their first target.
Eventually, the Android play stores win the race in having the most number of apps but the Apple wins when it comes to the apps' availability.
As mobile games are available first on the iOS and they're not a 100 percent guarantee of them appearing on the Android app store.
4. Navigation and maps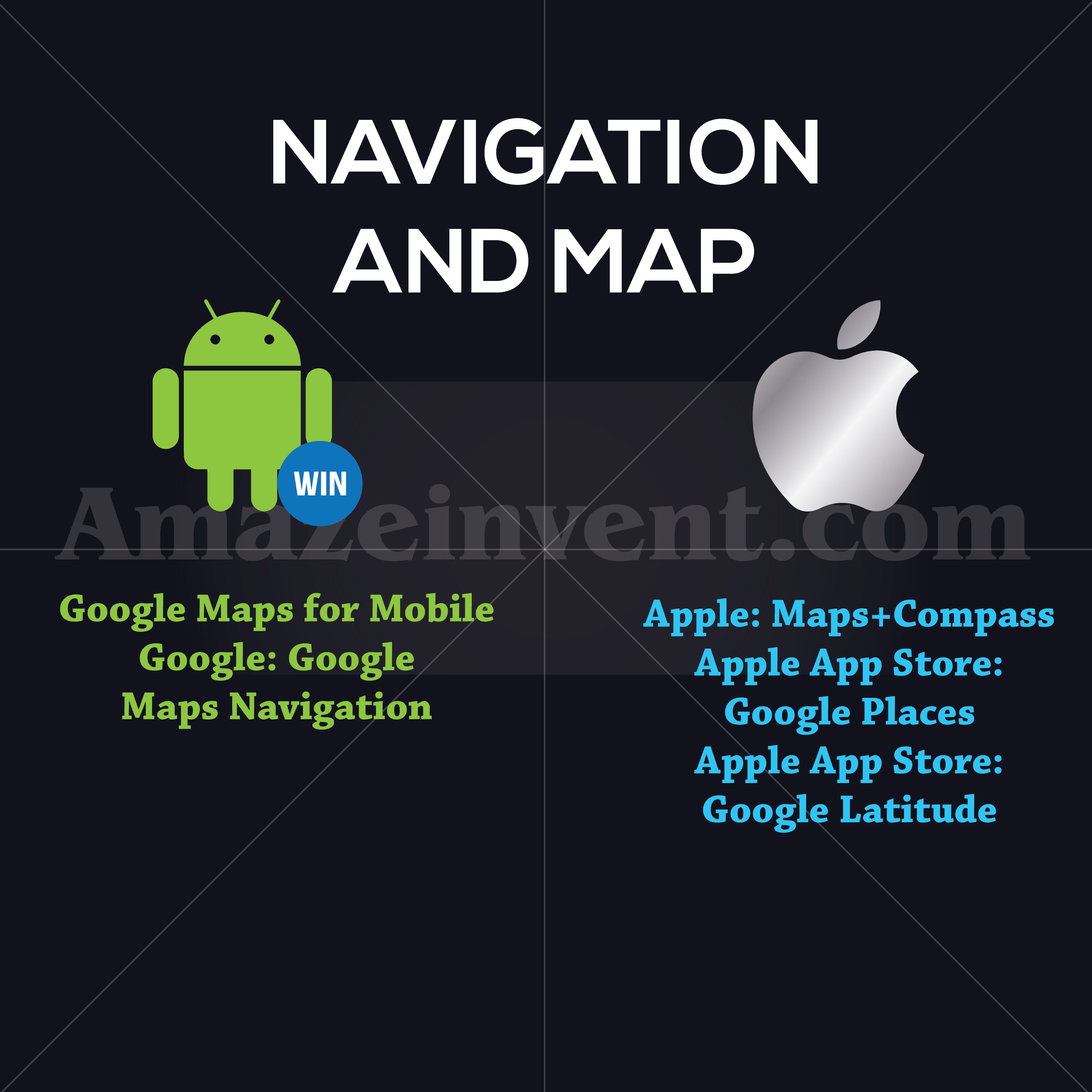 Apple Maps have upgraded significantly although they did not have a good head start. The basic features are all similar, you can download maps for offline use, get accurate estimates based on current traffic conditions, and find turn-by-turn directions for driving or walking.
You'll also find public transit and ride-booking integration. They all work well and should get you where you're going.
Cycling directions are one thing that is provided to you by Google maps but the Apple maps lack them.
As we talk about the scale and quality provided by Google maps, they have not proved to exceed our expectations and are just average. But it is more detailed than the Apple maps and these are the points where our interest lies but, but the accuracy of Google maps varies from place to place, and Apple might earn a point here.
If you are given a choice between Apple and Google maps, most of the people will choose Google as this is also available on Apple phones as well.
The winner here would be the Android of course as the Google maps are easy to run and available on both Operating Systems as well. But they might in terms of accuracy of navigating places but still would prove to be a better choice.
5. Charge time and battery life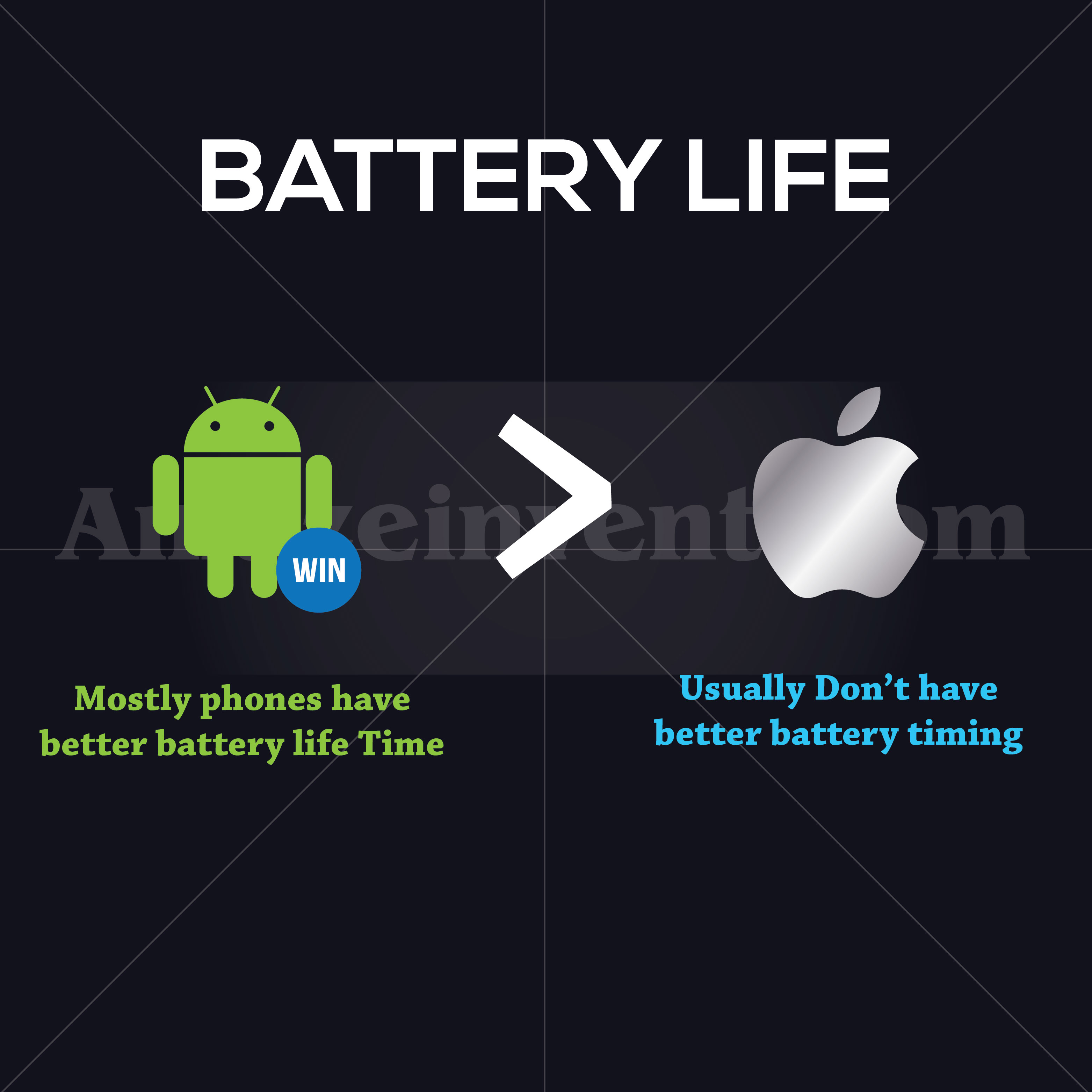 One of the biggest alarming things for the owners of smartphones would be battery life. Since there is no common hardware so the comparison of the battery lives of the two Operating Systems is not easy.
Though iOS tries to squeeze out the battery per mAH Android, in the case, it will easily surpass the iOS as the battery of Android can last more than that of Apple's.
Both Android and iOS will show how much of your battery is used but if you want to know about how much of your battery is left only Android will make up to your expectations in that case.
both Android and iOS are equipped with a power-saving feature that will increase your battery life by limiting performance, connectivity, and other power-sapping features, but precisely how it works is generally more customizable on Android.
Many Android smartphones are capable of fast charging and also wireless charging so Android wins in the department of charging.
Apple has now equipped its latest phones like  Apple's iPhone 8, 8 Plus, and iPhone X with wireless and fast charging and will continue with these features in the upcoming phones as well.
The fast charging adapter would have to be bought separately in the case of Apple but the charger comes along with the box of the Android smartphone.
Its category is far from clear-cut, but comparing similarly priced Android phones with iPhones, they tend to have longer battery life and they always have fast chargers included in the box, so Android gets the win.
So the winner here is, of course, the Android as it comes with the fast charging adapter and will survive longer than the Apple's iPhone.
6. Capability to customize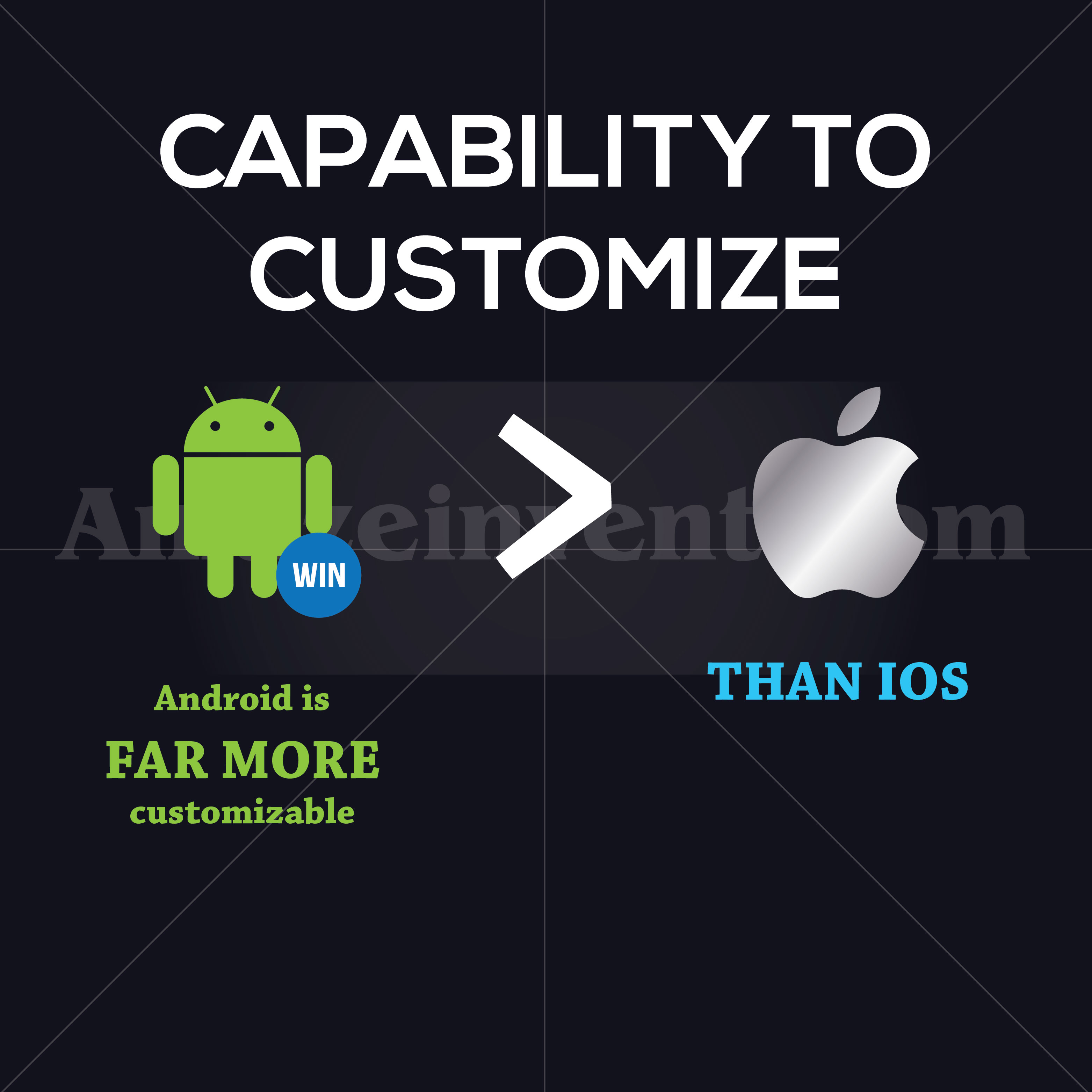 Android has always been the first choice of people who like to have complete control over their smartphones and want to customize it from time to time.
Android provides you full power and authority to make changes in your phone as you like.
Whether you want to change the layout of your home screen or add widgets and shortcuts, and even change your entire user interface with launchers.
With iOS, you can still set your background and stuff but you have very limited support of widgets in that. Plus iOS does not give you the same type of openness and freedom that you will get from Android.
Many of the options are still locked down in iOS and you can not change the default apps as Apple has a very tight lockdown. On the other hand, Android lets you set up the third party default apps which you do not get to experience in the iOS.
If you are someone who likes to make changes to your phone and tries to make it unique and completely personalized then Android is just for you. But if you prefer quality over flexibility to customize then Apple will prove to be the right choice for you.
So it might be a tie between Android and iOS because both provide their features with high quality but in the end, it will depend on your choice whether you would like to have an Android or an iOS.
7. Storage capacity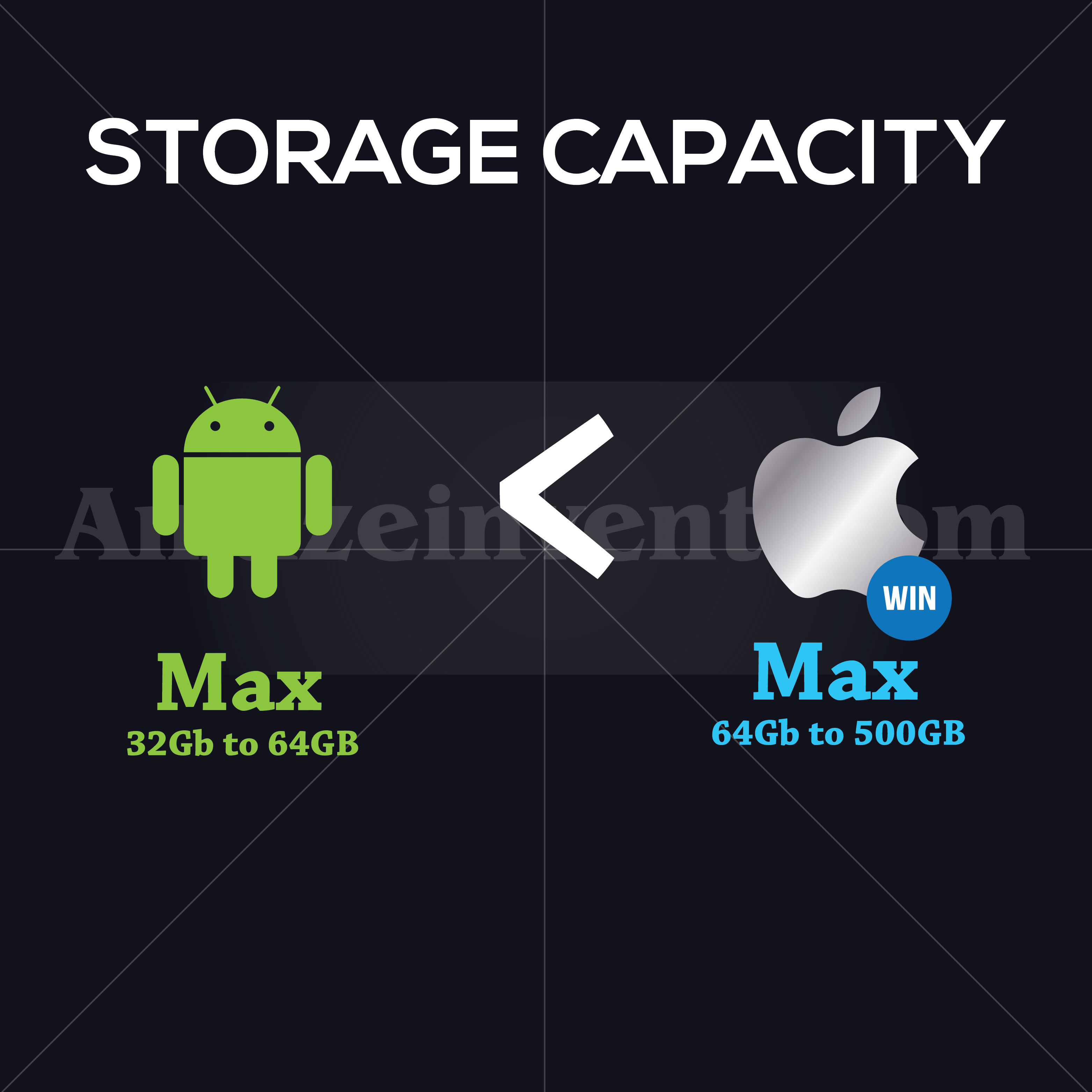 Apple has always opted for fixed storage and users can choose how much GB of storage capacity they need and can easily buy for the choices given by the iOS.
Apple launches its new phones with greater storage than the older version every time and users wish that they had waited for the next version to get greater storage capacity than they have already.
Android also has tried to imply the idea of fixed storage capacity like Google, Huawei, Nokia, etc. But the people have always wanted expandable storage and have considered it a good idea and a better option.
Though having expandable storage does sound a good idea to many people but might create problems for some people as they can not distinguish between the internal storage and micro SD card expansions.
They often end up filling up the internal storage rather than the SD cards. Internal storage is always faster and can be trusted more often and have greater reliability.
So Android has a slight edge over Apple as it comes in both options. Whether you want to opt for fixed storage or an expandable one, Android will not disappoint you as it provides you with both schemes.
8. Updates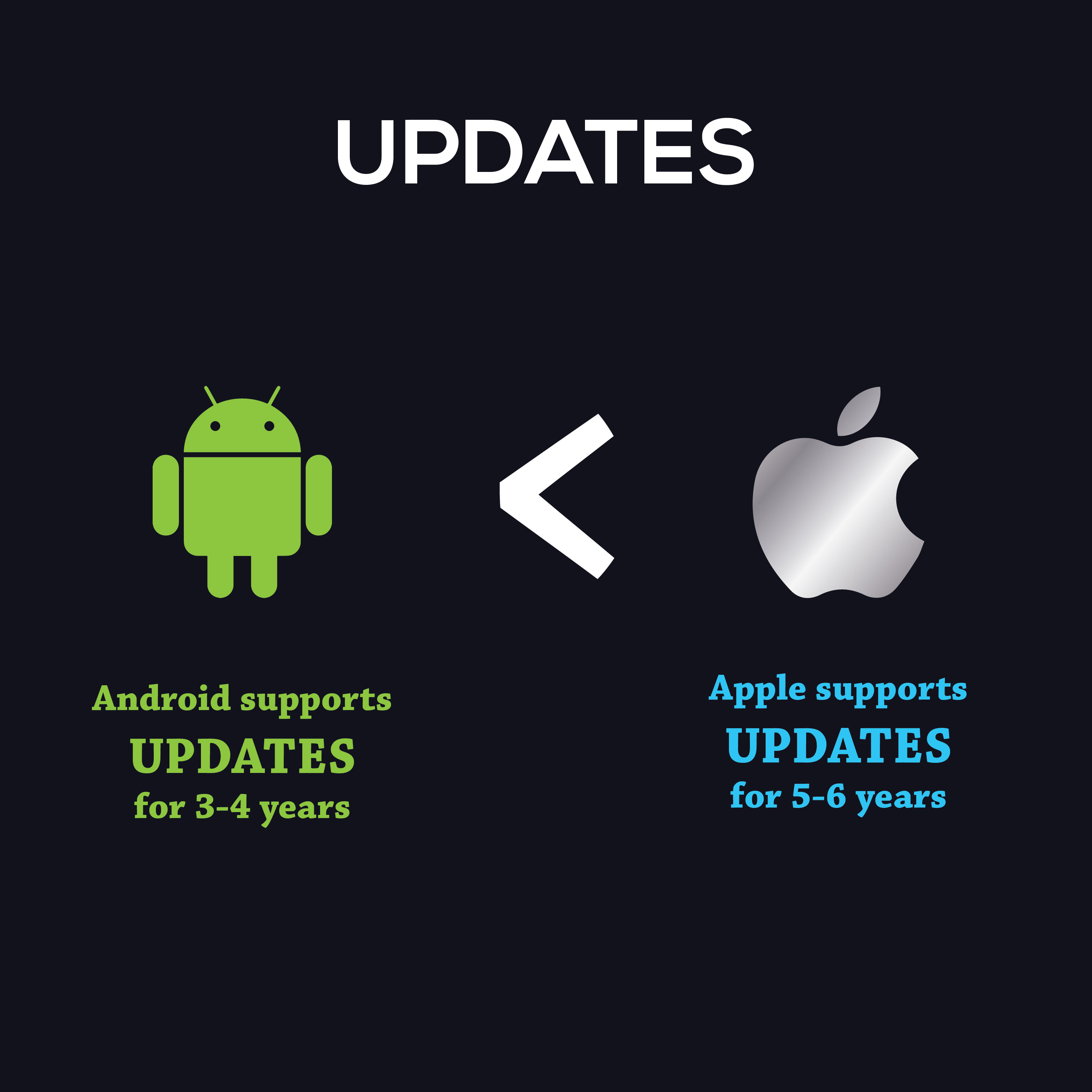 Apple generally supports new iPhones and iPods with iOS updates for five to six years after their release date, and all of those devices get the same updates at the same time.
With Apple, you can get new features and apps, support for a new image and video formats and security protocols, and patches for both online security threats and flaws which will allow people to get access to your phone and steal data from it.
The oldest versions might not be able to support every single feature provided by the update but can make use of functional features and security updates for as long as the hardware is intact and working.
Coming down to Android, only a few phones which include Google Pixel are guaranteed prompt updates but still, that update will be given for up to two to three years from the phone's release date.
So if you need bug fixes, security updates, and new features then you should opt for iOS and is a clear winner.
9. Accessibility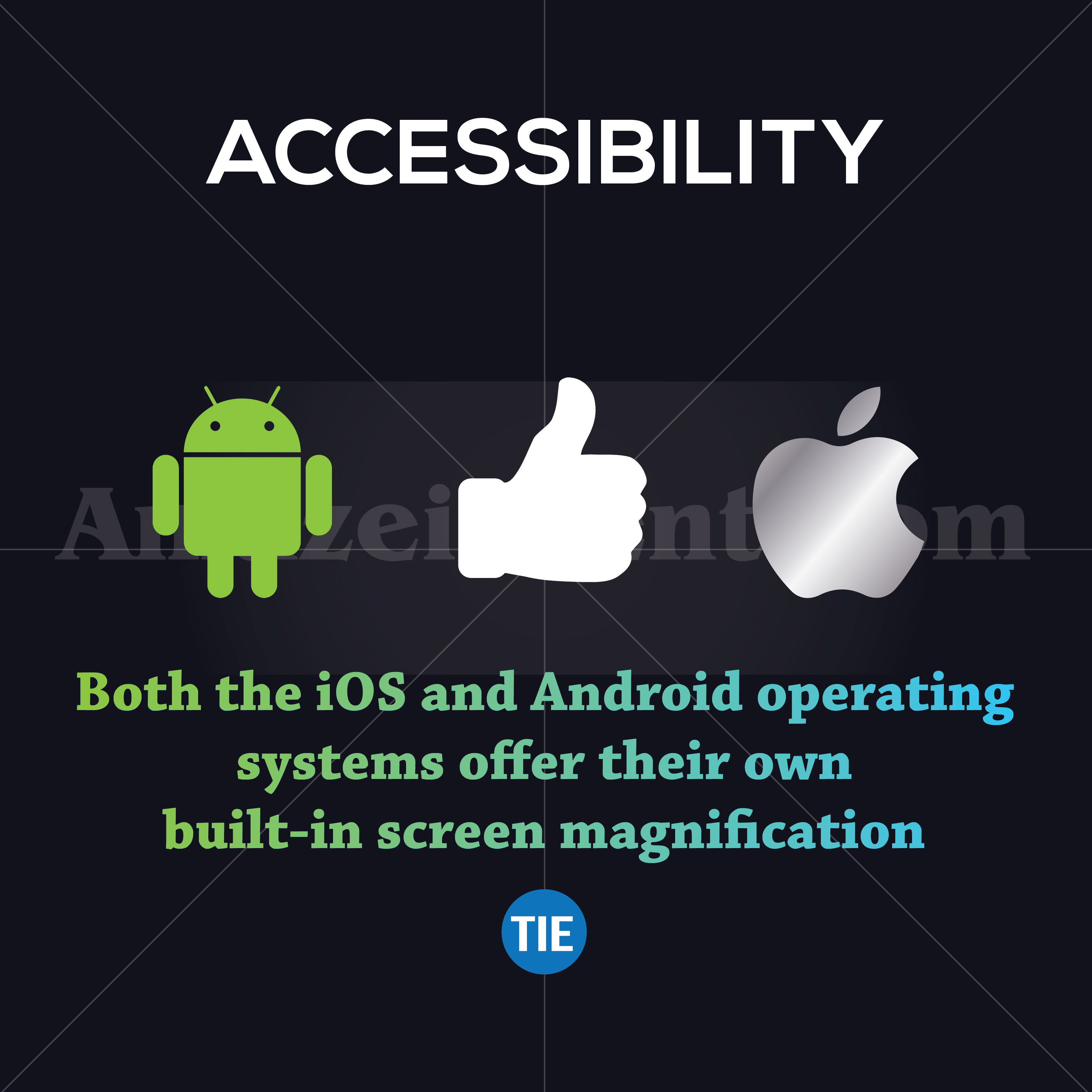 Android is more complicated than iOS and perception have prevailed, but you do not need to plunge into customization options. Both of the Operating Systems offer great accessibility of features.
If you are looking for a phone for someone who is not a techie, then you'll find some specialist offerings on Android, but they tend to scale down what's possible.
Samsung has included an option of "Easy Mode" which will help in simplifying the use and makes the interface bigger for a better experience or you can also go for a third-party app that will do the same work and provide the same experience. there are a lot of apps in both iOS and Android which are aimed for non-techies and elderly people.
Read more: Best Smartphones to Buy Under 40K INR (2019 Guide)
Eventually, iOS is a better and more simple experience as this is easier to use than Android in many ways. As Android varies and is slightly different in devices from manufacturer to manufacturer, iOS on the other is constant and invariable across all the devices operating on iOS.
Also, iOS is believed to be more organized and smooth running as compared to Android, although Google's stock Android is every bit as elegant and accessible.
The clear winner here is, of course, iOS as it is more streamlined than Android and provides effortless and uncomplicated experience.
10. Calls and Messaging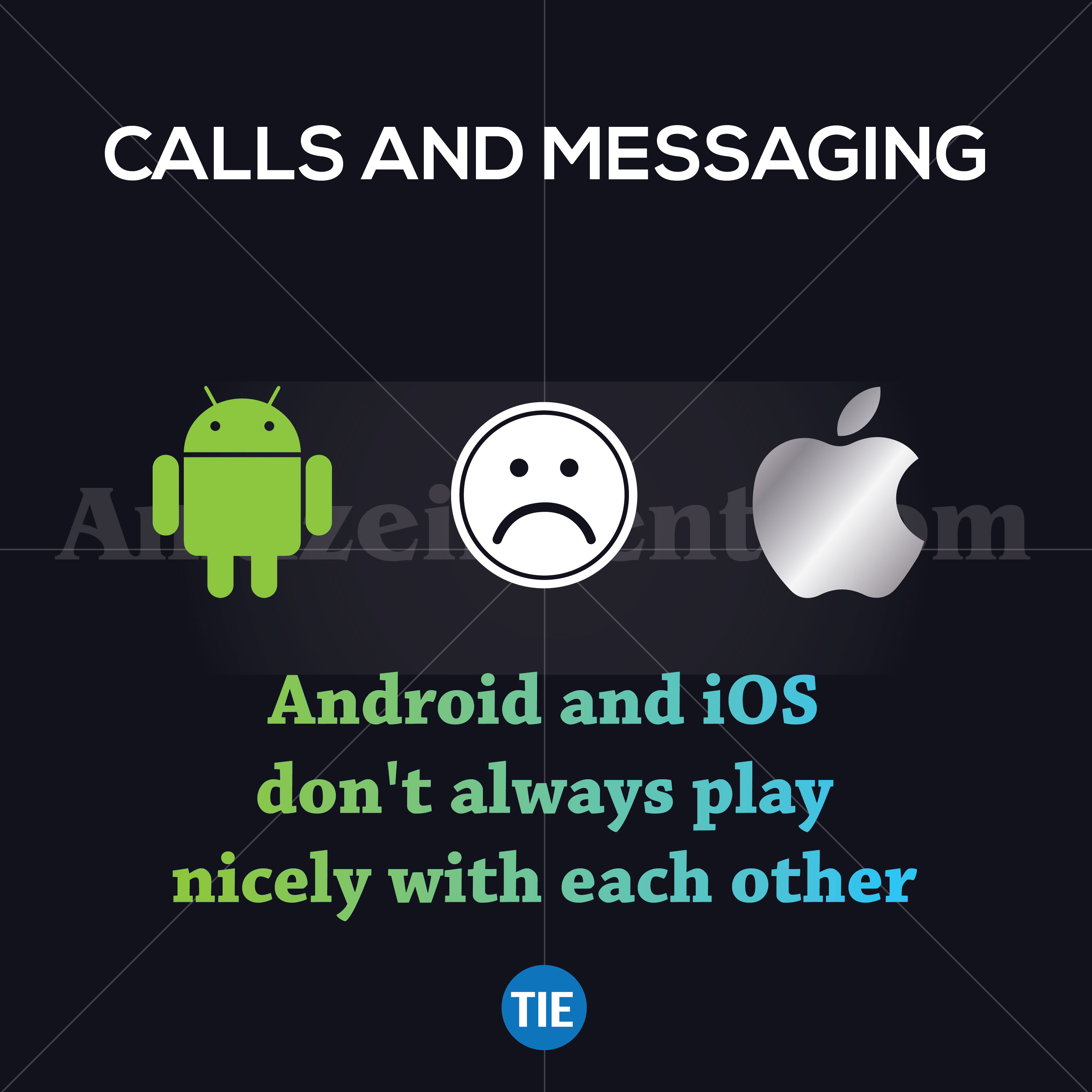 According to utility both the Operating Systems provide basic calling and messaging with a good standard, but it can be complicated and jumbled in Android.
Google appears to be trying to wrap up everything in Hangouts, whether its simple call and messaging, video call, or group chat by making use of WiFi or mobile data. It got more confusing when they released Allo and Duo.
There is also a default texting app called the Android Messages which is also called Google Messenger. Manufacturers provided their default apps as alternatives which made the situation worse.
Along with Google's messaging apps, many Android smartphones have their own messaging and dialer apps or they have eradicated the Google apps.
Coming down to iOS, all the phones have Facetime and iMessage with which you can easily interact with your friends and family. These apps are pre-installed in all the iOS devices which of course makes things less complicated and simpler.
iMessage is more painless to use when you want to connect with someone who does possess an iPhone and makes communication very easy.
You'll find third-party app integration, fun stickers, GIFs, and much more in iMessage. We give iOS the win for its consistency and ease of use.
11. Email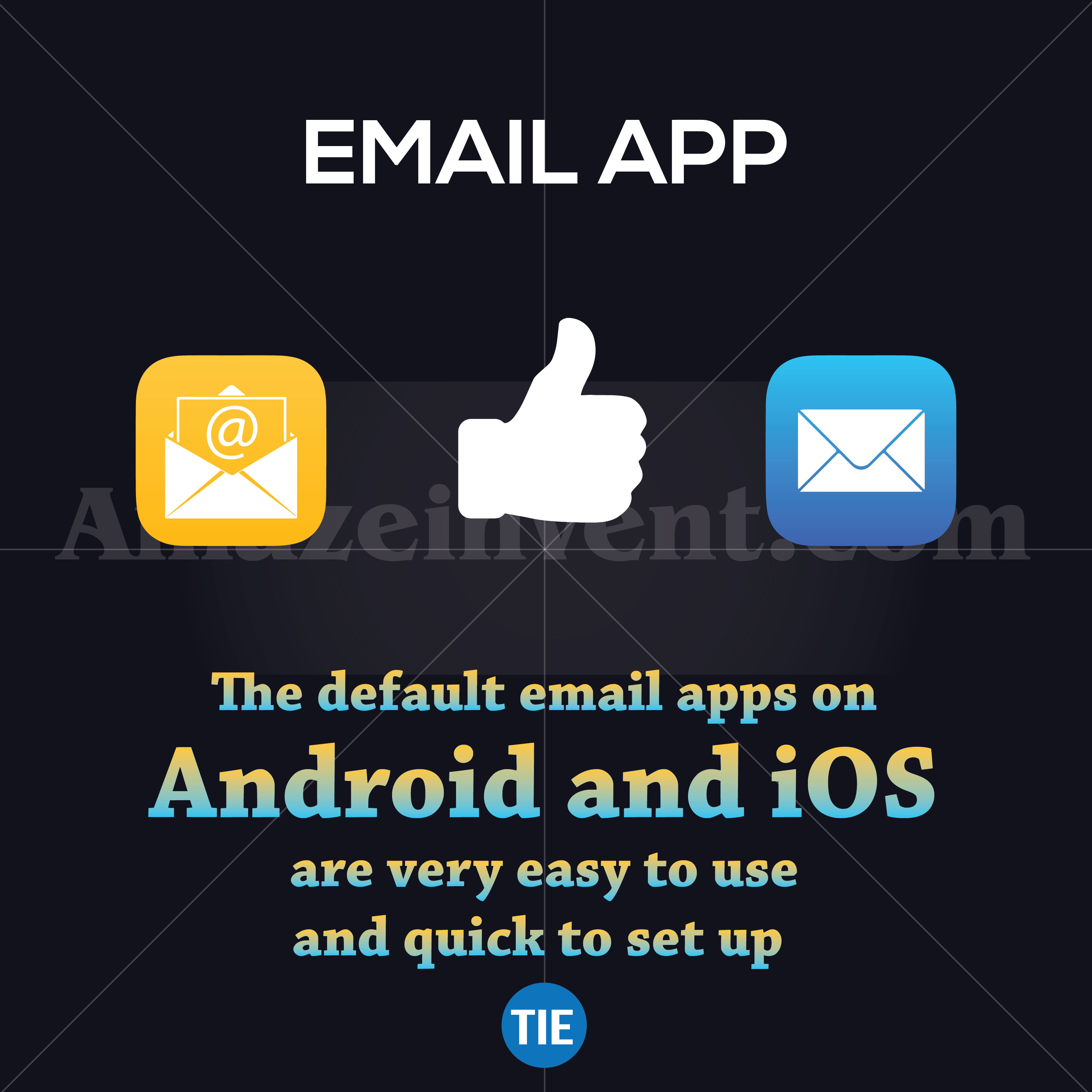 The default email apps on Android and iOS are very easy to use and quick to set up. Multiple email accounts can be logged in and you can also view them in a single inbox if you want to.
If you desire to opt for third-party email apps you can also choose them as both the Operating Systems, Android, and iOS offer a wide range of third-party apps.
Gmail is considered to be a more powerful default email app than the iOS' Mail. This is the most famous email app in the world and provides a great variety of options and features as well.
You can also add email addresses from different providers in Gmail with ease.
The only problem in the case of Android phones would be the other default apps provided by the manufacturer which might not be up to standard and will be unable to please you and makeup to your expectations.
So the victory in the department of email apps is of Android phones.
12. Camera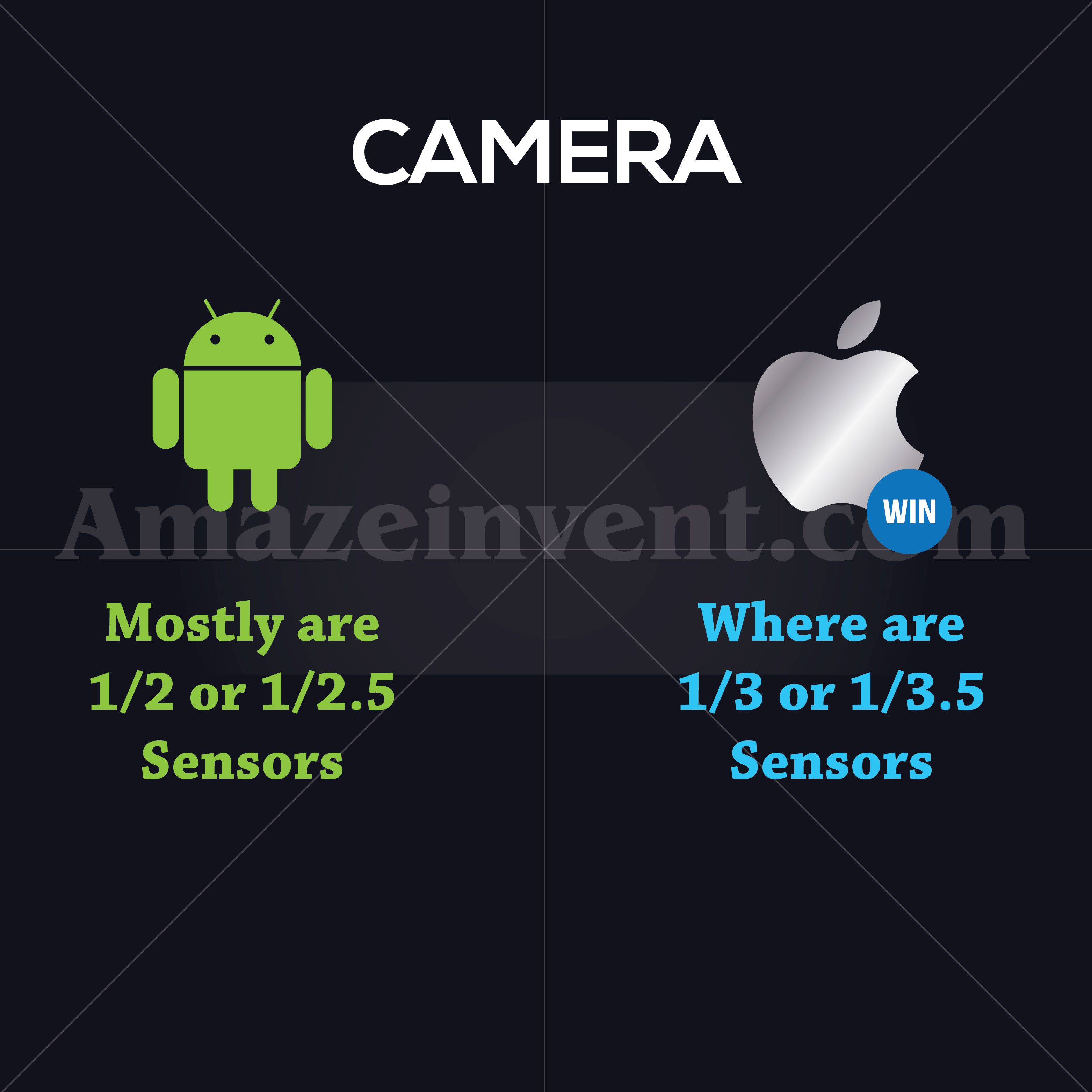 In the past, we've argued that Apple does the best job capturing lighting, coloring, and other details, but the latest Android smartphones are casting a lot of doubt on that assertion.
Google's Pixel 3 and Pixel 3 XL boast the best cameras we've used so far, but the iPhone XS and XS Max come close.
While most of the current crop of Android flagships sport good, or sometimes great, cameras, there is the difference between them and the camera quality of the smartphones that fall into the mid-range category is not any better than the iPhone's camera.
Most of the budget Android smartphones do not possess good quality as compared to Apple's camera and you might have noticed that.
Both of the Operating System, whether it is Android or iOS, both of them possess good camera apps which are fast as well. But Apple takes an edge over Android when it comes to ease in handling and also the fine results without tweaking.
Android manufacturers also add their camera apps as well with a lot of great features, so there is more variation in Android smartphones than iOS.
With the caveat that the top Android phones, particularly the Pixel 3, offer the best smartphone camera experience around.
13. Voice assistants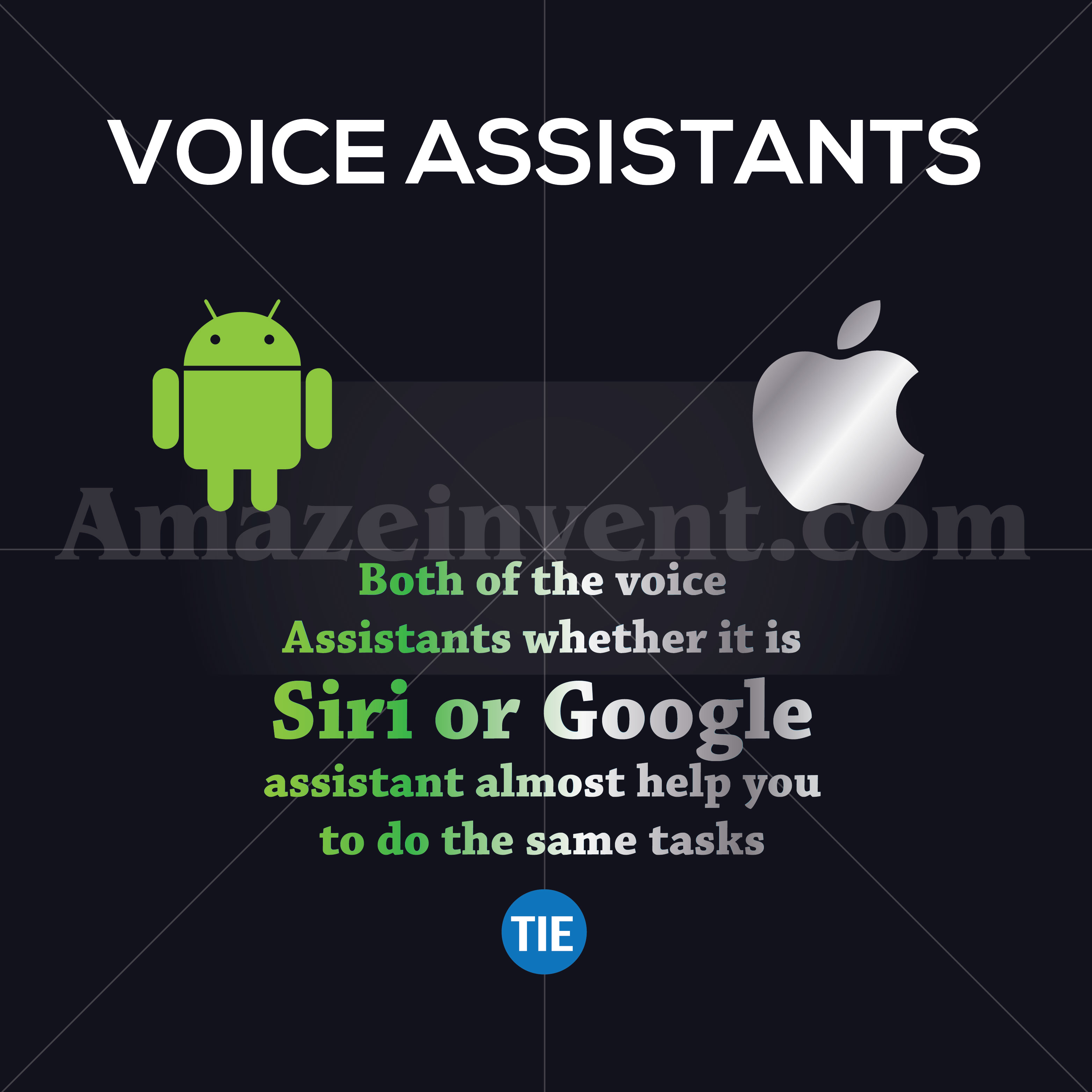 Both of the voice assistants whether it is Siri or Google assistant almost help you to do the same tasks. For setting calendar appointments, searching the web, or making calls, you can use Siri as it more of a straight forward helper.
Google Assistant on the other is quite intelligent and is provided with an extra layer to it.
It can provide you with useful suggestions for example if you are setting a meeting time on Google calendar and there is jam-packed traffic, Google assistant will suggest you leave to avoid getting late and reaching on time.
Google's assistant has everything to make your life a lot easier. It offers entertaining games and information depending on whatever you are doing, so it has more of a conversational side to it. As compared to Siri, Google's assistant is more adaptable and quick-witted.
With each iOS release, there is an improvement and update which can be seen in Siri.
It seems to be going in the right direction as it has started to offer more suggestions depending on the usage of your iPhone, which was possible by the addition of Siri Shortcuts in iOS 12, which allows you to set up voice commands to trigger groups of automated tasks.
But Siri still seems to be dedicated to performing simple tasks so Google wins the round because it can function better than Siri and also in improving in terms of being faster and smarter than Siri.
14. Drive services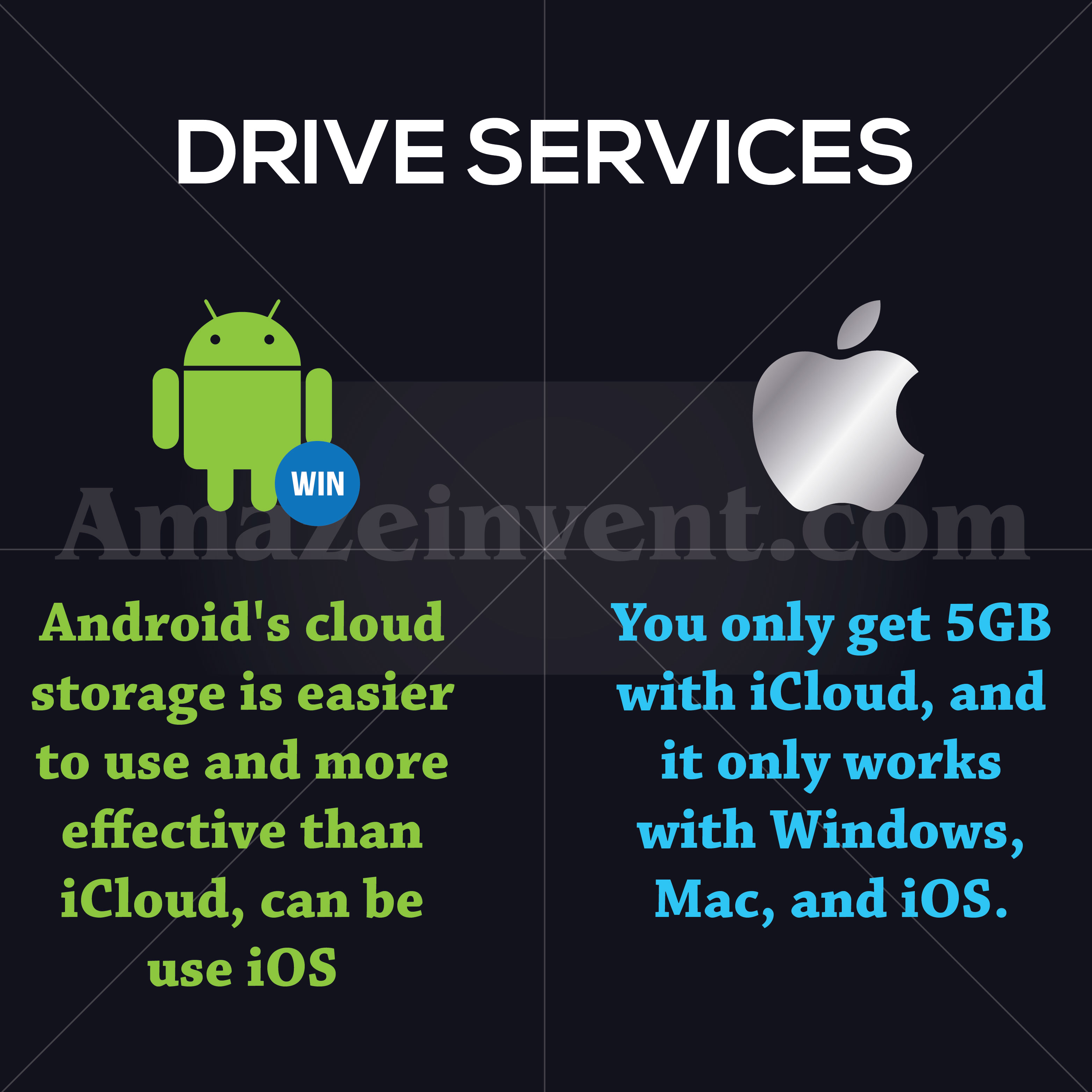 Google drive offers almost 15 GB storage and has cross-platform support to it, while Apple still is behind Google when it comes down to providing better services in storage and automatic backups too.
iCloud is only compatible with Windows, Mac, and iOS and offers only 5 GB of storage. Google drive offers additional space at the cheapest rates. It charges you with $2 per month for 100 GB, which means you will only pay $24 for the whole year, which is way cheaper and better.
But Apple does not want to lag too, so to match prices and increase competition, Apple also has dropped its prices. Apple will charge you $1 for 50 GB. Both Google and Apple charge you $10 per month for 1 TB data storage.
Google Drive can be used on an iPhone too, but the iCloud is only restricted to be compatible with iOS. Plus the Google Drive is way easier to use and better in functionality as well, in comparison to the iCloud.
Android wins the round in terms of being uncomplicated and more effective when compared to iCloud.
15. Photo backup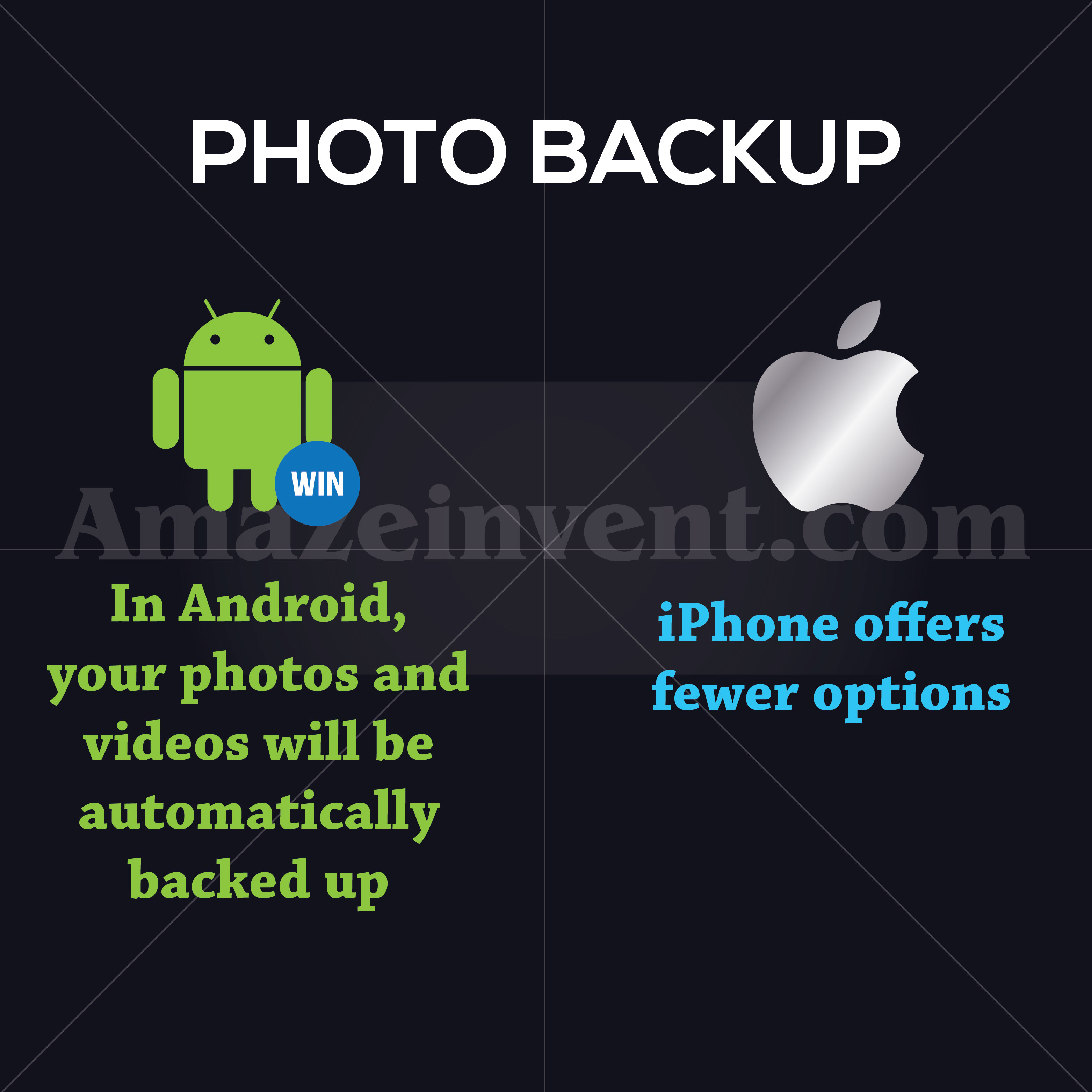 You can backup all your photos and videos automatically by making use of your Photos app very easily if you are an Android user. Google Photos offer you unlimited storage and does not even restrict you with the 16-megapixel limit for images and the 1080 p resolution limit for video.
With original resolution, you can back up videos and photos on both Google Photos and iCloud. But the problem with iCloud is that it has a limited storage capacity of 5 GB whereas Google Drive provides you with a 15 GB storage.
If you own a Google Pixel phone you can back up unlimited photos and videos without comprising of the original resolution of them.
Who wins would be hard to declare as it is a confusing category. You can also use Google Photos on iOS too but the default is iCloud so most of the problems might be with the default option.
Android wins in the category as it provides greater storage capacity to provide a backup of photos and videos with their original resolution and does not restrict you the megapixels too. Plus it is also compatible with iOS as well as Android of course.
16. Security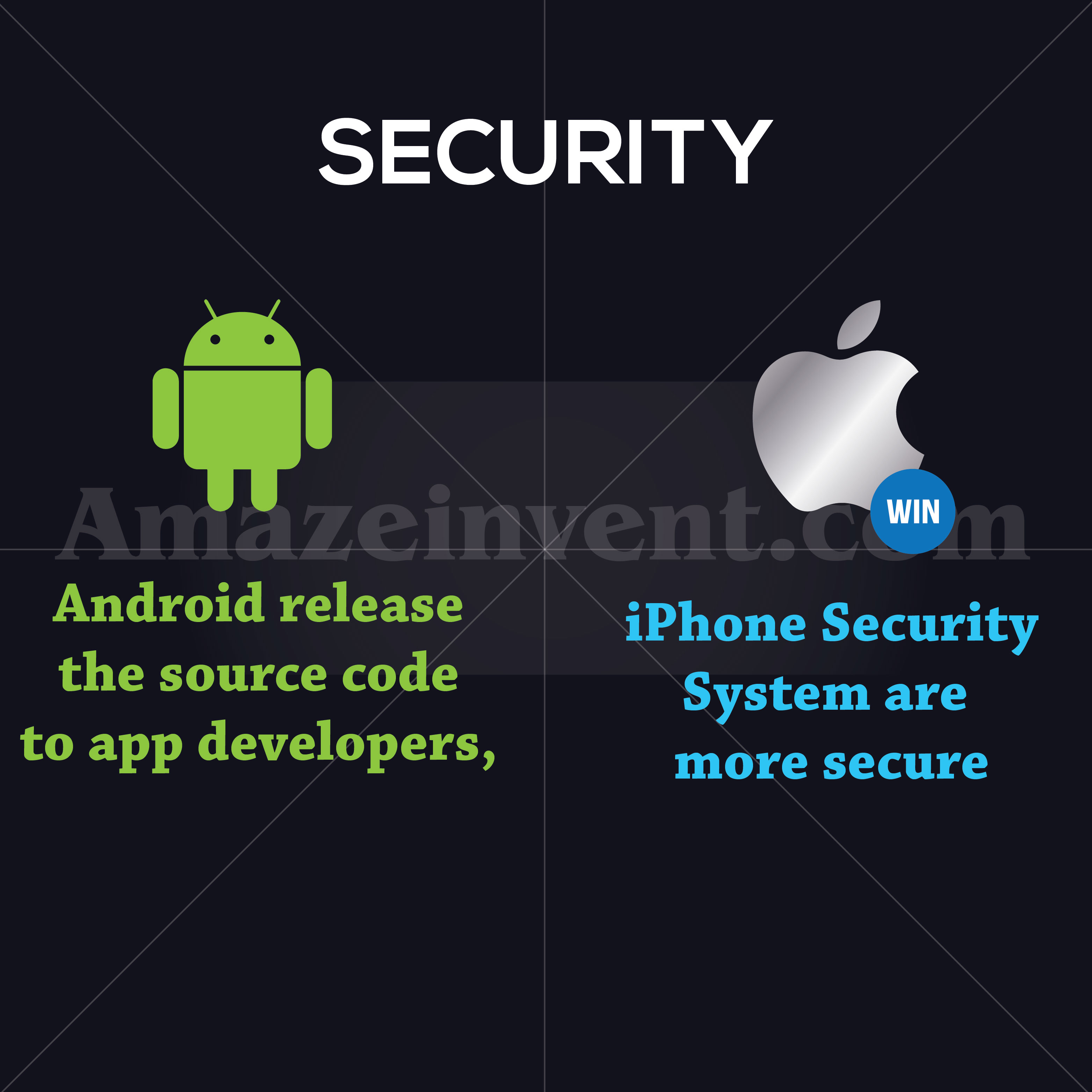 The threats to Android users are greater when it comes to security. Many of the Android users can be encountered by cyber-attacks or malware. But the thing is that most people will stay safe from any of these viruses because the would never go out of play store to download an app.
Security has been boosted up for the enterprise market by some manufacturers like Samsung that do care about their product's reputation. But crucial security patches can be delayed seriously because of the negligent nature of the updates of the Android phones.
As security breakthroughs are becoming more lethal so having a speedy update is crucial these days. Android is considered less secured and protected as it lacks the speedy update unless you own a stock Android device.
Lethal hacks like Heart bleed and Stagefright could prove to be dreadful in the case of Android as millions of Android phones are still running on very old software, so they can vulnerable to hacks like these.
Apple is already firmly entrenched in corporate America and has also worked on improved security for general consumers, most notably with Touch ID and Face ID in the iPhone X and later.
As Apple keeps an eye on the apps and has a greater capability to push the updates more swiftly in a huge number of devices, so Apple has an edge over Android here. In iMessage and other apps owned by Apple, data encryption is also done in these apps by the company.
Using an iOS device you will have no fear of your data being leaked or used by any other and not even Apple will be able to store or read your data, because user privacy is prioritized by Apple.
Android, on the other hand, does encrypt data but it is less and also is less protected and secured in Android. Data information is also extracted by Google so better ads and market products can be sold to you. Plus for a better experience of artificial intelligence, your data is also stored and read as well.
Google claims it's committed to fully protect user privacy and still provides the AI services it offers, but some security experts and Apple argue that Google presents a false choice between privacy and A.I. Apple even went to war with the FBI to guarantee your right to encryption. It's hard to beat that kind of dedication.
You should choose an iPhone if you care about the security of your personal information. Apple is the safest and secure platform and there is no denying in that.
17. Display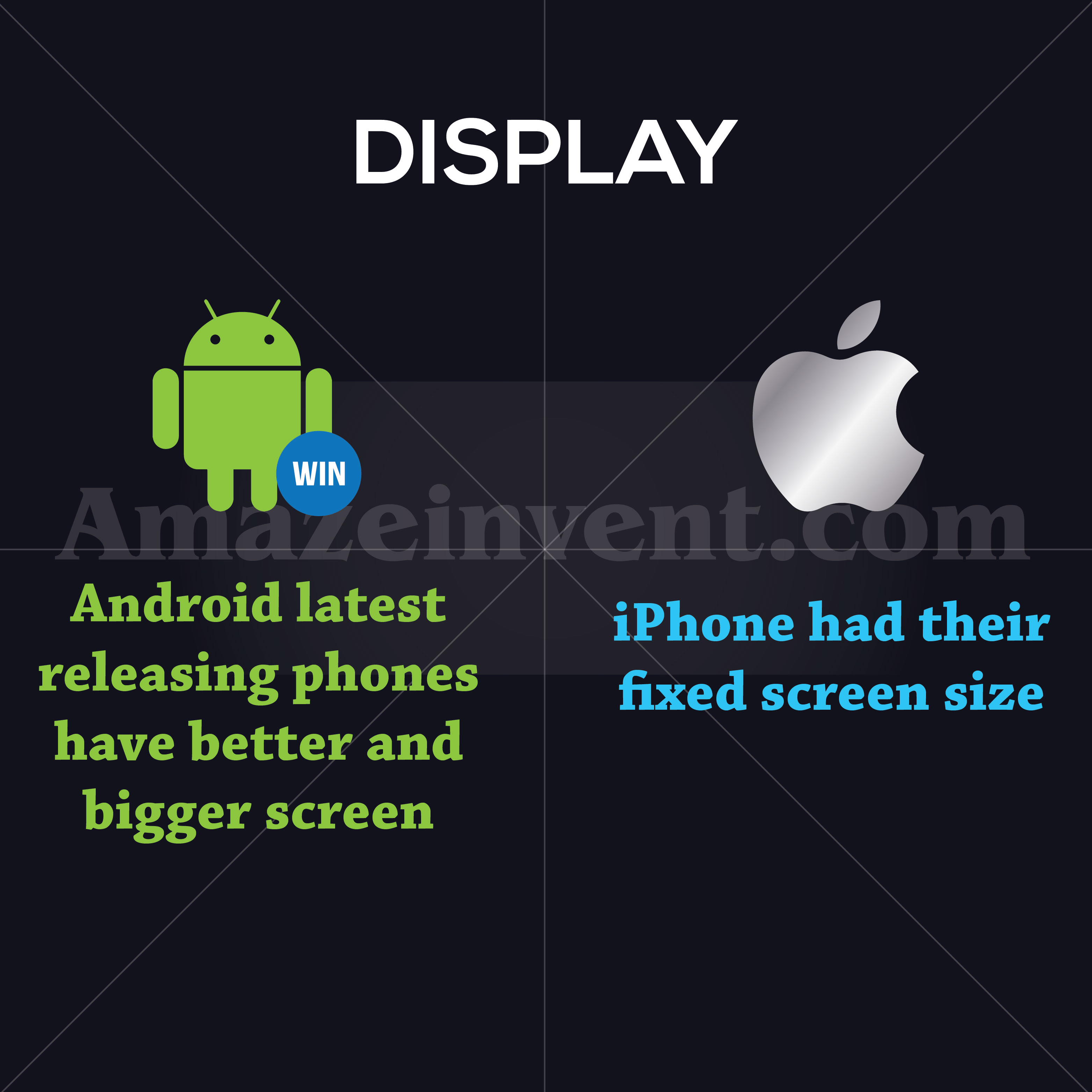 The screen size of Android phones is getting bigger with every latest release of the new phone. You should be choosing an Android if you are looking for a bigger size and the larger screen size is your priority.
The trend of getting and making bigger and bigger smartphones has pushed people to use the new word phablet which is of course not a real word that you would find in a dictionary. Phablet is used for a hybrid device which is a mixture of a phone and a tablet.
Android is the first one to offer the Phablets and it is continuing to produce bigger and bigger screens. For example, Samsung Galaxy Note 8 has a large screen of 6.3 inches.
The largest screen offered by Apple till today is on iPhone X which is 5.8 inches in length and is not any near to the one produced by Samsung. If a size is your priority we would suggest you go for Android because they are declared the winners in producing big screens.
18. Peripheral compatibility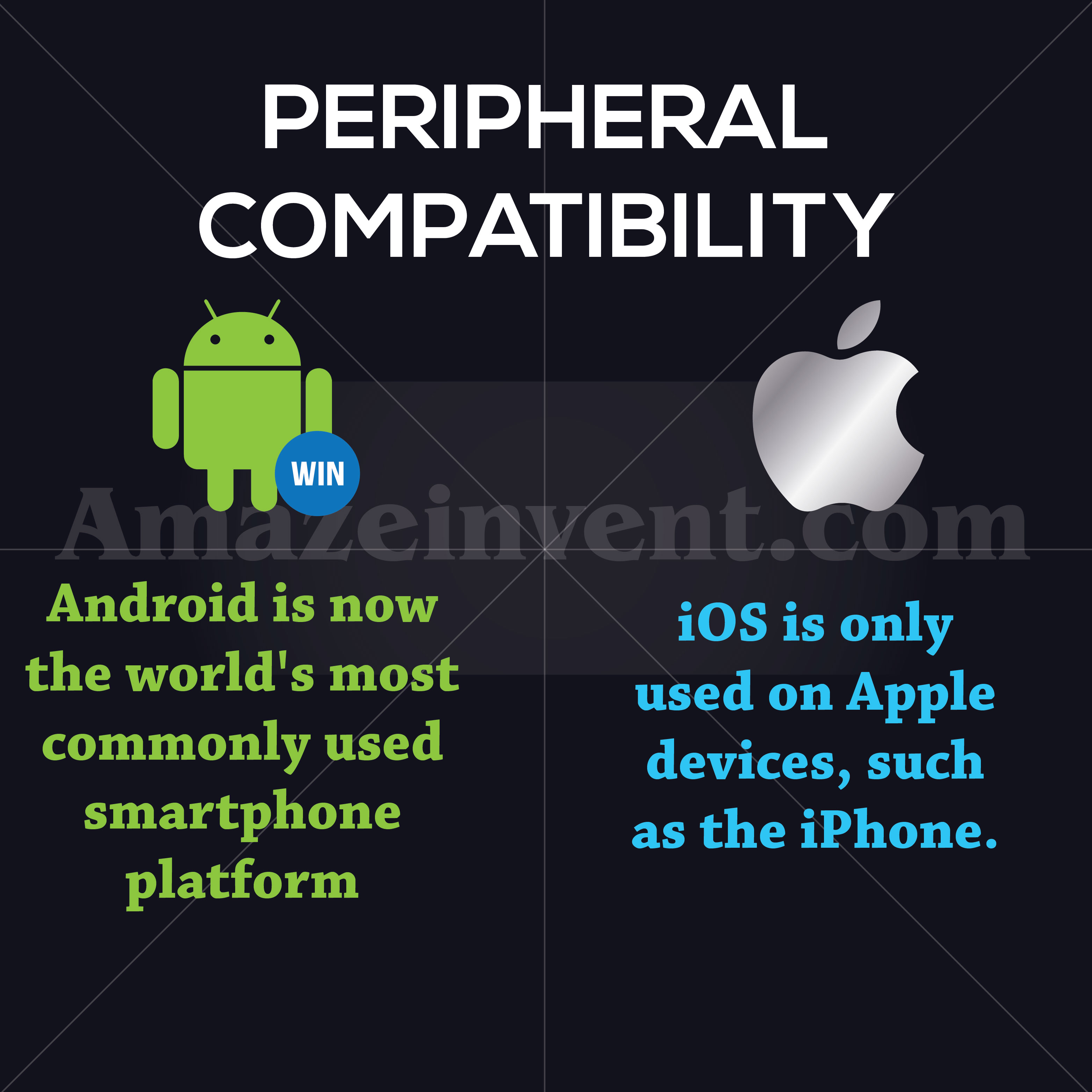 A great system of peripherals has been built by Apple for its phones and tablets. A great amount is money is spent on more things by the owner of an iPhone or an iPad as compared to the average Android owner.
There are far more peripherals and cases aimed at the iPhone than any other device, but something like Samsung's Galaxy S9 would be a close second.
It is more painless to find a charger if you are an Android owner because Android phones have adapted  Micro USB or USB-C standard, whereas proprietary Lightning cable is still used by Apple. That means you would have to spend money on the Apple adapter.
It's very hard to look out for something without Micro USB or USB-C support, though the iOS still will be the main aim for most of the manufacturers of peripherals.
The discarding of the 3.5 mm headphone jack by Apple has left another spot on Apple, which started with the iPhone 7 and iPhone 7 Plus. You will get an adopter that is easy to lose and the choice of headphones sporting 3.5mm audio jacks far exceeds those with Lightning connectors.
So these days some Android companies are also cutting off the headphone jack so there will be no longer any difference between the two Operating Systems.
The ecosystem of products provided by Apple, they all work together very well which is something that should be noted here.
The iPad, Apple Watch, Mac Book, and Home Kit products all work together in perfect harmony. macOS, Watch iOS, and iOS are all well connected, making it easy to have all Apple products on the same page.
Android's case is different, on the other hand, because of the different manufacturers, so the overall ecosystem of a product of Android varies. Take Samsung for an instance,
Overall, taking all available accessories into account, you have more choice with an iPhone, so iOS takes the win here, but with caveats.
Conclusion
Android has won in more categories than Apple has, but Apple has been awarded victory in the crucial categories. It will be hard to compare the two Operating Systems because both of them have their plus points.
The choice of whether to opt for an Android or an iPhone still will be based on your choice, the things you would and prefer to have on your phones. You would go for an iPhone if security and privacy are what you prefer.
But if you want to have full control of your phone, always like to customize it, want to have a bigger display and greater battery life and storage too, then your choice should choose an Android.
So here, we will recommend you both as both have their unique features and have far more similarities than they have differences between them.