A smartphone battery draining problem could be one of the worst things about it. So, let's have the best battery savers for Android apps in 2023.
Especially if you are one of those who needs to use the phone 24 hours per day as a part of their daily life routine or for a business, like managing social media pages and accounts or communicating with your team, etc.
instead of looking for a plugin, you should choose the smarter way and rely on a good battery-saver app.
It boosts your phone and helps you monitor and extend your battery by many means including speeding up your charging time with no overheating problems, optimizing your battery by closing the hungry and high battery-consuming applications, statistics about your battery including battery percentage, remaining battery time, and more.
10 Best Battery Savers for Android Apps 2023
Now, if we search for battery saver apps on the Google Play Store, we will find millions of apps. However, those apps don't work, and it just adds extra load on our smartphones.
But, there are few battery saver apps available for Android that work, and this one can help you to improve battery life.
Here are the 8 best battery saver apps for Android to save some money instead of purchasing a power bank or an extra battery.
DU battery saver app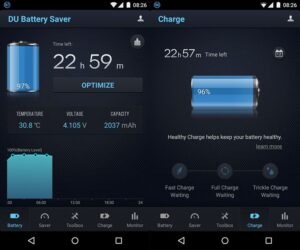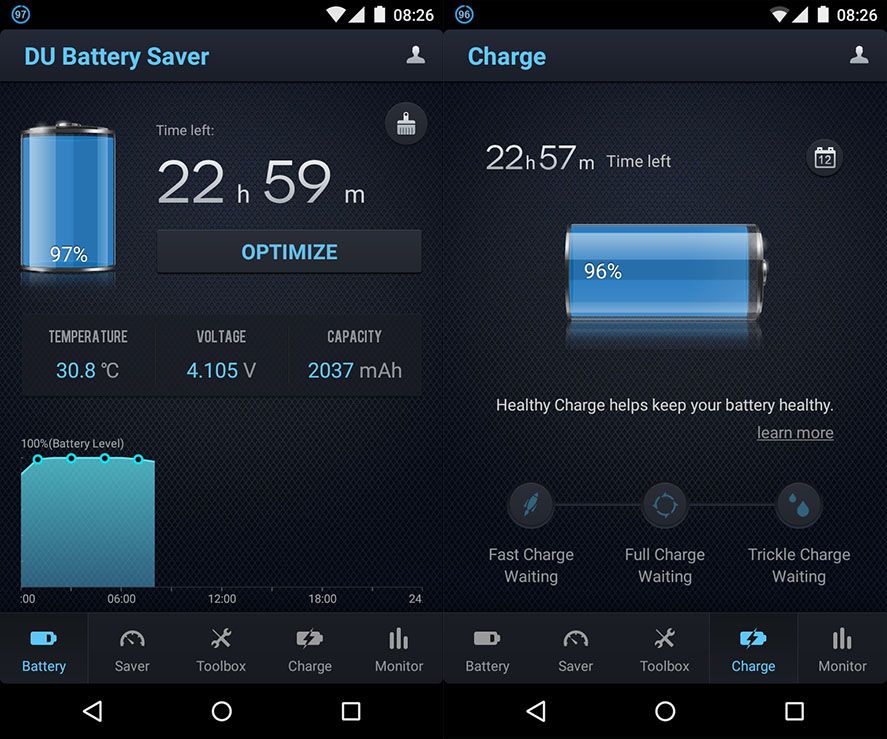 It is the world's leading battery saver app that has helped its global users to save batteries around 59280Kwh. Just a single tap and you can save your phone's battery up to 70 percent.
You can simply download it from the Google play store where it is available for free. Once it is installed it will take charge of your phone to improve its performance.
The app has an authentic ability to identify the elements in a smartphone that are eating up the phone's battery or are demanding high battery consumption. The app further cleans these elements, hence optimizing battery performance.
Don't miss: AmazeInvent
Features
Battery consumption details.
Monitor option.
Saver option.
Charge option.
CPU cooler.
Download: here
Accu battery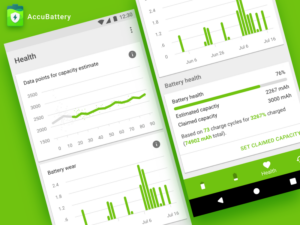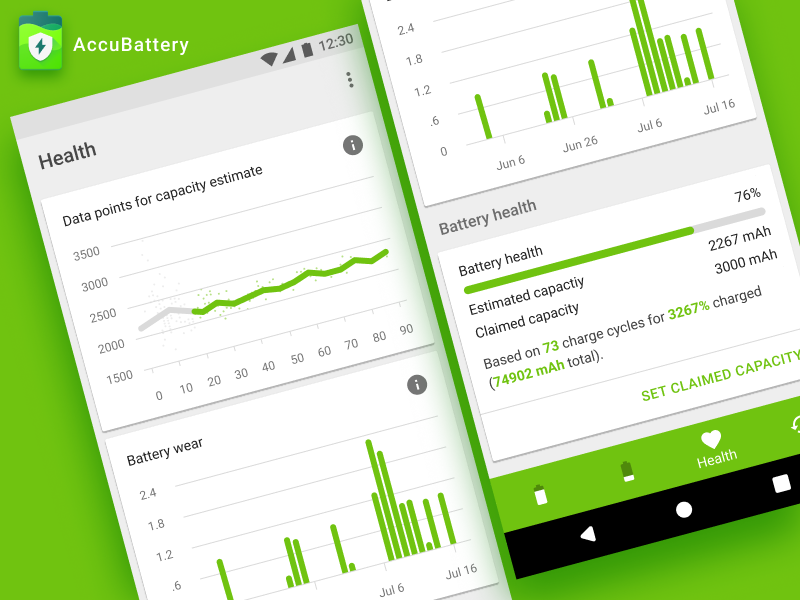 Accu battery enhances the total capacity of an Android gadget by making it up to 200% more efficient. The change alarm feature helps you to find out exactly how much of your phone's battery is left.
It provides accurate information about the battery life and what apps are doing to your battery, allowing settings, they don't have to, it is about empowering the user, not doing it all for them, and over-promising things.
Other than monitoring your battery, you can also use Accu Battery to see how fast your charger or USB cable is charging your device not by predictions but by actually measuring the charging current.
Features:
Change alarm feature.
Boost app option.
Specialized CPU overlay.
Monitors draining apps.
The real capacity of the battery.
Standby mode.
Detailed discharged speed.
Remaining charging and usage time.
Download: here
Power battery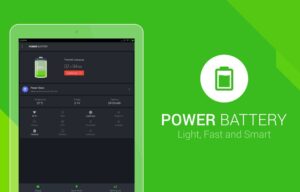 Power Battery is an Android app that aims to give users 60% more battery life out of their smartphones.
By giving users information on which apps are consuming the most battery and giving them options to cut these down permanently or to generate a temporary boost in battery life.
Battery Saver feature inside of Power Battery, which will tell users which apps are draining their batteries. Power Battery has a scheduler that can be set up with the time or how much battery is left in the tank.
Custom profiles give users the ability to control what happens to their devices when trying to get more battery life out of the battery.
Features
Effective.
Accurately informs about battery life.
Automation.
Battery saver feature.
Health charger feature.
Download: here
Kaspersky battery life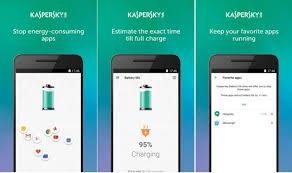 Kaspersky Battery Life is a small app for Android that consumes no more than 1% of the battery charge and at the same time monitors which running applications are draining the battery the most and stops them if necessary.
Battery Life shows the applications that are draining the battery fastest, as well as the total amount of time you can be saved by closing them.
A single tap commands Battery Life to kill the apps in RAM, thus extending battery life.
Battery Life can predict how much time is left before your device needs to be charged which would be useful to know.
Features:
Boosts battery life.
Accurate in telling battery capacity.
Monitors power-hungry apps.
Battery saver feature.
Download: here
Avast battery saver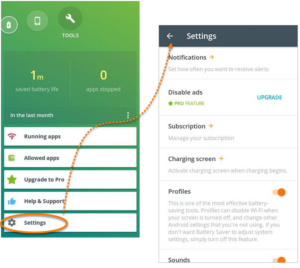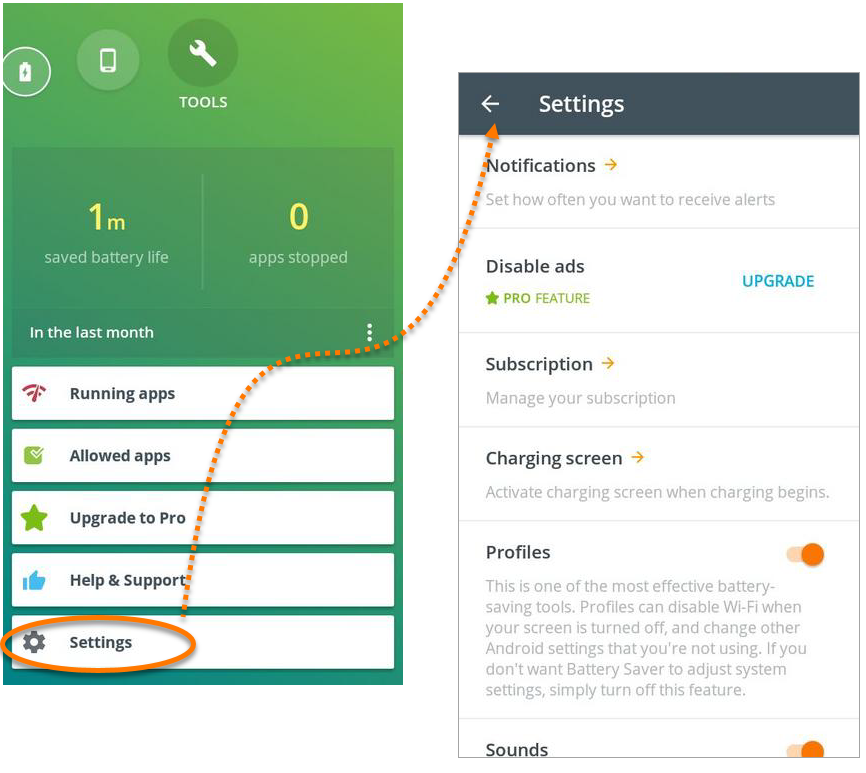 It can save you almost 20% of the phone's battery while you can stay unplugged. In just one tap you can have to monitor the apps that are using your battery power.
It efficiently speeds up your device and extends your battery life as well. It can get you accurate estimates of how much your battery will last.
You can also watch out for the apps running in the background when you're not even using them. It notifies you about the power-hungry apps and stops them directly from the lock screen.
Features:
Emergency profiles save battery.
Customized setting.
Precise information about the battery.
Controls battery-draining apps.
Download: here
Greenify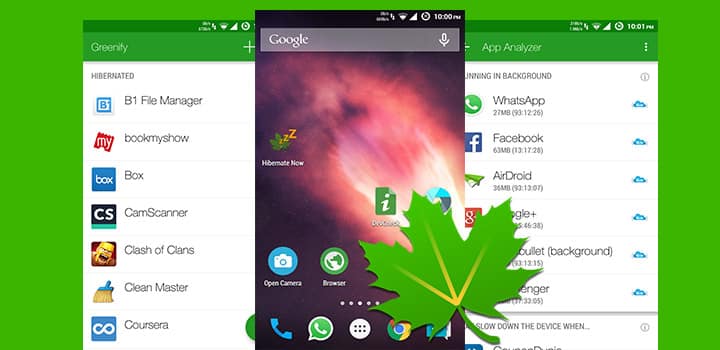 Greenify is a free app for Android that helps you to identify power-consuming apps and place them into hibernation when you are not using them.
Not only does it stop them from eating at your battery. It also prevents them from slowing down your device.
Users can benefit from even more battery savings by activating a feature called Aggressive Doze Mode with takes the built-in Doze Mode features and, well, amplifies it up to make it even more effective.
You don't have to constantly close apps manually the Android manager is smart enough to manage the memory and battery.  Greenify can work flawlessly on both unrooted and rooted devices.
Features
Shallow hibernation feature.
Aggressive doze mode.
Unwelcome promotions and ads.
Monitors unnecessary power and memory consumption.
Doze on the go.
Automatic hibernation.
Wake-up tracking.
Download: here
Super battery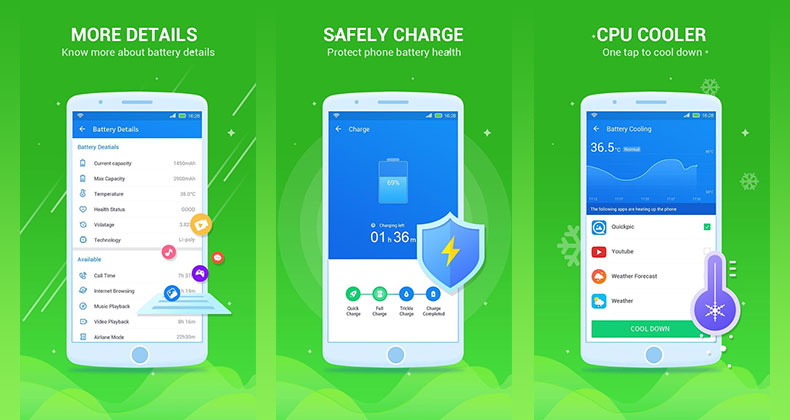 Super Battery – Battery Doctor is a handy and professional battery-saving application.
This one features the junk cleaner option that cleans up your phone's junk files and trash to keep your phone optimized condition and free up some space to put less load on the phone's battery.
It also boosts your phone's performance by killing the apps in the background which are consuming most of your phone's battery without you even knowing.
It also features a private browser that provides you with a safe browsing experience.
Read more: How do you opt for a power bank?
Features
Extends battery life.
CPU cooler.
Optimizes phone.
Kills background running apps.
Junk Cleaner.
Download: here
Amplify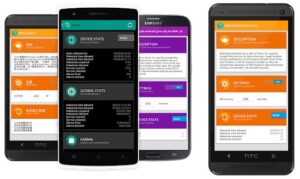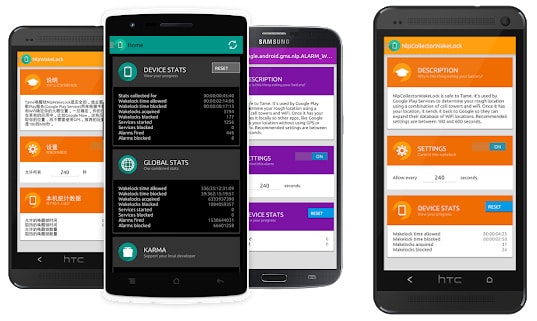 Amplify is a root app with some decent features. Its main functionality is identifying and stopping wake locks.
A wake lock is when an app prevents your phone from going into sleep mode.
It helps put a stop to all of that. You can control apps, alarms, and other services that could be draining your battery.
It is easy to use and can save a lot of your battery life. The best thing is, Amplify has detailed descriptions for all the apps so that you can decide whether to stop the app or not.
Features
Wakelock
Conserves the battery by killing.
Lets the phone go in sleep mode.
Accurately tells about the battery capacity.
Cools down CPU.
Battery saver mode.
Download: here
Juice Defender
Oversee power as indicated by your inclinations or utilize preset profiles and extend your Android battery life with Juice Defender.
As if it has its mind, this Android Battery Saver app automatically and transparently manages your phone's highly powered features, such as mobile data, Wi-Fi, 3G / 4G, and pours juice into your device. Is. Touch and screen brightness
Fully customizable, Juice Defender has an intuitive layout and can run once it's customized. Choose when to plan regular sync occasions, enable or disable specific application connectivity, or flip your Wi-Fi naturally dependent on the location.
Features
5 preset profiles (full customization from default format)
Easy and intuitive user interface (no annoying ads!)
Home screen battery widgets
Mobile data toggle automation
2G / 3G toggle automation **
Wi-Fi toggle automation + auto-disable option
Green Power Premium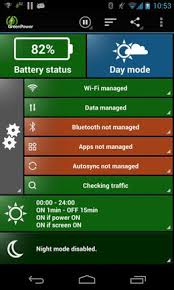 Forget your power cord at home? No worries! The Green Power Premium Battery Saver app for Android gives your phone extra power.
This free app is fully automated and runs in the background. Just create and keep your mind at ease, leave the green power to what works best.
The app easily handles Wi-Fi, mobile data, and even Bluetooth. A leaf icon in the status panel tells you at a glance how Green Power is working.
Features
Notification of battery life in the notification area
Very light and fast app
Easy and clean interface
Configurable Fully configurable settings
Backup / restore settings
Language 20 languages ​​(changes during runtime)
Do Battery Saver Apps Work?
However, most of the work of the Battery Saver app shuts down the background process, which has much more to do with the extension of standby time. But turning off Bluetooth, dialing back on the brightness, and other tweaks help to increase the screen over time – to a lesser extent.
Tips to make your battery last longer
Here are some tips to make sure you save battery and make it last longer. That's why you should have followed the battery savers for Android with whole details.
Figure out what's using up the battery
Go to the phone setting and click on the Battery option. You will now see what sucking up on your phone's battery.
Close all the apps that are using a lot of your phone's power when you're not even using them. Don't use these apps when your battery is low.
Low power/ Battery saving mode
You can also turn on battery saving or low power consumption mode which temporarily reduces the power consumption.
It also conserves battery power by limiting the CPU performance, reducing brightness, and turning off the touch key light and vibration feedback.
Disable navigation services
Some apps keep tracking your location even when they are not in use. Closing such apps help save your battery life. Simply go to your phone's setting.
Click on the privacy option. Select all the apps that are tracking you down and shut them to conserve your battery power.
Wi-Fi over cellular data
Mobile phones consume more battery when the incoming signal is weak than when it is strong.
It's like the phone has to do more work to receive information sent from a faraway source.
It happens during switching 'cells', which are zones covered by the telecom towers, that the phone is constantly trying to figure out where the stronger signal is coming from.
With Wi-Fi, the switching isn't there. Because you set your Wi-Fi to connect to one network, there is no switching.
Airplane mode
You can easily turn Airplane Mode on in the Settings.
With this technique, your phone will stop searching for a cell tower and that'll conserve battery power.
You will, however, still be able to access it.
Completed a guide on the best battery savers for Android apps 2022.