(Last Updated On: December 29, 2019)
Buying tires can be a boring job, but it has to be done such as Best BMX Bike Tires of 2020.
BMX tires offer different choices to customers, from which they can choose.

This is why they need to learn the difference between a BMX tire and an ordinary bicycle tire.
Ordinary tires don't have as many types as BMX tires do. BMX tires are made for mountains and rigid and tough terrains as well; they have a wide width and a knobbly grip.
As compared to ordinary bike tires, BMX tires are actually durable and can bear hardships.
One type of tire can't be used for different types of riding. For example, if someone is taking their bike for hiking, then they need a different kind of tire. If someone is going for a muddy trail, then they need tires, which would give them a good grip.
BMX has freestyle tires, which are 2.2 inches wide and have a higher impact on landing. They have a good grip, can be used around skate parks that are made of concrete and wooden surfaces.
10 Best BMX Bike Tires of 2020
Concrete and wooden surfaces can become slippery, which is why these tires just work fine.
There are race tires, which are narrower as compared to other types of BMX tires. The ideal size of a race tire should be about 1.25 inches, as it facilitates the rider, and makes the tire agile.
If someone is going to ride their bike in dirt, then it is best to choose a bike, that has thinner tires.
An important term in tire purchasing is Max Tire PSI. The maximum inflation pressure in any tire should be between 44 and 51  PSI. PSI stands for pounds per square inch, and this is a must remember the term for any bike rider.
When drivers put air in the tire, it won't cause any damage to the tire. However, it will impact other aspects of a vehicle, which is why riders should be very careful in putting air in a tire.
If a buyer is getting a tire for street riding, then the PSI level should be 40-70+. For racing tires, the PSI should be 80+, for dirt, 40-65 and for freestyle, 70+.
Even though these numbers are commonly applicable, the customer should always follow the guide provided by the manufacturer.
The following are some of the best BMX tires in 2020.
Diamondback L-Train Dirt Tires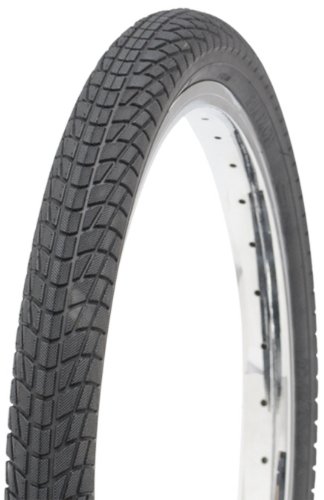 These tires are perfect for dirt riding, mainly because of its grip tread pattern. The profile of this tire appears to be durable, and its weight is only 1 lb. The tire's PSI is 65, and the width is 1.65 inches.
It comes with a wire-bead Blackwall wire, which makes it extra durable. The diameter of the tire is 20 inches.
This is a very practical tire for dirt riding.
Bell Replacement BMX Tire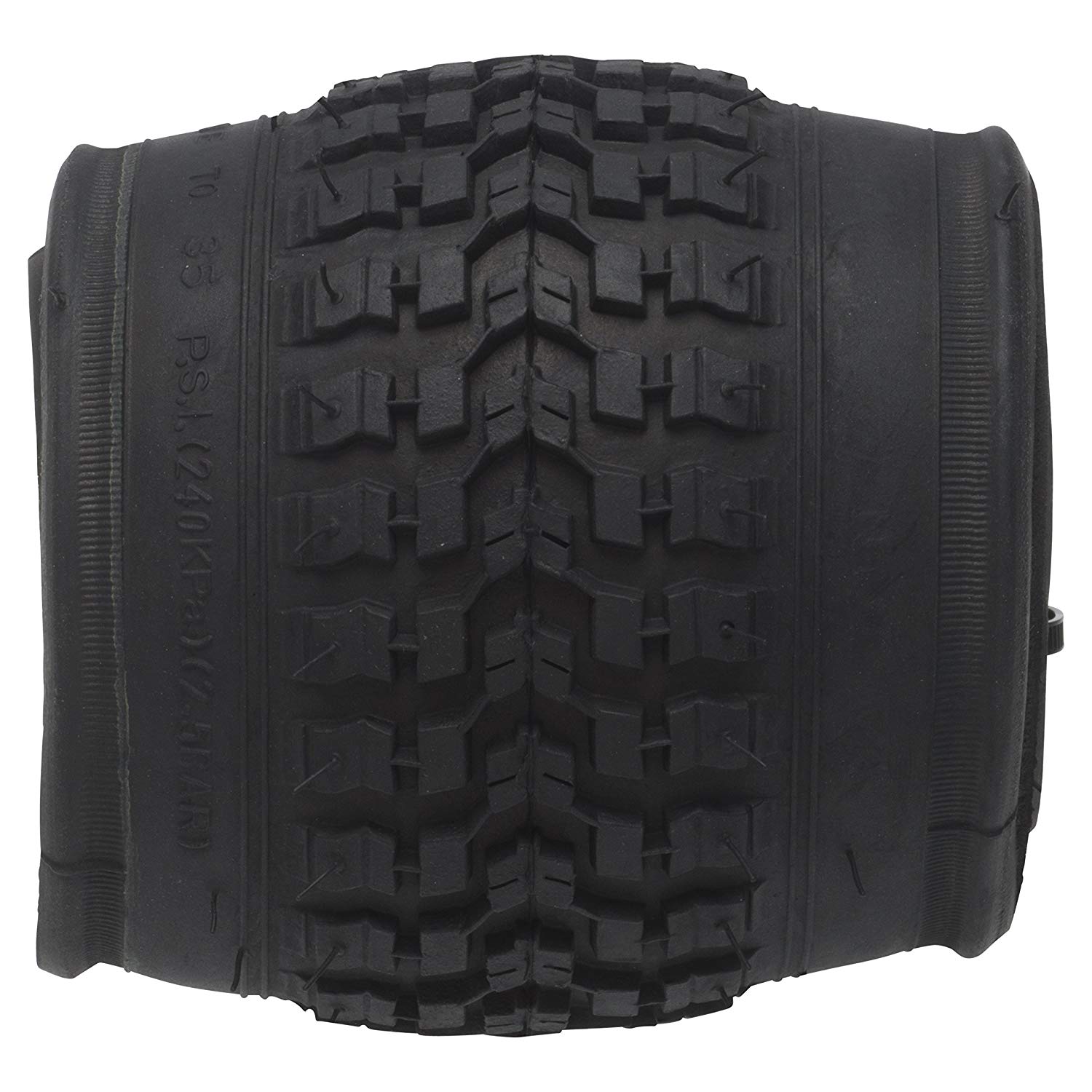 The best feature of this tire is that it can be easily put in a backpack, and can be used in emergencies.
This is a foldable tire, has a carbon steel design, and doesn't require much storage space. The weight of the tire is 510g, and the max tire PSI is 35. The width of the tire is from 1.75-2.25 inches.
The tire comes in 7 different sizes and has 2 run-flat options. The tire has a bell flat technology, which gives it 25% more strength.
Best BMX Bike Tires are perfect for anyone, who rides a BMX bike and needs a spare tire.
Sunlite MX3 BMX Tire

This is a durable tire, which has a good casing, preventing any pinch flats. The most stressful situations that riders face during their fun time are pinch flats.
The weight of the tire is 452g, the Max Tire PSI is 65, and the tire's width is 1.75-2.25inches.
The tire is available in 10sizes and 4 colors. The best part of the tire is that it has a low resistance tread pattern.
Sunlite Kontact Freestyle Tire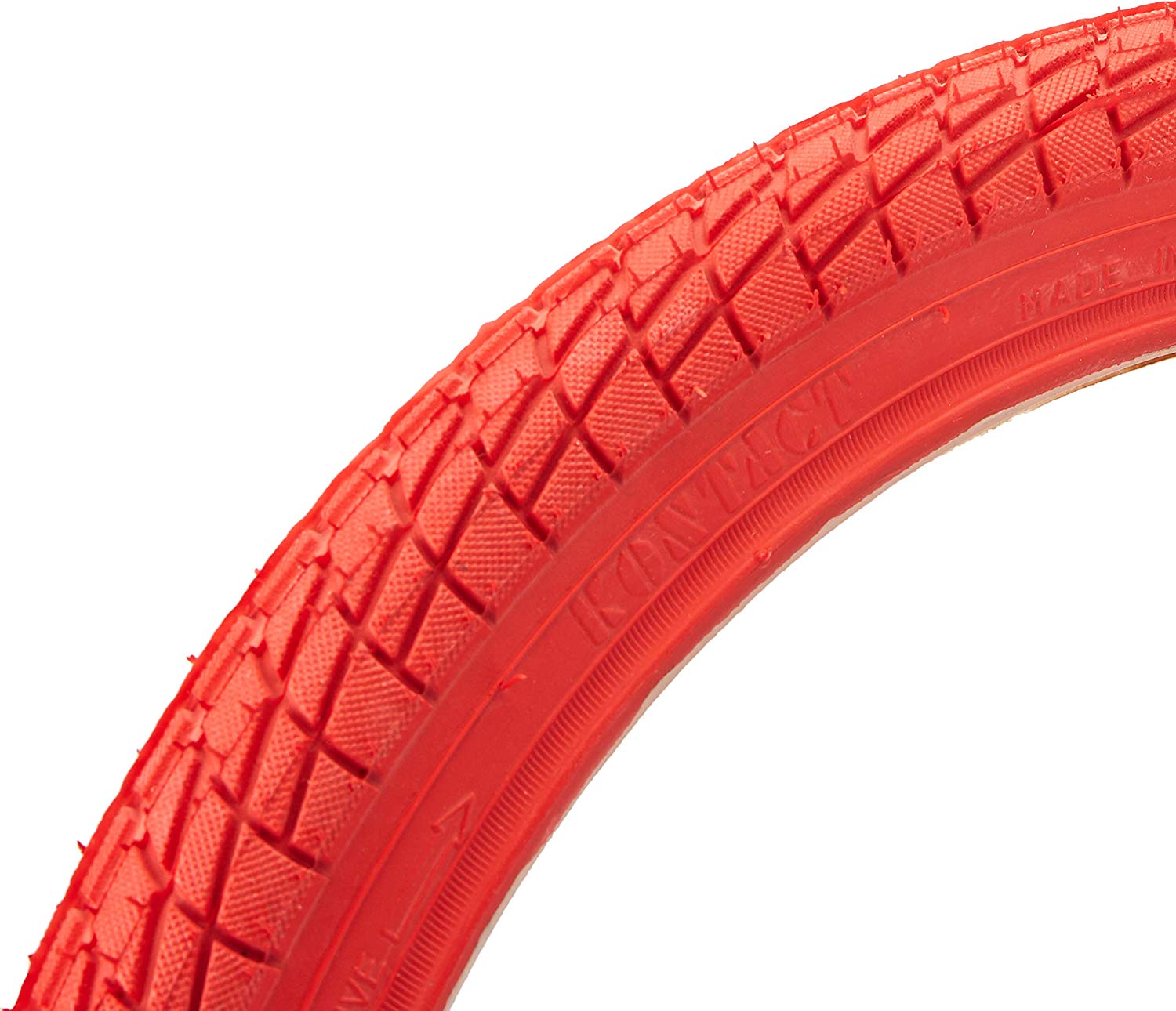 The weight of this tire is 720g, and the max tire PSI is 65. The width of the tire is 1.75-1.95 inches. It is available in 6 different sizes and has a grippy bead tire. When customers receive the tire, they will notice the warp around the tread grooves.
This is a unique tire, which comes in different colors. Best BMX Bike Tires can be customized by the customer, as it comes with variable options, like a groove tacky tread.
Groove tacky tread is used for freestyle BMX riding, and those who like to play stunts with their bikes would love this tire.
Maxxis Hookeworm Race Tires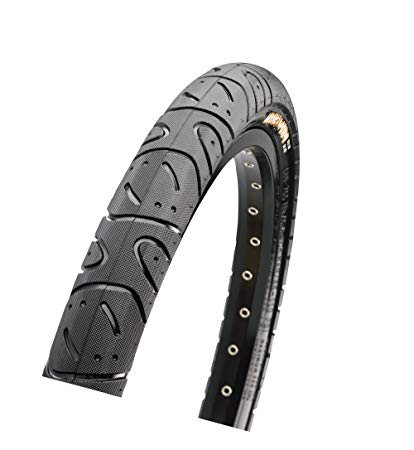 Race tires have to be special because they have to go through a lot of stress. Even if it is a bike, the tires of a BMX have to be sturdy, and different from the ones that are used for casual bike riding.
There are enhancements in the BMX bikes, like the grooved slick tread design. It has a bead to bead tread, which makes the tire more durable.
The weight of the tire is 655g, and the max tire PSI is 110.
The width of the tire is 1.95 inches, and these are race-winning tires, without any doubt.
However, these tires can be used by amateurs as well.
Fiction Troop BMX Bike Tires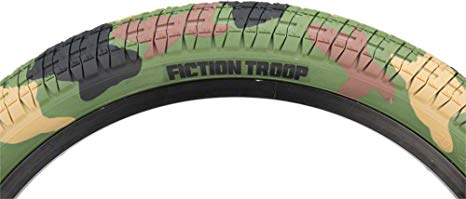 These tires are best for freestyle riding because the width of the tire is 2.3 inches.
The tires have an unusually good grip, which makes the landing impact, very smooth. The tires have a deep directional tread pattern, which gives it a good grip.
The weight of the tire is 710g, and the max tire PSI is 85. The design of the tire is jungle camouflage, and it comes with beading, which makes it more durable.
Those who use this tire will specifically feel the difference between this tire's design and others.
Maxxis DTH DC Race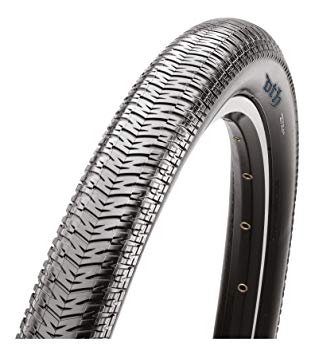 This type of tire comprises a dual compound technology, which deals well with both pressure and impact.
This tire facilitates the ride and makes this riding experience, an easy one.
The tire width is 1.25-1,75 inches, and the weight is 245g. It is available in 11 sizes, ranging from 20×1.125-24×1,75 inches.
This tire was specifically designed for the Olympic Beijing Games, which makes it a really durable and reliable tire.
The tire is foldable, which means that when the rider isn't using it, it can be stored in a small space.
The tire has the capacity to work well on high speed and straight tracks. When customers install these tires in their BMX bikes, they will surely feel the difference.
Eastern Squealer BMX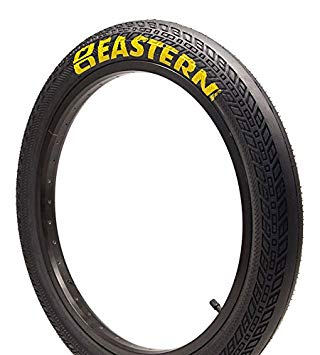 This freestyle tire is very different from the other tires in the industry. The rubber compound of the tire has a sturdy grip, which has been praised by BMX riders.
The weight of the tire is 725g, and the max tire PSI is 100. The width of the tire is 2.4 inches, and it is available in 2 different colors. It comes with a hot-patched logo of Eastern Squealer, and Best BMX Bike Tires give it a very bold look.
The tire has a smooth center, and it lowers down its resistance and increases its speed.
It even has a sidewall tread design, for giving the tire a nice grip.
Goodyear Folding Bead Street
This is an exceptional tire and is one of the best in the BMX industry. The weight of these tires is 750g, and the max tire PSI is 65.
The width of the tire is 2.1 inches, and it comes in two different colors. The tire can be folded and stored, in a small space. The rims are 1.5-2.125 inches.
These tires are perfect for riding the bike on the streets. The reason why it is perfect for street riding is that it gives a great grip to a BMX bike.
The tires are affordable, agile, low weight and can be treated as a replacement tire.
Odyssey Sunday Street Sweeper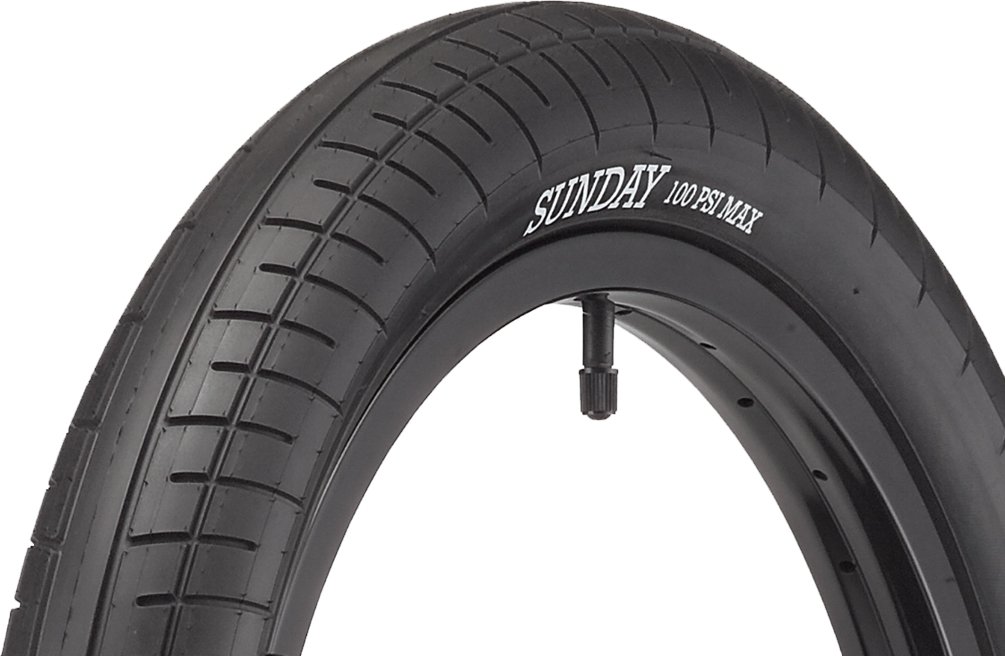 Dual compound engineering technology is used in the manufacturing of the Odyssey Sunday Street Sweeper tire.
This allows the rider to have smooth rough landings; they don't feel the impact. The rider, when he uses this tire, would feel more in control of his BMX bike, and will feel comfortable.
The weight of the tire is 730g, and the max tire PSI is 100. The width of the tire is 2.4 inches and it comes in 3 colors.
This tire is popular among professional riders, and have side features like harder durometer.
Conclusion
Picking up tires for BMX rides, or any kind of bikes can be complex. The buyer should have proper knowledge about the tire that he needs.
The buyer should assess his day to day use of a bike; whether he rides it on dirt, on the streets or difficult terrain. If the rider doesn't get appropriate tires for his bike, then he won't be able to ride it properly.
Moreover, choosing the wrong tire would mean seeing it get damaged. Buyers wouldn't want to see their tires get damaged, as soon as they start to use them.
Best BMX Bike Tires are why the riders should always get the best tires they can find in the market. They should do proper research about the PSI level, and the different types of riders that are available in the market.
They might want a rider that they can customize, like writing a logo on it, or choosing a color, which suits their ride best.
Want to know about Me?
There is no doubt that there are colored tires available in the market because tire manufacturers know how riders are picky about their tires.
Tires are expensive, and riders need to get those tires that are durable, and the ones they can easily afford. BMX tires discussed in this article, are the best ones.