If you're one of those people who got a lot of devices or a very big family with a lot of family members, then you are aware the problem of charging each and everything each day can get out of your hands very quickly.
All of you with such problems end up with tangled cords, arguments with your siblings over who's been hogging all the outlets, and what worse is that the devices that never got charged because someone in your family unplugged them while you were out somewhere or doing some work.
Well if you have been going through this stuff and you're thinking of a way how to solve it, then let me tell you that there is only one way to end this pain that you're going through, and the only way that I am talking about is surely not throwing your devices out of the window.
While the remaining ones take the look of those attractive docks, storage units, and device organizers that are available in the market.
For this article, I have managed to search and include different options for you that will suit all your different needs and device charging specifications as well.
So, this means that whether you have an iPhone device, an Apple Watch, an Android phone with Quick Charge ability, or a USB-C Android smartphone.
With a considerable amount of time of experience of covering a lot of mobile smartphones and their accessories.
10 Best Charging Stations 2023 Now No Need To Worry about Charging
Before we get started with the reviews, let me tell you that it is worth considering that you should pick up some short charging cables to reduce the tangled and messed-up bunch of wires around the charging station that you choose for your convenience.
A little piece of advice for you is that if you got Apple devices, always consider going with MFi certified cables, take these 4 inch Anker Powerline Lightning cables for example.
And if you got devices with USB-C charging ports, then you should be considering Aukey's fast charging braided cables to do the job for you.
SIIG Smart 10-Port USB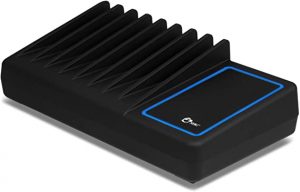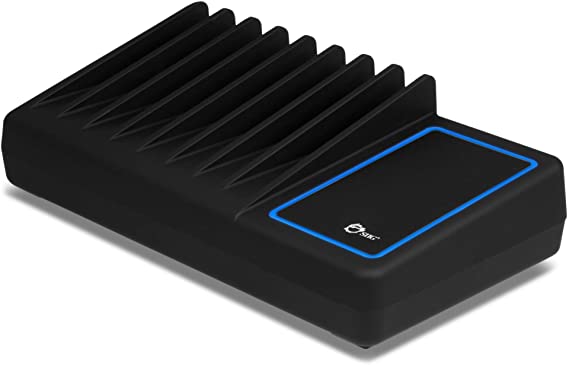 Any busy and crowded household needs a reliable charging station that has multiple USB ports, and this SIIG Smart 10-Port Station is the one to look out for. Image source: here
It comes with 10 USB ports which automatically stop the charging when the device is full, as well as eight 3/4 inch silicone padded slots for each one of your family's devices.
The Silicone offers you anti-slip protection, so you do not have to worry about the cracked screens or scuffed edges.
The SIIG also has a LED-lit charging deck, which enables you to charge smartwatches, Bluetooth headphones, and speakers without the use of a cord.
The body of the device is made from a soft-touch plastic, which makes it feel light and flimsy. The instruction manual says that it weighs about 1.5 pounds, but it is found that the unit weighed in at 1.2 pounds.
It feels like it must be mostly hollow inside, which is quite unlucky because there is no internal cable management solution here.
When your devices are not plugged in the leftover USB cables are left in an ugly tangled mess.
The slots are well designed and it does a great job holding phones, tablets, and even very small laptops as well.
The one problem is that the spacing is not adjustable, and they are not wide enough to accommodate some of the popular ruggedized cases which are commonly used by the kids.
As for the setup process. There is no complicated setup process. The charging dock ships with an external power supply you plug into the rear, then plug into an outlet. With that plugged into power, it is ready to use.
The charging station is made of plastic, and it does not feel like a high-quality device physically. A lot of that is mostly due to how light in weight it is, and how most of the device is space.
It feels solid enough, and it is durable as well, but there is no escaping of the lightweight plastic construction.
The dock is normally capable of fast charging, but it is important to have tempered expectations in that department.
It means that each of the 10 USB charging ports can put out 5V/2.4A, using smart circuitry to determine either to provide fill amperage or a lower amount.
Best for Big Households: Simicore USB Dock and Organizer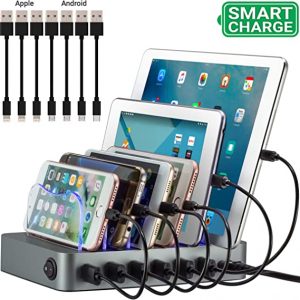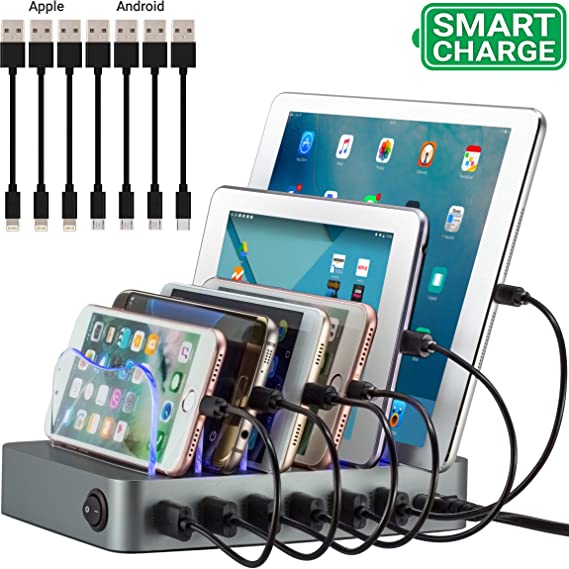 If you are having a big house which is worth of avid techies and you are tired of untangling endless thickets of cables, this Simicore USB dock is exactly what you need to keep your family's gear all set and organized.
With having four slots and accompanying USB ports, it is capable of charging all attached devices simultaneously and it is compatible with any USB powered item.
The Simicore Smart Charging Station has an attractive aluminum like finish, and clear dividers, which gives it a modern look that fits well in a lot of home and office spaces as well.
Each of the device slots features a rounded, rectangular non-slip strip to help hold the phones and tablets in place.
The dividers provide a dual purpose, both separating your devices and lighting up to show when a device is charging.
The rear of the charging station features all of the four USB-A ports and the power cable input so that the charging station can easily be situated against a wall to keep the cables out of the way. The power switch is easily located on one site.
The bottom of the charging station features rubberized feet to assist in holding it in place when devices are placed and removed, even though it is said that it still slides around a bit on smooth surfaces.
The charging station is not ready to go right out from the box, but it is very much close. The setup process involves attaching the power cable, inserting the USB cables, plugging the unit into power, and then turning it on. It even adds a small variety of USB cables to get you started.
There is one difficulty that may crop up during the installation is that the included cables are limited to two Lightning cables and two micro USB cables.
If you are owning any newer Android devices which use USB-C, or older devices that use mini USB, you will have to but those cables before you can complete the setup process.
Hercules Tuff Charging Station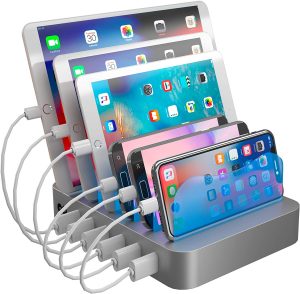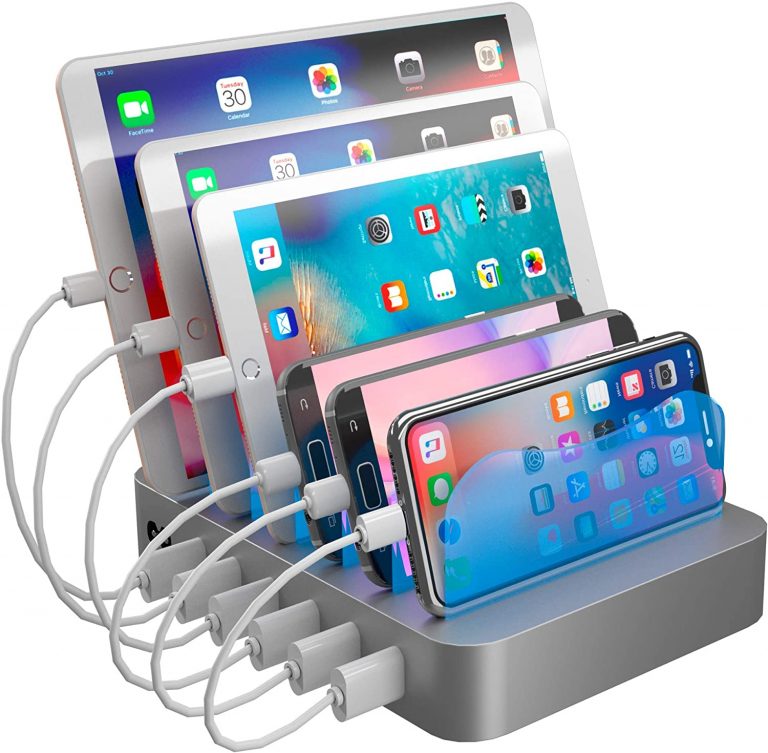 Accommodating up to six devices which includes smartphones, tablets, and also small laptops, it comes with a set of short cables which are, two Lighting, two USB-C, and two micro USB.
Each of the devices is separated by a plastic panel that allows them to be propped up. They even glow blue when you have a device change in them.
In terms of charging, the dock can charge faster and pick which devices need more of a juice. The price is quite reasonable.  It is more expensive than the Simicore USB dock but it has more slots and better features as well.
The various cable types make it great for a multi-device household or office which uses Android, Apple, and older micro USB devices.
Yet there is no update of the best charging station for Xbox one so, have to wait till it launches.
Aukey Wall Charger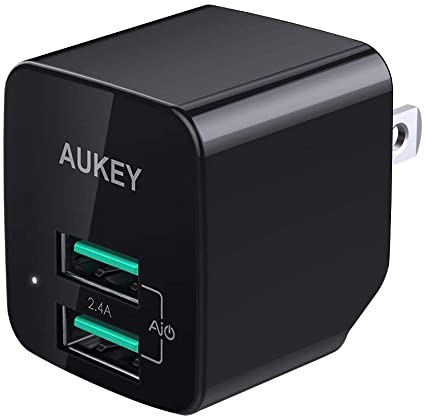 All of you guys know that losing an outlet to a USB charging station can be a really bad move to make and can be annoying as well, so this product here is offering you two outlets and four USB-A ports for the greater convenience that you can ever wish for.
This cleverly made charging station is designed to turn a single outlet in your house or your office into two and also it provides you four USB-A charging ports for your devices.
It helps you to make the most out of your limited outlets. You should know that these USB-A charging ports can deliver up to 30W in total.
Measuring about only 3.5 x 1.2 x 2.2 inches in dimensions, this black in color plastic block plugs straight into the wall for you and now you don't need to have the best charging station for multiple apple devices.
The glossy part on this device bears the logo of Aukey and there is also a tiny LED there to indicate to you that if it is plugged in and ready to do the job for you.
Nomad's Wireless Charging Hub
This charging station has four USB charging ports for your devices and a wireless charging pad as well to make you able to juice up five different devices at the same time.
Any person who has a smartphone with wireless charging capabilities such as the new iPhone and many recently released Android smartphones will admire and love this charging station designed and introduced by Nomad.
This black, circular puck has a wireless charging pad on the very top of it that provides you with the highest output of 7.5W. Underneath the wireless charging pad, you will find three USB-A charging ports and a single port of USB-C compatibility, total four charging ports for you to charge up any other device in your home that doesn't have the wireless charging capability.
You can use the wireless charging pad in this charging station to charge your wireless charging capability holding smartphones every day.
And when you need to charge it a little more quickly, then you can easily plug it into a lightning cable that you can get from any mobile accessories shop and plug it into one of the USB ports of this product.
Anker Quick Charge 3.0 63W 5-Ports USB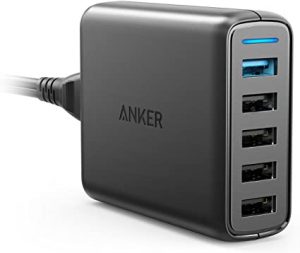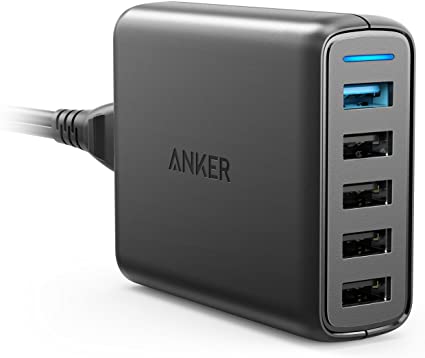 This product that I am reviewing right now can juice up a total of five devices at the same time in an impressive and record time.
If you guys have a big family of Android smartphones in your house, then the chances are high that many of those smartphones have Quick Charge technology that helps them to get charged faster.
This Quick Charge Wall Charger from Anker can charge your devices at the fastest rate ever, so you guys can get moving as fast as you can.
All you have to do is simply plug in the power source into the wall, plug in your USB charging cables, and then plug in five different devices at the same time to charge them up.
This hub has a simple rectangular shape that looks like a small battery pack but doesn't judge it by its looks.
Vogek 6-Port USB Charger Desktop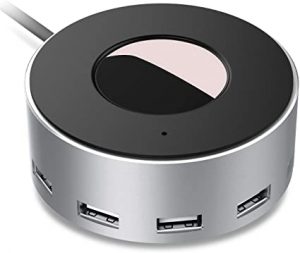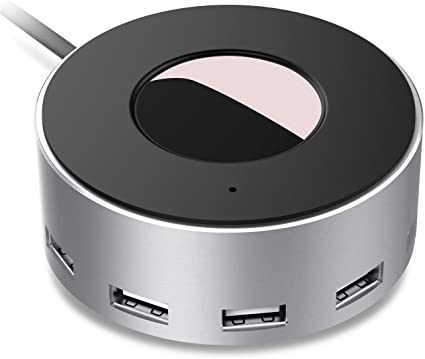 This product has a very smartly designed circular shape that helps in preventing you from tangled cables.
If you guys are having a lot of smartphones and chargeable devices in your home, that makes you need a charging station with a lot of USB charging ports. But the actual thing is that having all those smartphones and devices getting charged up from one single hub can get messy for sure.
This is why sometimes you just wish that your cords were more separate from one another so they couldn't be more messy, right?
Well this Vogek 6-Port USB Charger Desktop Charging Station does exactly what you're looking for.
The circular design keeps all your cables and devices separate from each other in a way that nothing tangles and there will be no mess at all that you should be worried about.
You should get some short cables for charging so that the space between the charger and your device is not long enough.
RAVPower PD Pioneer 60W 5-Port Wall Charge
Here I have one portable, very affordable and a great product for you, this RAVPower PD Pioneer 60W 5-Ports Wall Charger is surely a great option to go for.
Here is another plastic box for you that offers five charging ports to charge various devices, but the fact that sets this model different from others is that one of its ports is USB-C and it supports Power Display that offers you up to 45W.
That makes the total amount of output about 60W, and with this, you can charge four smartphones at also a laptop at the very same time.
This charging station comes in two colors: black, and white. The design of this device is incredibly compact and it measures about 3.54 x 2.32 x 0.98 inches in dimensions.
Did what the best charging station for the iPhone? This 5-foot power device plugs straight into the wall and there are tiny green LED lights that will let you know that it is ready to be used.
Belkin PowerHouse Charge Dock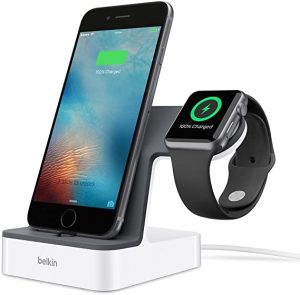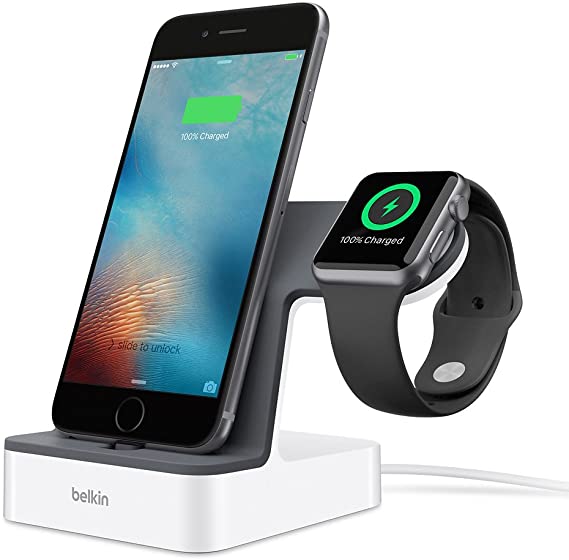 This product namely the Belkin PowerHouse Charge Dock is designed especially for Apple Watch and iPhone. This will be the best option for you to make if you have both an iPhone and an Apple Watch too.
This device looks pretty gorgeous and it gets the job done for you without messing up your room with tangled wires and ugly looking chargers plugged in your wall.
This is the dock that all the people who are using iPhone and an Apple Watch together actually looking for. AmazeInvent
A great fact about it is that it is less pricey than most of the dual iPhone and Apple Watch charging docks available in the market.
This product has a lightning connector and a charging disc for your Apple Watch built into the design of this product so you don't have to deal with any extra wires at all.
Zendure Passport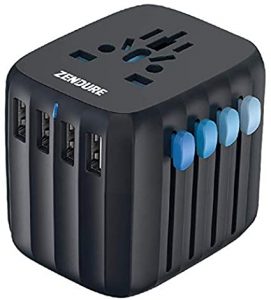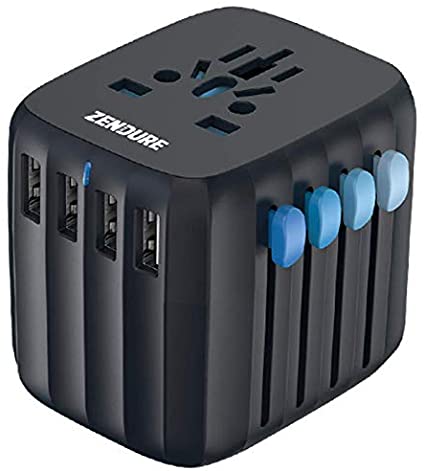 Here I have a very clever travel adaptor for all of you guys that just fits all the international outlets perfectly and also offer a single USB-C charging port and three USB-A charging ports to charge your smartphones.
Here you can get the best charging station for apple. If you are one of those people who usually fly abroad for work or fun, then I need to tell you that this Zendure Passport travel charger is the product that you're looking for.
This is a global travel adapter that works efficiently with different outlets in over 200 countries all over the world and what more you need to know is, that it offers four charging ports for your smartphones that can deliver a total of 30W.
It is a quite thick adapter that measures about 2.24 x 2.8 x 2.5 inches in dimensions, and it comes in two color choices: black or white.
This one got a blue LED light on the very bottom that indicates that it is plugged in and ready to do its job.