or all the people who are having some quality laptops, high-end laptops, or even the standard ones, It is necessary to protect your laptop because you know how much important documents and data are stored in that laptop of yours.
You guys would be thinking how should a person protect their laptop from all this stuff, right? Well, I got you covered, my friends. All you need is a decent laptop sleeve and you are good to go.
Just to satisfy and convince you guys that why you should buy a laptop sleeve, read below.
Reasons Why You Need Laptop Sleeves
The laptop sleeve is a pouch that is usually made from material like plastic or nylon. It is designed to fit over the skin of your laptop perfectly.
These laptop sleeves are designed to help cut the quantity of dirt and dust that your laptop carries in a term of time. Not only this, but these laptop sleeves/covers will also protect your laptop against minor knocks, bumps, and damages.
But if your laptop encounters and goes through a major accident like a heavy drop, it will surely protect a little but that protection will not be that much enough for it.
The followings are the reasons for which you should buy a laptop sleeve/cover necessarily.
PROTECTION
The main advantage of buying and using a laptop sleeve/cover is that it protects your laptop against damage or harm. As you know that laptops are expensive and kind of sensitive plus complicated electronic devices that is why you must handle them with care and give as much protection as you can to extend the life of your laptops.
If you put your personal laptop computer in a laptop sleeve then it will stop it from interacting with the lint that is mostly found in the bottom of luggage or a briefcase.
Some of the laptop sleeves/covers have water-resistant features, which allows them to protect your laptop from liquid damages as well
CLEANING
If you place your laptop into a laptop sleeve/cover, this means that you will get to clean the display of your laptop less often than usual and overall cleaning as well.
This fact and reason are important to consider just because cleaning a laptop is not a short method or an easy thing to do. It requires time and your attention as well.
Cleaning laptops can be tricky sometimes because not all the designs of laptops are easy to access to the very inside of the machine. This is why these laptop sleeves/cases will resist the dust from going into your laptop which will keep your laptop clean for a long time.
LIMITS
It is very important to be practical and know very well about the protection properties of your laptop sleeves/covers. Every laptop sleeve/cover has a limit to which they will protect your laptop the most.
Most of the laptop sleeves models are designed to produce and offer you some kind of knock protection, whereas some of the models support water-resistant properties but they are not good at resisting a major drop from a massive height or dropping into a pool as well.
Maybe this is enough for a general talk right? Now, I should probably move onto the review of some of the best laptop sleeves/cases that you can buy today.
7 Best Laptop Cases And Sleeves 2023
I am going to list down and review these laptops in descending order. This means that the listing is going to get greater and greater as you keep going on to the end of the article.
Inateck Sleeve Case
This Inateck might not be the best or fanciest sleeve on this collection that I have searched for you but don't you dare judge this product for the design it holds. Image source: here
This sleeve case possesses one of a kind polyester fabric which is said to be liquid-proof.
This Inateck Sleeve Case protects your laptop from some accidental spills and drops of water to get into your laptop. And the build quality of this case is no doubt reliable for years of usage.
This case is a perfect choice for you to make for your MacBook, MacBook Air, or MacBook Pro Retina, because of the internal dimensions it has of 13.5 by 9.4 inches.
The woven exterior and the soft flannelette interior lining of this laptop sleeve/case combine to offer your laptop a well deserved all-around protection that your laptop needs.
It has a big side pocket which provides you with enough space in which you can store your mouse, phone, charger, or anything necessary for that size.
If you have a doubt or if you have a question in mind regarding the reliability of this Inateck sleeve case then I need to tell you a fact about this product that it consists of up to five layers of materials that are eco-friendly and will provide your laptop good protection for a long time.
All of this padding just to make sure your laptop is protected from the bumps and shock which can damage up to your laptop in a lot of manners.
Another great and impressive fact about this best laptop cases and sleeves for Macbook pro is that it consists of a unique side zipper that will protect your laptop if you ever drop it accidentally. In the last, I will mention the best thing about this case is that it is offering you a lot of features at a very affordable and reasonable price tag.
ProCase Laptop Case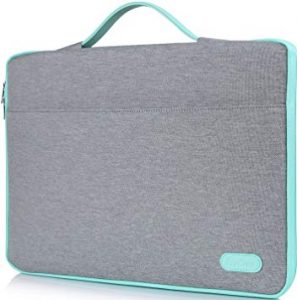 If you don't like the design of the inateck best laptop cases in the UK then you might just want to have a look at this one.
ProCase Laptop Case is on the rescue for you guys. It is available in a great variety of colors from blue to teal, light grey, and the most favorite of all 'black'. The strap of this ProCase Laptop Case is beautiful all-around without any doubt and this makes it trendy.
The band on this ProCase Laptop Case doubles up for you as a convenient and easy to carry handle at the top of it. This case is slim as well, which makes you able to toss it into your backpack or briefcase very easily.
The internal dimensions of this ProCase Laptop Case are 5.6 x 11 x 1.1 inches which makes it greatly compatible with your laptop which measures about 15.6 inches or even a MacBook Pro of 15 inches is the perfect fit for this case.
What I love the most about this ProCase is the material on this, which is soft and environmentally friendly as well. It provides you all the functionality that you require to protect your laptop from scratches, dirt, and dust.
ProCase Laptop Case offers you an extra front pocket as well, just in case if you want to carry something additional with your laptops such as a pen or a writing pad, this pocket will do the 'holding safe' job for you.
If you are aware of the TSA checkpoints that how much time these checkpoints take, then I need to tell you that you can open up this ProCase Laptop Case at 180 degrees just to get things to get done much faster and reduce the time you spent at those airport checkpoints.
After analyzing all the functionalities of this ProCase Laptop Case, I should mention that this case is no doubt ideal for business people, traveling purposes, and school as well.
Arvok Laptop Sleeve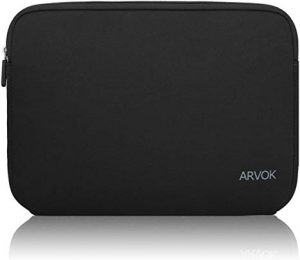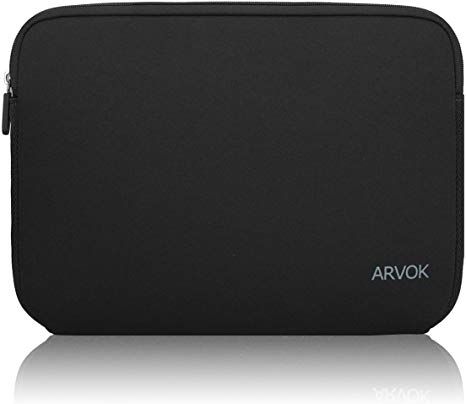 Many people say that the best laptop case is the one that is waterproof, right? And this is what you will be getting with this Arvok Laptop Sleeve.
Arvok Laptop Sleeve is big, as it can easily carry your 15.6 inches long Toshiba or Samsung laptop. All the credit goes to the dimensions of this laptop sleeve which is 15.5 by 1.2 by 11 inches long and after considering this dimension, I can say that it will easily fit a large MacBook Pro as well.
When you talk about protection (which is one of the most important reasons to buy a laptop case), this Arvok Laptop Sleeve is really good and reliable in that.
This laptop sleeve features a water-resistant neoprene material, just to protect your laptop from scuffs, shocks, damages, dust, dirt, and water spills.
The satisfactory padding done on the inside of this Arvok Laptop Sleeve is designed to hold your laptop comfortably and tightly. And another fact worth mentioning about this laptop sleeve is that it is slim and lightweight, which makes it much convenient for you to handle it whenever you are on the go.
It is okay if you don't consider the superior protection provided by this laptop sleeve, but have a look at its quick top-loading design which is no doubt a hit with all the users of this product.
Arvok Laptop Case lets you glide your bag smoothly and easily which provides you very quick access to your laptop in no time.
Not only the features are good, but this Arvok Laptop Case is also inexpensive as well. This Arvok Laptop Sleeve is one of the cheapest laptop sleeves on this list of mine.
You just have to select any model color for yourself between the ten vibrant colors and just start providing your laptops with the protection that was required for a long time.
Recalling: you get superior protection which your laptop requires, it is ultra-slim which looks attractive and it is very light in weight.
Evecase Laptop Sleeve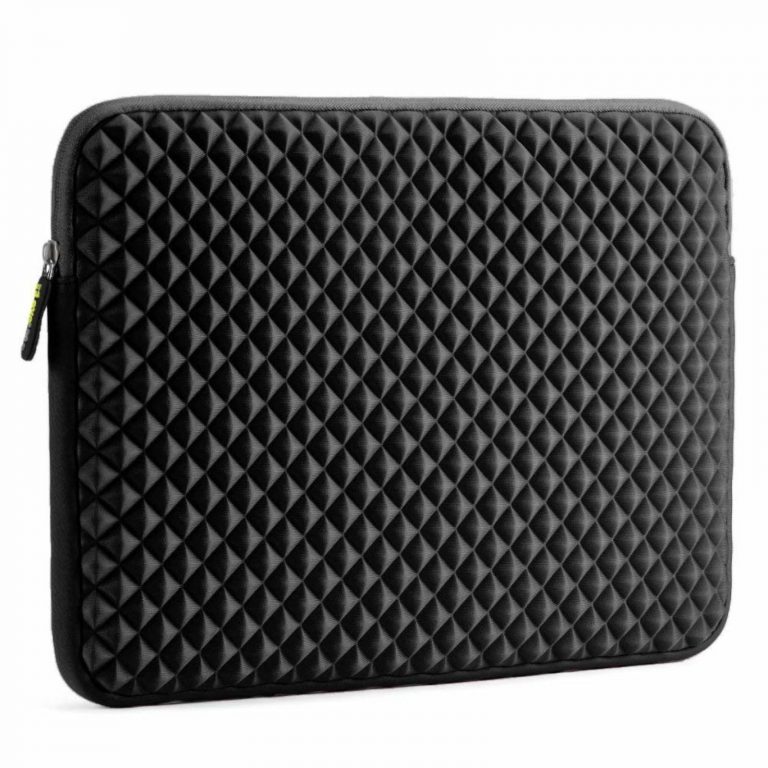 The Evecase Laptop Sleeve is a laptop case that has a diamond-inspired exterior design Evecase. It brings some excitement to this traditional sleeve.
This case has a slim shape and profile so it will not weigh you down. It will let you carry your laptop as long as it is not more than 12 inches in size.
The Evecase's internal features shock-absorbent cushioning to take away all of your worries when walking or riding on uneven surfaces.
As it is not entirely waterproof, but the microfiber plush will get the job done when it comes to keeping the water or moisture away from your laptop and other devices as well.
And, because of the size of the case, you can slide this laptop case into a larger messenger or protective bag.
The Evecase is for people who want a simple and efficient way to carry their notebook or laptop. It is an excellent choice for the days when you only want to carry your computer, a chapter book, and a pen.
This is a simple yet highly functional laptop case, just the way you like it, as a happy user said about this case and that user had some comments about this, he said: "nice case that's worth every buck."
Chromebook Case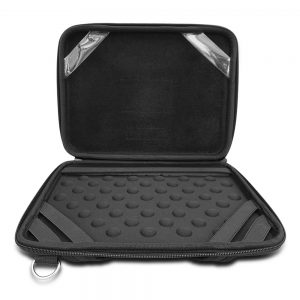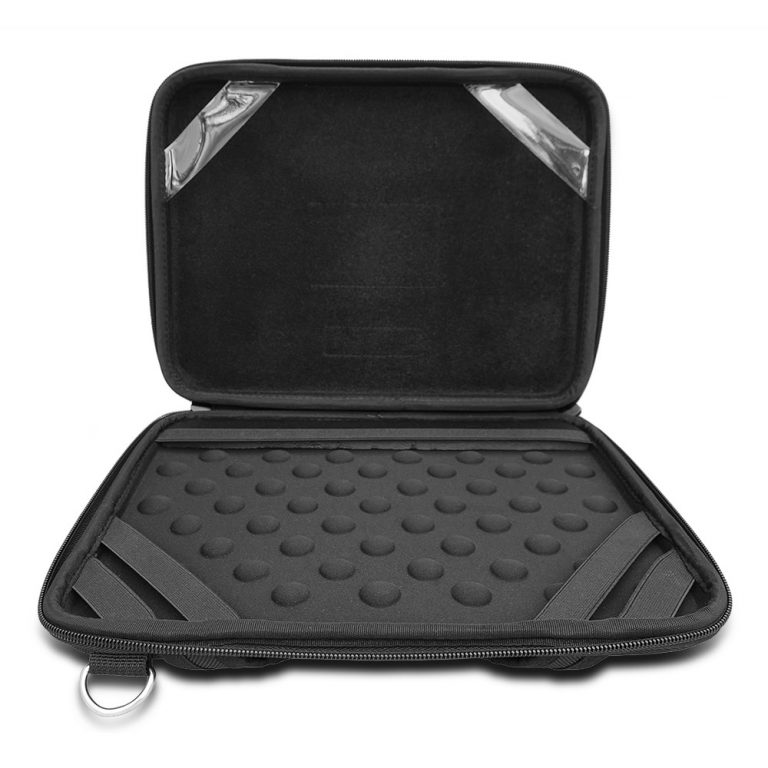 The case is a good laptop case for your budget and other people as well. it is one of the best laptop sleeve or case if you like the carry handles.
As this case is spacious, it is particularly compatible with 11.6 inch Chromebooks, tablets, and notebooks.
It has promised to give your laptop top to bottom protection on the streets, at schools, and also during vacations.
The case offers features that are a seamless wrap complete with impact foam padding. This workhorse has additional room for your adapter, cables, and also other accessories.
It is protective, the neoprene exterior does not only just hold well against the beatings of daily use but it also matches the shape of your devices.
in the meantime, the padded texture cushions up your laptop like bubble wrap.
And that is not enough – the case design undertakes to help absorb shock from the bumps and dings of consistent use. This laptop case also offers a scratch-resistant inner lining.
Do you know what that means? It means that it will keep your computer's screen looking perfect and pristine. And then there is also the front pocket that is very easy for your charger and cables. The case body is slim, so handling should not be much of an issue.
Lacdo Notebook Bag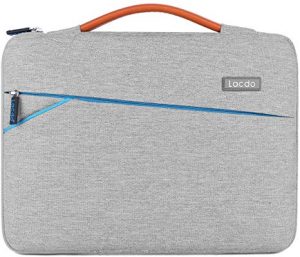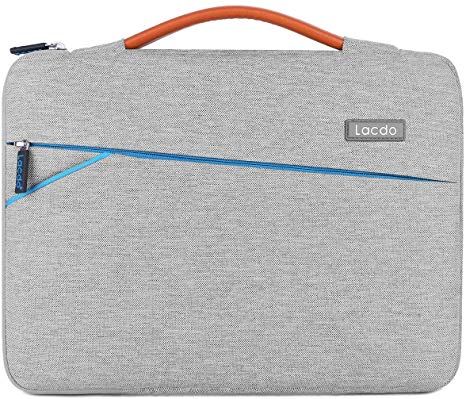 Do you already have you're to go to a laptop backpack? Then you only need to get yourself this ultra-slim notebook sleeve to slip inside.
I love the side outer pocket which makes it easy to carry your magazine or favorite read in a convenient and easy to access place.
The Lacdo internal area measures about 35cm x 3cm x 24.5 centimeters. That is more than enough space for your 13 inch MacBook Pro with Retina display or Lenovo Yoga 2 Pro.
This case can carry any other laptop that is not more than 14 inches in size so you can still purchase it even if you don't own any of the two models.
You will love these big, easy-to-pull zippers and the water-resistant outer fabric. The interior is soft, just as you would be expecting, and with all the padding you need to protect your computer against shocks.
In addition to that, the one thing that makes this case blink other than its affordable anti-static construction.
In essence, this means that a buildup of static electricity on the inside will not damage your laptop when in transport.
Canvaslife Laptop Sleeve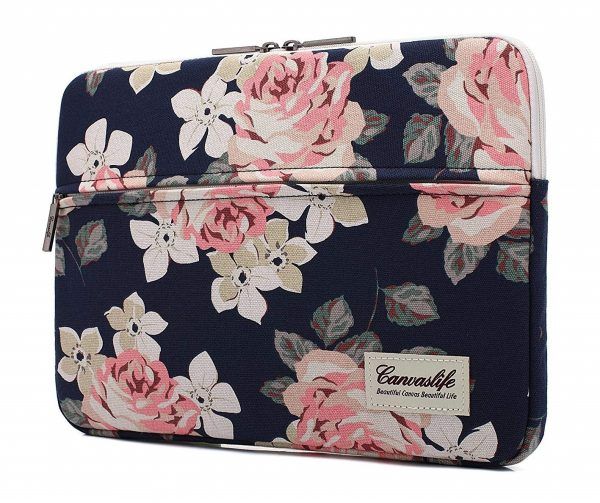 You can get the Canvaslife and carry your laptop like a boss! The floral print makes it a great and attractive option to match your style.
I think that it is one of the best laptop sleeves for women. Whereas there is no doubt that this case is beautiful, it scores big when it comes to features and functionality.
It measures 350mm (L) x235mm (W) x20mm (H) to fit most of the 13-inch laptops which also includes the Macbook Pro 13 with a hard case. It also has an outer pocket with a side zipping for your other technology, sunglasses, a pen, or a stylus.
As the name of the case suggests, this case features a special canvas that is remarkably durable. The design is waterproof and also shockproof as well.
The loading top zippers offer you to access your computer when on the plane in a snap. Now, that is a cute and handy laptop case right there!
As you guys know and I think you guys are pretty much aware of how much touchy and sensitive these laptops are, and then bearing them out with some damages is the most heartbreaking thing ever.
This makes it necessary for you to buy a favored laptop sleeve for your personal computer and just start providing your laptop with the appropriate protection it needs. AmazeInvent is not only a place of global products but also able to make you happy.
This article was just created to save precious time in your lives which many people come and waste while looking and searching for the best products which fit according to their needs.
I have listed the 7 best laptop cases and sleeves in 2023.