Well, going out and wasting hours searching is not what you should be doing, that is why only for your convenience.
Even if you want a home theater setup and you don't have enough money for it or don't have the room for a home theater so these are the best soundbars under $500 Australia can be a decent alternative option to choose.
10 Best Soundbars under $500 2023
But keep in mind the budget as well because there will be some points here where you will have to sacrifice as well. But overall,  I have some best Soundbars for you that you won't regret buying under a $500 bill.
Now, I will be listing some of the best Soundbars for you which you can buy from the market right now under a $500 budget only. So without any further wait, let's jump onto the list and review these Soundbars.
Yamaha YAS 207BL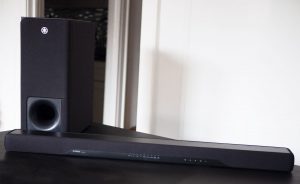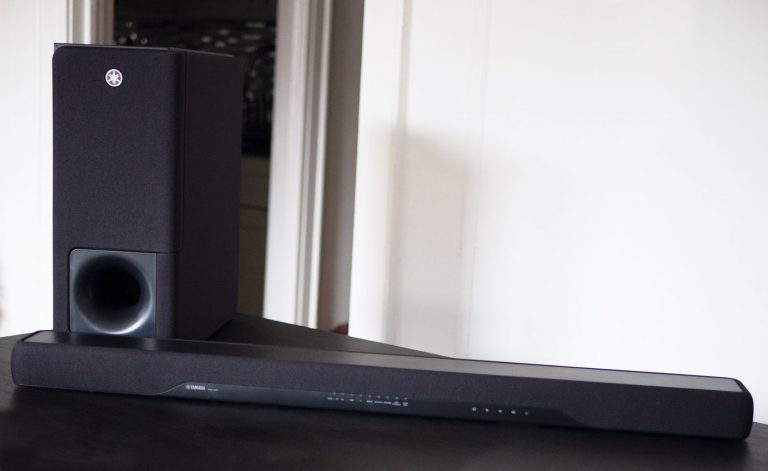 This soundbar has been chosen and selected as "Editor's Choice" on a lot of platforms. This Yamaha YAS 207BL is one of the world's first soundbars that have and use DTS Virtual technology. Image source: here
The speaker on the soundbar and in the included subwoofer, both create a 3D surround impressive sound experience.
All components of this Yamaha YAs 207BL are mountable and with this, there comes a mounting kit as well as easy instructions to do the job easily.
The rectangular subwoofer that comes with this Yamaha YAS 207BL is 17 inches tall, and the soundbar is 36 inches wide, these components are most ideal for wall mounting or resting under a Smart TV flat screen.
Both of these, the subwoofer and soundbar of this Yamaha YAS 207BL are capable of wireless and Bluetooth as well for all your devices such as mobile phones, laptops, desktop computers, and tablets.
Wohome S9920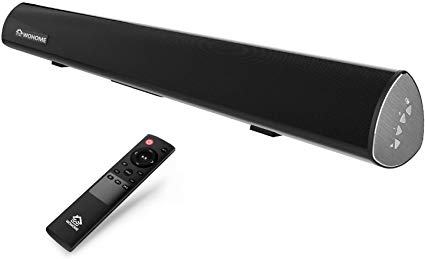 This soundbar is considered the "best budget pick" in this list. If you take a detailed look at this Wohome S9920, you will see that this is a great soundbar without any doubt.
The size of this Wohome S9920 is about the size of a 40-inch flat-screen or perhaps the size of the shelf your television is placed on. This device is not designed to be laid on to the ground and it comes with step by step mounting kit and tools if you want to mount it around the room somewhere.
If you have used a soundbar before as well, then you will find this Wohome S9920 soundbar slightly longer than the old one you used.
Sonos Beam BEAM1US1BLK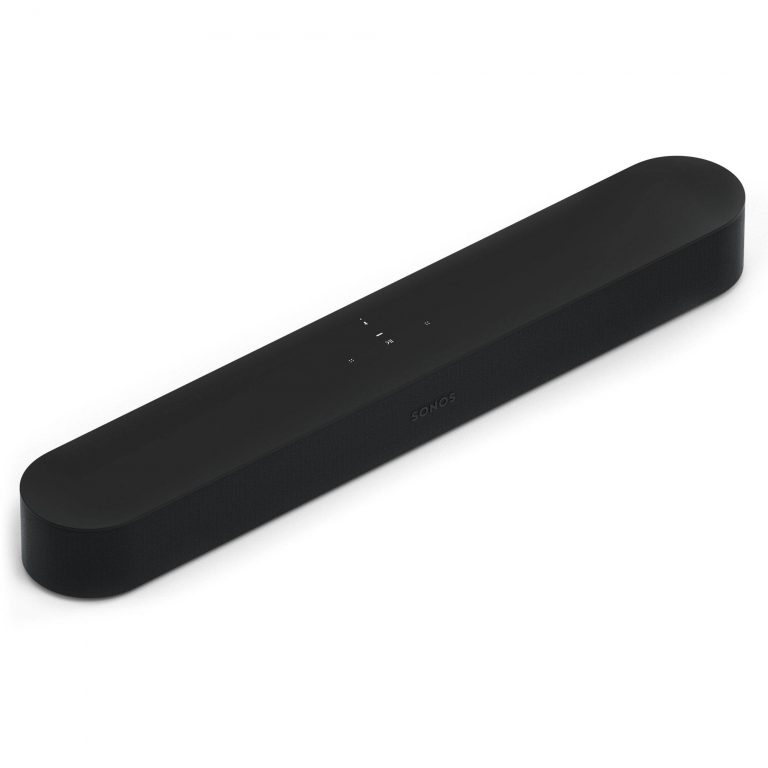 This soundbar is considered the "best wireless soundbar" on this list.
This Sonos Beam is just a regular size soundbar you will see if you have visited a local electronics store to buy one. This soundbar is designed to be placed under your TV or mounted up on a wall, you can even put it on a shelf as well.
This Sonos beam is designed with one tweeter speaker and four mid-woofers, and these speakers all together create an excellent sound.
Vizio SB2821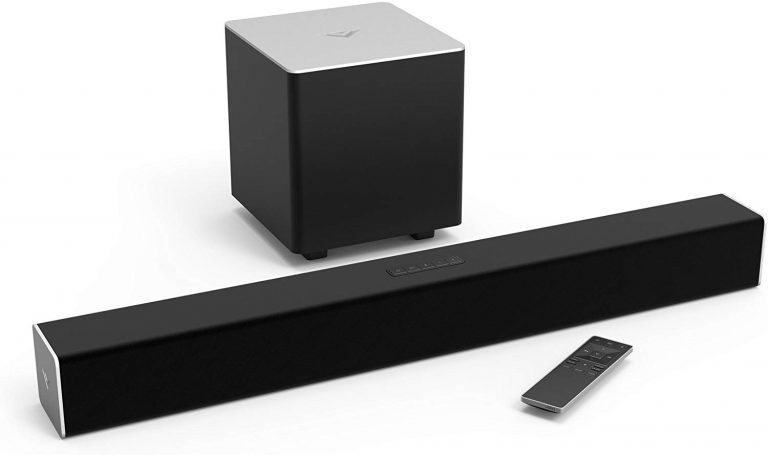 This soundbar is considered as "best movie theater experience" on this list.
This Vizio SB2821 soundbar is said to be the one that upgrades your current audio system to a premium audio system with a 28 inches long bar which includes crystal clear sounding speakers and an additional square wireless subwoofer.
This Vizio SB2821 soundbar guarantees you surround sound for your room which is up to 30 feet in length with less than 1 percent of harmonic deformation.
Vizio SB2821 soundbar is mountable to the wall and comes with instructions to do so, with an easy-to-use mounting kit as well.
This Vizio soundbar and included subwoofer are designed with Dolby Digital technology which is used for cinema, broadcasting, DVD, Blu-ray, and all other streaming content.
Vizio SB3821-C6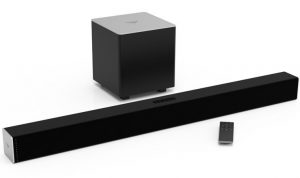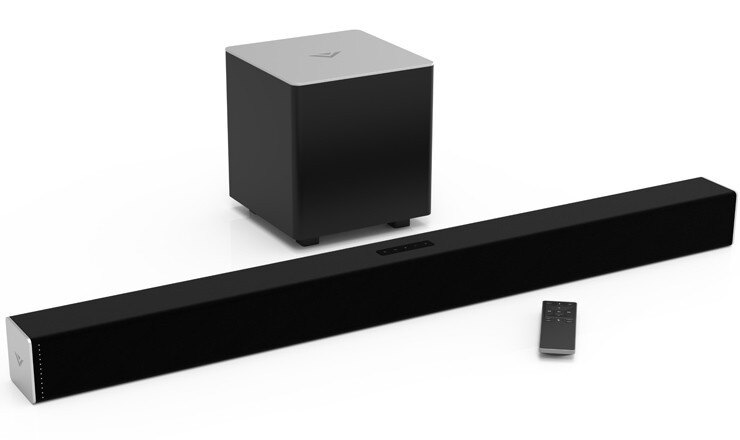 We have another 38 inches long soundbar on our list guys. This Vizio soundbar is ideal for long ceiling mounting or you can place it under your 40 inches or wider smart TV flat screen. Not only these, but you can place them on long shelves and television cabinets as well.
Vizio SB3821-C6 contains 100-decibel surround sound which is created through a long soundbar with tweeter speakers along with a wireless subwoofer that ranges about 60 feet.
This great Vizio SB3821-C6 soundbar model is designed and manufactured to guarantee and provide you with crystal clear audio quality with less than even 1 percent of harmonic distortion, which only very few of the products can do.
This soundbar is designed to provide you premium audio with Dolby Digital decoding, which takes the sound of the movie theater and brings into your home some additional DTS TruVolume and DTS audio post-processing technologies.
Bose 732522-1110


This is a 21.6 inches long soundbar for you and it is perhaps one of the smallest in size options available for you in the market. Being small doesn't mean it compromises the quality, as it comes with amazing high-powered speakers.
It is easy to mount below your TV, no matter what size your TV is because this soundbar as well is not too much longer. It will also look good if you place it on the shelf.
You get a universal remote controller with this Bose soundbar which makes it easier to link all the devices through your television and you can control your bass, volume, connections, Bluetooth settings, and wireless settings as well.
This Bose soundbar is said to be a "one-box solution" for all of you guys as it provides excellence for your home movie or TV shows experience.
Vizio SB36512-F6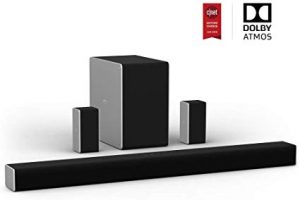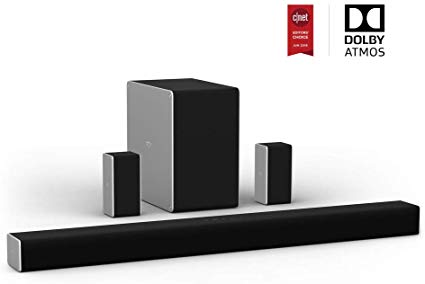 This is considered the best soundbar under 500 dollars to date namely the Vizio SB36512-F6.
It is a 5.1.2 Atmos compatible setup that consists of a soundbar, a wireless subwoofer, and two ear satellites with an upwards-firing speaker to help out in creating the fully immersive listening experience.
It provides a great price to performance ratio, offering you a ton of features for considerably less than most of the other options.
The connectivity choices are great and it also has a 3.5mm aux input for plugging in phones, something that many of the other best soundbars under 500 UK don't have.
The sound reproduction of this soundbar is pretty good and it is also quite well balanced and neutral sounding.
Unluckily, the soundstage which is coming from the bar itself is just decent, as it comes straight from the front and does not do any tricks to widen the soundstage by using side-firing speakers.
Samsung HW-R650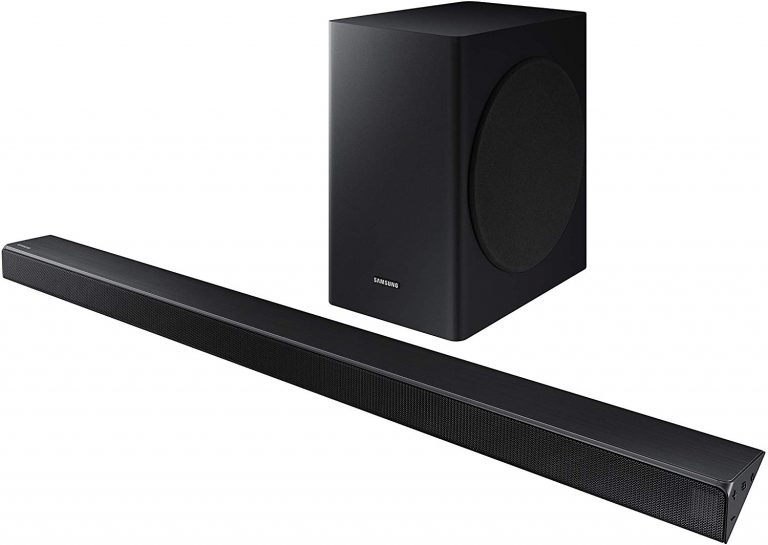 The Samsung HW-R650 is considered the best soundbar for dialogue under 500 dollars.
It is a 3.1 setup that includes a dedicated subwoofer and a center channel.
This soundbar has a premium build quality and the subwoofer which connects to the soundbar wirelessly, which makes the positioning of this soundbar much easier.
There is a good selection of inputs, but the sad news is, it does not support a 4K 60Hz passthrough. It does have Bluetooth support, nonetheless, so you can stream content from mobile devices.
In conclusion, this is a versatile soundbar that can handle most of the content decently well and it is a great choice for those who are mainly persons who watch a lot of dialogue-heavy content.
Yamaha YAS 408BL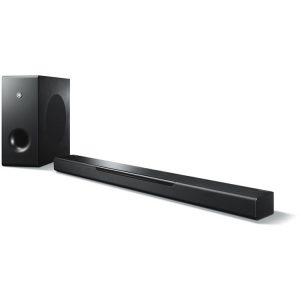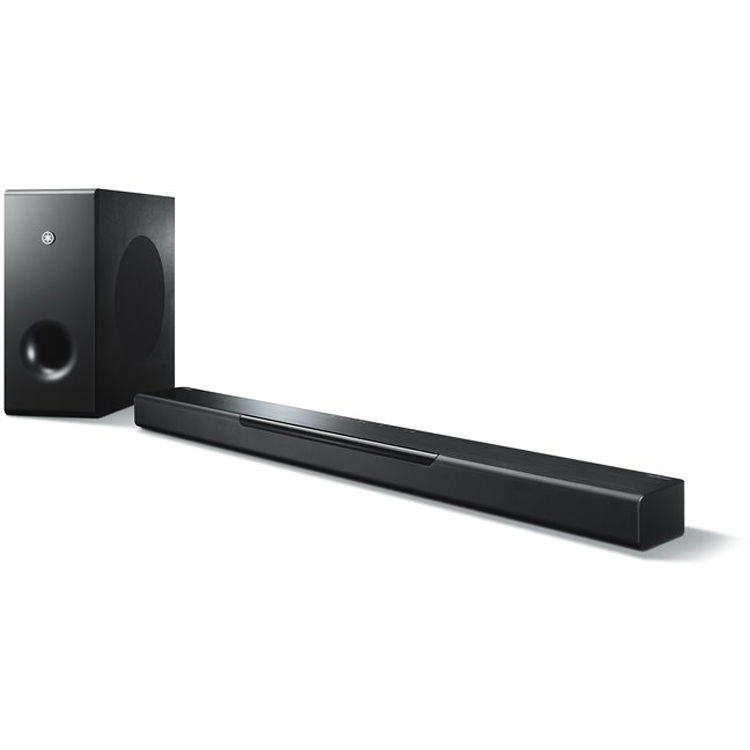 This is considered the best 2.1 soundbar which is under 500 dollars that I have tested.
It is also known as the MusicCast Bar 400. This one is a good-performing soundbar that comes with a decent wireless subwoofer that delivers a good amount of bass.
It is better built than the cheaper Yamaha YAS-207, but the performance is not that much good.
This soundbar also does not have sound enhancement features such as an EQ, even though it might not need one if you are looking for neutral sound reproduction. Though, it does not have a night mode, which would have been useful.
On the upside, it has tons and tons of connection options, whether you play the content which is wired or wirelessly.
If you are a person who does not care for a metal grill and just wants a straightforward soundbar that offers great performance, you can have a look at the cheaper Yamaha YAS-207.
Samsung HW-Q60R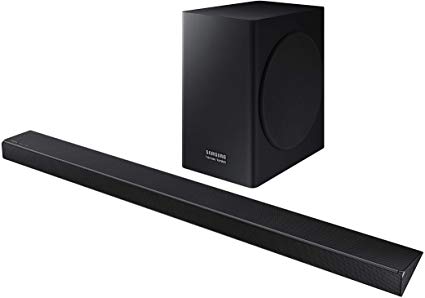 If you are a guy who wants a 5.1 setup but does not have room for the dedicated rear satellites and wants to be able to customize the sound profile of your speakers, then just go and get the Samsung HW-Q60R.
A more helpful guide: AmazeInvent
Unluckily, this does not work as well as dedicated satellites, and it will not perform as much good at fully immersing you in sound.
You will want to get the Vizio if you have a room for the rear satellites ad want a full immersive 5.1.2 Atmos experience, but if you are concerned about the living room clutter and like to be able to customize your sound profile, just go for Samsung choice.