Wires are what's missing in all our visions of the future. You are lucky that you are at the right place where I shared a list of the best wireless chargers for multiple devices 2023.
You would never see someone fumbling with a cable to either plug into your Android or iPhone in the shape of a charger or earphones without any wires.
Everything would just magically work and wires would vanish. We are close to that kind of future but we are not there yet.
Wireless charging is improving all the time. Leading the way to that valorous wireless future are the wireless phone chargers.
They are not entirely wireless, because they still have to plug into the wall socket, but they do give the freedom from the nightly plugin.
You can simply pop your smartphone on a pad, and in the morning you will be good to go.
15 Best Wireless Chargers For Multiple Devices 2023
Here's a list of wireless chargers that we' have opted just for you that can juice your phone at 7.5 or 10W.
Anker PowerWave stand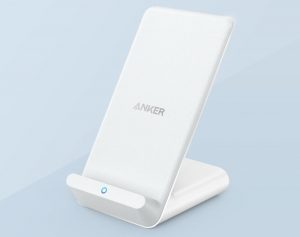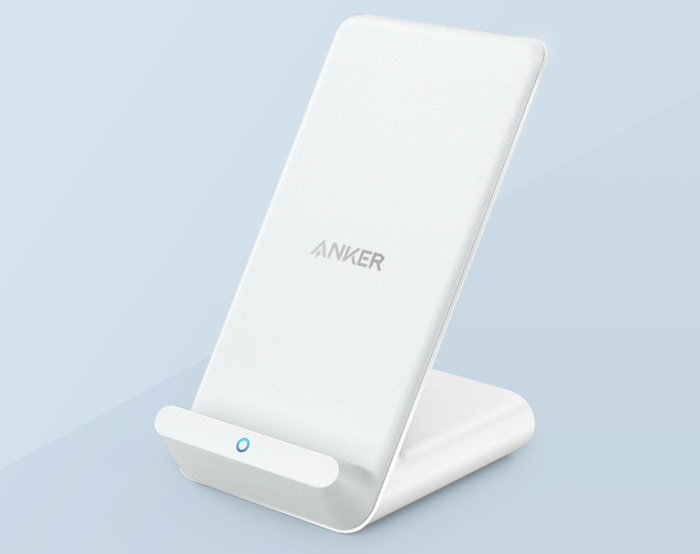 The Anker PowerWave Stand is made of plastic with rubberized pads on the top and bottom for device grip and table grip, respectively. Image source: here
Even with the plastic construction, the two devices have very good build qualities; both feel well-made, solid, and every bit as reliable and durable as any other brand you'll find.
It has a grey and white combination with blue indicator lights but these lights only show you that the phone is charging but do not indicate when the device is fully charged.
The stand has dual charging coils to ensure a proper charge with your phone in either portrait or landscape mode.
Anker has integrated cooling fans in its chargers which are quite effective.
Anker's PowerWave technology enables the Pad and Stand to deliver the quickest possible wireless charge to iOS and Samsung devices, by transmitting up to 10 watts of power.
For the Best Android Wireless Charger purpose, Anker has included a QuickCharge 3.0 power adapter in the set.
Quick Features
Exclusive wave boost technology charges 30% faster than other wireless chargers.
Charge it in either landscape or portrait mode.
Transmits charging power directly through even heavy-protection cases.
Belkin Boost Up Wireless Charging Stand (for iPhone)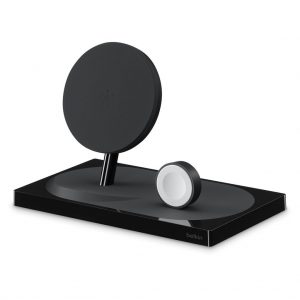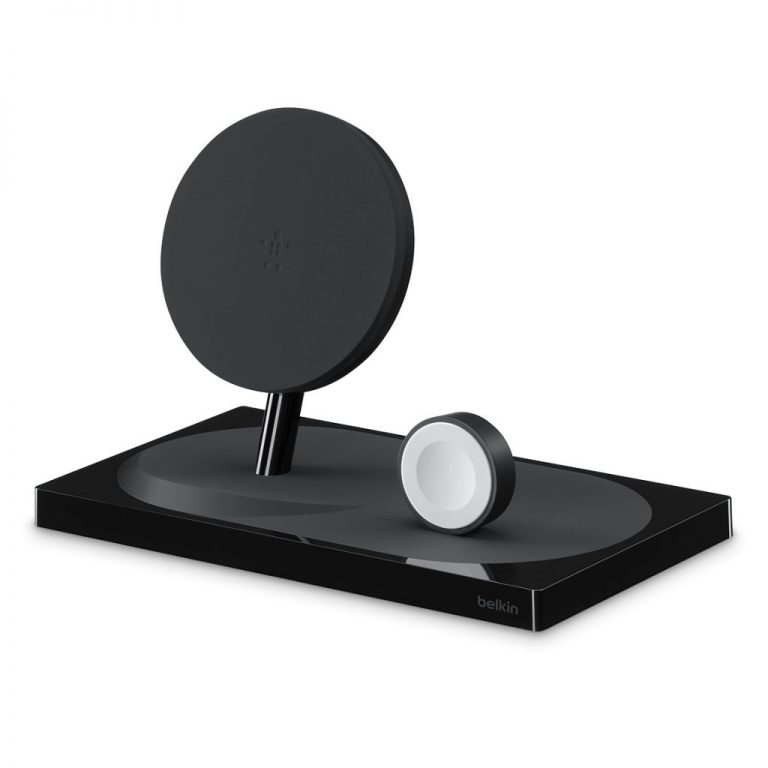 Boost Up Wireless Charging Stand is a concept that's becoming familiar by now take a wireless charging pad, attach it to a frame of some kind.
And stand it up at a more vertical orientation so that an iPhone or another smartphone can be set onto it like a traditional dock, rather than having to be laid flat.
At first glance, you might also think that Belkin only supports portrait orientation, but the design of the base also allows for you to place an iPhone sideways for watching videos or using other landscape-mode apps.
There are two LED lights placed on both ends regardless of which orientation you place your phone in, whether the Best Android Wireless Charger is landscape or portrait.
The base of the stand is coated in soft rubber to hold the phone in place and avoid scratches.
Boost Up Wireless Charging Stand includes an AC power adapter that connects using a small DC barrel connector, rather than any kind of USB connection.
Made for: iPhone XS, iPhone XS Max, iPhone XR, iPhone X, iPhone 8 Plus, and iPhone 8
Also works with: all other Qi™-enabled devices, including Samsung, LG, and Sony, delivering charging speed up to 5W
Quick Features
Charges in portrait or landscape mode.
Delivers the fastest wireless charging speed to most Qi-enabled smartphones.
Provides fastest charging speed for iPhone at 7. 5W, Samsung at 9W.
Aircharge dual wireless charger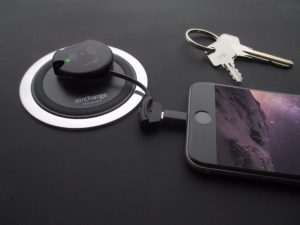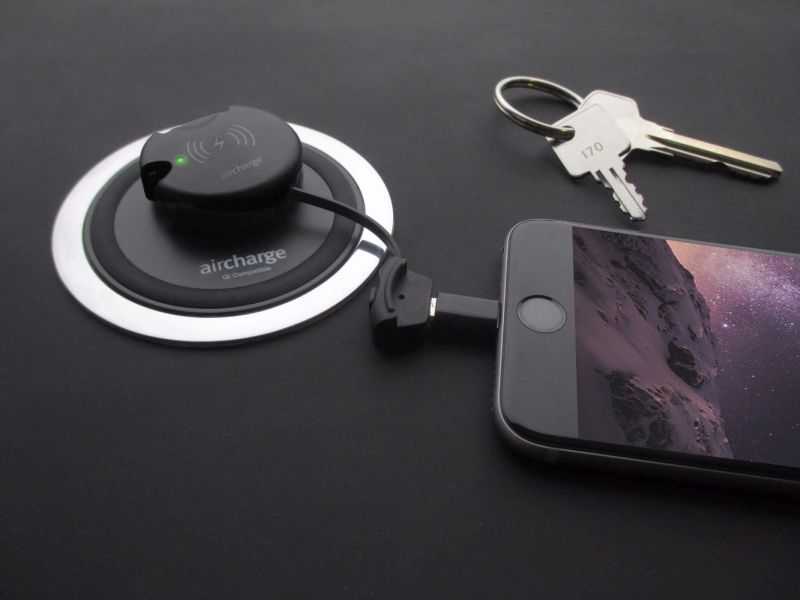 The Aircharge Wireless Charging Keyring Receiver is a really useful bit of tech, enabling you to wirelessly charge your phone while out and about.
It is small enough to fit on a key ring, leave in your bag, or keep in your pocket.
It is compatible with any Qi wireless-enabled charger and works with Micro USB enabled phones and tablets and also MFi Lightning connector enabled iPhones.
When out and about, Aircharge has developed an app that directs you to your nearest
With over 4,000 already deployed in restaurants, cafes, shops, train stations, airports, hotels, and even gyms, wireless charging pads are becoming increasingly available.
Aircharge also provides a Travel Pad or an Executive Wireless Surface Charger enabling you to utilize the key ring at home.
Key features
Wirelessly charge any Qi-enabled smartphone.
Case friendly.
Sleek and stylish design.
Includes LED lights too.
Compatible with Qi charging adapters.
Includes a US wall adapter.
Google pixel stand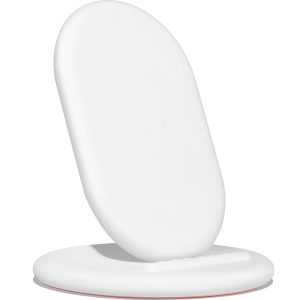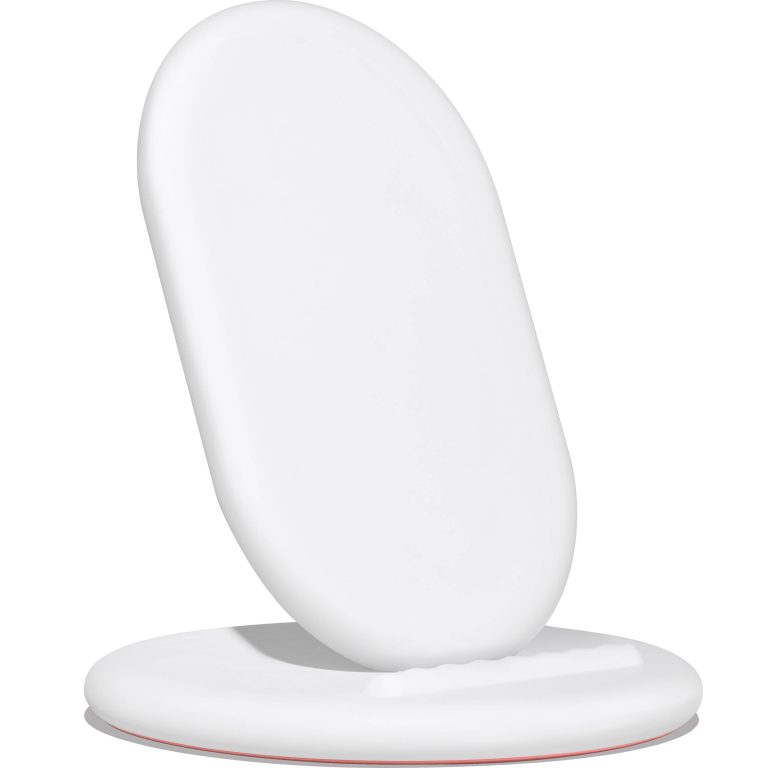 The Google Pixel Stand at first glance looks like a conventional smartphone stand. Round on the bottom with an upright backplate, the stand looks super rich and elegant hands down.
It sports a pure white body dressed in a smooth rubber-feel exterior and speaks premium all over.
It has absolutely no buttons or use points, but simply houses a guided USB type-C socket on the bottom, and a small multicolor LED upfront, which is hidden behind the translucent body.
The LED indicates charging and incompatibility, which we shall speak about ahead.
Shipped with the Google Pixel Stand is a USB Type-C cable which is around 1.5 meters in length, and a UTB Type-C 18W charger, similar to the one with the Pixel.
Key features
Made of silicone and polycarbonate.
Supports USB-C.
Compatible with Qi devices.
Unique Google Assistant power experience.
Charges both in landscape and portrait.
Price $12.99.
Anker PowerPort Wireless 5 Pad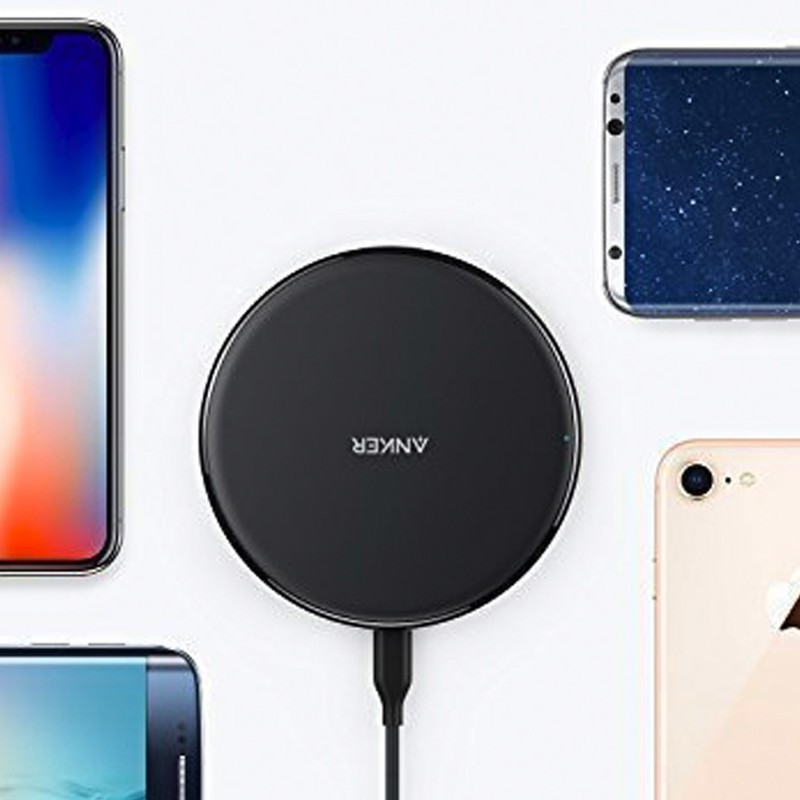 The PowerPort Pad is shaped like a puck made with good workmanship.
Both chargers have rubberized undersides to ensure that they stay put, and a micro-USB port that connects to a power outlet to charge your phone.
The outlet needs to provide up to 2 Amps, whether that be from a computer or a USB charger, like the Anker PowerPort 5 PD.
Your phone needs to be positioned centrally on the PowerPort Pad for it to charge, with Anker including an LED that turns blue to let you know when your device is charging.
Key features
Compatible with Qi devices.
Case friendly.
Eliminate safety concerns with overvoltage protection, temperature control, foreign object detection, and more.
It has a simple design.
18-month worry-free guarantee.
Price

$19.99.
The core tech wireless charging pad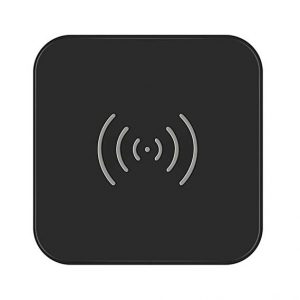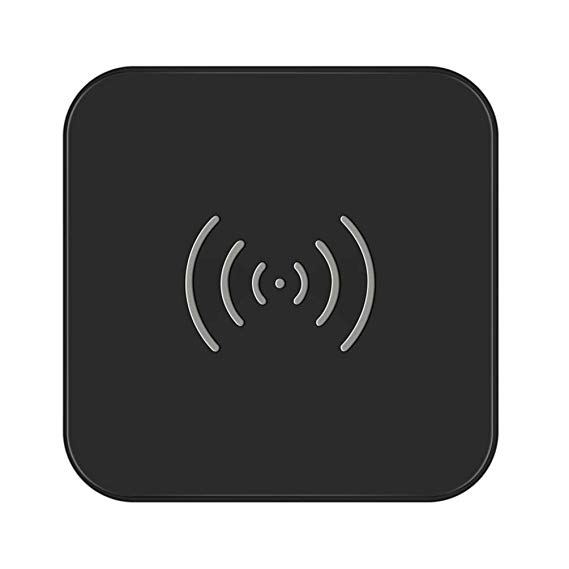 The CHOETECH Wireless Charging Pad is a sleek design with a square footprint.
It has a soft-to-the-touch satin finish and in its center, it features a gray silicone dot with two sets of gray silicone "waves" emanating outward from either side.
The dot and waves are intended to act as a target to aid the user in positioning their Qi charging-enabled phone onto the pad to align the charge transmitting and receiving hard for best charging results.
Assembly consisted of simply plugging the included micro USB cable into its port on the back of the charging pad.
The CHOETECH does not include any type of power adapter, and CHOETECH recommends a 5V/1.5-2.4A adapter for the best result.
Key features
Light darkens with the Smart Lighting Sensor built-in if the room gets in dark.
Safety charging with the integrated small chip which resists the pad from overheating and overvoltage.
Ultra-compact with a premium appearance.
An aluminum alloy bottom shell helps to cool the charger better than other materials while charging.
Price $10.99.
RAVPower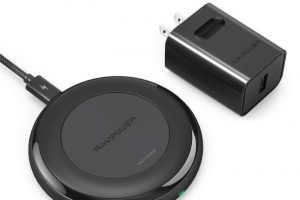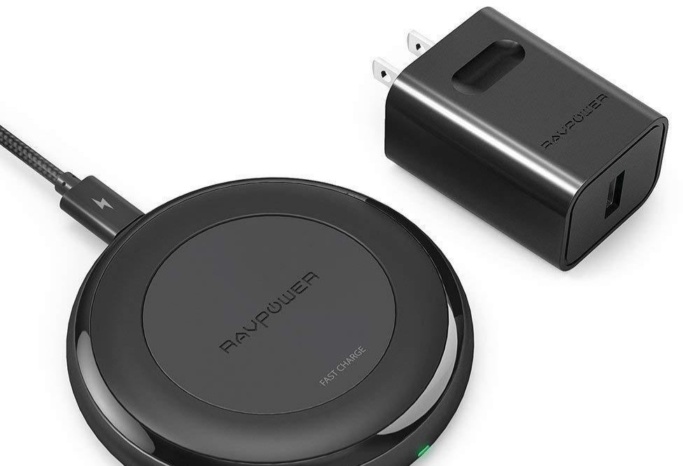 It is a great blend of premium quality and affordability. The body is made out of metal, with a silicone ring on the top to prevent your phone from slipping off.
There is a very nice weight to it, clearly contributing to that premium quality.
RAVPower has quite a compact design to it, making its footprint noticeably smaller than much of the competition.
It is not just useful for on your desk, but if taken along for travel as well.
A small multi-purpose LED is centered on the front and will cycle its hue depending on the charging status of your device.
A 24W QuickCharge 3.0 power adapter is included in the box. the RAVPower chargers, support 7.5W of power, or 10W if you are on an Android device.
When it comes to charging, the numbers are impressive, RAVPower could reach a full charge 20 percent faster than the others.
Key features
Hyper air technology delivers the fastest charging speeds for both iOS and Android devices.
HyperAir features triple temperature controls that disperse heat faster and more efficiently.
Fail-safe circuitry prevents overcharging, over-current, over-voltage, overheating, and short circuits.
HyperAir accurately detects your iPhone and starts charging immediately.
Compatible with Qi device.
Price

$29.99.
Seneo 3-Coil Wireless Qi Charger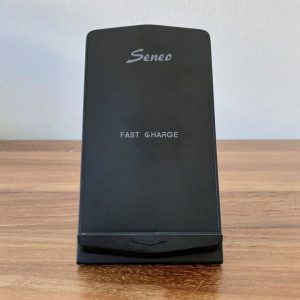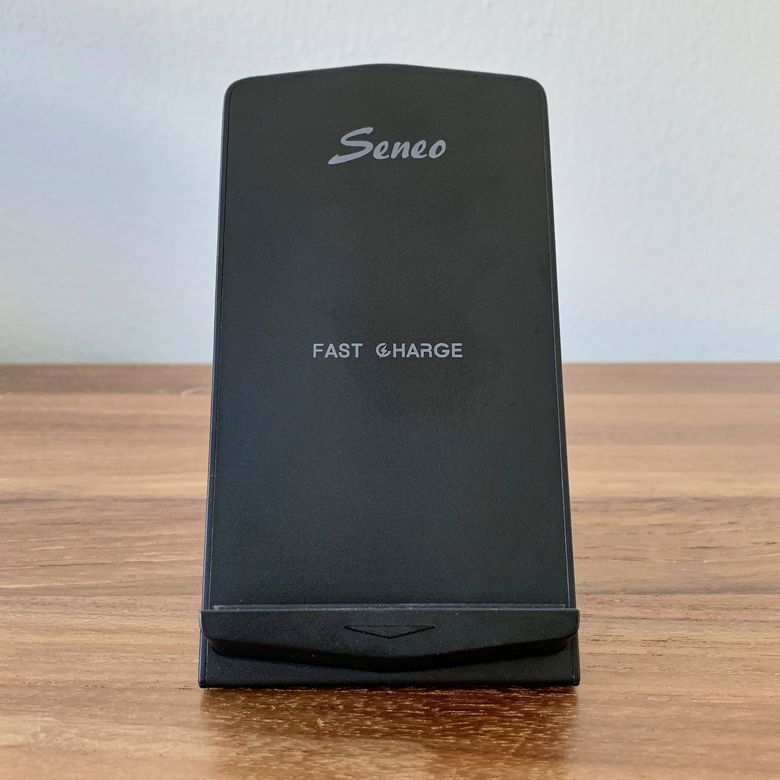 The Seneo Type-C Fast is built for the many new phones that can charge wirelessly and use a  Type-C port.
New units such as its Seneo unit can wireless charge new phones but also use the power Type-C cable to quickly charge a phone when needed.
The Type-C plug is only used if needed with it mainly set up to charge a new iPhone and Android on a wireless stand.
Best Android Wireless Charger charger's stand-up shape will keep your notifications in plain sight, whether it's on your nightstand or atop your office desk.
Due to the shape of the stand (as well as its 3-coil design), there's almost no way to walk away from it without your phone initiating a charge. The LED indicator on the front is conveniently placed, too.
Key features
 Qi-certified and adopted with exclusive technology of ATB (Automatic Temperature Balance).
 Wireless charging speed is up to 15% faster than others.
Case friendly.
 Temperature protection, input voltage protection, input current protection, short circuit protection, and other multiple safety protection.
Price

$15.29.
The personal wireless charging pad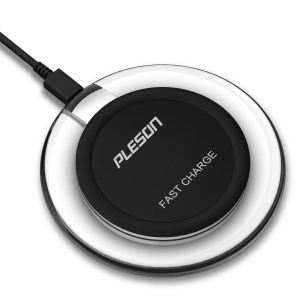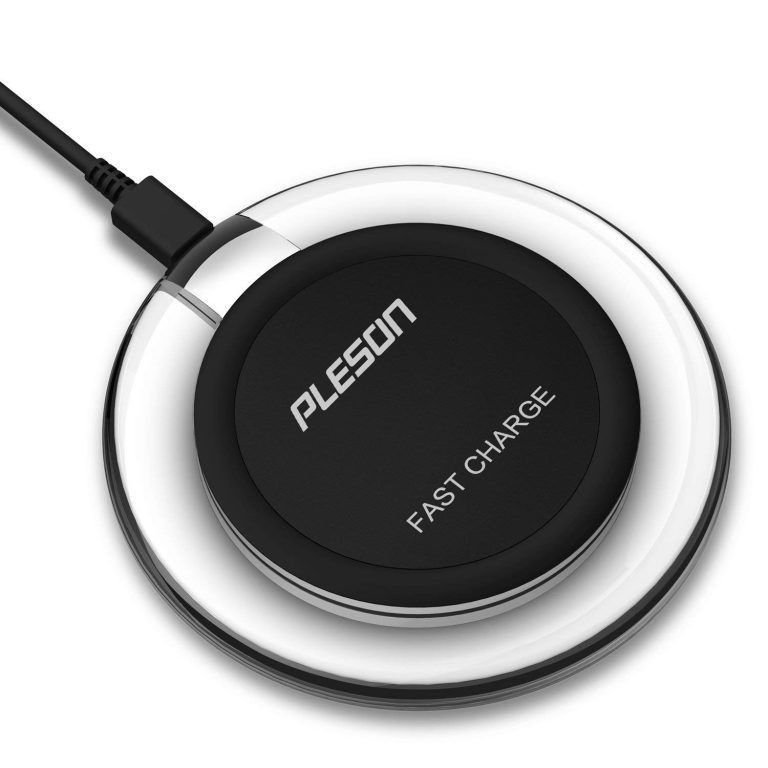 It does not come with a Quick Charge wall charger so if you want to make sure that you get the fastest charging possible, then you're going to have to own a Quick Charge wall charger.
Using a Quick Charge 2.0 or 3.0 wall charger will result in a 10W output or a 5V/2.0A charging speed. At the back, there's a Micro-USB input port and it comes with a Micro-USB charging cable.
It has two charging coils, with one at the top and then there's one at the bottom.
Since it's a stand, you can either place your smartphone vertically, or you can set it horizontally; with both of the angles being able to charge your smartphone.
At the bottom side there is a light strip that turns green when the smartphone is charging and once it is fully charged the light turns blue.
At the bottom of the charger is where 4 rubber pads that make the charger stay in a single place.
Key features
Compatible with Qi devices.
Case friendly.
An LED indicator will automatically turn off after working 10 seconds.
Fast mode with green LED.
Standard mode with blue LED.
Hassle-free warranty.
Price $19.95.
Ellesse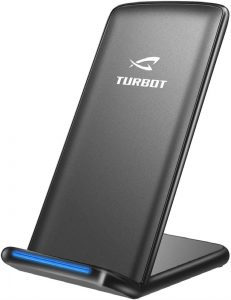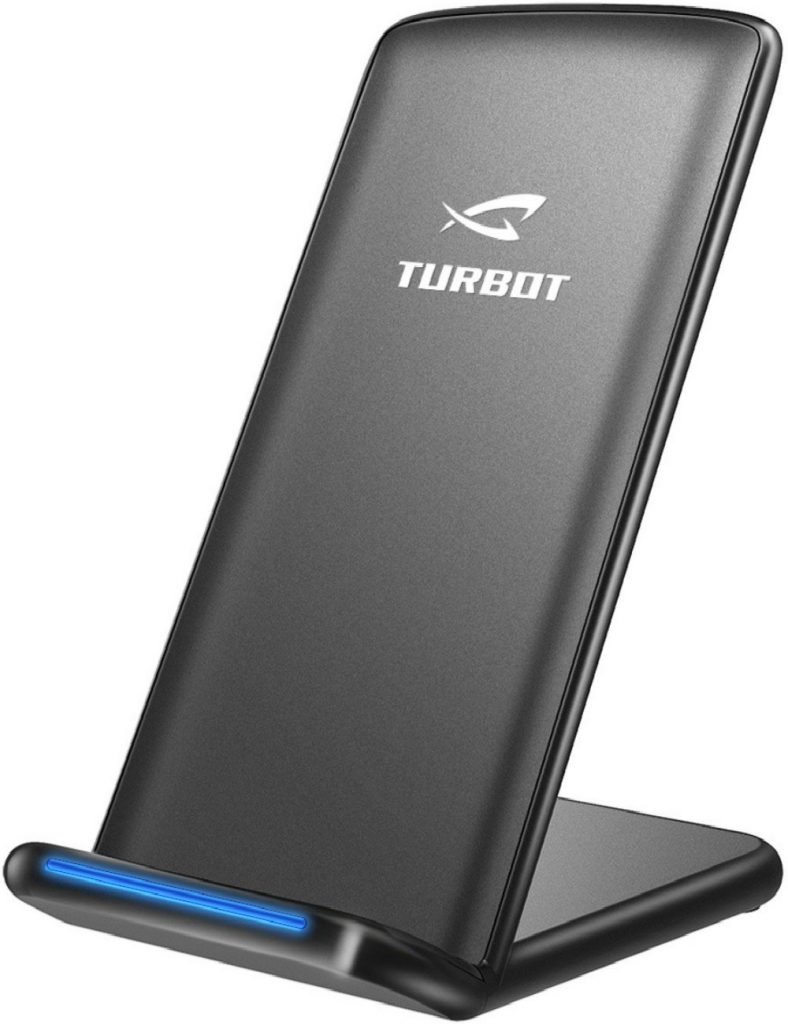 When it comes to living up to the expectation as both a wireless car charger and car mount holder, ELLESYE is one of the better options. It was engineered as a stand with 3 coils.
The number of coils is important because it gives the charger lots of real estate.
You don't have to worry about setting your device on some perfect, hard to pinpoint spots on the charger to get your phone to charge.
You can place your device in either portrait or landscape orientation.
Many other chargers will only charge a narrow list of Qi-enabled devices. But you can expect Ellesye to charge a variety of Qi devices due to its versatility.
The LED light is very user-friendly and will glow green when the phone is charging and flash blue when Best Android Wireless Charger isn't charging.
It is also very case friendly, your phone should be able to charge easily, even with a phone cover on.
Key features
Quicker response due to a wider charging area.
Multifunctional Intelligent Protection Technology provides over-voltage protection, over-heat protection, short-circuit prevention, and over-charge protection.
Landscape and portrait orientation.
Compatible with a variety of Qi devices.
Price

$17.99.
Puppet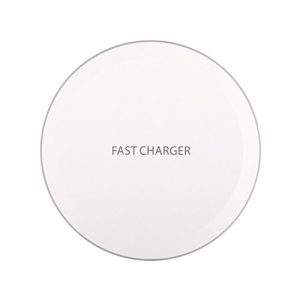 KUPPET proudly declares, it boasts a total capacity of 20,000 mAh, which allows it to fully charge the average smartphone battery in a fraction of the time of most competing products.
It comes in a variety of colors and a USB charger is also included with it.
One of the best features is the Kuppet wireless charger power bank can charge the power bank and the device at the same time.
Key features
Wireless Charger with rechargeable Battery Integrates a high-power wireless charging transmitter and a large-capacity rechargeable battery.
Puppet support charges up to 3 devices simultaneously.
Puppet 20000 mAh high capacity battery.
Support over-current protection,over-temperature protection, and over-voltage protection.
Yootech Qi Wireless Charging Pad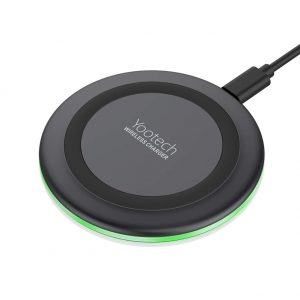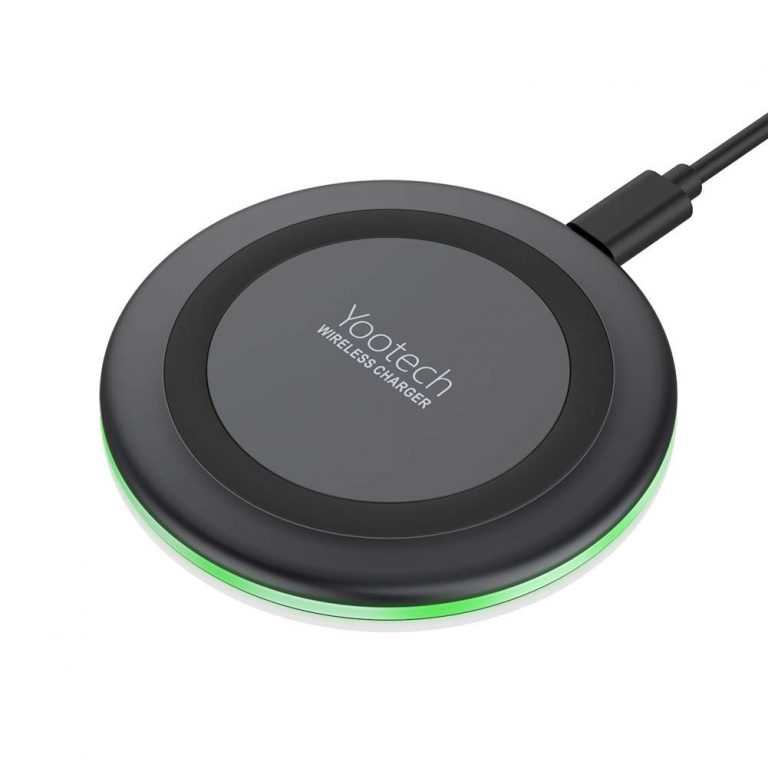 This YooTech wireless charger is one of the most well-known on the market. This YooTech wireless charging pad can be used with either a USB wall charger that provides a charging output of 5V/1.0A or higher.
However, a wall charger is highly recommended.  Best Android Wireless Charger YooTech charger has a Micro-USB input port on its backside and underneath it are a few rubber pads so it doesn't slide around on a flat surface.
There's a dim light present at the front to indicate charging. When the device is not charging the light is red and when the smartphone is placed on top of the wireless charger the light turns green.
YooTech charger can wirelessly charge your smartphone even with cases on.
As there's just a single coil is used, it has an output of only 5V/1.0A and it has a very small size although the small size is a good thing it's not a stand.
Key features
Temperature control technology.
LED lights.
Hassle-free 18-month warranty.
Nanami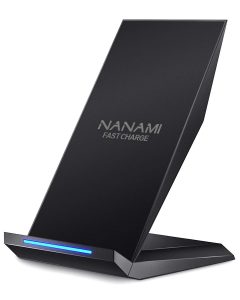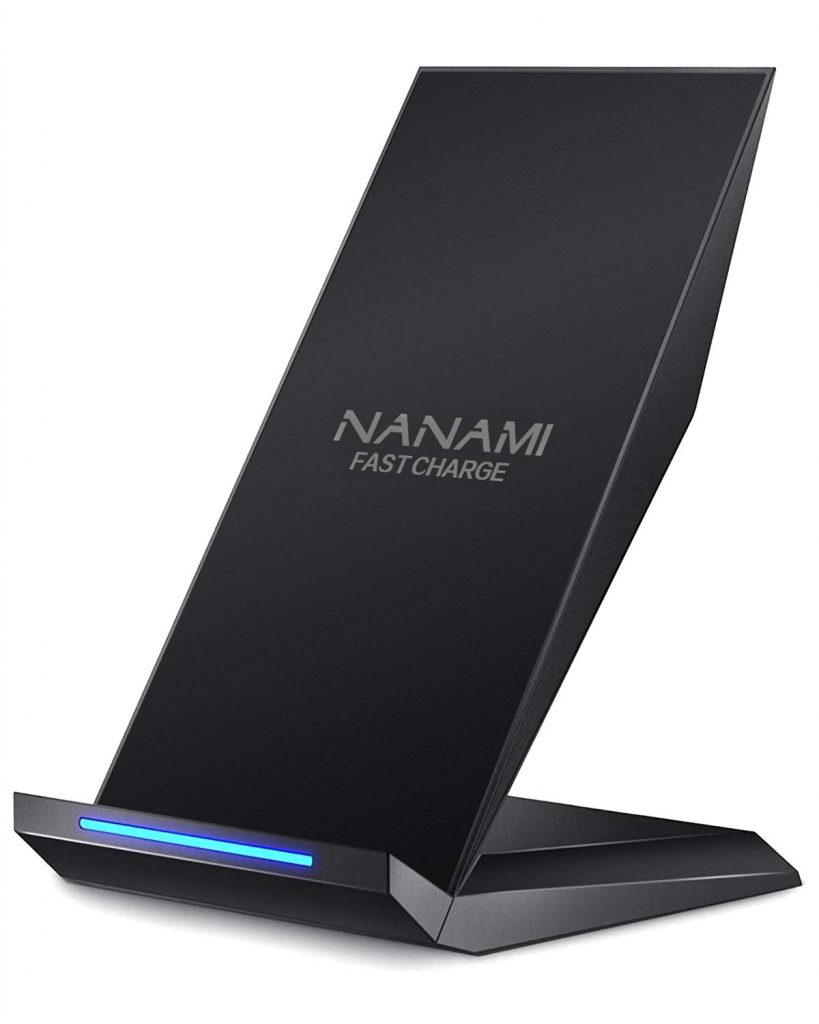 Nanami is as ergonomic as they get with its windsurfer design. When it comes to charging speeds, the Nanami advertises itself as having two modes.
The fast charging mode is for the Samsung Galaxy suite of phones with a speed around somewhere between 10 watts.
The other mode is the standard charging mode, which is for iPhones and other Qi-enabled devices with a speed between 5-watts and 7.5-watts.
You can place my phone in either portrait mode or landscape mode and use it while it's charging.
The charger also comes with 2 coils. It can easily detect your phone and charge it no matter what position you place it in.
There are also four anti-slip rubber feet beneath the stand to ensure stability.
Key features
2 coil fats charging.
Standard mode charging.
Fast mode charging.
Multi-colored LED lights indicate charging status. Solid blue for standby mode, green for charging mode.
Featuring overcharging and over-temperature protection never overcharges your battery or wastes energy.
Powerpic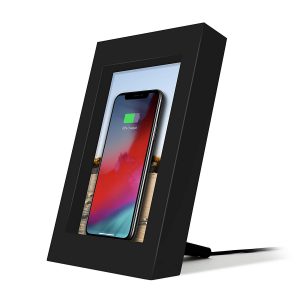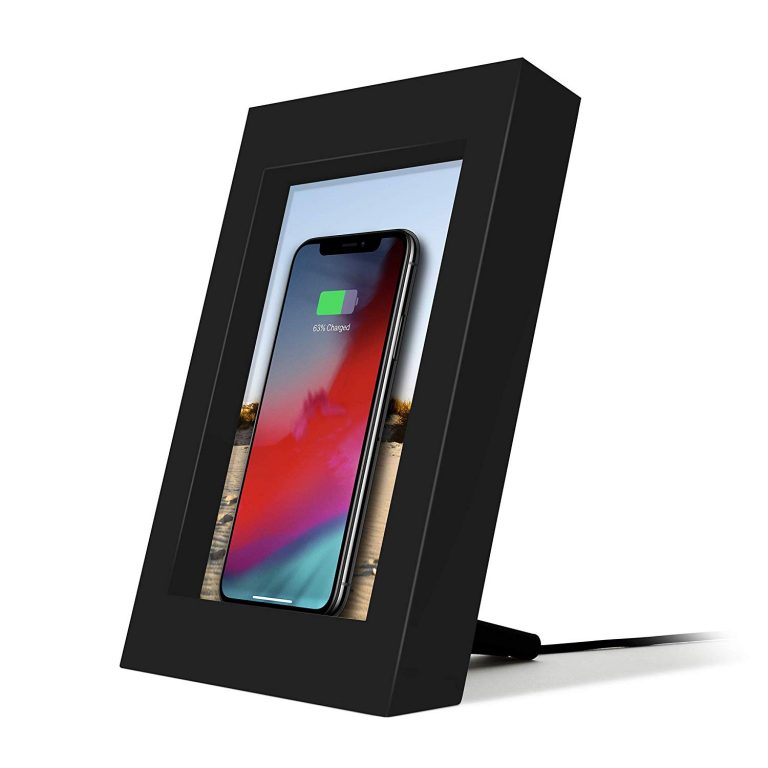 The magic of PowerPic comes from the backing on the frame, which incorporates a 10-watt Qi-certified charger that hides behind the photo, allowing you to charge an iPhone, or any other Qi-compatible smartphone, simply by placing it in the frame.
PowerPic comes with a five-foot cable that uses a standard USB-A connector.
At the back of the frame, you'll discover that Twelve South has chosen to use a standard USB-A to USB-C cable, rather than hardwiring into the charger.
It allows you to easily replace the cable if you need a longer one, or prefer a different style.
It also includes a metal stand that doubles as a cable guide to allow you to keep the cable more hidden and out of the way, which is a thoughtful design touch, although the stand only attaches to set PowerPic up in a portrait orientation, rather than landscape.
Unfortunately, it doesn't come with a power adapter so you would have to buy your own.
Key features
Place the phone against the glass to begin charging.
Qi-certified fast charger transmits up to 10W of wireless charging power.
Wirelessly charges through most phone cases up to 3mm thick.
Powered status light lets you know if a foreign object is between your Device and powered that could affect charging
Moshi Symbus Q Compact USB-C dock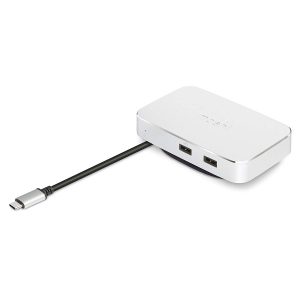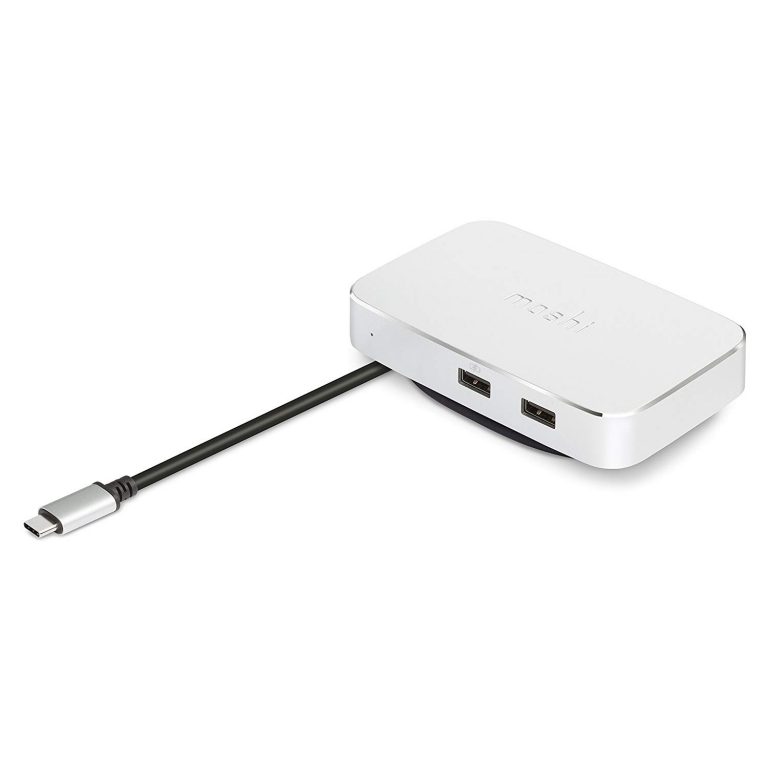 The Moshi Porto Q power bank features dark gray fabric that is reminiscent of the Google Home Mini.
The fabric is equally prominent on the Moshi Symbus Q, covering the top side of the device, and it's overlaid with a stylish pattern of rubber material.
It beyond just looking nice helps keep your phone from sliding while on the wireless charger.
The body of the dock features brushed aluminum, which not only looks very sleek but also helps dissipate heat.
On the front of the dock, there's what Moshi calls a "Smart LED" indicator, which is a good way to tell at a glance whether your devices are charged or actively charging.
If your device is charging, the light is orange, and changes to green when full. On the front side of the Symbus Q, you'll find two standard USB-A ports, one of which can also be used for charging a device.
These are both USB 3.1 compatible.
Around the back of the dock is a Gigabit Ethernet port and an HDMI port that can output up to a 4K/30FPS signal.
Moshi Symbus Q is that it replaces two devices that would normally each need their wall outlets—a laptop charger and a phone charger.
The single, consolidated power source for the Symbus Q is a traditional plug on one end and a barrel jack on the other, with a brick in the middle.
Key features
Compact docking station for any USB-C.
HDMI port for adding an external display.
Gigabit Ethernet port for wired data transfer up to 1000 Mbps.
2 USB-A ports for connecting a keyboard, mouse, or hard drive.
Full USB PD function for fast-charging USB-C laptops.
Do Consider before purchasing
Wireless charging is an innovative technology with which you charge your devices without plugging a wire into your device to charge them up.
Just place your smartphone into a wireless charging pad or wireless charging stand and it will begin charging it up.
Technology matters because we've all been in a situation where we have left the cable to connect our phone to the charger into our computer somewhere else.
We might have left it down the sofa/couch or the cable might have broken. It might be we've forgotten a cable at our friend's or relative's house and we've forgotten to get it back.
By using wireless charging these situations might become a thing of the past.
Instead of plugging the phone into a charger using a wire, just place your phone onto a wireless charging pad and it just starts charging.
Read more: Battery Life Smartphones
Wireless charging pad that your phone sits on. The pad is plugged into the wall socket but you don't have to use a cable to plug it in into the device.
Standards for wireless charging
There are also different standards for this technology. One of them is called Qi Wireless Charging. Most of the flagship smartphones now support it.
Like, iPhone 8, iPhone 8 Plus, and the iPhone X are the latest to jump onto the wireless charging bandwagon. All three of these support the Qi wireless charging standard.
The other standard that's out there is called PMA(power matters alliance) which is also known as AirFuel.
The only differences between the two are the frequencies and protocols used to communicate with devices and control power management.
How does it work?
A transmitter is connected to a power source, and through an induction coil generates an electromagnetic field.
When a receiver is put within the range of the transmitter, it receives the energy that is transformed into an electric current.
Is wireless charging safe and secure?
The electromagnetic fields generated have low power and are limited in space, and they only operate over short distances and only when a receiver is put in the range of a transmitter.
The release of electromagnetic rays is further reduced by adding ferrite shielding in the transmitting and receiving coils of the.
The International Commission on Non-Ionizing Radiation Protection (ICNIRP) has found no evidence of dangerous effects on human health when exposed to inductive charging.
Wireless Charging, in some ways, is even safer than traditional wired charging.
It transmits energy with electric shocks protection since there are no direct charging contacts with cables, power supply, and sockets.
Wireless charging technology can also be safely encased in thick plastic and still work and is used in medical devices as in electric toothbrushes. The products remain sealed and waterproof.
Reasons to Jump the Bandwagon
Wireless charging has been around for a few years now. However, the trend has picked up immensely since Apple's iPhone X started providing its customers with the option to charge their smartphones without the burden of cable.
Wireless Charging is one technology that looks very promising in today's tech world.
Most, if not all high-end Smartphones these days come with the Wireless Charging feature and for those smartphones that don't come with the feature, you can always buy a Wireless Charging Case.
It will enable you to charge your smartphone wirelessly simply by placing the smartphone (in the wireless charging case) on the charging pad.
Your USB Port Gets More Free Time
Using a wireless charger gives your USB Port more free time and subsequently increases the lifespan.
No doubt using wired chargers leads to the USB Port getting more action which can damage the port.
It leaves the USB Port for only when you need to connect to another device like computers, hard drives, TV, etc which if we are, to be honest, happens less frequently than charging.
Convenience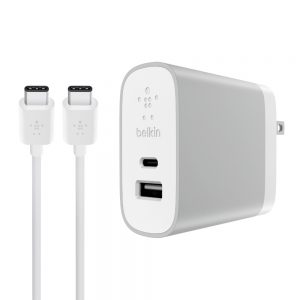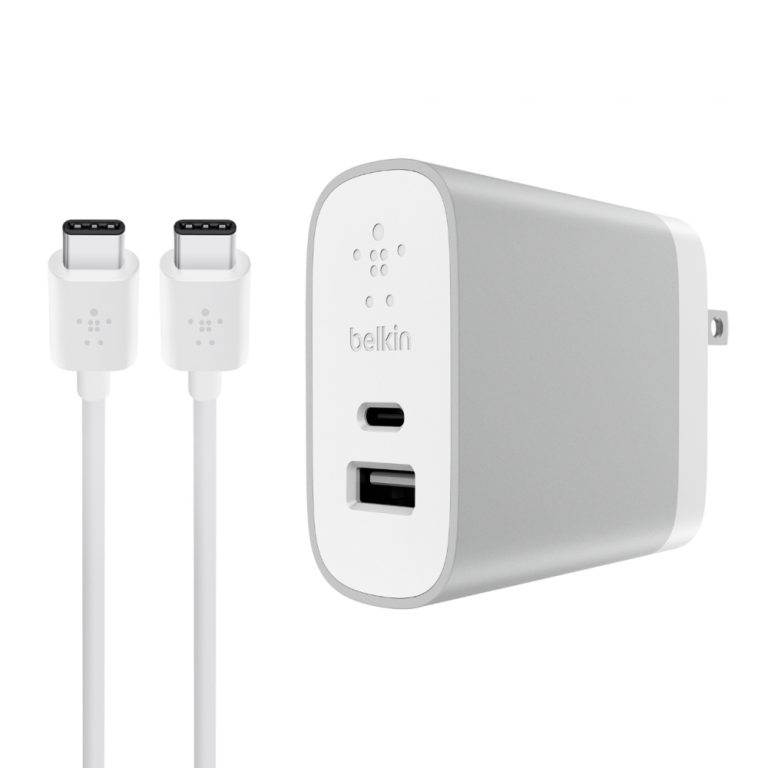 One of the best benefits of having wireless charging is that you will never have to deal with cords again.
It leaves the need for messy cords and makes it much simpler by just letting you drop your phone at the charging station.
Additionally, you will not have to worry about where you left your cord and the need for different chargers. With wireless chargers, you can charge all your phones simultaneously.
Charge Multiple Device At Once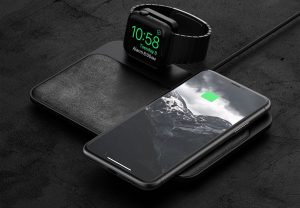 Having a wireless charging pad can allow you to charge different smartphones simultaneously.
Having multiple device charging stations will not only help you to charge your smartphones but also likewise devices like tablets, laptops, etc.
With this, you can reduce the number of cables and international power adapters at your home and workplace.
Safe and secure
Charging your phone wirelessly means you don't have to worry if the cable is fake or original – either way, it can't damage your phone.
Also, now that wireless charging pads are starting to pop up in public places restaurants, airports, etc.
You can charge your phone anywhere without also worrying if your phone might be hacked or loaded with a virus.
Only power than being transmitted through the pads, not data files, well at least for now.
Integration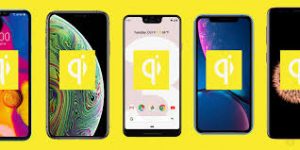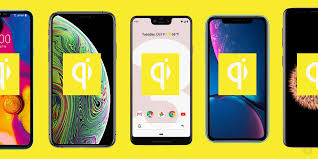 One of the best advantages of certain wireless chargers is that they can integrate with almost all cell phones, no matter the shape or size of their charging socket.
And also, there are certain devices other than smartphones that can be charged using.
Neat and clean environment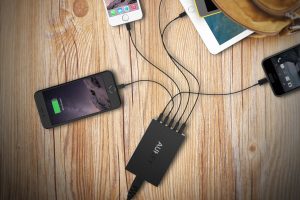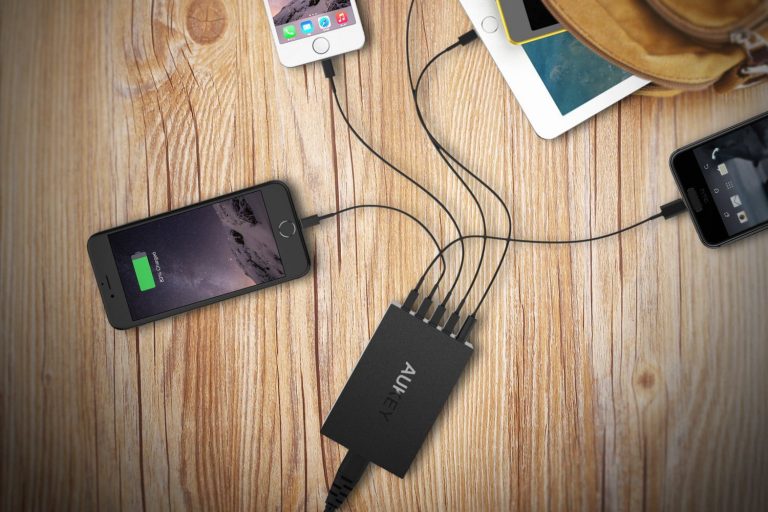 There is no denying that charging a lot of devices like Bluetooth headsets, Phones, Smartwatches, etc leads to more wires.
The more devices that need to be charged, the more the wires which make the environment look kind of unpleasant to the eye.
With wireless charging, you get just one wire from the charging pad to the wall socket and that's it. All other devices get placed on the pad creating a cleaner and more appealing look.
So, guide, a completed list of 15 best wireless chargers for multiple devices 2023.