If you want to run Android apps on your Windows 10, then you need to download emulators as they are specifically made for this purpose.
However, not everyone wants to download an emulator on their Windows 10, because it might contain a virus or is not accessible.
How to dual boot Windows 10 with Android 10?
Another alternative to download Android apps is through dual-booting Windows 10 and Android.
Even though it is a lengthy process, but it is much better compared to using any emulators available on the internet.
When you dual boot Android and Windows 10, it will let you use Windows and Android on the same PC.
Why not Use Emulators?
Most people must be wondering why to use dual-booting when you can take the easy way out and use emulators. The first advantage of dual booting is that the user gets access to the full version of Android on their system, and the performance is much better as well.
Moreover, even though emulators are easy to download, they are compatible with limited Android apps, while dual booting doesn't have any limit.
Read more: How to Compile an Android Kernel?
Dual-booting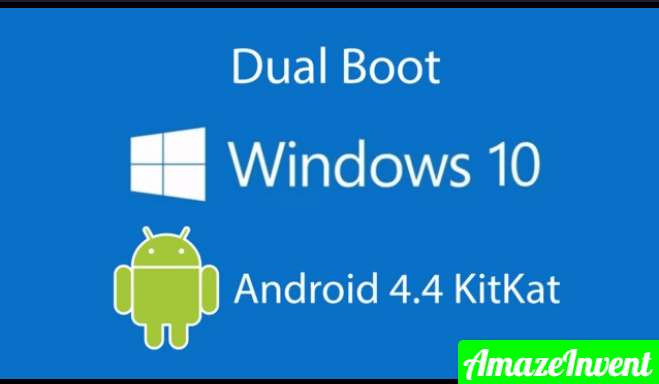 Dual-booting is not the same as installing an emulator. First, you need to install Android on a hard drive, for dual booting to take effect.
Windows 10 will be the core operating system, and it should be pre-installed on the hard drive. In the boot menu, you will get to see an option to choose the operating system that you want to see, whenever you run your PC.
Follow the steps below to dual boot Windows 10 with Android
Get a USB 3.0 flash drive, which should have 8GB storage and FAT32 support
The writing speed has to be more than 20MB/s
Enable secure boot on your PC
Go to the official website of Remix OS, and download it from there
Launch Remix OS, and then run the installer
Reboot your system, and it will install the operating system
There are two options that you will see when you turn on the PC, Windows 10 and Remix OS
Download Android-x86 ISO
If you don't want to download Remix OS, then you can also install Android-x86. However, there are not many devices that are supported by Android-x86.
Download Android-x86 ISO, and then burn the ISO image to create a USB disk, which you can easily boot.
Boot using the USB, and then choose the option of "Install Android to hard disk", install the OS, and when you open the boot menu, you will get to see the Android option.
Bliss OS ISO
Another thing that you can do to dual boot Windows 10 with Android 10, is to download Bliss OS ISO.
The first thing that you need to do is disable the secure boot, which you can do by following the steps below:
Go to Windows 10 Settings.
Update Security and then click on Recovery
Choose Restart Now in the Recovery Settings, and you will get access to a boot menu
Click on the Troubleshoot option, advanced option, and then select the UEFI Firmware Settings.
From here, the user can disable the secure boot.
Read more: How to Change Username on SoundCloud?
Create a partition on your PC
The next thing to do is to create a partition on your PC, and that you can do it by going to the disk management tool.
When you are done making a partition, you should reboot your PC, and then press the f12 key.
The next thing you need to do is choose your USB device, and you will get access to the Bliss OS installation menu.
Format the partition, and then start the installation process.
The Android 10 will install on your PC now, after which you can restart your PC. Here you can get a guide.