Some games only work better with the console controller so Hook up the PS4 controller to the PC.
So, if you're looking for ways to connect a PS4 controller to a PC for a racing game, or if you're usually more comfortable with a traditional keyboard and mouse combo, we have you right now. Need to know everything
This DualShock 4 of PlayStation 4 debuted with an inspiring bundle of features, which allows it to quickly replace, overcome and succeed the DualShock 3 of PlayStation 3 among Sony supporters.
There is no doubt that this DualShock 4 is slightly heavier than its predecessor but it has showcased much improved analog sticks and many other great improvements.
Sony has now made it very much easier for interested users to connect the DualShock 4 controller to their PC and let it perform well.
Hook Up PS4 Controller To PC
If you are a gamer then you would be having good knowledge about "Steam."
This is one of the most popular storefronts and game launchers you can ever find.
Not only this, but you can also even control the TV-friendly Big Picture Mode on the Steam app by using the DualShock 4 controller and all your games on the PC will display a PS4 button prompt in-game after you successfully connect it.
To connect your PS4 DualShock 4 controller to your PC in Steam, what you need to do is to load up Steam first of all and then check for updates if there are any. If you see the latest update there so please download and install it.
This procedure ends here, and I hope that it will work for you. Unfortunately, some people have reviewed this test and told us that this solution doesn't work very well for everybody.
So, if this doesn't work for you too, then read on below.
How to Use the PS4 DualShock 4 Controller on PC?
As I mentioned above that using the PS4 DualShock 4 controller on your PC is pretty simple, but it is not quite of a plug-and-play situation here. If the above-mentioned procedure didn't help you, this one will surely help you out, I guarantee it.
For this procedure, you will have to download and install an additional piece of software to get this procedure of connecting PS4 DualShock 4 to your computer done successfully.
Do you know how and what does this software does to make this connection much convenient for all the users? You will be amazed by the answer.
DS4Windows
This software fools your PC into thinking that the controller connecting it is an Xbox 360 controller which is supported by Windows.
Download this software called DS4Windows. This software will make the connection process of your PS4 DualShock 4 with your computer very simple. Make sure you download and install the latest version of this software.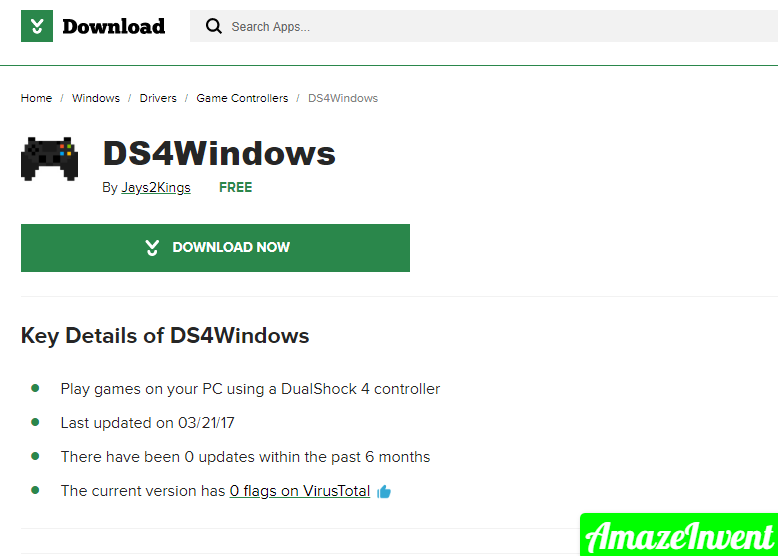 After installation, run the DS4Windows and it will ask you where to save your settings and profile, go with the default selection.
A new window will appear on the screen. Click on "Install the DS4 Driver".
It will enable you to use the PS4 DualShock 4 controller on Windows 8, Windows 8.1, and Windows 10.
Now you just have to connect your PS4 DualShock 4 to your computer through a USB cable or Bluetooth.
Whatever way you choose, just connect your DualShock 4 and it will function perfectly just the way it does on console.
To do the set up ps4 controller to pc most of the gamers forgot to do it properly, and started using it.
These were the two working ways that I had for you guys. Follow and apply these procedures to connect your DualShock 4 controller to your PC for a better gaming experience on your computer. About me who am I?
How do you connect the PS4 controller to your computer?
Just plug Dual Shock 4 into your PC using the micro USB cable (used similarly for most Android phones).
It will also charge the Dual Shock 4 battery, but to use the Dual Shock 4 wirelessly, you'll need to pair the controller with your PC using Bluetooth.
How do I connect my PS4 controller to my PS Windows 10?
Install Input Mapper and connect your PS4 controller using a USB PS cable or Bluetooth.
To connect your Windows 10 PC to the PS4 controller via Bluetooth.
Turn on Bluetooth on your PC and hold the PS and Share buttons on the controller.
Now the open input mapper and your controller should be recognized and ready for use.
How do I pair Dual Shock 4 with PC?
Connect the PS4 controller to your computer via Bluetooth
To connect the PS4 controller via Bluetooth, press and hold the main PS button and the Share button for three seconds until the light bar on the top of the controller starts flashing.
Next, open Bluetooth settings on your computer.
Why won't my PS4 controller connect to my computer?
Bluetooth. To connect Dual Shock 4 to your computer with Bluetooth, you need to turn off the controller and force it into pair mode.
If it's wirelessly connected to your PS4, hold the PlayStation button for a few seconds and select Sound / Devices, then turn off Dual Shock. If the light bar isn't on, you're good to go.