If you've downgraded from Windows 10 to Windows 7- haven't installed clean, but have an upgrade, you have a handy option that lets you go back to the latest version of Windows.
To access it, press Windows + I to open the Settings app, click the "Update and Security" icon, and then switch to the "Recover" tab.
There are a lot of people who regret updating their operating system to Windows 10.
You will find a lot of people who don't like this new operating system and want to go back to the old ways by downgrading to Windows 7 or Windows 8.1.
If you are one of those people who want to downgrade from Windows 10 to Windows 7 or Windows 8.1 then I should tell you guys that you are lucky because the downgrading process is pretty straight forward and simple, especially if you have recently upgraded to the new Windows 10 in the past 30 days.
If it has been long since you have upgraded or you have performed a clean installation of Windows 10 or if you have bought a PC which has Windows 10 preinstalled in it, then this downgrading procedure is going to be slightly more complicated than the procedure applied under the 30 days of upgrading to Windows 10.
You don't need to worry about anything, as I will now be providing you with the solution and procedure for both these circumstances in this article of mine.
Procedure for Under 30 Days Situation
If you have upgraded to Windows 10 and it has not been 30 days since the upgrade then the procedure to downgrade your Windows operating system to the previous version is quite easy and simple.
To start and apply this procedure, you will have to open up the Start menu on your computer and select the "Settings" option.
Locate and click on the "Update & security" option.
On the page of "Update & security" select the "Recovery" option.
After clicking this "Recovery" option the windows will provide you with an option which says "Go back to Windows 7" or "Go back to Windows 8.1".
This option depends on which Windows operating system version was installed on your computer.
Click on the button which says, "Get Started" and the procedure of downgrading of your Windows to an older version will begin.
During this downgrading procedure, you might be asked for the reason why you are uninstalling Windows 10 and reversing back to the previous version of your Windows.
Once this downgrading procedure is completed, you will have your Windows 7 or Windows 8.1 back successfully.
Procedure for Window 10 Version which has extended 30 Days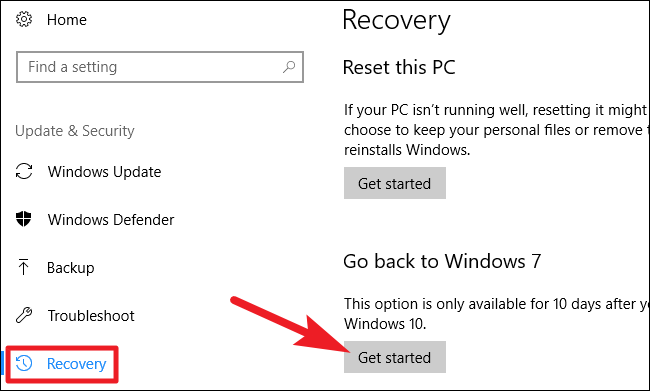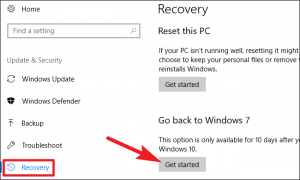 If you have installed Windows 10 and it has been more than 30 days since the installation then you won't be able to see this option which allows uninstalling Windows 10 and downgrading it to the previous versions such as Windows 7 or Windows 8.1.
If you want to downgrade to Windows 7 from the latest Windows 10, you will need to perform a clean installation of Windows 7.
And to perform the clean installation of Windows 7, you will either need the installation disc which is provided with the PC or an individually bought Windows 7, and the Activation code for Windows.
You can usually find this Activation code on a sticker that is pasted on your laptop or PC, or possibly with the installation media, you get.
If you cannot find the installation discs, no need to worry about it. Microsoft offers you Windows 7 ISO files for the legal download of the complete version of Windows.
These ISO files are disc images that can be burned into a DVD, burned on a USB Stick or it can be run natively as well, only if the disc was inserted into your PC.
If you want to download the official Windows 7 ISO file, you will have to go to the official web page of Microsoft and then "Download Windows 7 Disc Images (ISO Files)".
You will need to enter your Windows 7 product key there on the web page and then hit the "Verify" button and then you will be able to download the ISO.
Run this ISO file and then restart or switch on your computer.
Make sure that you alter the booting process because you don't want your system to boot from your hard drive, you will have to set the options to boot from a DVD or a USB drive.
The key to altering the boot menu is according to your motherboard, most often F2, F8, or F9.
When you are asked to press a key to enable booting from your DVD or USB drive, press any key a little faster because this option stays only for a while. About?
You will see the Windows installation window. Select the language you prefer, set the time and timezone according to the country and area you live, and keyboard and input method as well. Click on the "Next" button whenever you are ready to proceed.
On the next screen, you will be asked to choose between 2 options, Upgrade and Custom option. For our situation, we need to select the "Custom" option. Official help.
Follow and perform all usual procedures of installing a Windows 7, you will have to format the partition which includes the previous Windows 10 installed.
Once you are done with the Windows setup, you will then have to activate your copy of Windows again. If you have followed all the steps accordingly, you will now be looking at Windows 7 on your laptop or PC.
Windows 7 will be a brand new operating system for your computer so you will have to install all the drivers and software you need in your newly installed fresh Windows 7. Official support.
Can you upgrade to Windows 10?
Well, you can always downgrade from Windows 10 to Windows 7 or any other Windows version.
If you need help getting back to Windows 7 or Windows 8.1, here's a guide to help you get there.
Depending on how you upgrade to Windows 10, the downgrade or higher options in Windows 8.1 may vary depending on your computer.
How do I restore a previous version of Windows?
Go to "Settings > Updates and Security > Recovery", you will be taken back to "Windows 7 / 8.1 / 10."
Below the "Start" button will appear.
Click on it and Windows will restore your old Windows operating system from Windows. Old folder.
Can I download Windows 10 Pro at home?
Unfortunately, installing Clean is your only option, you can't downgrade from Pro at home.
Changing the key will not work. You can try the following tasks and then try your luck: Open Registry Editor (WIN + R, type Regedit, press enter).
Can I cut Windows 10 to 7?
Unless you've upgraded in the last month, you can uninstall Windows 10 and downgrade your PC to its original Windows 7 or Windows 8.1 operating system.
You can always upgrade to Windows 10 later.
Can I install an older version of Windows 10?
Whenever an older version of Windows 10 reaches the end of its life, Windows 10 users should update to the latest version.
There is no facility for them to download any particular version even though it is supported. For example, support for Windows 10, version 1803, ended on November 12, 2019.