Last Updated on June 21, 2020 by admin
Something for everyone – and every budget. Is Acer A Good Brand? Acer looks like brandable and such a great company.
Finding the right laptop is a really difficult task. For those who don't understand the specifications, they have to rely on the reputation and performance of a brand name to make a purchase. There are many laptop brands in the market, and Acer is one of them.
History of Acer
Stan Shih and Carolyn Yeh are the founders of Acer. This company was founded in the year 1976, and its headquarter was in Hsinchu City, Taiwan. The initial investment that the founders made in the company was only $25,000.
Acer was initially called Multitech International and designed hand-held electronic games. In 1981, the company was named Acer Inc., and its first product was a microprocessor.
The company started manufacturing computers and supplied to companies, which had well-established brands.
Perhaps, the reason behind Acer's success is that it invested in the Research and Development department of the company, and even came up with the first computer in the Chinese language. This computer was an Intel 386 processor.
Even though Acer started with 11 employees, they hired 7,800 people worldwide, in 2005. The revenues of the company increased, and it saw a rise in the European market. There are plenty of reasons why Acer is a good laptop for users.
Affordability
Acer products are affordable, and they have a wide range of laptops. These laptops range from Windows Convertibles and lightweight Chromebooks.
Is Acer a good brand of laptop? It has manufactured and produced many laptops for gamers. Even though sometimes customers complain about the quality of Acer products, they still stand out from the competition, because of their different price ranges.
Innovative Acer
Acer is innovative and creative on a different level. There are many laptop designs and features, which set the brand apart from others.
Acer Swift 7 is an ultraportable laptop design, which is the thinnest laptop the user can find in the market. It weighs only 2 pounds, and its thickness is 0.39.
The FHD display of the laptop is 14 inches, and it has a stunning minimalist bezel, which enables a 92% screen to body ratio.
When it comes to a gaming laptop, Acer's Triton 900 has a multi-mode design. It has a 17-inch gaming feature, and its screen swivels; the user can move it forward and backward, for flexibility.
The HyperDrift keyboard is another innovation of the brand. The keyboard slides forwards, and it improves the cooling and performance of the laptop.
Budget and Features
Acer gives users a good budget laptop, with useful features. An example would be Acer Swift 3, which gives premium performance to the user.
It has an extraordinary keyboard and trackpad and is very reasonably priced; $569.99. The trackpad is very roomy, and the laptop has a backlit keyboard.
The typing experience that the user can derive from this laptop, they can't get it anywhere else. Even though the laptop looks plain, its performance is excellent. It is very lightweight and portable, and perfect for a trip to any part of the world.
Light and Functional
Acer has manufactured very lightweight laptops, and they don't lose their functionality. For example, Acer Swift 5 is very light, it has a bright display with crisp speakers. It can take the typical workload that most laptops with such lightweight can't.
It offers users with entertainment options, and they can work all day on their Acer Swift 5.
This one has a very stunning display, which is unusual for an affordable laptop.
The connectivity of this laptop is Bluetooth 5. It comes with an HD camera, and a webcam; the weight of the laptop is 2.2 pounds.
When users get access to light and functional laptops, they can carry them around easily and get their work done, even when they are not at home.
Compatibility for Gamers
Acer is no stranger to manufacturing laptops, especially for gaming purposes. More and more laptop brands are inching towards producing laptops, which are compatible with gaming.
This is due to the increase in competition among laptop manufacturers and the growing is Acer a good brand for gaming.
Nitro Spin 5 and Nitro 5 are the most popular choices for gamers if they are buying the Acer brand.
In 2008, the company launched the predator tribe, which was then divided into the Triton range and the Helios range. One example of the predator laptop is Triton 500, which is a gaming laptop with amazing features and performance.
Technical Support
When a person doesn't know the technical aspects of their laptop or something goes wrong with it, then they need technical support. Acer offers customers good technical support, and anyone, from any part of the world, can reach Acer agents for a query.
The Acer technical support is known for its prompt response to customers. The website of Acer is very easy to navigate and explore, and if you are buying a laptop, then you can search for your model by putting gin the SNID number. Acer is also on social media, for those customers who want a quick response.
The main strength of Acer laptops is that it has value and selection for everyone. The brand offers entry-level laptops like Acer Chromebook 15, to speedy ones like Acer Swift 7. The best laptop of Acer for gaming is Predator Triton 500.
Innovation is one of the key reasons why Acer stands out from its competitors. Acer has some of the best laptops with unique designs, and they are known for Acer Swift 7, which is the thinnest laptop ever.
If Acer wants to lead the laptop market, then it needs to work on some weaknesses.
Firstly, Acer has mixed quality when it comes to a laptop, and it is not able to get a good score because of some poor-performing laptops. Even though the design of Acer laptops looks good, it still has a dull plastic look, which most users don't like. These are laptops like Spin 3 and E 15, which could use a more appealing look.
To gain a better understanding of how Acer is different and better compared to other laptop brands, the following are some of the reviews of the best Acer laptops.
Acer Swift 5
This is a very light and functional laptop. The Intel Core of this laptop is i5-8265U, quad-core, 6MB cache, and the graphics are the Intel UHD Graphics 620.
The screen size of the laptop is 15.6 inches, and it has a storage capacity of 256GB. The laptop has an HD webcam, with Bluetooth 5 and Wi-Fi connectivity. The weight of the laptop is only 2.2. pounds, which is why it is portable and easy to carry around.
Whether the user has opened 20 tabs, all in one go, the laptop will still perform well. Even if the RAM is low, the Acer Swift 5 still works very well.
The speakers have a very good performance, and even at max volume, you will not notice any distorted voice. The bass, however, is weak.
Acer Swift 5 has a battery life of 7 hours and 4 minutes, even if you are playing back to back full HD videos The screen brightness can be put up to 50%, and it will still have the same battery life.
Thus, this Acer laptop is very light, it has a bright display with good performance speakers. However, some users might want more battery life and might consider the bright screen, flimsy. The laptop has a very cheap feel to it.
Acer Nitro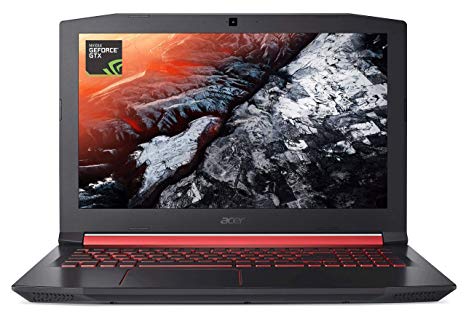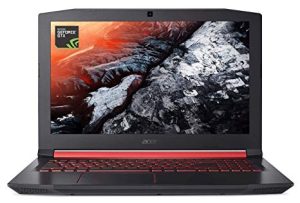 This is a gaming laptop, which provides really good graphics to gamers. The most important thing for gamers is to buy a laptop, which can help them make sense of their game, and where they can see even tiny details of a scenario.
Acer Nitro 5 provides the user with this feature. It has an overall good performance and is affordable for the user.
It is a very flashy gaming laptop, which has a red keyboard, and a red trim around the touchpad. These design details are really good for those users, who value the style of the keyboard.
Even though it is made of plastic, but the build quality of the laptop is very solid. The display is sturdy, and the user won't notice any flex in the keyboard.
However, some users didn't like the display screen of the laptop. The screen is about 15.6 inches, and the colors look dull to some users. If the users set the resolution at 1920×1080, then the images will become sharper. At this resolution, even if the text is small, a person won't face any problem reading it.
The speakers are powerful, and you won't hear any sort of distortion, even if you increase the volume to full. When the volume is lower, it might not be too appealing to the user.
The keyboard and the touchpad on this laptop are the most appealing factors. The battery life isn't very impressive, because it can die in 4 hours and 44 minutes.
The graphics card used in the laptop is Nvidia GeForce GTX 1050 Ti GPU. It has a VRAM of 4GB, and it performs very well considering the price the user is paying.
If you want to play graphic-intensive games, then this laptop won't disappoint you. Acer has included VR support in this model, and when the testers ran the Steam VR test, the score was 3.4, which is the same as Dell G3 15.
Acer Predator Triton 500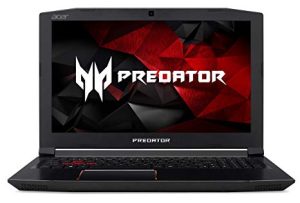 If you are looking for the best graphics, power, then look no further than Acer Predator Triton 500. It has a very slim and portable design, which means the user can take the laptop on vacations, without having to worry about its weight.
It has a slim and sleek look, but that doesn't impact its overall performance. The keyboard of the laptop is very comfortable, and the files transfer at a quick rate.
However, those who have used this laptop, they complain that the display is dim, and it might even run hot with the fans being too loud.
This means that the users can't put too much burden on the laptop, by playing HD games or running too many tabs at the same time. The audio of the laptop is weak, and the battery lasts only 3 hours and 4 minutes.
The main reason why gamers would be interested in buying this laptop is that the Intel processor installed in the laptop is 8th Gen, and the graphic card is Nvidia's RTX 2080 Max-Q.
Before buying any laptop, there are some things that every buyer should consider.
The Need of the Buyer
The first thing you need to ask yourself is, why do you need a laptop? Do you need it for gaming? Do you need it for everyday tasks like making PowerPoint presentations or making Word documents?
If you need it for gaming, then the features you would look for would mostly center on the graphics, the screen size of the laptop, and whether the laptop becomes hot after a certain period or not.
Cheap Product
Moreover, you will look for a laptop that has a good storage system, because you need to save your game progress. The next thing that you would look for, is a cheap product.
Not everyone has the budget to buy an expensive laptop, which is why they would look for basic features, and might not pay attention to the style and design of the laptop. Acer has affordable laptops and a variety of features available at cheap prices.
Accessibility
The next thing a buyer has to look for is accessibility. If he wants to buy from an online store, then he should choose a reputable name, like Amazon.
If he is going to a physical store to buy a laptop, then he should know the questions that he needs to ask the seller.
He needs to ask about the features of a laptop, whether there are any discounts and so on. Buying a laptop is easy if you know the features you need, the brand you like, and the budget you have.
Is Dell better than Acer?
Acer laptops are better than Dell laptops (in my opinion) Acer laptops have faster processing speeds and are compatible with almost any OS.
And also if you are willing to go for Acer, you will have to pay less than Dell because Acer is a bit cheaper than Dell.
Is Acer a good brand?
The Acer laptop has an average score of 3.4 stars, the lowest brand we've ever tested.
Thanks to its long battery life and excellent performance, the Aspire E15 remains our best choice under the $ 500 rating.
Another high-budget laptop, the Swift 1, has a slim aluminum chassis and a wide range of ports.
Which Acer Swift is the best?
If you ask us, Acer Swift 3 is a great laptop with AMD Ryzen 7 4700u CPU.
If you're looking for a high-performance laptop with more than 11 hours of battery life, but less than $ 700, the Acer Swift 3 with AMD Ryan 7 processor will be the best option for you.
Why is Acer so bad?
Acer makes better, more expensive laptops. These laptops are made better than the cheap equipment they cost more, and they last longer.
So Acer bought several other computer companies that were failing due to poor preparation. This does not go far enough to improve Acer's reputation.