There is nothing to feel ashamed of that because I didn't know until I searched about it. Well, you guys have me so you don't have to search anywhere else for this.
The term GIF stands for Graphics Interchange Format. This GIF (Graphics Interchange Format) was first introduced back in the late 1980s by one of the most leading commercial online service establishments at that time from the United States of America, called the CompuServe. CompuServe was later bought over by AOL.
Just like most people, you would be wondering as well that why people make great use of these GIF images, well, the answer to this question is that it has been very obvious that this GIF makes it much easier for people to explain any kind of situation or show your reaction to something relatively.
How To Make Animated GIF's?
If you have spent some quality time on the internet, then you would have come in contact with an animated GIF for sure. And if you guys don't know what a GIF is, then let me tell you about it.
GIF is just an image file that allows you to feature some animated images and these GIF files make it seem like those images are moving. You can think of this GIF as a hybrid between a still image and a video.
If you are well aware of these GIFs, then you would be aware of the fact that GIFs are great additions anyone can make to marketing. Did you ever think about why? Many people have this question in their minds.
The simplest answer to this question is that GIFs are easy to consume, they provide you an advanced and new way to capture the attention of the viewer, and these GIFs can have a serious emotional impact as well.
Since the content on these GIFs is what makes us feel something and encourages all people to share, these tiny animations are worth the experiment.
There is a saying that you would have heard a lot of times, "A picture says a thousand words."
I say that if a picture can say a thousand words, then an animated GIF can say a 10,000 or maybe 50,000, making it a million, LOL. The point is that GIFs are just amazing.
All the people who are on social media (I don't know anybody who is not on social media in this era) should know how to make a GIF, because these GIFs are taking over the internet with a positive impact and feedback.
These GIFs are considered very helpful because you can create some eye-catching ads, or you can connect with your followers in the course of moments from pop culture.
The main and significant advantage of using these GIFs is that you can tell a complete story about something or you can highlight a particular point in a flash moment only.
What greater about these GIFs is that this a small file to load as compared to the file size of images and videos, this fact makes them perfect for mobile and overall for everything.
As I mentioned earlier that GIFs have gained massive popularity on social media in these recent years. And the reports by one of the web's most popular GIF providing databases say that they have over 300 million daily active users. This is very impressive, no?
Google bought Tenor in the year 2018. The tenor is a keyboard application and GIF archive that is specially designed to help all its users to find the GIFs they want in a second or two only.
This Tenor application reports that it processes over 400 million GIF searches in a day only.
In this article of mine, I will let you know how to create your GIF so that you can add them to your social media posts, in comments, or some private chats as well.
Before we start with the procedure of creating an animated GIF on your own, let me tell you where you can use these animated GIFs for your good.
Just like the counterpart of these GIFs "the emojis", GIFs (Graphic Interchange Formats) can express just everything, such as from some emotions to wide-spanned comical ideas and marketing ideas as well.
There is no doubt about the fact that these GIFs are eye-catching and attractive to the extent that it attracts most of the visitors or possible clients while they are browsing your website or web pages.
You guys would be aware that even if you create loads of visual content, there is no doubt that it can be a disturbing struggle to hold the attention of your audience.
This struggle is faced especially when somebody is trying to communicate some type of multipart, detailed, and theoretical topics as well.
These GIFs hold great importance, not for standard people only, but for marketers as well. One option of these GIFs which often gets overlooked is the animated image or video inside it.
These GIFs are great, just because they can explain your selected point in just a matter of seconds.
Not only this, but these GIFs also attract and grab the great attention of the customers and help the marketers by converting their viewers into leads and buyers.
How to make an animated GIF with Adobe Photoshop?
Before I start with the procedure, I should address that Adobe Photoshop is probably the best software you can use for making GIFs or for any kind of editing in general.
If you don't have Adobe Photoshop, I have other several ways to do the job for you, but first, let us talk about how to make an animated GIF with Photoshop.
Follow the steps mentioned below just the way they are described to make animated GIFs from a video on Photoshop.
STEP ONE: Find a good video sequence on the web that you want to turn into an animated GIF so that you can share it.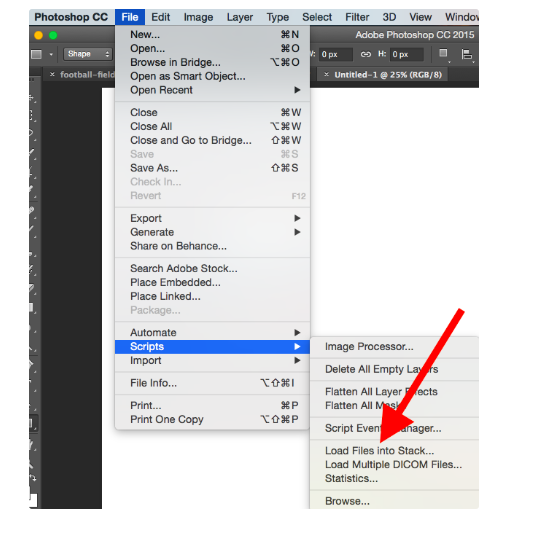 This video sequence can be anything, such as a movie scene, a funny clip, a sad clip, or anything.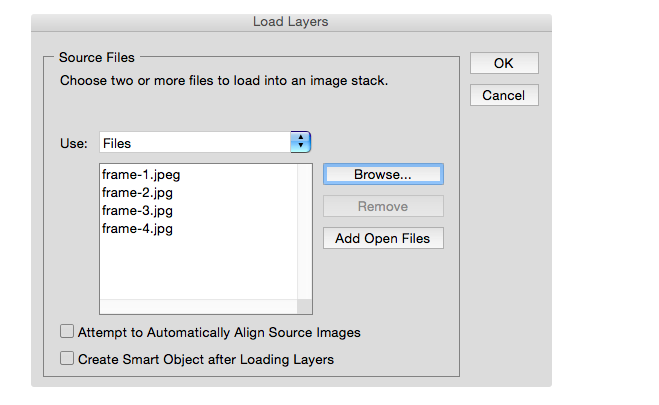 Remember to try out and select a clip that is not too long, because the actual GIF is length is too short.
STEP TWO: Download and save that particular video to your computer.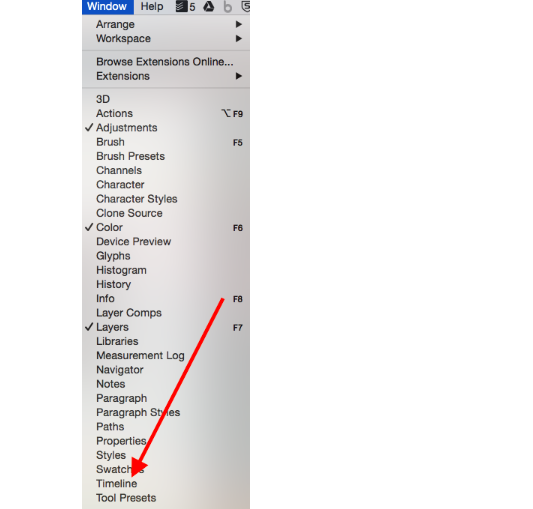 Trim down that particular footage that you want to convert as an animated GIF from that video of yours.
The ideal length for a GIF is two to three seconds of video footage only. Five seconds will be pushing it.
The basic and general rule of thumb is to convey your idea as more in as few as possible frames.
STEP THREE: Open that video with Photoshop.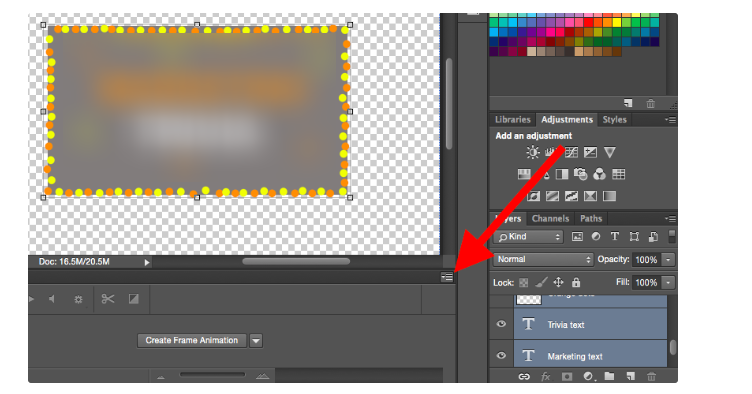 To do this, go to File > Import > Video Frames to Layers.
Select the video file you want to convert into a GIF and Photoshop will open that video as a series of still frames for you.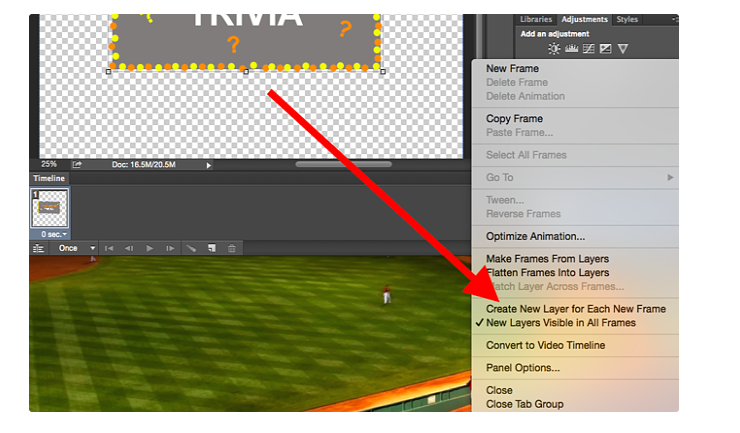 You get the option to choose to import the entire video length from beginning to end, or you can use sliders to select a smaller portion of that video clip you downloaded.
STEP FOUR: Mess up with the settings regarding that video. Photoshop allows you to adjust color balance and everything regarding that video with Photoshop at this stage of editing so do everything you would like to do.
When you think that everything is looking perfect now, just locate and click on File, and then click on Save for Web.
This will provide you with a window with lots of customizable settings.
You can tweak with all of these settings displayed in this window to make your GIF much smaller.
Remember that the ideal size of a GIF is less than 1MB so that it can be posted and used much swiftly than using some images or videos.
Keep playing with these settings until you find your GIF at the perfect spot.
You can mess with the following settings until you satisfy yourself:

COLORS: This option limits the number of colors that are used to create the image. This means the higher the better. Remember that GIFs are limited to a maximum number of colors that is 256.
DITHER: Dithering settings distribute different colored pixels in an image to make it appear as though there are intermediate colors in that image with a partial color palette.
LOSSY: You can mess with this setting to apply an intentional drop in the quality of your GIF. If you keep a lower setting, that is better but the fact is that some loss of quality will be necessary if you want to make your GIF file smaller.
SIZE: This setting allows you to change the dimensions of your GIF. Keep in mind that dimensions can have a relatively huge impact on the size of your animated GIF.

STEP FIVE: You are done with everything, just SAVE and SHARE! Hit on the Save button to finalize your animated GIF creation.
Once you are done saving your animated GIF, you will be able to share it with your friends and share it anywhere just like we discussed the platforms above.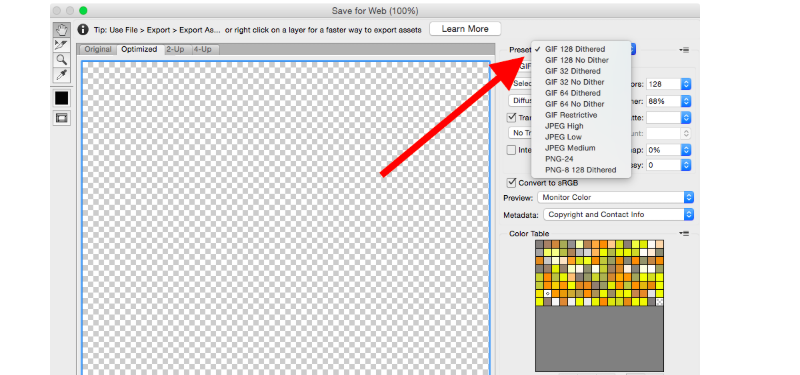 This was the complete procedure through which you can create an animated GIF of your own with the help of Photoshop.
I see that many people are reading my article who don't have that subscription of Adobe and all, I haven't forgotten about you, buddies.
Now, I will share with you only some of the other ways to do this job, so if you don't have Adobe Photoshop and all that stuff, you can simply use these ways to create an animated GIF for yourself.
How to create an animated GIF without Photoshop?
This GIF Maker is a more extensive GIF maker that allows you to choose from a couple of options to make your GIF.
On Make GIF, you can easily create from the screenshots, uploaded videos, YouTube videos, or from premade GIFs.
This is also a free image hosting site, so once when the GIF has been made, then you can link it to directly from the Make a GIF gallery.
The accounts are free, and if you have changed your mind about a GIF, then you can easily request that it be deleted.
GIPHY's GIF Maker
The GIPHY company is the world's largest library of animated GIFs, it now offers a GIF Maker as well which is free of cost and so much fun to use.
The GIF Maker allows you to make animated gifs in photoshop cs6 from the video files, existing GIFs, YouTube links, and even from the still photos.
Here is how it works:
Just drag and drop a video file, or enter a video URL from YouTube, Vimeo, or any other GIPHY page. Or you can upload a series of photos to create an animated photo slideshow.
When you have uploaded your file, you will be taken to a screen where you can begin the editing on your GIF.
Now, you will have to trim your video to a duration of about 2-6 seconds. This will make sure that your file size is small enough to load quickly on social media and blogging platforms.
You can add caption, stickers, or drawings to your GIF if you want to. When you are happy with your GIF, just upload it and add some of the tags to make it easier for other people to find that.
And all done! You have made your GIF! You can now save it and upload it to your website or in a blog.
What is good about GIPHY's GIF Maker?
Well, it is easy to use and navigate
The instructions on how to edit the length of your GIF is clear. There are two separate bars for the start of time and GIF duration
It offers customizable features (i.e animated captions, stickers, etc.) which are robust and modern
It allows you to create GIFs from several various sources, which includes static images as well
What is not good about GIPHY's GIF Maker?
GIPHY's GIF Maker does not offer you the option of making your GIFs private. Just keep that in mind if you create a GIF of your colleagues or your product.
As it is free and simple to use and has the same features which most of the people look for. GIPHY's GIF Maker is exactly a tool that I will recommend you to use.
GIFYT
YouTube videos are a great source for the screencasts. If your users have created screencasts of how they use your product, then turn those videos into animated GIFs to share it with your community.
This means that the original content for you and more of the exposure for your fans' videos.
You can easily make GIFs from YouTube videos using this tool which is GIFYT. Just paste it in URL, select the period which you want capturing, and then convert it into a GIF. AmazeInvent
This is a very useful, easy to use, fast, and free tool. The only downside or CON it has is that you have to be careful that you do not select too long for a clip duration. Just keep it short and appropriate for the best quality GIFs.
GIFs.com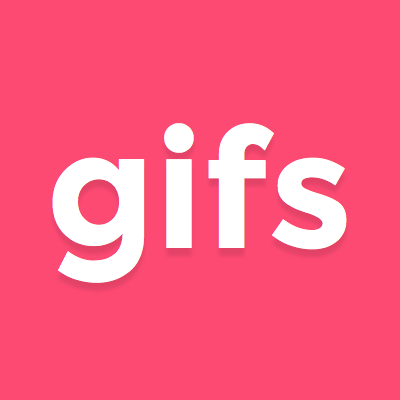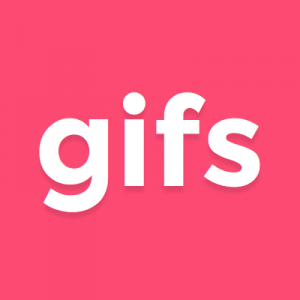 This is an extremely clean and useful website which is GIFs.com, this is a site that makes creating the GIFs extremely easy.
To get started, just paste the URL for the video which you would like to use as the basis for your GIF.
The site currently supports video sites like YouTube, Instagram, and Vine – or rather, Vince archives, and users can also upload their video files if they want to.
When you have picked out your source material, then you will come to a simple editor. You can select the frames which you would like to convert into a GIF using the timeline that is located below the video.
Then, you can just add a caption, stickers, and a few effects if you want to. There are also experimental features such as Ping Pong and other effects to play with.
When you are done with the things, you are ready to share your GIF with other people. You can use the provided URL, or you can download the GIF for re-uploading to another site.
This is another super simple tool which is called GIFs.com, it is an online tool that turns YouTube videos, Vine videos, and Instagram videos into editable GIFs.
Just note that while you create GIFs for free on this platform, you will have to become a paying subscriber to access some more features.
With this being said, this platform does offer some options which you won't find anywhere else, such as Instant Effects and themed stickers.
Here is how it works:
Just copy and paste a link to a short video which you would want to turn into a GIF.
On the timeline which is at the bottom of your screen, indicate your GIF's start and end time and also as well as length. Now, being customizable GIF with their selection of themed stickers, instant effects, and customizable fonts for captions.
When you are all done, add a name to the GIF you made, some tags to make it easy to search, and you are all done!
What is good about GIF.com?
com is a super easy platform to use. It barely takes 5 minutes to create a GIF
This one offers standard fonts, such as Arial, for GIF captions
It offers advanced editing features, like the ability to change the opacity of a sticker
What is not good about GIF.com?
com does not offer some key features if you are a free user and want to use it for free
For example, you cannot remove their watermark from your GIF, you cannot resize or compress the file, and you cannot download the original file to your desktop computer unless you are a user who pays subscriber.
The editing of GIF's length and duration is not very clear
As a whole, you will enjoy GIF.com's Instant Effects and sticker options. I would not recommend becoming a paid subscriber for the features you can find for free on GIPHY's GIF Maker and also on other online tools.
Imgur's Video to GIF
Have you ever used a tool like ClipConverter to turn a YouTube video into an mp3 file? Imgur does almost the same thing by converting the videos into GIFs.
If you are looking for a tool without the bells and whistles which are on GIF.com or GIPHY's GIF Maker have, Imgur's Video to GIF is just for you.
It does not have themed stickers, fun filters, or customizable fonts for captions, but it will help you in creating a high-quality GIF in seconds.
Here is how this works:
Just enter the URL of the video which you would like to turn into a GIF.
Under the video preview, Imgur's Video to GIF will prompt you to select a start time, then indicate the length of your GIF.
When you are all done, just hit the "Create GIF" button and your GIF will be all set and ready to share and download.
What is good about Imgur's Video to GIF?
This Video to GIF is the fastest tool that you will ever use to create a GIF before.
It only supports videos that are uploaded online. You are out of luck if you only have a .mp3 file.
What is not good about Imgur's Video to GIF?
There are not enough features and options to help customize GIFs (i.e there are no stickers, filters, dynamic captions, etc.)
The background of the caption is black y default. It does not look that great on an animated GIF
It is only available on desktop
In conclusion, if you want to create a super simple GIF in a very short period, then you must give Imgur's Video to GIF tool a try.
Other than these, there are still many other ways to do this job. Just as I mentioned above that if you don't have access to Photoshop's paid subscription and features, there are many other free ways to do the job.
Screen to GIF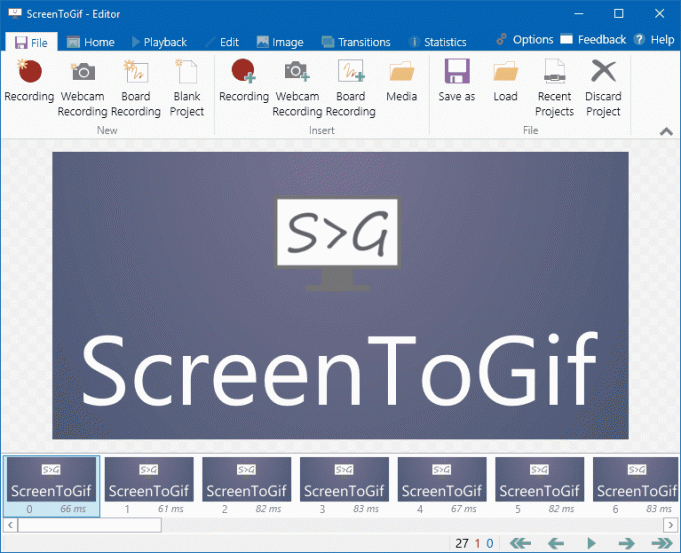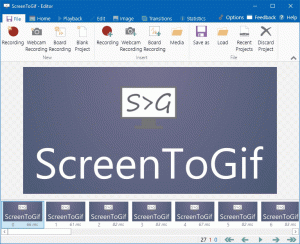 With this Screen to GIF, you can just select a portion of your screen and record anything which happens in that specific area – or at least this is the idea.
The software operates as a simple Windows application – one which makes GIF creation simple and easy. Just start the program and you will have a few options.
The first option, i.e Recorder, let us pick a region of the screen to record. The second one is the Webcam, which lets you record GIFs using your computer's camera.
The third option is Board, which makes you record yourself drawing, and the fourth one is Editor, which lets you edit the existing GIFs.
Now to get started, just click on Recorder, you will see a frame window, which you can resize to select your desired portion of the screen.
Now fit this over a video which you would like to turn into a GIF, or into a region of the screen that you would like to record.
Then, when you are all set and ready, just hit the Record button. Then, hit stop when you have got what you want, and you will be taken to the editing screen then.
15 Top Tools for Awesome Animated GIFs: Online & Offline
From here now, you can delete the selections of your recordings, and do the things such as add captions. A ribbon-based interface means fans of Microsoft Office will feel just right at home.
I have tried my best to search and gather some of the best tools for you and I hope that these tools will surely help you in creating some of the make animated gif from photos.
So, without any further wait, let's get started with the review of these tools.
4 Best Tools To Create Animated GIF's
All the followings are some of the best software/programs/applications/tools to create great and creative animated GIFs of your own.
Some of these tools are paid versions, some of them are free, some of them are desktop applications and some of them are websites.
So, go through them all to take out the best among them.
Wondershare Filmore9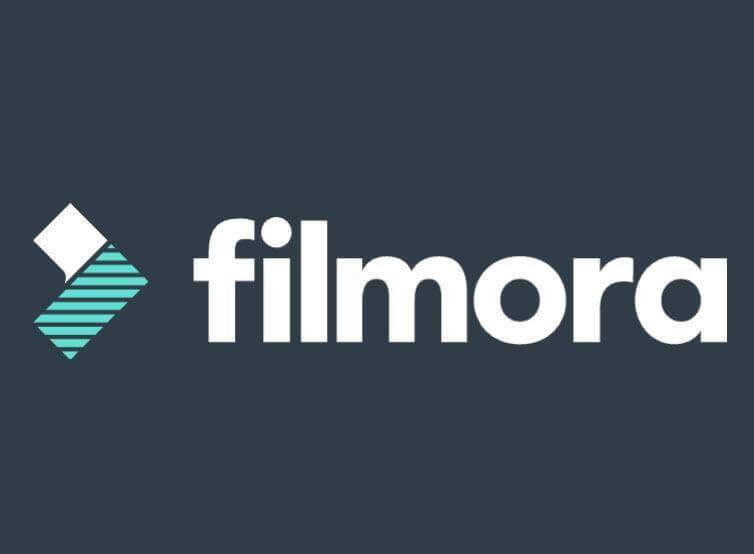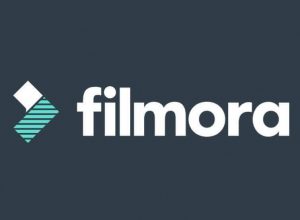 The very first one, on the very top of this list of mine, stands the Wondershare Filmora9. Don't you worry, I will tell you why am I putting this software at the top of this list?
There is not one, not two, but many reasons behind this Wondershare Filmora9 being great for you and your website aspirations as well.
This Wondershare Filmora9 is rated for being one of the best of its kind in film making and GIF maker software as well. This software has a very user-friendly interface and it provides you with so many great features to aid you in your designing requirements for your website and many more platforms as well.
You get to enjoy more than 100 features of visual effects as well as you will be getting complete control over settings of audio and video.
Features
You can create GIF from still images
You can create GIFs from any kind of video format such as AVI, APEG, WAV, DAT, EVO MP4, MKV, etc.
It allows you to edit your GIF with basic editing options such as crop, combine, rotate, speed control, etc.
It allows you to edit GIF with some great and wonderful effects, text and subtitles as well.
Photoscape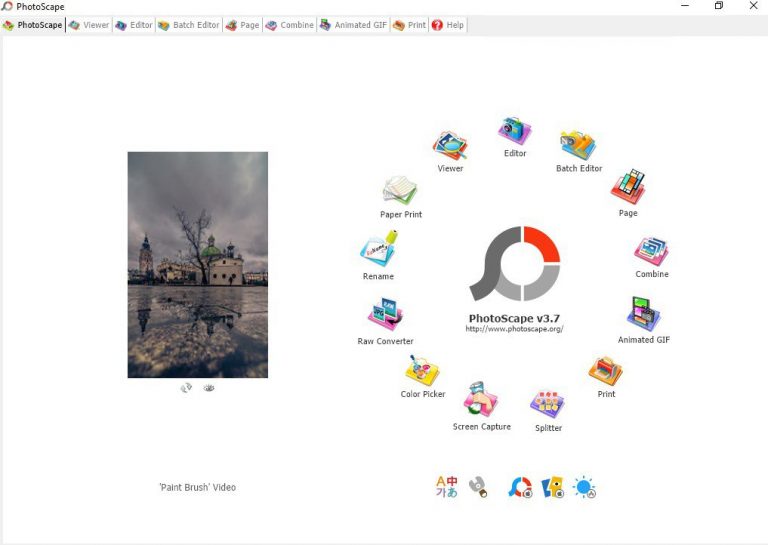 I have this Photoscape on the second number in this list of mine. With this Photoscape software, you can do a lot of fun editing effects with your videos and it contains many other great and impressive features.
Features
It is an Editor
It is a Viewer
You can do page merging
You can make animated gifs by using apps
It has a color picker
It has a photo splitter feature to cut up a single photo into several different pieces
You can crop any image
You get different filters
Many users have found this Photoscape software as a fair program, helpful to them, and very easy to use. But some users find this software to be a bit slower.
Gifted Motion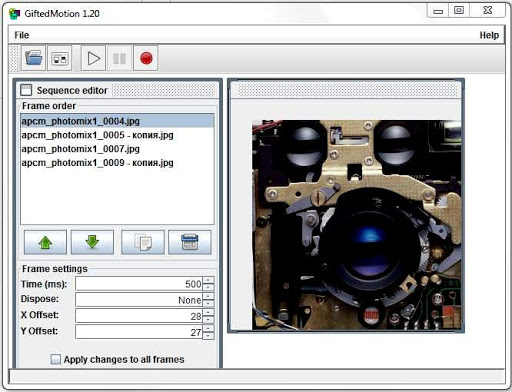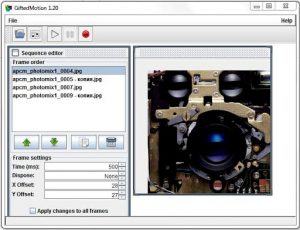 I have brought another free desktop software program for you on this list of mine. This Gifted Motion software runs independently from a platform but it utilizes JAVA and this software can work on all Operating Systems.
There is no installation procedure required for this program; all the interested users can simply just get to work right away with this Gifted Motion software.
Features
You can edit existing imagery
This program supports PNG, JPEG, BMP, GIF
There are no licensing costs on this Gifted Motion software
This program is very simple to use, but many users of this software have reviewed that loading big-size images takes some time.
SSuite GIF Animator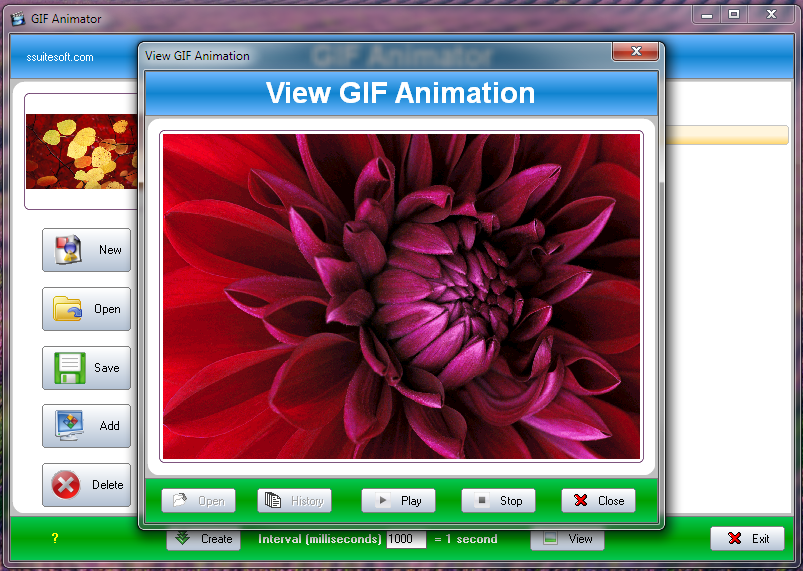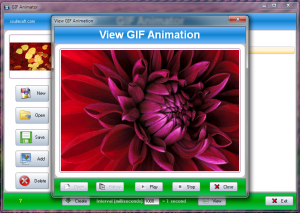 This SSuite GIF Animator is another desktop software program for you. This software is compatible with all the windows versions including even the 32 and 64bit software.
SSuite Gif Animator is one of the very few Green Software programs and this software utilizes very little energy while running the program. You get to create great movies, slide shows, how to make animated gifs for Whatsapp? and many other exciting things as well.
This desktop program is very energy efficient and simple to use. It does not require any windows registration to work.
The only bad thing about this SSuite GIF Animator is that there are some restrictions on the ability to take full control of editing on this software.
10 Best Free Online Tools To Create Animated GIF's 2020
Now I will be reviewing some online GIF creators for you which will allow you to make great and impressive GIFs by uploading images from your PC or by linking in from internet connection.
Here is the list with a brief review:
Filmora Meme Generator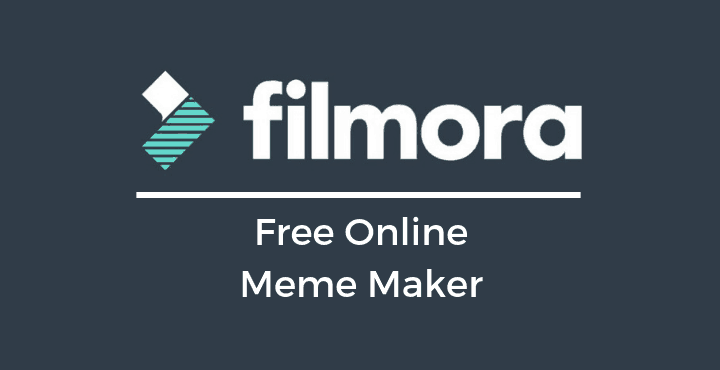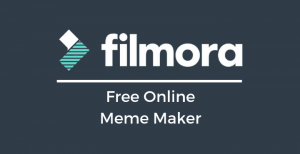 Filmora Meme Maker is one of the best online GIF makers and there is no doubt about the fact that this is your ultimate solution to make GIFs online and for free without downloading any software or paying for a subscription.
This software helps you making images, GIFs, and video memes directly without any watermark. The services provided by this great GIF maker are FREE to use and there is no sign-up required either.
You can change the text size, text color, text position, everything to make a great GIF.  With only some clicks, you can make an impressive GIF, and the best thing about this free online GIF maker is that you can turn 5 seconds videos into a GIF directly with ease.
Picasion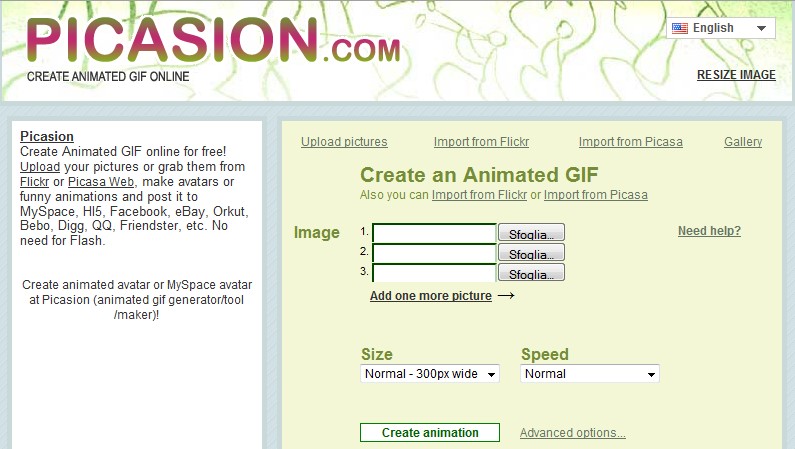 Picasion is a service that allows you to create animated GIF online for free, it allows you to import photos or videos from Picasa, Flickr, or any other gallery you want to import pictures and videos from.
It is used widely in the world, this is why it supports multi-languages, including the majors such as English, Spanish, Portuguese, and Russian.
This is an ad-laden, but there is a trick to avoid them as well. You can avoid all those ads if you stay in the right place on the Picasion web page.
With this great online GIF creator, you can adjust the size of your images, create and add your avatar to it as well.
It is easy to use, as it supports many formats. The only bad thing about it is that it contains ads, and I have already told you a good solution to it as well.
GifPal
GifPal is another fully online user-friendly GIF maker software tool for you guys.
This software tool online GIF maker provides you with drawing tools, texts, and photos
You get control over the speed adjustments on frames
It provides you timeline frame editing
You get 30 effects on this online GIF maker
You get 20 frames from this online GIF maker to work on
Last but not the least, there are no watermarks on the pictures
With this GifPal, you can easily create some animated GIFs of your own and edit them as well. You can make GIFs using your camera as well, or with images. You get the ability to add stop motion frames or record videos as well.
This is a free GIF tool with some impressively efficient effects. The only bad thing about this GifPal online GIF maker is that you need internet access to use these services.
Gickr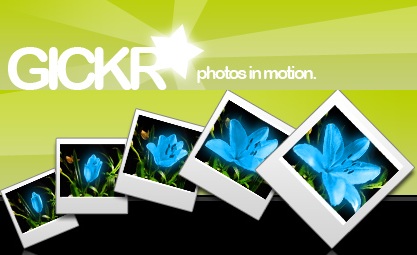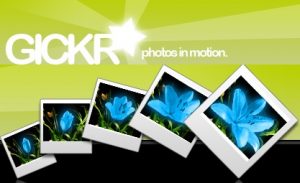 This is a great online service provided to you. It lets you make animated gifs in photoshop of your own instantly online and for free right at this very moment.
What you need to do to proceed is just to upload some pictures or you can grab them from your Flickr account as well.
Quick online GIF maker provides you with the ability and freedom to easily that how to make animated gifs in PowerPoint with your ideas, just by simply uploading them from your phone gallery, or even from your account of flicker, YouTube, or Picasa.
You can create some great funny slideshows as well, with you and your friends in it, with cartoons, some previews, etc.
Gickr is a trusted online service, it allows super safe browsing and it is efficient as well. It is free to work with but keeps in mind that it needs internet access.
Gimp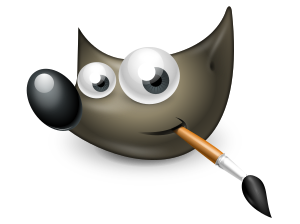 What people know about this Gimp is only that it is a free online editor service providing a tool that allows all the users to edit pictures, create some great GIFs, and some movie slides as well.
I will provide you a little deeper knowledge about this online tool. This Gimp is a cross-platform image editor that is available for a great number of operating systems such as GNU / Linux, OS X, Windows, and many others.
Gimp is completely free software, you can even change the source code of it and distribute your changes as well.
It doesn't matter if you are a graphic designer, photographer, illustrator, or a scientist, this GIMP is there to provide you with some great and sophisticated tools that will get your job done.
UnFREEz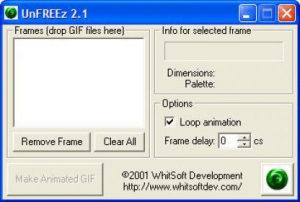 This program that I am reviewing right now is a wonderful program for all of you.
UnFREEz is a high-speed application for windows that will take any number of images you put into it, saved as some split GIF files, and then it allows you to create one single to make animated gifs in after effects from all those images.
There are many other GIF makers, but you know what makes this program unique and different from others? The first thing is that this program is a freeware, the second fact about it is that it is incredibly and amazingly tiny, and last but not the least, it is very easy to use.
GIFBrewery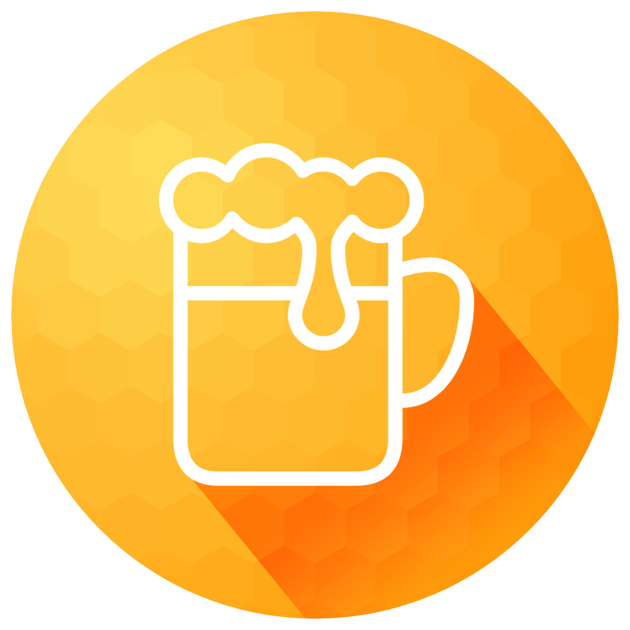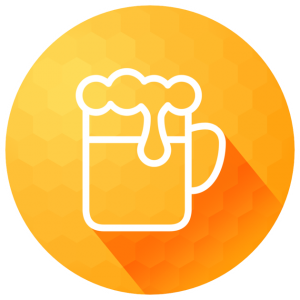 This GIF Maker is for Mac users who can quickly convert sections of their videos into GIFs using this GIFBrewery. You just have to purchase and download this app onto your Mac OSX, and then use it from your computer as much as you want.
The steps are easy to be followed, and the interface is rather an intuitive one. You can edit the GIF with overlay text and images, apply the image filters, and much more.
This is a great tool for making the preview animations for the longer videos to post on Pinterest, your blog, Instagram, and beyond that. It does have a price of 4.99 dollars, but it is well worth that price if you are planning on regularly making the GIF files.
Gyazo

As this is technically a screen capture tool, you can easily capture and save the GIFs and videos using this Gyazo.
This is a free tool that you can download and it is available for Windows, Mac, and Linux OS. All of the captures can be quickly shared on multiple platforms, too.
This is a great and casual tool for anyone who takes the screen captures and wants to show them off to others.
With adding a bit of your creativity, this could be used in other business-related capacities too, even though it may not have all the tools which you are looking for.
Recordit
If you want to make a fast screencast, such as a simple demo, then this Recordit is specially made for that quick tutorial or examples, rather than those which need longer record times.
You just need to drag the space which you want to capture, just hit the record button, and show the viewers what they need to see before stopping the recording.
It breaks these down into the moving slides and it converts the file into a GIF rather than a video recording.
If this sounds like a useful and something you would like to integrate into an app, they now have an API, too.
GIFDeck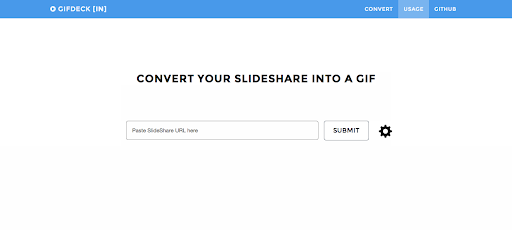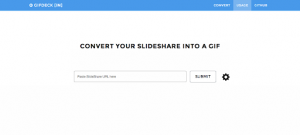 Do you want the education content on SlideShare? GIFDeck is a tool that offers you a great way to turn your deck into GIFs.
This tool can be downloaded and it is free of cost.
Where Can You Use These Animated GIFs?
After knowing the platforms that support GIFs and allow you to use your animated GIFs, I think that you will be much attracted and excited to learn the procedure of how to make animated gifs in illustrator then.
Facebook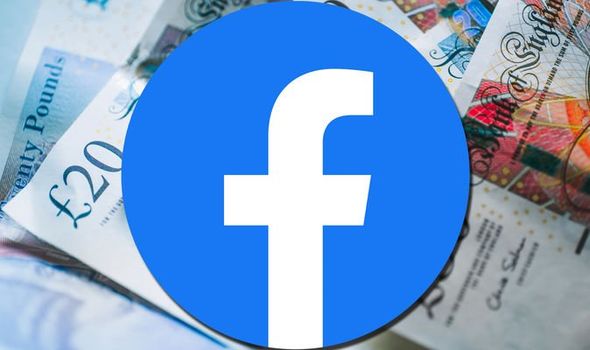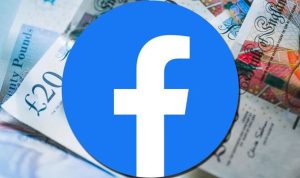 GIFs have been getting way much popular on Facebook – the reason behind this popularity is that GIFs are way much easier to create and share on Facebook rather than sharing videos.
When this feature was first introduced, there was a problem back then that to upload a GIF to Facebook, you would have to search and share it with the help of a GIPHY link, which was very far from being perfect.
But now, Facebook allows you to search for GIFs and also add them to a Facebook post of yours without any share links. If you don't know how to do this, this is how to do it:
Open up Facebook, go to your Facebook page and start making a Facebook Post.
While you are creating a Facebook post, Facebook will provide you with a drop-down menu that allows you to add a photo or video to your post, tag friends in your post, check-in at a particular location, etc.
All you have to do is locate and select the GIF option in that drop-down menu.
Facebook will display another drop-down menu then, which will allow you to search the GIF you want.
When you have found the perfect GIF according to your post, just select it and it will be automatically added to your Facebook post.
NOTE: Whenever you add a GIF to your post, it will appear static first, but it will be animated after you have published that post of yours.)
Your post with a GIF is ready to be posted.
Twitter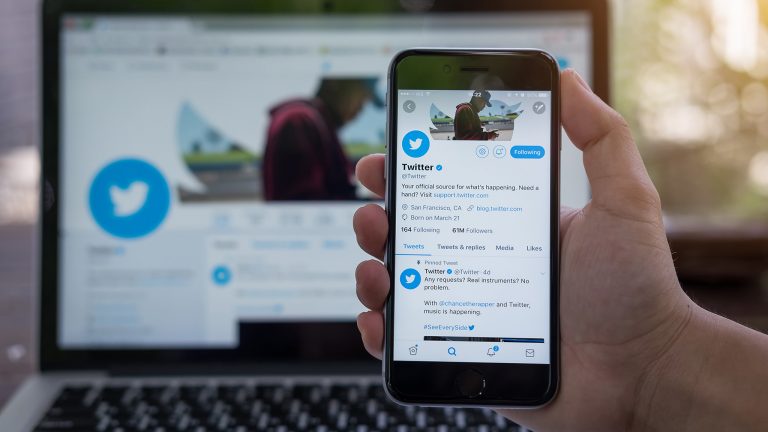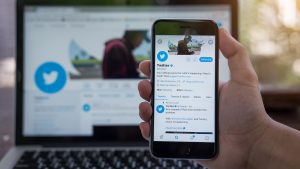 Luckily, Twitter also makes it super easy to attach any GIF of your choice to the tweets you make. If you don't know how to do that, don't worry I got your back.
This is how you add the GIF to your tweets on Twitter:
The simplest way to add GIF to your tweet is that just simply drag the GIF from your desktop to Compose new Tweet box on Twitter.
As you add that GIF in your tweet, it will immediately appear in its animated form. Just hit "Tweet" to publish that post of yours.
You can also click the GIF option in the section of Compose new Tweet. Search the GIF you want and then select it to add to your tweet. Hit "Tweet" to publish that post of yours and you are done.
You can also use these GIFs for Content Management Systems. For all the marketers out there, this is the most significant advantage a GIF can provide to them, as they can upload GIFs to their websites or blogs as well.
Chats nowadays are full of GIFs as well, someone shares something or says something, you can always reply to them with a particular GIF according to what they said or shared. This is just being a very popular thing to do.
I think this is enough to make you more excited about this post so that you can put all your attention here in learning how to create an animated GIF on your own.
So, without any further wait, let's start with a review of some of the most possible ways to make animated gifs with gimp.
Conclusion
I shared only three of so many of them with you just because I know these are enough to do the job for you flawlessly.
Well, there is no doubt that the quality of the final product may vary on the application, as they won't be as high as from Photoshop.
There are various other free software programs such as GIMP or Pixlr, that can offer some of the basic functions of Adobe Photoshop, in consequence, these programs allow you to create still images and then you can play with them in sequence.
There are websites as well which will provide you the ability to cut GIFs from a video.