Utilizing an IP Webcam, you can turn your old Android phone into a security camera without using the internet. IP Webcam is a free smartphone to CCTV app that you can get from the Google Play Store.
Let's begin!
Turn an Old Android Phone into a Security Camera without Internet
You can connect your CCTV to an Android phone and use it as a security camera without having to utilize the internet once you've downloaded the app.
All outdated, working Android phones do not have to away. Some of them, particularly those with an excellent camera, will be far more useful outside of your old electronics drawer. You can easily convert them into security cameras without the need for an internet connection, and enjoy watching crisp recordings of your room.
Having a CCTV system in your house, workplace, garage, and other areas is beneficial in many ways, but it is also time-consuming. The sheer concept of purchasing items, installing them, and constantly renewing subscriptions might be disheartening.
If you have an old Android phone lying around, though, all of this takes just a few steps.
Why Should You Choose An Android Phone?
You can enjoy the following benefits by converting outdated Android phones into security cameras:
In comparison to a standard security camera, an Android security camera will record far more explicit photographs. Most security cameras have an average resolution of 8 megapixels, which is far less than what an android security camera can provide.
Android devices, on average, have a resolution of up to 12 megapixels. Because of the four-megapixel difference, an android phone will record crisper photographs with richer details. Despite the differences in video recording and image capture for security cameras, Androids continue to lead.
Some of the best CCTV apps are compatible with Android phones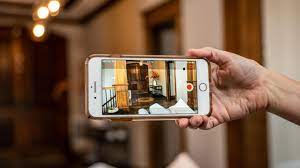 All Android phones include a built-in camera and wireless connectivity. As a result, they constitute an excellent security system. All of this would be for naught if Android phones didn't support mobile to CCTV apps.
Alfred security camera, IP webcam, Athome camera, and Trackview are only a few of the well-known CCTV software that requires the aforementioned qualities and is unquestionably compatible with Android phones.
Although some of these top-rated apps require an internet connection, they can pair an Android handset with any other viewing device and produce the desired results. They also have an indisputable resolution as well as quick and simple features.
Monitors for babies
If you already have a CCTV system but don't have a baby monitor, you can connect it to your old Android phone to monitor your child.
Connecting your old Android phone to your security system will allow you to monitor your infant from afar.
You won't be adding a CCTV camera or baby monitor to your budget list any time soon as long as your old Android phone.