(Last Updated On: February 12, 2020)
Gone are the days when people use to browse different websites, using their laptops and smartphones only. Let Update Samsung Smart Tv.
Many people are switching to Smart TV, because it offers them browsing, streaming and gaming options on a huge screen.
Streaming
When you stream Netflix on your smartphone or on your laptop, does it give you the HD option?
It hardly ever does! When you play Netflix using your Samsung smart TV, it will not only show you, your favorite movies and television shows in HD, but you will get a better experience than before.
Many people don't like to watch cable TV and are switching to streaming channels like Hulu, Amazon Prime, and Netflix.
However, they don't want to overburden their mobile phones or drain their battery, which is why a Samsung Smart TV and streaming Netflix or any other website in it, is a pretty good option.
The most interesting thing about Samsung Smart TV is that it comes with the built in options of Netflix, and Amazon Prime. All the user has to do, is sign into their video streaming website, and they are good to go.
You can even fast forward the video you are watching, using the smart controller that comes with the TV. You can pause and stop the videos as well.
Gaming
Gamers always want a big screen for their high definition game. The Samsung Smart TV allows users to connect their Xbox One or 360, and even PlayStation 4 with it. When they are playing alone or communicating with other players, they can have a more immersive experience. Also, the details that gamers can see in a game when they are playing on a Smart TV, is different to when they are using a gaming monitor for it.
Browsing
The Samsung Smart TV comes with the option of browsing as well. If the cable is out, or the user wants to watch a channel on a website, then he can easily do so. They can even watch YouTube on Samsung Smart TV, and browse different songs.
However, before availing these services on Samsung Smart TV, you should know that it will take a lot of your Wi-Fi data. To use these services, you might need a heavy package for it.
Updating Samsung Smart TV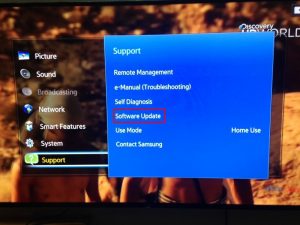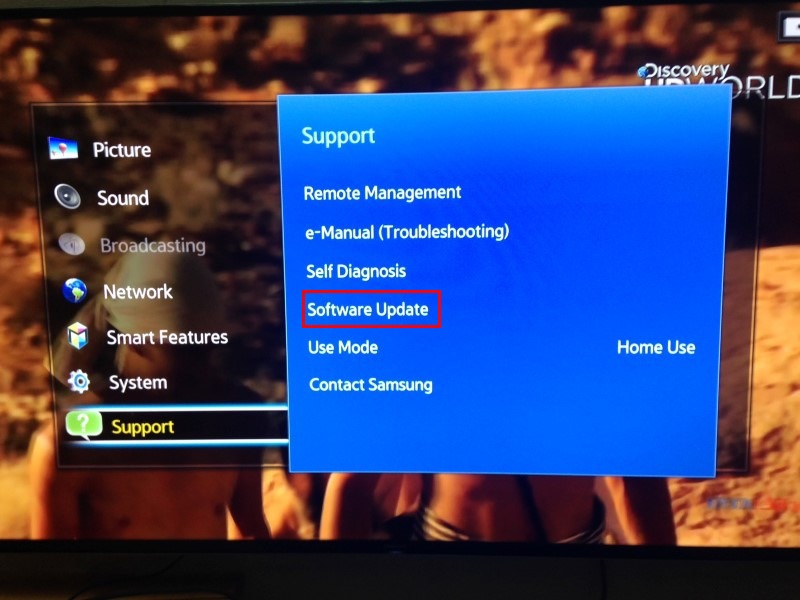 To update the Samsung Smart TV software, you need to follow three basic simple steps:
Select the settings to option on your Smart TV; it is represented by a gear icon, located at the bottom left-hand corner
Select support from settings, which is represented by a question mark icon, and is in the bottom left corner
There will be an option of Software Update choose it and the software will start to update
Automatic Update
In the software update screen, there are two options you can choose. The first option is updating now, and the second option is auto-update.
If the user turns the auto-update option on, then whenever there is a system update, then the software will update automatically.
Smart View
There is the option of Smart View on every Samsung smartphone. If they switch to that view, a permission box to connect will appear on the Smart TV screen.
It is kind of a way to mirror the screen of a mobile phone, with the Smart TV screen. If you play a movie on your mobile phone, you can see the same movie on your Smart TV.
If you want to control your TV using your Samsung smartphone, you can easily do so, by downloading an app. You can change channels with the help of your mobile phone if you are not able to find the remote control of your TV.
You can even view your phone gallery items on Smart TV, and this could be really helpful if you are watching your vacation videos or photos with family.
If you want to play content from your PC, you can do so by using the smart view function. The smart view function is the most helpful of all functions.
Fascinating View
A Samsung Smart TV provides the user with a fascinating view. You can easily see the details in a video or a picture, that you can't see otherwise.
Moreover, most of the parents are worried about the fact that, when their child plays a game on a monitor screen or a laptop, then he is pretty much ruining his eyes. However, a Samsung Smart TV is such that, it doesn't strain the eyes too much.
Instead of playing a game or watching a movie on a small mobile phone screen, the best thing to do for users would be to use a big Smart TV screen. There are different screen sizes for Smart TVs, which is why every user can find one that fits their budget.
When you buy a Smart TV, read the manual that comes with it carefully. The manual will really help you set up Smart TV, in just a few minutes.
The manual would show the settings that you have to adjust, but perhaps, the most difficult part is the transition from an ordinary TV to a Smart TV.
Most people find the options on the smart TV remote very confusing because they are used to pressing only a few buttons and getting the job done.
For this, the user should read the remote control page in the manual, and remember the buttons which he is most likely to use frequently. For example, in order to set the channels on a TV, the user might want to learn how to set channels and use the settings option on the Smart TV.
The user has the option of deleting the Amazon Prime option and other options that he doesn't need, from the Smart TV.
For example, if he doesn't have a Netflix account, then the user can remove the Netflix option. This will clear the space at the bottom, and the user can add other things that he wants to see in the homepage section. Official support.