There is more and the best ATEM Mini Alternative 2023 for a modern way.
The most noticeable new feature is a set of buttons that allows you to use 90 percent of the unit's features without a computer.
A single row of eight large buttons represents the eight video inputs.
6 Best ATEM Mini Alternative 2023
Blackmagic Design ATEM Television Studio HD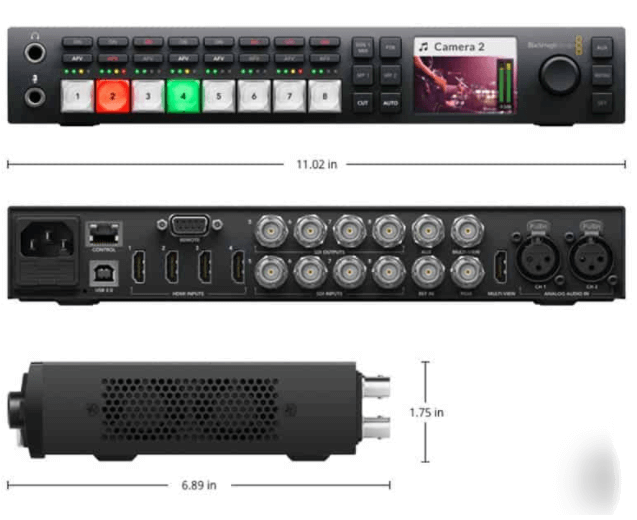 Check Price
Blackmagic Design has now updated its entry-level switcher with the introduction of the ATEM Television Studio HD. Image source: here
Apart from its name, not much else is the same as the previous versions. It is a half-rack unit with four HD-SDI and four HDMI inputs. It then outputs two HD-SDI program outs and an HDMI multi-viewer out.
Above every single one is an Audio Follow Video button to enable or disable the feature. At the extreme right, there is a group of four smaller buttons, Media Player 1 and 2, Cut and Auto trans.
Whereas most of the switches have two rows of input buttons, this ATEM gets away with one, by using a scheme where whatever is on air is lit red and what is set up for next is green colored. You can switch it by hitting the Cut or Auto buttons.
In a short time, we had the ATEM Television Studio HD, we got to use it on a couple of real jobs. One job was just switching live camera, video playback, and a full-screen logo.
ATEM Television Studio HD
The second was graduation which I did as a three-camera live switch, with a PowerPoint presentation is also mixed in. setup was quite simple on the first job.
We had a router that took HD-SDI and then sent it to the 12,000-lumen projector as VGA. The camera was feeding it HD-SDI, and the playback was coming from a computer through HDMI.
There is a nice feature of this new switcher which is that all of the media stills are remembered if it is kept on long enough before a power cycle is performed.
The computer does not need to be connected to the ATEM when it starts up again, but the ATEM must be on and running for just a couple of minutes after the stills are loaded so that it can be saved in the memory for retention over a power cycle.
While for the graduation, one camera was HD-SDI, and a second camera was HDMI, but because of the cable length, we converted it to HD-SDI.
The third camera was using the IDX CW-1 wireless HDMI transmitter with the receiver which was plugged into the ATEM HDMI. I also had a MacBook that was running PowePoint.
When we had to go and hook the switcher up to our projector, which needed HDMI input, then I found that the new ATEM did not have an HDMI out.
HD-SDI to HDMI converters
And I had a lot of HD-SDI to HDMI converters, but none of them were going the other way. Fortunately, I brought along the BMD's Teranex HD just in case. So it worked.
I liked this ATEM Television Studio HD a lot, but I cannot say that I loved it. If you are having the original ATEM, so should you upgrade?
It may be worth it to upgrade if you have nightmares about your computer crashing during a live show and want to have the buttons on the unit as an emergency backup.
If you are doing 1080 60p video switching, then you will need to upgrade, as the original ATEM tops out at 1080ti.
If you are all good with your original ATEM and do not need 1080p, I do not think then it is a necessary upgrade. But if you are in the market for your first ever HD video switcher, then this one is surely worth looking for.
You will mostly want an HD-SDI to HDMI adapter, so work it a couple of those also into your equipment budget.
Roland V-1 HD Portable 4 x HDMI Input Switcher

Check Price
Roland's V-1 HD 4 x HDMI Input Switcher is a portable solution for HD video production which contains up to four HD inputs. Each of the inputs has a frame buffer / TBC so you do not have to gunlock your input sources together.
You can also control the switcher manually just by using the built-in controls, or by connecting it to a PC or iPad which is running optional software for electronic control.
Select your working resolution and then switch between your four input sources. There is a 12 channel audio mixer built into the switcher which can embed and de-member the audio signals from HDMI.
The integrated T-fader provides you to manually control the speed of transitions, or you can also use it to take the button to actuate your selected transition. The unit also features a program and multiview preview output, and also analog audio input and output.
Although it is small in size.  It offers you to perform picture-in-picture, green screen, and also the other key effects, whereas a transform control allows the advanced video effects on your video recording.
HD switcher supports
This portable HD switcher supports four inputs of HD video, which offers you to select 1080i, 1080p, or 720 as your input source.
Every input fits in a frame buffer / TBC which offers you to use non-genlock cameras, also play-out devices as video sources. You can select the broadcast system (59.94/50 Hz) on the menu.
The format selector switch is a global switch that affects the input and output format. Though, with the switch in either of the 1080 options, the V-1 HD allows input of both 1080i and 1080p signals.
Channel audio mixer
It has a built-in 12 channel audio mixer that offers you to de-embed audio from the HDMI stream, mix, and then re-embed the audio into your output stream. The audio mixer is accessed by a connected PC running the available software.
The V-1 HD comes with two HDMI outputs – one output always shows your switched program output, whereas the other (preview) can be switched between program output and multiview of all your four sources.
It has soft rubber backlit buttons which provide you to easily see the condition of your switcher, seen in dim lighting conditions.
The red light indicated the current source being output.
Whereas the green indicates the video source which will be output on the next transition.
There are three buttons for applying the transition effects: Cut, Mix (4 types), and Wipe (30 types).
Remote control
The remote control is possible with the V-1 HD RCS dedicated computer software for Mac OS X and for Windows, or the V-1 HD Remote iPad app which is connected through a USB cable.
The application provides you with a detailed view of the connected V-1 HHD and it can be used to switch the video, mix audio, or change settings. You can also control the unit from a music instrument or a sequencer through the MIDI input connector MIDI.
The V-1 HD also transmits MIDI over USB and its controls can be mapped to popular visual performance software applications. So please use the Lightning to USB Camera Adapter to connect an iPad to the V-1 HD.
Epiphan Pearl Mini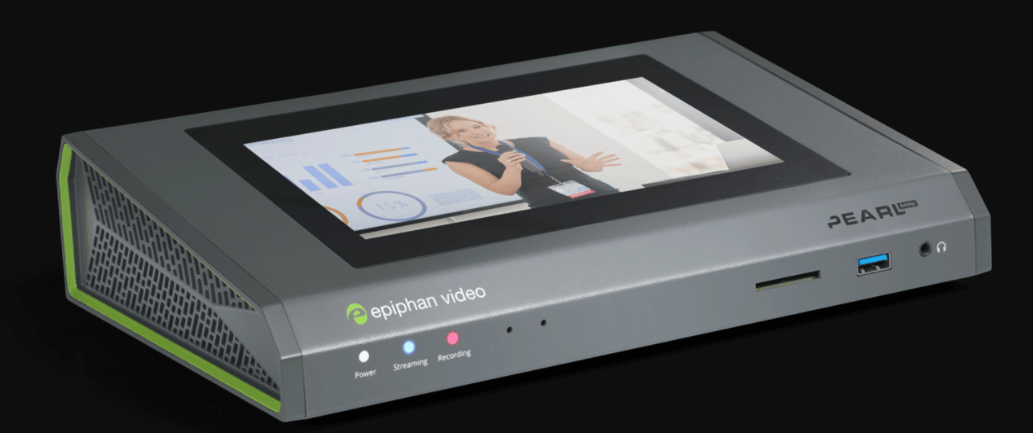 Check Price
The Epiphan Pearl Mini Live Video Production System offers you to switch, record, and stream up to two HD video inputs.
This is a touchscreen-operated device that will fit great into your classrooms, lecture halls, houses of worship, or any other situation which needs simple switching operations with the capacity to record and stream the content live.
On the back panel, SDI and HDMI inputs are also available for cameras, playback devices, and computers, there is no scaling or scan conversion required.
Jacks support XLR microphones
For audio, combo jacks support XLR microphones and ¼ inch TRS connections, 3.5 mm microphone and stereo RCA line inputs are available also. An HDMI output can be used to monitor any of the video inputs or the switched program.
The built-in, hardware-accelerated encoding happens in real-time for streaming and recording.
A choice of formats is available to assist you in your workflow for streaming to popular CDNs or recording to an SD card. After recording it to the card, you have the option of copying the recording to an attached USB drive.
You can design your custom layouts, which include a picture in picture and image overlays, using the drag and drop editor in Pearl Mini's web-based Admin panel.
It can combine, crop, and scale up to two HD video sources. You can also add overlay images, text timestamping, and much more.
You can use the mic level and 3.5mm inputs, or line-level TRS and RCA inputs. Built-in reduction and gain adjustment are also available for fine-tuning your sound.
At the same time, you can stream live to YouTube, Facebook, or any other content delivery network or content management system. Simultaneously, use the built-in streaming server to stream locally to web browsers, smart TVs, and set-top boxes.
Touchscreen
By using the touchscreen, you can switch between connected video sources so easily. As an alternative, you can use the web-based Epiphan Live to do the switching from your phone or tablet.
The Epiphan Pearl Mini's hardware-accelerated encoder offers you a real-time h.264 encoding for maximum performance. You can record as a produced program out or as an individual ISO.
You can send your content to the front of the house or a much larger confidence monitor with Pearl Mini's HDMI video output. This output can be configured to mirror any of the inputs or show the switched program output.
Epiphan Live
By using Epiphan Live, you can monitor video sources and control live switching with a compatible touchscreen device. as long as your device is connected to the same local network, you can retain and maintain control over your program while you are away from the Pearl Mini.
SD card
It has an SD card slot on the front panel which provides you with a quick handoff of recorded footage. You can also configure automatic file transfer to a connected USB drive or a network drive using the SFTP, FTP, RSYNC, SCP, or CIFS.
It has a simplified touchscreen interface that is intuitive and can be set up to start the streaming or recording with just one touch. This function can come in handy if inexperienced volunteers are required to operate video equipment.
Roland V-02 HD Video Mixer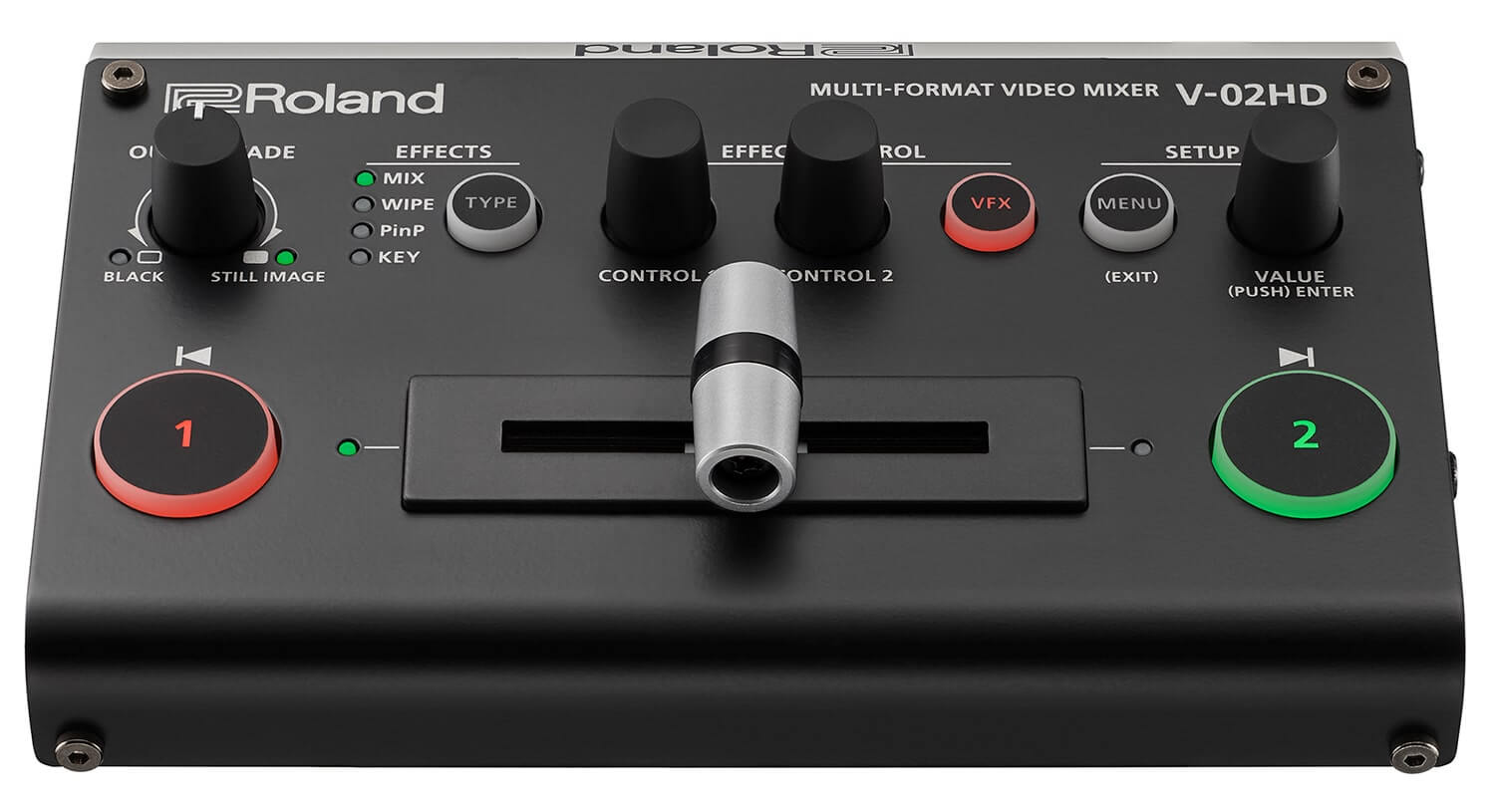 Combining multi-format video switching, scaling, video effects, and more, this Roland V-02HD Video Switcher is a smart solution for any video shoot.
This is a compact switcher that fits very easily in your equipment bag and it eliminates the need for various separate pieces of gear.
The V-02 HD is particularly skillful at simple two camera shoots, by taking two HDMI sources and feeding them to your recorder or live streaming encoder. If you are running a small production in the field, then simplify your video workflow with this Roland V-02 HD Video Switcher.
It is beyond video recording, this V-02 HD Video Switcher is useful for matching video signals in a variety of resolutions, either for presentations, stage productions, or for classroom applications.
It features both input and output scalers, you can send any combination of SD, HD, and computer resolution to the V-02 HD. They will be resized to fit your display, and they will output a resolution that is compatible with whatever the receiving device needs.
Visual effects
With 14 built-in visual effects, the V-02 HD Video Switcher can save you a lot of time in your production. Complex effects such as blurring someone's face become very easy, it allows you to apply the effect directly to the video output for direct recording.
There is a total of 14 different effects that can be applied in real-time, with five additional composition effects for adding the titles, Key effects, PinP, and more.
If you want quality video, you also need great audio too, and this V-02 HD is all set and ready to optimize your audio with an onboard 3 band EQ and active control.
It has great and useful presets which are designed for common applications such as interviews, sound recording, windy area recordings, and more.
Roland V-4EX 4 Channel Digital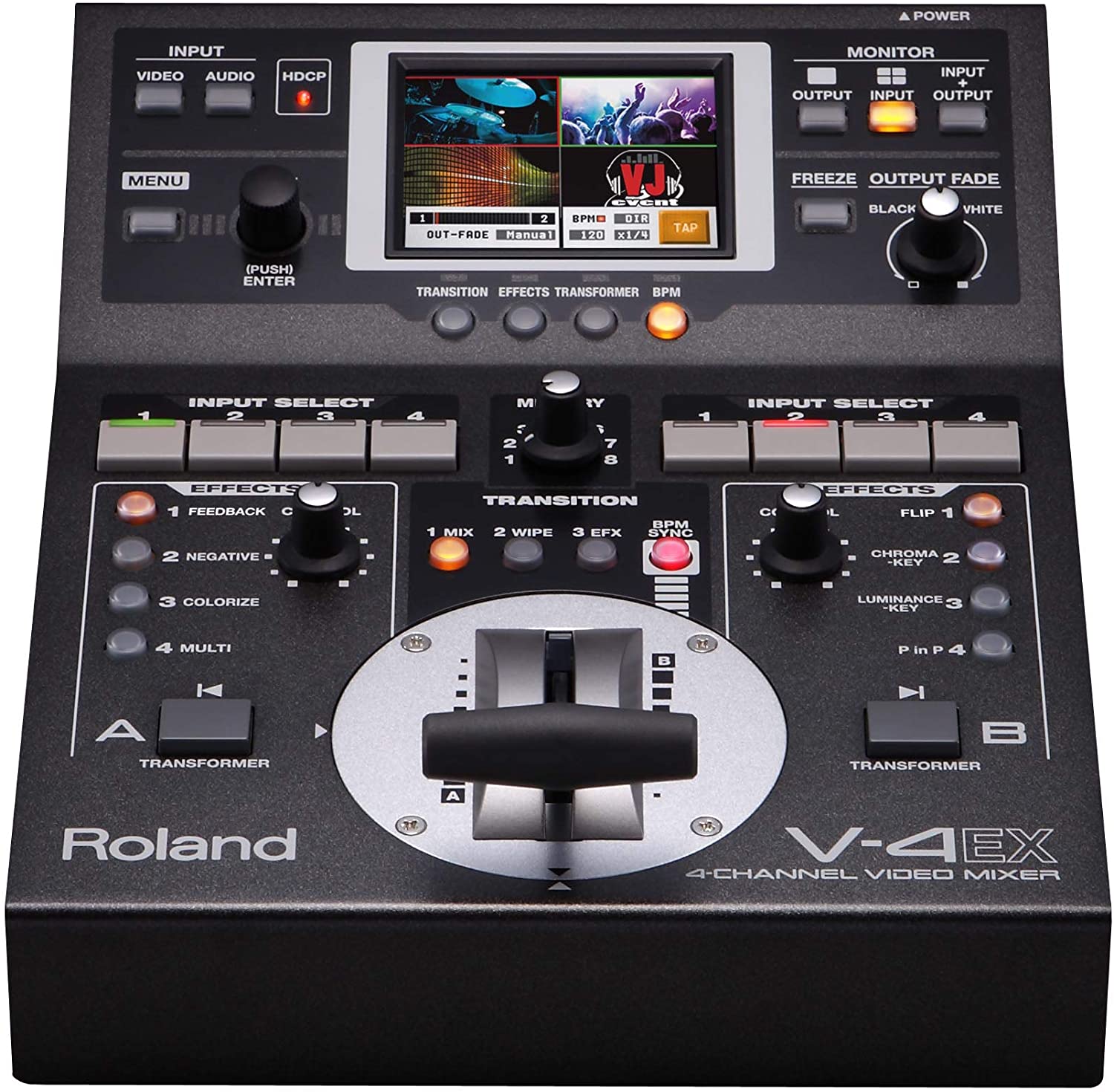 It is a high-quality video switcher that will allow you to mix and switch between four different inputs with amazing ease.
This unit can also output your videos in great quality, so you will be able to enjoy your videos the way they were meant to be seen.
With its easy-to-use controls, this digital mixer makes mixing and switching between inputs a breeze.
Some of the features that you can find on the Roland V-4EX 4-Channel Digital Video Mixer include: Mixing and Manual Switch allows for easier mixing 2,000 HZ Sampling Auto Gain Controller DSP processing of audio inputs Built in Chroma Key effect offers an incredible movie-making feature when used with film footage.
1,500 Million Pixel Color LCD Display Dual Channel Preset Keys Makes it easy to switch between outputs Easy to use reverse/dual output XLR outputs on the back for professional possibilities Onboard Effects make your video looks amazing.
Type: 4 Channel Digital Video Switcher. Inputs: 2 x IN (3PDT), 1x Outs.
Outputs: 1 x OUT Precision rotary volume controls Automatically senses input signal level to finely adjust gain Manually selectable levels of each channel, plus mute and solo modes Drop-in power supply Can connect via analog Y cable Connection for optional HA101-MX Desktop Control Rack Stopwatch.
Roland V-60HD

The Roland V-60HD is a professional digital mixing console that has a lot of features. The console is designed to be easy to use, with the intention of being able to quickly and easily produce high-quality sound.
It has many input and output options, as well as an upgraded set of features that are not available on the original V-40HD.
The Roland V-60HD has an improved sound quality over the original V-40HD and it also provides more input/output options for users
It is one of the best in the market and has an excellent price tag.
It comes with features like remote control, HDMI, USB, and SD card slot to make it easy to use
Roland V-60HD is a great choice for musicians who want to amplify their sound.
It has a tube preamp, which adds warmth and depth to the sound, and a speaker cabinet with two 12 inch speakers.
The amp also features an XLR microphone input and 1/4 inch line input for connecting external devices such as keyboards or drum machines.
This amp has three channels – clean, crunch, and lead – that allow you to mix your sound in different ways. It also has a headphone jack so you can practice without bothering anyone else.
The Roland V-60HD is a powerful and versatile guitar amplifier as well with tons of features. It has an amazing tone for any type of music, from country to heavy metal, and it has a wide range of amp models to choose from.
It's perfect for beginners and intermediate players who are looking for a quality amp at a reasonable price.
It has a high-quality sound and it's easy to use. The Roland V-60HD has many features that make it stand out from other drum machines on the market.
What is the video signal format supported by the Roland V-4EX 4-Channel Digital Video Switcher?
Video input formats: A/V; SMPTE 259M, 343Mb s and 1528kbps, 24 Mbps Component RGBHV (720p or 1080i), 525 TV systems including PAL & NTSC Composite 3G MPEG output signals: 480p, 576p, 720p (480i), 1080i HDTV.
Component RGBHV and digital master video signals from HD camcorders.
What can I use the Roland V-4EX 4-Channel Digital Video Mixer for?
The unit makes you able to get both analog audios together with high-quality pictures or videos and all done in just one device.
With its ability to easily switch between three different inputs as well as to back up any of your digital video signals the Roland V-4EX Channel Digital Video Mixer is also perfect for concerts, movie productions, church services, and others.
4 Channel Digital Video Switcher built in Chroma Key effect offers an incredible movie-making feature when used with film footage.
1,000 Million Pixel Color LCD Display Dual Chanel Preset Keys No accessories required Builtin Effects make your video look amazing Portable.
Conclusion
To summarise, many customers have found the 6 best ATEM Mini alternative to be a great value for the money, and they appreciate its high-quality video output, ease of use, and overall design and construction.
The Roland V-60HD is a great option for those who want to produce high-quality audio.
Read more: Best Streaming Device to Replace Cable