Last Updated on June 15, 2020 by admin
Free Download Managers speeds up all types of downloads (files, videos, torrents).
It is a great and fast internet download manager for Windows and macOS.
Top Online Meeting and Video Conferencing Software 2020 Software Alternatives.
With these great handy utilities, which are called download managers, most people among us could enjoy great benefits like faster downloads and some great useful options such as pausing and resuming the downloading process of a file.
Though there are some download manager apps/programs which provide you with paid services and on the other hand, you can find a download manager app/program which offers you great features and services for no price, these are all free.
If you guys have never heard and don't know about download managers, no worries at all. I am going to tell you what a download manager is.
These programs, namely DOWNLOAD MANAGERS are special programs/apps and browser extensions as well, which helps all the users including you in keeping large size file downloads carry on downloading nonstop simultaneously just like the way these downloads should be organized.
Though, if you want to download music or software you have been looking for, you don't need a download manager for this as the browser you are using will do the downloading job for you just great for the music file or software file.
But when there are some special situations as well in which these free download manager works well and comes in handy.
The capabilities and overall features of these download managers are just so great, as many of these can even increase the speed of your download process as it can download your item from various sources at once.
Feature of pausing and resuming a downloading file process is supported my many download managers. This is a feature of which even some browsers have been doing lately, but people don't realize it at all.
Most of these download managers offer you further great features of scheduling, BitTorrent support, batch downloading, a range of security features, previewing files, and compressed file formats are also supported to look out for.
There is no much choice to take to decide where to start, which can be difficult whether you are looking for a single standalone piece of software or you want something that attaches into your preferred web browser.
7 Best Free Download Managers 2020
This might make you struggle to decide which free download manager tool you should download and use.
I have done the difficult part for you, which is to search some of the best download managers which are free and offer you great features and services that you desire.
Ninja Download Manager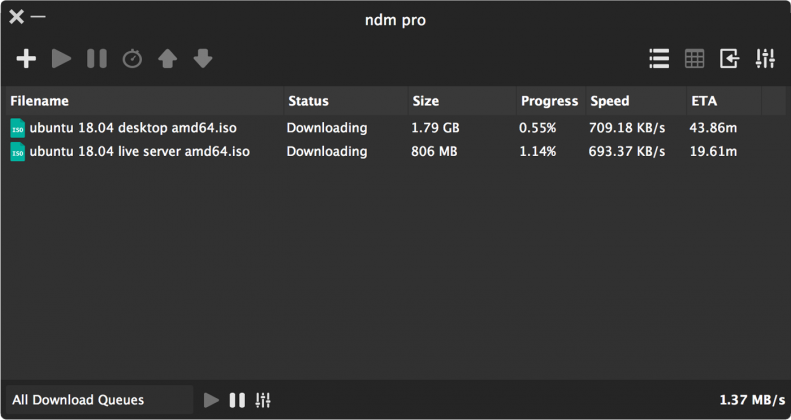 This piece of programming software is very powerful and well designed. It is considered as the best manager for media files.
Ninja Download Manager is said to be a new boy in town. It is a newcomer to the downloading party. And if you look at the equals of this download manager, you will find this Ninja Download Manager much contemporary than all others.
The interface of this Ninja Download Manager is much simple and modern at the same time. This download manager has an accelerator that can help you in getting your files 10 times faster than the ordinary speed.
This download accelerator on this Ninja Download Manager won't keep you waiting for long.
You would be wondering how this accelerator works, right? Well, this accelerator on this Ninja Download Manager works in a way by splitting each file into chunks and then download each part of that main file separately using a different server connection.
This technology makes your downloads not only faster but more reliable as well.
One of the most impressive features of this Ninja Download Manager which impressed me is that it lets you play a file that is still downloading. There is a very little number of download managers who provide you with this feature.
With this Ninja Download Manager, you also get a built-in video downloader that supports downloads from YouTube and Vimeo as well and a video converter which will change the file format automatically a very moment that file has finished downloading.
If you are very into music, films, and TV then Ninja Download Manager is the tool you should probably go for.
Link: here
Free Download Manager (FDM)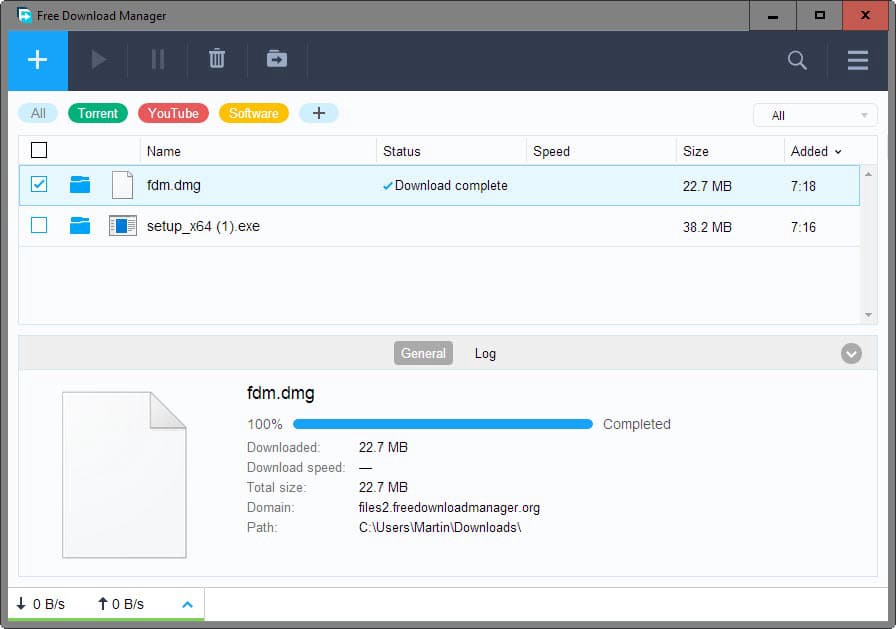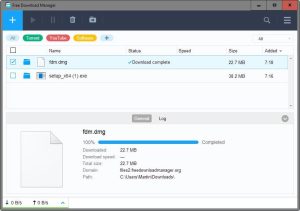 As you guys are here to search for the best free download manager, this program has this name. This makes it the exact thing you were looking for. Well, jokes apart, this Free Download Manager (FDM) is considered as one.
This Free Download Manager (FDM) is capable of monitoring and intercept downloads from several web browsers you use, but it can work independently of these features as well.
There are a lot of things you can do with this Free Download Manager (FDM) such as you can create batch downloads, download torrents, preview the downloading file before it is downloaded completely.
You can even deselect the files you don't require from the compressed folder before downloading or while downloading as well.
This makes you capable of downloading all the links from your clipboard, and quickly control the bandwidth allocation for all downloads you are performing on this Free Download Manager (FDM).
This Free Downloader Manager manages and performs downloads of your files in order of how they are listed in this Free Download Manager. However, you can move these files up to down or down to up to set their priority.
With all these above mentioned exceptional features, you get another fascinating feature on this Free Download Manager (FDM). This feature allows you to preview and convert the file which you are downloading whether audio or video before it finishes downloading.
You can set traffic limits as well and schedule downloads to perform on some selected days only.
The good news is that this Free Download Manager (FDM) supports and runs on Windows, Linux, Mac, and Android. Browser Integration of this program supports and works flawlessly with Explorer, Google Chrome, and Mozilla Firefox.
Link: here
Internet Download Accelerator (IDA)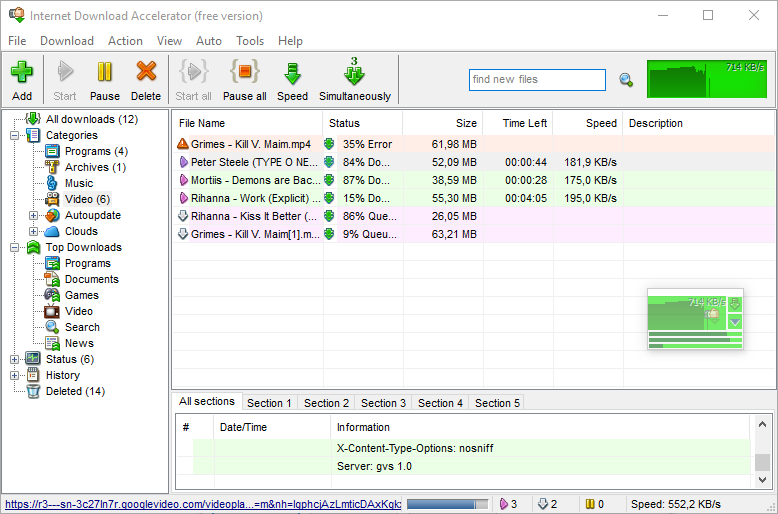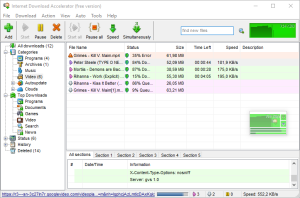 I bring you another fascinating and all free download manager, namely, Internet Download Accelerator (IDA). This IDA can integrate a toolbar with the Mozilla Firefox to make it much easy and convenient for you to download files.
This fascinating and exceptional Internet Download Accelerator (IDA) solves the three biggest problems while downloading a file from the internet which are downloading speed, resuming broken download files, and lastly, the management of those downloaded files.
Internet Download Accelerator (IDA) provides you capabilities for easy organizations of files category as it has a live monitor for other browsers so that all files can have downloaded with this Internet Download Accelerator (IDA) and can have placed in proper file category.
This feature can have performed with both, the regular HTTP downloads and FTP server downloads.
This Internet Download Accelerator (IDA) can grab a group of downloads through variables of URL, it scans for viruses automatically whenever required, it uses hotkeys, it can change the information of user agent and it can auto-download files with file extensions of your choice.
If you want to expand the complete functionality of Internet Download Manager (IDA), then there are a few plug-ins available which you can download and apply, for example, an advanced schedule function.
But now I have a piece of bad news for the users of macOS, Android, and other remaining users of different operating systems. This Internet Download Manager supports and runs on Windows Computers only.
Link: here
JDownloader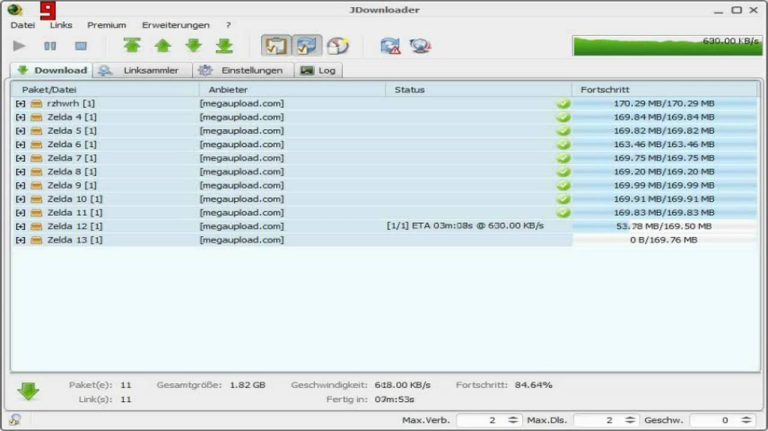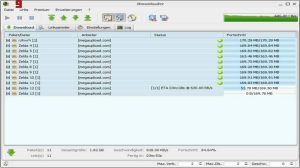 I don't recommend or write about things that are not unique, but this JDownloader is very unique on its own. This JDownloader consists of a feature that many other download managers don't consist of.
It doesn't matter if you are using this service by using the mobile app or the website "My JDownloader", this JDownloader provides you with exceptional features everywhere. You can start, stop, and monitor your downloads on this JDownloader from anywhere.
JDownloader has a very clever feature called the LinkGrabber. If you have any download links copied to the clipboard, this LinkGrabber feature will add those download links from clipboard directly into the program to start downloading that file so you don't have to go into the clipboard, find and copy that link out of it.
This download manager, namely JDownloader has many impressive features. It can also save a list of download links of files you have downloaded, it keeps it as a password protected encrypted file so it might be easy for you to import them later.
The easiest task you can do on this JDownloader is to control it. It has the PLAY, PAUSE, and STOP button at the top of the windows of this program, making you analyze and control all your pending downloads easily.
Not just this, you can also control some other things very easily from the bottom side of the windows of the JDownloader program at any time, such as the download speed, ceiling number of synchronized connections and downloads.
It terms of compatibility, this JDownloader holds a good position as it supports and can have programmed on Windows, Linux, and Mac operating systems, inside the Mozilla Firefox and Google Chrome browsers.
Link: here
EagleGet Download Manager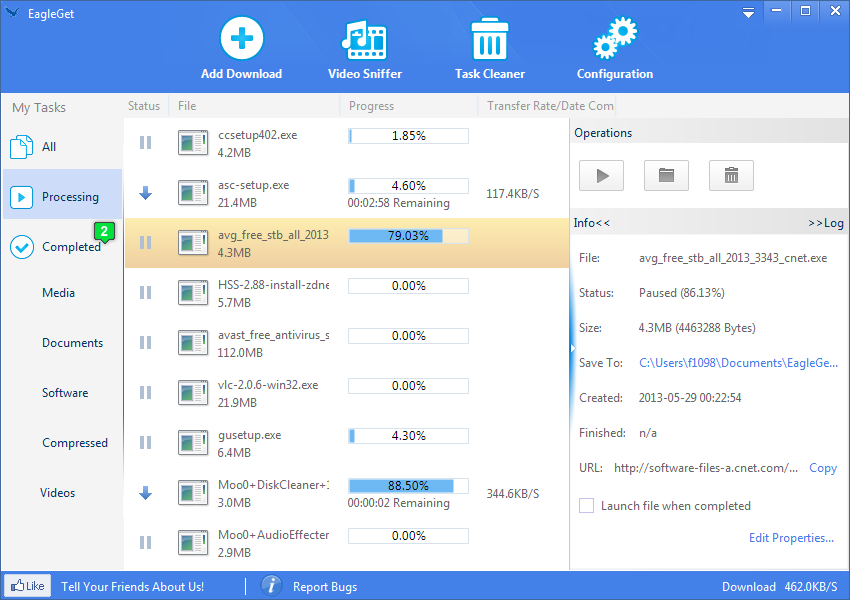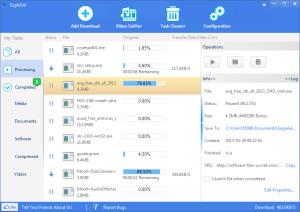 This is an amazing and flexible download manager which makes you grab the media files fast, safe, and more easily. This is very easy to use a download manager that makes you take control of your files.
Nowadays not everybody has a super-fast, reliable connection or internet, and even if they do have a fast internet connection, there is always space where you can speed up your downloads a bit.
This can have achieved by downloading multiple files from multiple locations at the same timings to maximize the connection and avoid being a slow down or lazy download by slow servers.
But, the download acceleration is only one of the many features of EagleGet, because it also includes a media grabbing part for downloading videos from the websites such as Vimeo or Youtube, addition to that, it also has a scheduling tool so you can easily decide when the files are to be transferred.
When you are downloading in groups or sets, you can leave a huge number of files to download all over the night while you are sleeping without any blockage of your connection when you need it or you can either apply a download speed limiter so you can continue to use the web with downloads which are running in the background.
You can choose to add the URLs to EagleGet by yourself or you can have the program handle the file downloads by itself automatically. This option can easily be customized; it can have set to be only included in certain file types or to avoid certain websites.
Even though most of the modern web browsers can resume the downloads if your connection is interrupted, the same feature which is offered by EagleGet is far more strong and makes this program to be well worth installing if your connection is not a reliable one.
Link: here
Internet Download Manager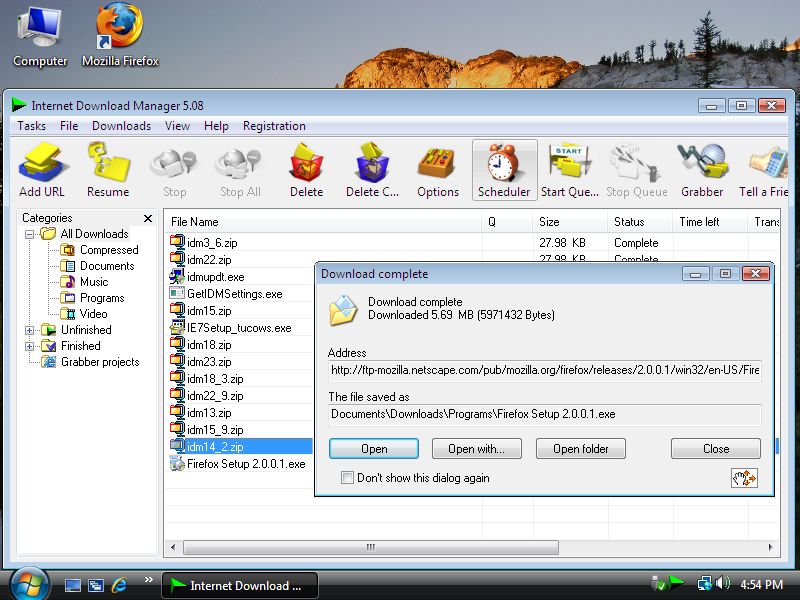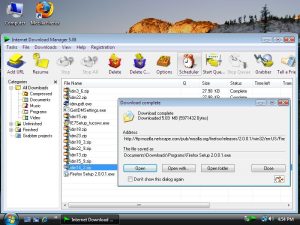 Internet Download Manager has defined the standards of how a download managing software should be like.
This software which is also known as IDM is one of the most popular download managers for Windows all around the globe. It makes downloading fast and downloads management very easy.
The IDM makes the downloading experience pretty fun and enjoyable by letting us avail of different download options available within its main program window. IDM's biggest feature is probably the integration with all the major web browsers.
The accuracy with which the IDM intercepts all the download links is just amazing which allows you to easily download the files using its service rather than the web browsers' built-in downloader which is very slow in downloading.
This allows you great convenience as this download manager automatically captures all the downloads. Other download managers also have this feature, but none of the other download managers do this as good as this software.
There are other features of IDM which include the ability to pause or resume your downloads, support for downloading multiple files in a parallel way, the download speed is faster, and much more.
IDM also comes with a smart download logic accelerator which features an intelligent dynamic file segmentation and safe multipart downloading technology to accelerate and speed up your downloads.
This also makes sure that even when your PC is crashed in the middle of a download, IDM will be able to resume the download from where it was left without having to start from the beginning.
This one also supports proxy servers, FTP and HTTP protocols, firewalls, redirects, cookies, authorization, audio, and video contents which are procession among other things.
This is no doubt one of the most powerful download managers all around the world and you must try this one out.
Link: here
uGet Download Manager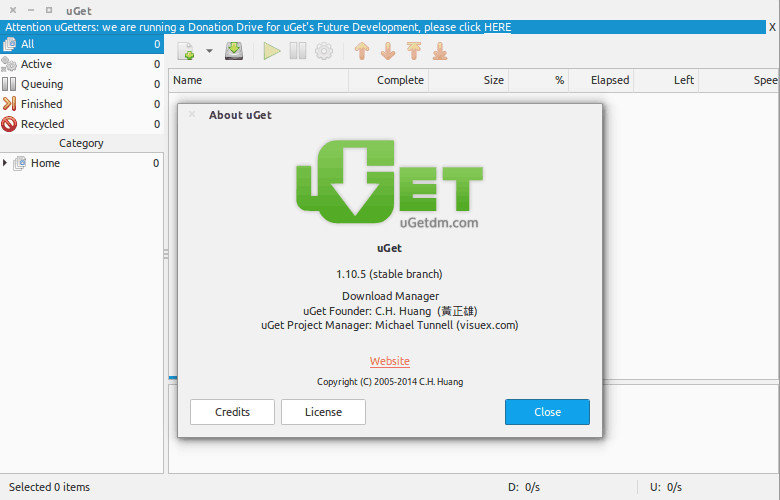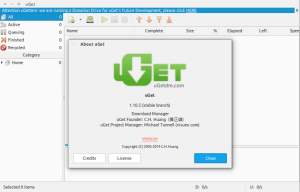 uGet download manager is yet another open-source download manager which is used for Windows and it is completely free to use.
It offers features such as multi-connection downloads which are used to split the file to increase the download speeds, group download with a file queuing, and it can resume and pause the downloads without having to start the downloads from the start.
One of its many features is the look and appearance of the uGet download manager. The app automatically adjusts the appearance which is based on the color scheme and icons of the operating system which is installed in it.
Despite the normal and dark themes, uGet also offers you with various hybrid themes which are pretty amazing in their appearance and look and all of which makes this app different and stand out from the rest.
Other features of this app also include a clipboard manager which keeps an eye on your clipboard for any copied download links and prompts which you have kept it and asks you if you would like to download those files, it also has browser integration with Chrome, Firefox, Chromium, Opera, Vivaldi, and it supports for multiple mirrors protocol between other things.
The user interface of the uGet download manager is also a good one. Overall, it is a good option for the people who are looking for a free and ad-free download manager for Windows.
Link: here
What is the fastest download manager for Windows 10?
Download Manager (IDM) is the fastest and most feature-rich download manager available for Windows 10. IDM can download up to 10x faster than standard web browsers.
Features such as pause/resume, schedules, queues, etc. make IDM a complete download manager in the Windows Store.
What's better than IDM?
When it comes to the functionality and functionality of this software, downloads for IDM are not a real alternative to the real manager. IDM is constantly updated and probably.
The latest video capture tool that works amazingly well.
Is FDM safe?
The distributed program is secure as well as on the website itself. Positive experience freedownloadmanager.org is the official website of the popular download manager and accelerator FDM.
Both the program and the website are reliable and secure, provide efficient downland solutions, and work perfectly.
Which is better IDM or FDM?
And secondly, the psychological reason for the high speed of IDM is that IDM refreshes its download speed in a fraction of a second while FDM refreshes it in about a second. ۔
Is J Downloader Better Than IDM?
When comparing J Downloader 2 vs. Internet Download Manager, the slate community recommends J Downloader 2 for most people.
The question "What is the best download manager for Windows?" J Downloader 2 is third and Internet Download Manager is fourth.