With having the best slideshow app for windows software and apps you can easily craft slideshows and presentations to really showcase your photos.
Either of you is creating them for a family gathering, or you are just sharing them online, a slideshow is the best way to combine the photos on a specific theme.
Maybe it is from your vacation, or maybe it is from a day out, or a photo session with a professional, you can really enhance and show the images with a good slideshow app.
The best photo slideshow software and the app will not just organize your images for you, but it will also offer you loads of features of editing them, adding effects, and even overlaying music and transitions.
Whereas many are done for fun, slideshow apps can be used for professional showcases also and even for business use.
Whenever you are looking for the best photo slideshow software which fits your needs, then consider what platform you will be showcasing your slideshow on, whether you want to make copies of that slideshow, and how easy it is to use each one.
10+ Best Slideshow App for Windows 2023
Most of the software and apps which are on my list have free versions to try before you can buy them, and some are just completely free for everyone to use.
MiniTool MovieMaker
It is a very newly released video editing tool, and it is the best slideshow maker available for Windows 10 / 8 / 7 users as well.
It can help you to easily and instantly create a photo slideshow without the watermark. MiniTool MovieMaker is a perfect tool for beginners. It comes for free on Windows PCs, with the basic features. Even the newbie or beginner editors can also grasp the best free photo slideshow maker to make a video with pictures and music.
This one offers movie templates. Each of the templates is a pre-designed construct, with ready-made titles and effects, and a series of placeholders. If you do not know anything about video editing, then no worries, this is the quickest way to make a video.
Select the template, then just import your clips into that placeholder, and change these titles. After this, you can then share this video with your friends.
This is how to make a slideshow with music and pictures by using the best slideshow maker for Windows 10.
3 steps to making a Photo Slideshow
Launch MiniTool MovieMaker, then import your pictures, videos, and music files through the Import Media Files button, and then drag and drop these files to the storyboard.
Now you can just use your imagination to create an amazing photo slideshow, you can add transitions to connect one picture to another. You can add filters to change the color of the pictures. You can also add text to complete your photo slideshow.
Export this photo slideshow and then share it with your family and friends
The best free photo slideshow makes offers you an amazing opportunity to create a great and remarkable slideshow just in 3 simple and easy steps. You can even use this tool to create a Facebook Slideshow as well.
Windows MovieMaker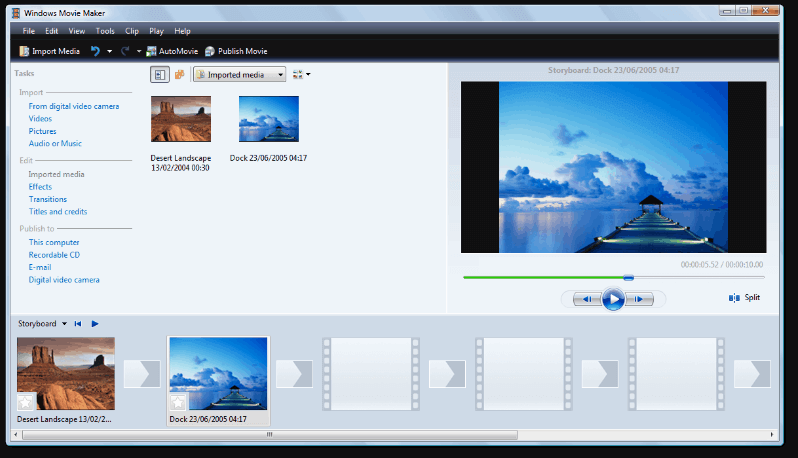 This is a discontinued, video editing software developed by Microsoft, it provides you with the ability to create and edit photo slideshow as well as publish them on OneDrive, Facebook, Vimeo, YouTube, and also on Flickr.
It offers you to combine your clips into digital movies with titles, transitions, background music, and effects as well. it is an intuitive interface with an easy and simpler version of a video editor timeline and it is easy enough for even beginners to use and edit from it.
You can just see the effects, transitions, and themes automatically when you just hover the mouse cursor over the buttons. It is a simple feature that is popular with users. Windows MoieMaker may be the easiest and simplest way to combine your picture in a photo slideshow.
Mondavi Slideshow Maker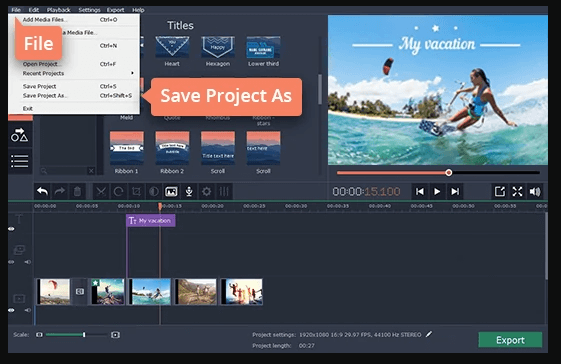 This one is an editing tool for creating a slideshow in Windows and Mac. It contains the tools which you need to polish your photos and add enhancements to your projects.
It offers 105 transition effects, and they are very classy and professional-looking.
This one provides up to 165 chic photo filters even though it does not supply any background or themes.
This photo slideshow maker is a choice for the users who want to create and post their professional-looking videos and slideshows to their YouTube accounts.
Proshow Gold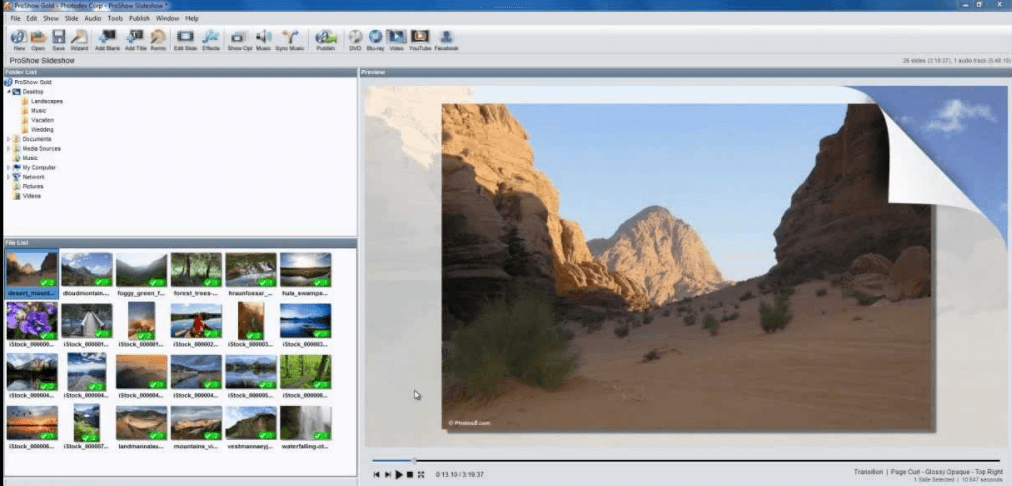 Both professional photographers and also the inexperienced users can easily use ProShow Gold.
This is a photo slideshow maker which provides you with a sizable of professional-looking transitions, backgrounds, and effect to help professional photographers showcase their images and videos in modern fashion.
This photo slideshow maker pops up ProShow Wizard when you open it to help the inexperienced users to make a slideshow for themselves.
There are many more features than you can use initially, and you should also spend your time learning these new features.
PhotoStage Slideshow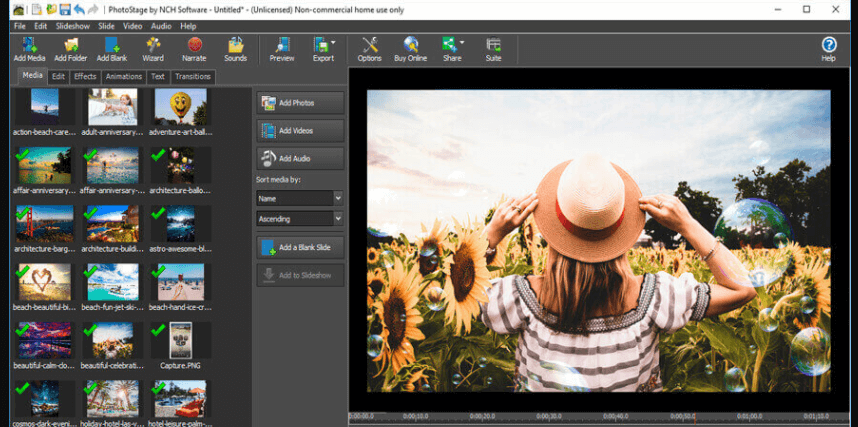 It offers you to make vibrant and colorful slideshows from the photos on Windows 10 easily and quickly.
This software provides you with about 30 transition effects, but there are no backgrounds, filters, or themes. This tool does not just allow you to crop and rotate your photo but it also lets you adjust the contrast, hue, and brightness as well.
It provides you with a variety of input and output options as well as the editing tools for your images and music.
PhotoShow Slideshow is very easy to use. It comes with effects and multimedia presentations as well.
CyberLink MediaShow

It is a free slideshow maker, it not just makes your photo slideshow but it also helps you to tag and categorizes your images and videos.
This photo slideshow maker provides you with 31 transition effects to help you to create a great and cool slideshow. This tool allows you to add an audio track to provide your presentations with an entertaining touch and feel.
CyberLink MediaShow is a very versatile and powerful application. It offers you quick links so that you can share media with websites, such as YouTube, Facebook, and Flickr.
Many other features are available in the free version of the video slideshow maker, and it performs all of the tasks with ease and at the fastest speed.
Photostory Deluxe
It offers you to easily personalize your photo slideshow because of its extensive editing and creative tools.
Photoshow Deluxe offers you to enhance your photos and videos before you can publish them, to make it a perfect choice for serious photographers or GoPro users.
It covers all of the basic slideshow features which are important and necessary to make beautiful projects. It has an extensive toolset by featuring advanced editing tools that are not really found in many of the other competing programs.
This photo slideshow maker provides you with over 300 transition effects, and more than 370 backgrounds and filters also.
Apart from this, there is an in-store app where you can easily purchase additional graphics, music, and transitions. And you can use the advanced editing tools to make your photos outstanding and awesome. It has hundreds of transitions effects with a large variety of useful tools.
Photostory Deluxe is one of the top photo slideshow makers in the whole world.
It creates slideshows that are in HD quality and it has one of the most extensive photos and music editing toolsets that I have seen. But it may take a while to figure out how to use everything in this tool as there are so many tools that are available for you.
Photostory Easy

It is a much simplified and easy version of Photostory Deluxe. This is a simple photo slideshow maker which provides you with 72 transition effects and 27 backgrounds to help you to customize your slideshows.
This tool offers you to adjust the hue, saturation, brightness, and contrast of your images and offers you to record audio and you can also fade music in and out.
Photostory easy contains an in-store app with a very huge library of effects which contains fun decorations such as bunny ears, sunglasses, and party balloons. You can also add these effects to your images to add more fun to your photo slideshow to entertain your audience.
Apart from this, you can also add animated titles and captions for your slides through its specific text templates.
With this photo slideshow maker, you not just can burn your projects to DVD, Blue-ray, or interactive CD but it also can post your projects directly to the websites such as Facebook, YouTube, Flickr from the program.
Photostory Easy, as its name suggests, it has an easy to use interface. It is compatible with all of the most common file types. And also, it can burn to both, DVDs and Blu-rays as well.
Photostory easy is a great slideshow maker for users who are new to editing because of its simple interface and built-in wizard. But this tool does not just come with all of the extras which my higher-ranked apps offer and provide.
Adobe Spark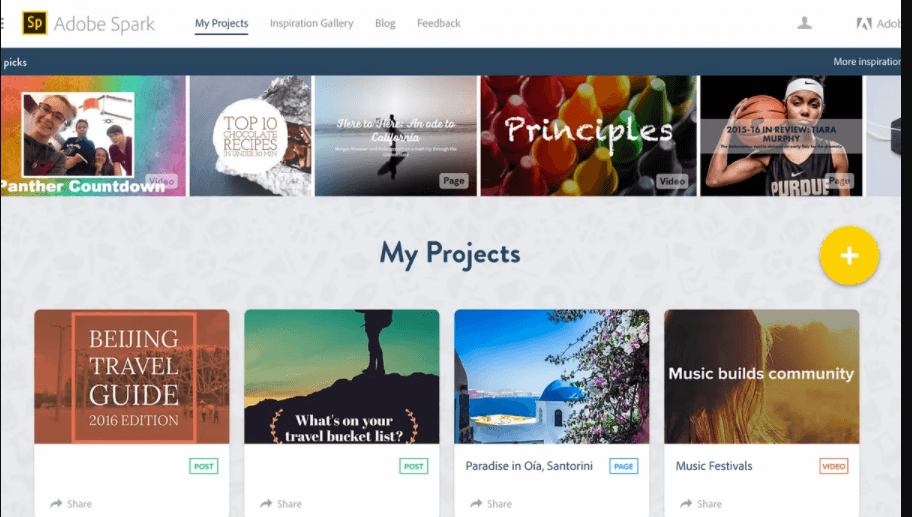 This is a software tool that was designed at first for just video storytelling.  This is what made Adobe Spark a good choice for one of the best software which can create slideshows for you.
While it is not as expansive as a typical video editor, it combines motion graphics, audio recording, music, text, and photos.
These great features make it a great choice for producing short animated, narrated explainer videos, or even slideshows.
Its user interface is very simple and easy to use, and it is exactly this simplicity which makes this Adobe Spark a special tool for you.
This tool is more lightweight than the typical tools of its type. It can easily acquire photos for slideshows from Photoshop and Illustrator.
Adobe Premiere Pro CC

Adobe Premiere Pro CC is a software that needs no introduction. If you are looking for feature-rich, reliable, productivity-oriented software to create your slideshows, then look no further.
The tool comes with a built in slideshow feature which you can use to create slideshows with an unlimited number of images and pictures.
There are several slideshow options and features that you can use in the process. You can also set a certain transition duration, how long the images will stay on the screen before switching to the next image, and much more.
It has a well-organized user interface for boosting your productivity. It has several transitions and effects options.
IceCream Slideshow Maker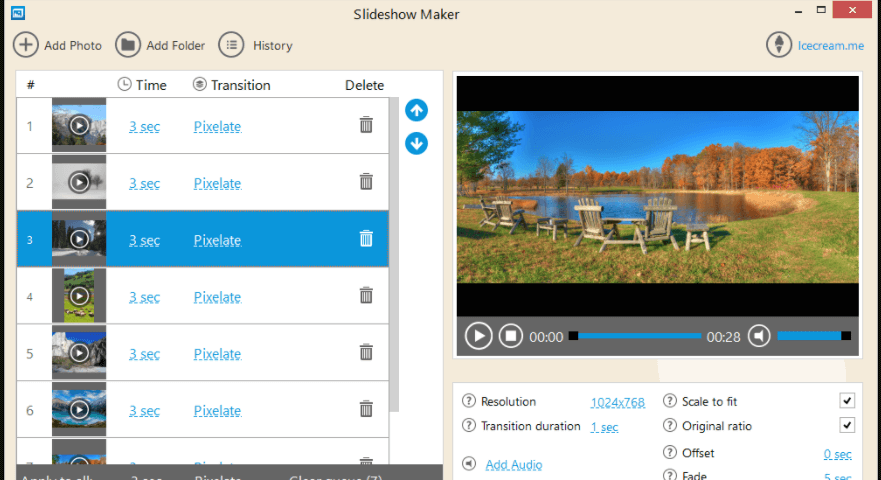 This is yet another powerful slideshow software that I want to show you. This is an incredibly simple application, and you can combine your photos and music into amazing presentations by using this app.
It supports JPG, JPEG, PNG, WAV, MP3, WMA, and TIFF formats. This tool has the capability to control how long each slide will be displayed.
To preview feature and history feature which offers you to always return to your old projects. It offers more than 20 different transition effects. This tool has the ability to upload your creations to YouTube with just a single click.
It is supported by cloud storage websites such as Dropbox or Google Drive. It also has the ability to burn slideshows directly to DVD.
Conclusion
These were some of the best slideshow editors which you use to make a slideshow for yourself. You can set up photo slideshows with a variety of transition effects, backgrounds and themes, animations, additional clip art, subtitle narrative, and background music as well.
Then you can add the slideshows to several media output formats on DVD, Blu-ray, and CD or you can also share them through YouTube, Twitter, email, etc.
Read more: 10 Best Equalizer for Windows 10