Those who edit videos for a living, or their purpose, should know that equalizers are very important in improving audio. So, here are the 10 best equalizers for windows 10 of 2024.
There is so much software that users can benefit from if they are using Windows 10.
When a person uses an equalizer, they can change the whole sound profile of the audio. Equalizers are used for boosting bass or limiting the other aspects of audio.
Even though most of the equalizer softwares isn't free, their features are worth the cost.
10 Best Equalizer for Windows 10 of 2024
The user can go through the different equalizer softwares discussed in this article, and then choose the one that is suitable for the music genre they belong to.
FxSound Enhancer
The cost of this software is $49.99. FxSoudn Enhancer is a proper software, which can boost the quality of music easily, and enhance the listening experience of the audience.
This software works very smoothly and is compatible with Windows 10. Not every equalizer can work without stopping or pausing, which is why the FxSound Enhancer is at the top of the list.
When the user switches the software and adds their audio to it, and EQ will be added to it automatically. Those who have used this software claim that it improves the listening experience by a great deal.
There are many EQ presets in this software, and it is worth paying for compared to buying $500 headphones. This software allows the user to create their own presets too.
There are 'live decompression' features in this software, which makes the audio track clearer. If someone is listening to music on YouTube, or any other live streaming channel using this feature, then they will notice the difference.
Equalizer APO with Peace Interface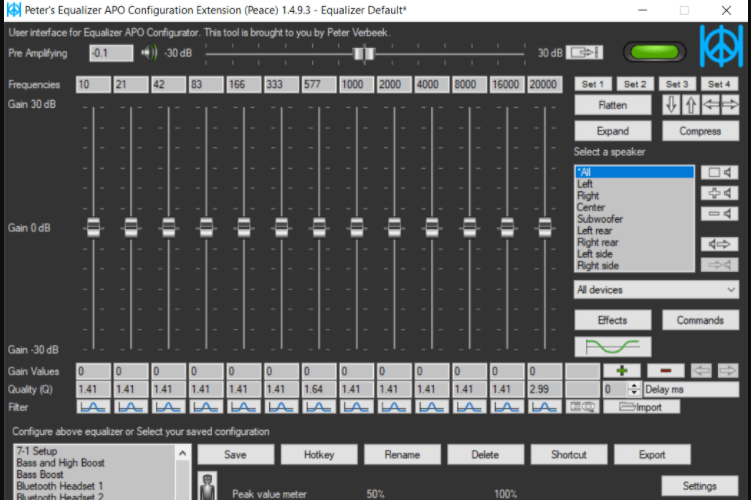 This is a free equalizer software, which has a friendly user interface, and a nice setup as well. This open-source software will take some time for the user to get used to, and they have to read the supporting files carefully.
First, install the Equalizer APO, and then Peace Interface. When these two are combined, then the user gets more control over changing the profile of an audio file.
There are many good presets, from which the user can choose. The listening experience enhances a great deal, and when the user becomes familiar with the settings of the software, then they can run it smoothly on Windows 10.
For downloading Equalizer APO, go here.
For downloading Peace Interface, visit this website.
Boom 3D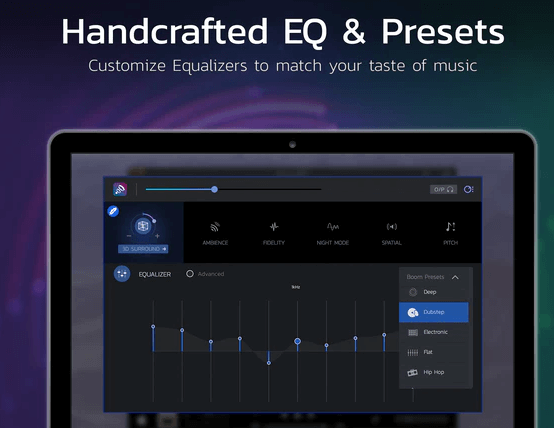 This software is compatible with both Windows 10 and Mac. This software allows the user to calibrate their audio, and use the preset feature for different music genres.
When the user downloads this software, he will get full control over fine-tuning audio tracks. Imagine turning your favorite audio into something new, like acoustic.
With the help of Boom 3D, the user can easily increase the volume of a song, saving money on speakers and headphones. There are many different audio effects that the user will have access to, which can be applied to a person's gaming experience to make it more thrilling.
There is an audio player that comes with the software, and the user can listen to music on it. This way, you can add Boom effects to the music, and change it in a way you like. There are 20,000+ radio stations available on Boom.
Bongiovi DPS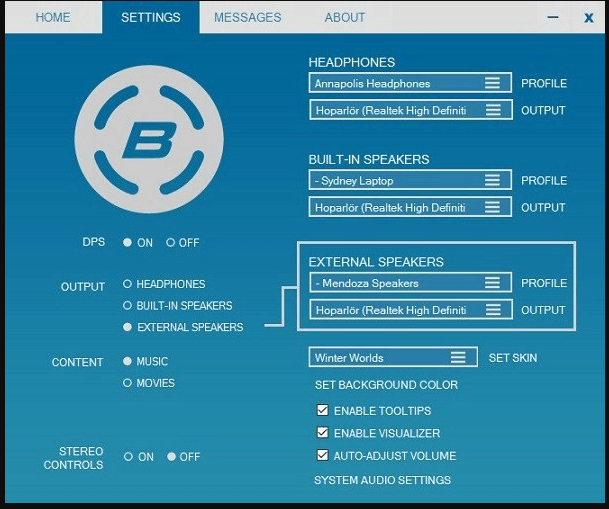 This is an amazing software, which can transform the user's whole listening experience. Bongiovi DPS is a PC equalizer tool, which has the feature of frequency equalizer.
When the user tries to change the audio of a music video, or a game, they will be able to add more depth, and clarity to it. The user will get to experience enhanced stereo and field imaging, with the help of their laptop and desktop.
This software is compatible with Windows 10 and provides an immersive experience to the user. There are many custom sound profiles for the user to benefit from, be it bass or Treble. Unlike other softwares, this equalizer software gives the user more control over audio. This is why it is a must download.
Download
Voicemeeter Banana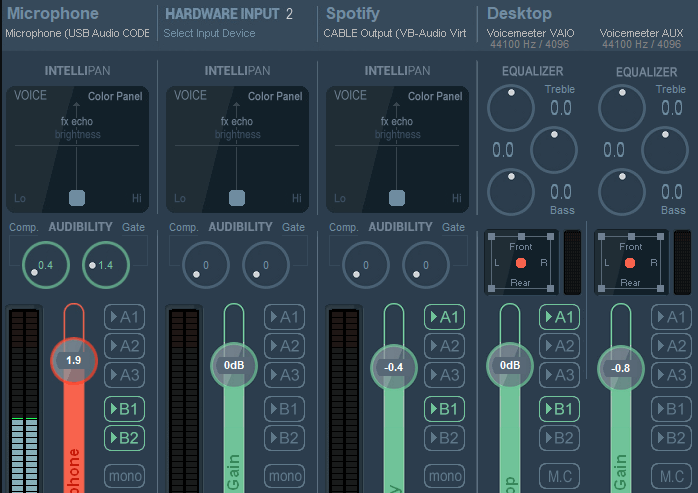 This is an advanced audio application, which allows the user to manage audio sources. Be it any audio device or application, the user can benefit from multiple features.
For example, if someone wants a virtual audio mixer of an advanced nature, and software that connects to every device, then this is the perfect equalizer software for them.
The best part of this software is that it is free. Moreover, it comes with a user manual, which needs to be read to follow all the steps given in the documentation.
The two other features that users would like in this software are parametric EQ and audio recorder. So, if you want an equalizer that connects with any device, then this is the best one for you.
Graphic Equalizer Studio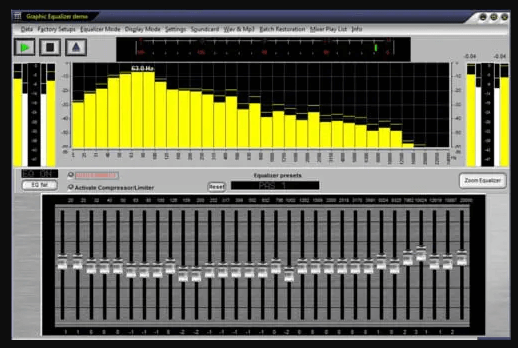 When a user uses this software, they can process sound in real-time. To use this program, the user should have a little knowledge of audio processing, which is why this one is directed towards professionals.
With the help of Graphic Equalizer Studio, the user would be able to equalize digital audio in real-time. It will also calculate the band frequencies, using Octave Selector and programmable frequency selection.
The independent Band Calculator in this software is very helpful, especially for those who know how to use the equalizer on audio clips.
The configuration of this software should be saved in two locations so that the project data can be reloaded without any worries.
Moreover, the user can automatically equalize live audio, and this is a feature that you would hardly get to see in any other software. Visit this website to get the software.
EarTrumpet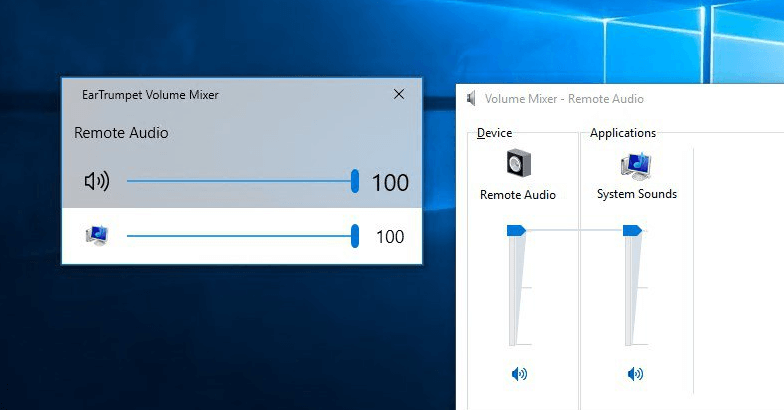 This is an advanced app for Windows 10, and it supports multiple playback devices. This software is free to use and can equalize audio clips very well.
The best feature of this software is that it not only offers classic app volumes but is modern as well.
The user would be able to control the audio device, with just the help of a few clicks. The software is compatible with Windows 10 and has a Windows feel to it as well. This software is integrated with Feedback Hub, and it is available in the Microsoft store of Windows 10.
Breakaway Audio Enhancer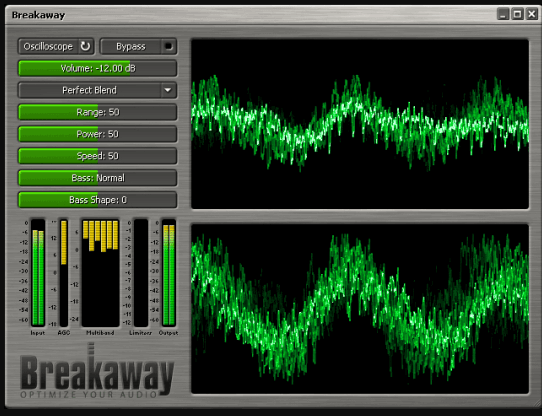 The purpose of an equalizer is to enhance the audio part of a clip so that it will improve the experience for the user. With the help of Breakway Audio Enhancer, the user will be able to gain control over the audio of music videos, videos in general, and games.
Some of the best features of this software include automatic adjustment of audio; the user won't have to do anything and the software will take care of everything.
To give spectral balance to music in the library, the software has the feature of multi-band dynamic processing; this way, when the audio is processed properly, then it won't sound bad. Either you can let the software make changes to the audio clip of your choice, or do it yourself.
WavePad Audio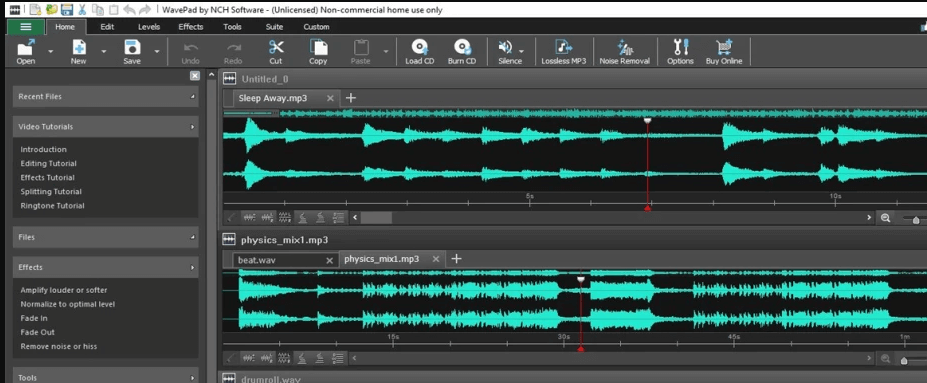 This is a complete audio editing software, which is compatible with both Windows 10 and Mac. This tool even allows the user to record music and then modify it.
They can record voices, and then amplify, normalize and equalize them. If someone wants to turn a voice into an echo or reverse it, then this is the best software for that purpose.
The file formats that this software supports include MP3, WAV, and WMA. The software provides the user access to batch processing, through which the user can apply certain effects and then convert many files.
If there is an audio clip with reduced noise, then this software can easily restore it. The user can edit audio files from both games and videos both. This software is also compatible with MixPad Multi-Track Audio Mixer.
If you want to download this software, which is full of features, then go to this site.
RealTime Equalizer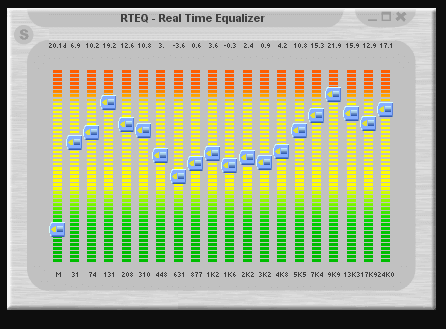 This equalizer is different from others because it is very easy to use. It is compatible with Windows 10, and you can easily equalize mp3 files using it.
The user can choose the number of channels that he wants to equalize, as the software offers the choice of 300 channels.
With the help of this software, the user can implement higher amplification, and make use of the variable dynamic range. If you want your audio to sound like it is coming from a stereo, then this is the best software you can download.
Conclusion
The best equalizer that you can download is FxSound Enhancer. Even though it isn't free, it still gives the user much control over their audio clips. It can change the sound profile of an audio file.
Read more: How to Setup Ugreen Ethernet Adapter?