Spotify makes it very easy and simple to log in to your account. In addition to that, you can set up Spotify to use your Facebook on your browser, you only have to just open the Spotify Web Player, and you are logged in.
But there can be some times when you want to just log into your Spotify account with a different password, or when you want to separate your Facebook account from Spotify.
How To Disconnect Spotify From Facebook Account?
There are several ways from which you can do this, but first of all, you have to make sure that you can get into your account after you unlink or disconnect Spotify from your Facebook account.
Why Unlink or Disconnect Spotify from Facebook?
Before you want to disconnect your Spotify account from your Facebook account, you have to consider your reasons why you want to do that.
By Enabling your Spotify account with Facebook it will offer you:
Instantly log in to your Spotify account on any of the browsers where your Facebook is already logged into.
You can open a Spotify account on your Facebook-enabled mobile without even having to log in.
You will have to remember a single password instead of remembering two.
By linking Spotify to your Facebook data, it will offer you:
Easily connect with your Facebook friends on Spotify and see what type of music you're like.
Share your listening tastes to Facebook instantly.
All of these features will be disabled when you disconnect or unlink your Spotify from your Facebook account.
At the same time, there are several reasons why people are concerned about their privacy when linking Spotify to their Facebook. Both services have access to your information on the other service.
Such access lets them share your preferences and tastes with ads. In addition to that, you also need to trust both the companies with the information you provide on both accounts.
By unlinking both the services, you then lock down your privacy a bit more. It boils down to what is more important to you; social sharing and community, or your privacy. If you have decided to unlink both accounts, then read the whole article.
Reset Your Spotify Password
Before you get started, just ensure that you know what your current Spotify password is.
Spotify does not make it easy to find the password reset page from your account settings. Although, you can go directly to the password research page to reset your account. Now when you know your actual Spotify password, you are all set to break the link between your Facebook account and Spotify.
Disconnect Facebook from Spotify
If your main concern and worry is just the fact that Facebook can access your Spotify interests as well as data, then you can turn off that connection without even having to disable your ability to log in with your Facebook account.
Lon into your Spotify account.
Then click on Privacy Settings from the list in the left navigation menu.
Then scroll down to the Facebook data section, and then disable 'Process my Facebook data'.
A confirmation window will appear, click on 'Yes – Turn Off'.
This will block Spotify from processing the data about who you share your music from Spotify. It will avoid Spotify from ever posting to your Facebook, or importing Facebook contacts, and more.
This only leaves the login feature so you still got the ease of logging into Spotify with your Facebook account, but it improves your privacy by blocking Spotify from accessing more of your Facebook data.
Spotify Makes Unlinking from Facebook Difficult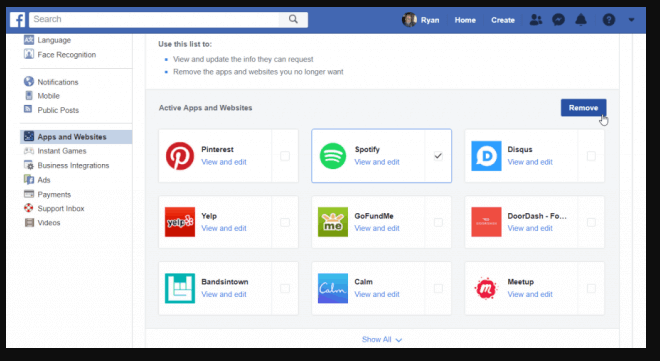 The great thing about this is that Spotify has made something as simple as disconnecting your Facebook account from your Spotify account amazingly difficult.
Here are Spotify services where you cannot unlink Spotify from Facebook:
Spotify Web Player: You can just disconnect Facebook data, but not your Facebook login.
Spotify Desktop App: There is not an option to disconnect any connection to your Facebook from the desktop app.
Spotify Mobile: If you see the settings in the Spotify mobile app, you won't even the name Facebook mentioned there.
Although it seems impossible, there is actually a way to disconnect your Facebook account from Spotify.
Unlink Spotify on Facebook

First, make sure you have changed your Spotify account password before you follow the steps given below. As Spotify doesn't let you disconnect from Facebook on its end, you will then need to disconnect from Spotify from your Facebook account.
Log into your Facebook account, and follow the steps given below:
Click on the dropdown at the upper right of the main Facebook page and click on Settings.
Select Apps and Websites from the navigation pane on the left side of the window.
Then, scroll down until you see the Spotify app and then check the select box to select it.
You will see a warning that this action could delete your Spotify account, but it won't.
Select Remove.
Do not select delete all posts, photos, and videos if you really want all of the pat Spotify posts on Facebook to be deleted.
When finished, you can go back to your Spotify Web Player and login with your new password. Facebook login will not be available.
Read more: How To Change Admin Name on Macbook?