Fortnite is an online video game that was first released in 2017 and is available for Windows, macOS, Nintendo Switch, PlayStation 4, Xbox One, IOS, and Android. It has a few bugs so, first let's fix fortnite won't launch bug.
When this game using, some users report that they come across the error of Fortnite not launching.
Therefore, in this article, we are going to tell you about some of the reasons due to which this error can be set off and provide you viable solutions in order to ensure total eradication of the issue.
How to fix Fortnite won't launch? [5 Solution]
If you ever run into the Fortnite not launching problem, don't worry. It's often not hard to fix at all…
Fix 1: Update Device Drive
Updating drivers should always be your go-to option when something goes wrong with your computer or system. Whether you choose to update the device drivers manually, using Windows Update, or you use a trusted third party product, it's essential that you have the latest correct device drivers for your operating system at all times.
Press the Windows key and R key together to open the Run dialog box.
At that point type devmgmt.msc in the box and click Ok to continue.
Then expand the Display adapters and select your display driver and right-click click it.
Then choose Update driver.
Next, select Search automatically for updated driver software.
Then follow the on-screen wizard to continue.
Restart Fortnite and check whether the error of Fortnite not launching is solved.
Fix 2: Verify you Fortnite File
Sometimes Fortnite won't launch because they missing files on your system. So you must verify the game files to make sure any corrupt files fixed and missing files installed to see if it files the Fortnite not launching issue.
First, open Epic Game Launcher and click Library.
Then click the Setting icon in Fortnite.
Next, choose Verify.
Then wait for finished the process.
As soon verification is completed, the Setting option will switch to launch. Then you check the issue that Fortnite won't launch is fixed.
Fix 3: Verifying Game Files
We will verify the game files through The Epic Games launcher and if some file is missing or then is renamed it will automatically be download and installed directory of your game,
Open the Epic Game Launcher.
 Click on the button library and click on the gear icon by the Fortnite launch button.
Now click on the Verify button and still wait for the launcher to verify all the game files.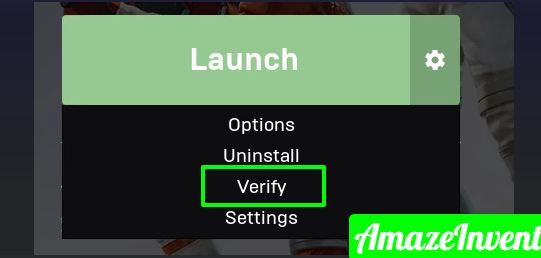 Fix 4: Repair EasyAntiCheat
To solve this error that Fortnite won't launch on PC, you can choose to repair EasyAntiCheat.
On your keyboard, press the Windows logo key and E simultaneously to open File Explorer.
Type on the easyanticheat_setup in the search box and wait for searching results.
 Then Double click EasyAntiCheat_Setup as it shows up as a result.
Click on the Yes button once asked to confirm.
Now Select Fortnite from the drop-down menu and click Repair Service.
Click on the Finish button, and install processes in the finish.
The following steps help you to solve these problems if it does not move on to the next step.
Fix 5: Providing Administrative Privileges
We solved this problem check if the game lacks these privileges some components of the game have any problem working efficiently so in this step we will make sure that the game has each advantage that it needs in order to effectively for this. So, to solve the Problem to follow these steps.
Open the desktop folder in which you downloaded Fortnite.
Now, Right-Click on FortniteClient-Win64Shipping and then select Properties.
Now select on the Properties click on Compatibility and make sure that the Run Administrator box is checked.
Apply and click OK.
Repeat this process for FortniteClient-Win64-Shipping-BE, FortniteClient-Win64-Shipping-EAC, and FortniteLaunher.
Final Words
To sum up, in order to fix fortnite won't launch, this article has shown you 5 solutions. If you face the same problems, then try these solutions.
These fixed solutions give you help to solve this problem.