Ever since the pandemic, online apps like Google Meet and Zoom have gained immense importance.
This is mainly because people need a reliable platform to communicate with each other. They need a platform that won't take much time loading, and directly forms a connection with the other party.
Whether it is a business meeting or a school class, Google Meet has been very reliable for students and teachers.
Before learning how to download Google Meet on PC and Mac, it is important to first learn about the many features of Google meet, and the pros and cons of using it.
There are so many features available to those who download and use Google Meet.
Number of Meetings In Google Meet
A user can connect with as many people as they want to, at the same time. Video conferencing is a widely used tool for Google Meet.
Anyone who has a Gmail address, can easily set up a Google Meet account and talk to about 100 participants in a single meeting.
Automated Captioning
During a live meeting, the Google speech recognition tool will caption a meeting. In case someone doesn't understand anything, or there are deaf people joining in a meeting, this feature can be very helpful.
The closed captions for meetings are available in the English Language.
Compatibility
Whether it is PC or Mac, Google Meet is a compatible service and can be downloaded on any device.
People can download Google Meet on their cell phones, and have video conferences on the go.
For organizations that need support during conferences, Google Meet hardware will surely provide a solution to them.
Preview of Video and Audio
Most people feel embarrassed about how they look on screen. Before entering a meeting while using Google Meet, a user can adjust both their camera and microphone, to see how they sound and look like.
In fact, they can also get a preview of who else has already joined the meeting.
Layouts and Screen Setting
Google Meet can automatically switch the layout of video meetings so that the user can see on the screen, those participants who are the most active.
Controls
There are several controls that users can benefit from in Google Meet. They can pin participants, mute both audio and video, or mute a particular person at a conference.
The users who have education accounts, only they have the authority to mute or remove others present in a group.
Screen Sharing
This is perhaps the most useful feature of Google Meet. This is specifically beneficial for those students or colleagues, who are in the same group and are working on a project together.
When a participant shares his screen, then the other participants can clearly see what the person is doing, or read the content that the user is showing them.
How to Download Google Meet for PC and Mac?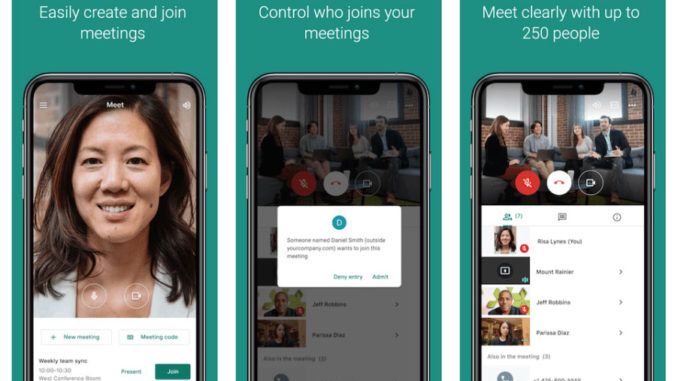 For PC, the following are some of the ways to download Google Meet
Bluestacks Emulator
The user has to first look for Bluestacks and download it. Open the Bluestacks emulator on PC, and then use your Google Play account to log in.
There, they can search for the Google Meet app, and then click on install. It is a fairly easy method.
Read more: How to Clone Your MAC Address?
MEmu Emulator
The second method is to use MEmu Emulator on PC. After it is downloaded, then open the emulator and download the Google Meet app from it.
You will find it in APK, which is from APKpure. When you go to the MEmu Emulator, you can click on the APK tab. After that, click on the Google Meet APK, and you can easily download it.
Out of these two methods, the best and easiest method is to download the Bluestacks Emulator.
Nox App Player
There are other emulators that the users can use to download Google Meet. For example, the fourth method here would be downloading the Nox App Player.
If the user goes to this site, here, and installs the player, then they can drag their Google Meet apk file to it, and run it without any hassle.
This player has a very easy-to-use interface, and there will be no problems in running it on PC or Mac.
Read more: How to Take a Screenshot of Surface Pro 3?
Game Loop
The fifth method is to download GameLoop, which was previously known as Gaming Buddy. When the user downloads this emulator, he can not only run Google Meet but play games on it as well.
These emulators are the only way for people to download Google Meet on their PC or Mac, otherwise, they will have to open a browser and the Google Meet website.
Out of these emulators, I would advise the user to download the Bluestacks Emulator, because it is very easy to run, and there is nothing complex about installing and using it. While other methods might be confusing for the user, this method would be plain and simple.