Boxing is a really popular sport all around the world. I am glad to share a quick list of the 9 best websites to watch boxing fights for free here.
Even though boxing might not be everyone's cup of tea, those who like it would definitely want to watch boxing fights for free.
9 Websites to Watch Boxing Fights for Free
On the internet, it has become possible to watch whatever you want, and whenever you want.
There are so many places, where a boxing fan can stream matches and have a good time. If you are on the way to another city, or you don't have cable in the house, then these websites would be a lifesaver for you.
Here is a full list of the best websites to watch boxing fights for free.
Chanfeed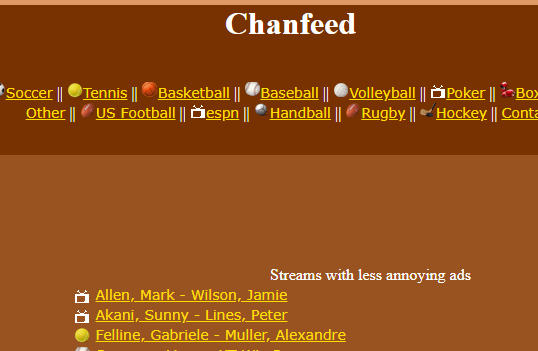 This is an amazing website, where the user will get access to boxing fights for free.
The user will be able to stream live matches, and the timings of the matches are listed beforehand.
All the user has to do, is click on the link given on the main page of the website, or go to the Boxing category on the top of the page.
When they have clicked the website, then they can stream live matches, or see live matches, along with the names of the boxers, who are going to go against each other.
Apart from boxing, there are so many other sports channels available as well. For example, people can watch soccer, tennis, basketball, baseball, poker, and handball matches too.
This is a complete website for sports lovers and a must-visit for them.
Sports RAR
Sports RAR is another good website, for streaming matches of different sports online. There are many links provided for the same game on the website so that the user can choose the best quality link to watch.
This is a well-maintained page, as it is divided into many categories and subcategories.
A user can watch tennis basketball, ice hockey, baseball, volleyball, boxing, and handball matches on this website.
They can watch live matches, finished matches, matches that were on TV, and much more.
If you want to know about the schedule of boxing, then this website will tell you the names of the players, and when the match will start.
This is a very useful website, and because of the categories and subcategories, it is very easy to use the website as well.
Visit here
ATDHE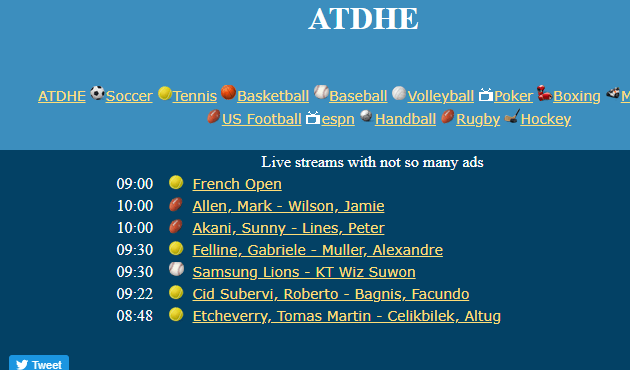 This website, even though it is not secure, is one of the most popular websites for watching boxing fights for free.
The user is able to watch soccer, tennis, boxing, rugby, hockey, and many other matches here.
There are many live streams of different matches on this website, along with their start time.
If you don't know when your next favorite boxing fight is going to start, then head to this website, and have fun!
Cricfree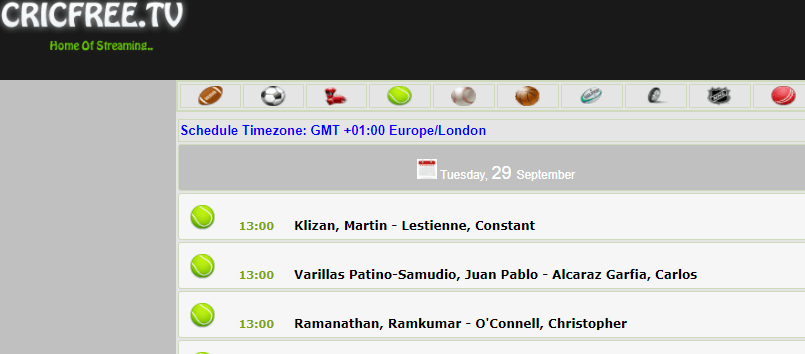 While the name suggests that this streaming platform is for cricket only, users can stream other matches on the website as well.
This is a unique place because people can chat with other people, who are watching the same matches. However, it is very important for the audience to adhere to the community guidelines, and not abuse anyone.
Apart from boxing matches, the website also displays timings for tennis, cricket, baseball, and basketball.
If you are interested in any of these matches, then this is a good website for you. The user interface of this website is fairly simple, and if you want an easy-to-use website, then look no further. This website is counting on the list of best websites to watch boxing fights for free.
Watch Sport Online
This website has an easy-to-understand and use interface. There are many sports, other than boxing, which users can watch here. For example, if you want to watch hockey or baseball, then this is a really good website.
The website will give you multiple servers for the same game so that you are able to find the best one, which streams well given your internet speed.
You can get to know about the different matches that the website is going to stream, their time and other necessary information.
This website covers many popular leagues of football and shows the best boxing fights that the audience wants to see.
If you want a one-stop solution to your sports streaming problems, then this is a really good website.
Visit here
SportLemon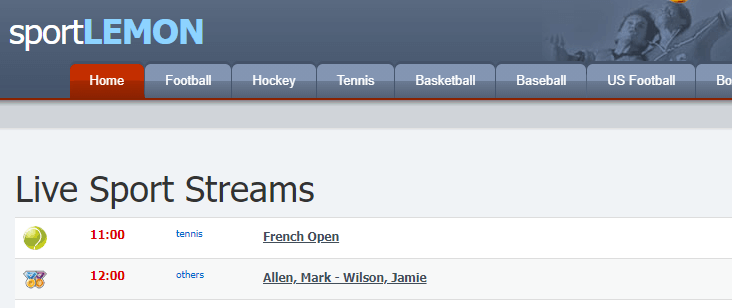 This website has a different look, compared to all the other websites. The website shares link to different sports events, and even encourages users to share their links as well!
This way, when you open this website, you will have many links to choose from. The links are free, and the streaming is absolutely free on this website.
The sports that the audience has access to are football, hockey, basketball, boxing, and sporting bodybuilding.
The video quality of most of the links provided here is really good, and the user won't be disappointed.
They can find out the timings of each and every sport's match, and watch it when it starts, lives on the link.
This way, the user won't have to miss out on any of their matches, be it boxing or hockey!
Apart from the websites mentioned above, there are channels that allow the audience to watch boxing matches. However, these services are not free, but the quality of the content is worth it.
ESPN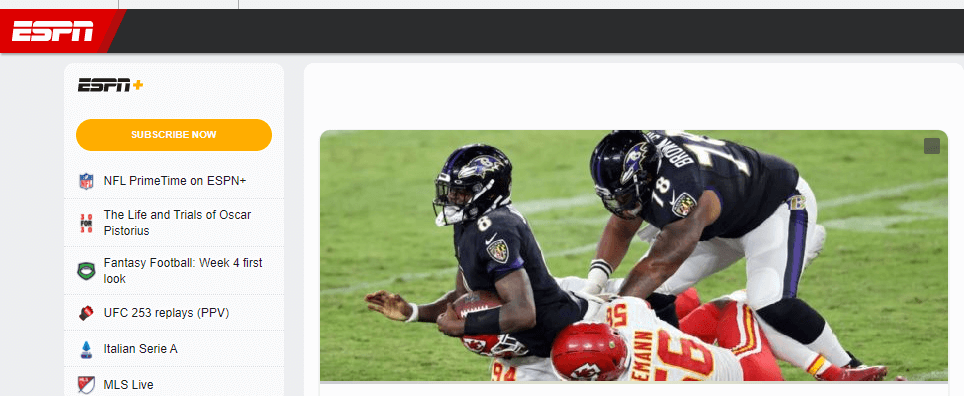 This is a really good boxing broadcasting service, where the broadcaster has actually partnered with Top Rank.
Top Rank is a promotional company, which has the rights to air 50 boxing fights every year. While the user has to pay for some of the boxing matches on ESPN, others are free.
If someone sees no problem in spending money on a subscription, because they love boxing, then they can get the pay-per-view feature of ESPN+. The user simply has to pay for individual matches.
Fox Sports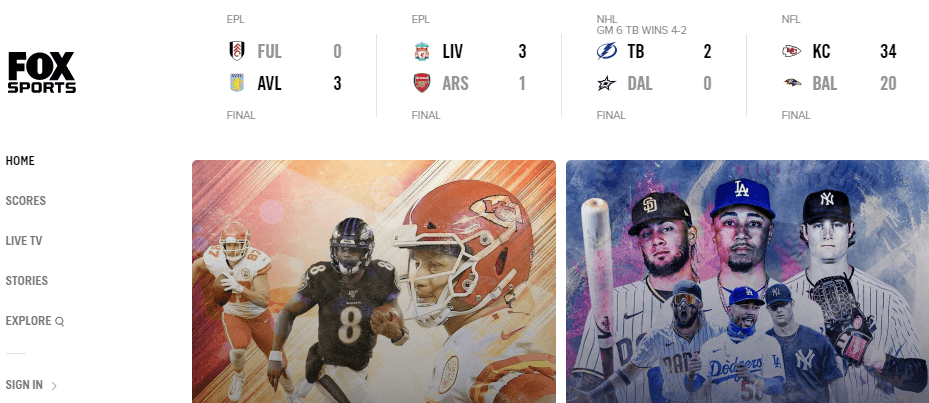 Fox Sports platform also streams boxing matches, along with promotions. This is because the channel has partnered with premier Boxing Champions.
They air boxing fights on Fox and the two sports channels that Fox has under its name.
Box.Live
This is a website dedicated to boxing fights, and it has a user-friendly interface. This website is well maintained, and it asks the user to buy a subscription for 1 month, to watch all the boxing fights live.
The user, whether he is living in the UK or the USA, has to sign up for Box.Live, and then he can watch boxing fights live, as soon as they happen on TV.
In case you are living in the USA, then you have to pay $99.99 annually, or $19.99 per month. If the user buys the subscription from the official website, then they'll get a discount.
With the help of this website, the users will be able to stream the matches live, get the latest news about boxing, and learn more about boxers.
In case they want any statistics on how many fights a boxer has won or lost, or the number of matches he has played, then all that information is present on the website.
While choosing a website to watch from, consider the following things
Why consider the following? Do you want to have the best websites to watch boxing fights for free? So, you must know different and which is good for you.
Don't watch from an unreliable website
There are many websites that are unreliable in the sense that, the moment you open them, the system gets infected with malware or virus.
If you really want to watch a boxing match, then choose a website that doesn't have many popup ads, or opens windows without getting your permission.
You might be able to watch a boxing fight live, but it will do damage to your PC, and nobody wants that.
Don't pay on an unreliable website
If you are buying a subscription to a boxing channel, which delivers high-quality matches to your screen, and that too live, then make sure that the website is unreliable.
As you will be sharing your credit card information, you need to make sure that the website is secure.
In fact, before you make a payment, check if the website has an SSL certificate and if it is secure to browse around.
Moreover, if any one of your friends has bought the subscription, then ask them about the safest method to use when paying for it.
Some websites don't ask for your credit card or debit card information.
They tell you another reliable way of depositing money so that the subscription can be activated.
Number of Links
The number of links that the best websites to watch boxing fights for free matches have, matters. If the boxing match has only one link, and it doesn't work, then the user will be stuck.
Make sure that there are multiple servers, which you can try and click on to watch a boxing match.
Each and every server will have different qualities, and you won't feel like you are missing important details.
Do read more: Best Sims 4 Expansion Packs
When someone starts following sports, they become very involved with the boxers, and the schedule overall. However, it is not possible for people to catch every match on live television, or be glued to the screen.
This is where these websites come into the picture and solve the problem of boxing lovers.