Messaging is one of the common habits of everyone's daily routine. However, there are various applications available in the markets to make communication easy and to connect people globally.
With the advancement of communication technology, there is also a need for new privacy and security policies to protect your private data.
10 Best Secret Messaging Apps For Secure Chatting 2023
Here are some common applications of secure massaging.
Signal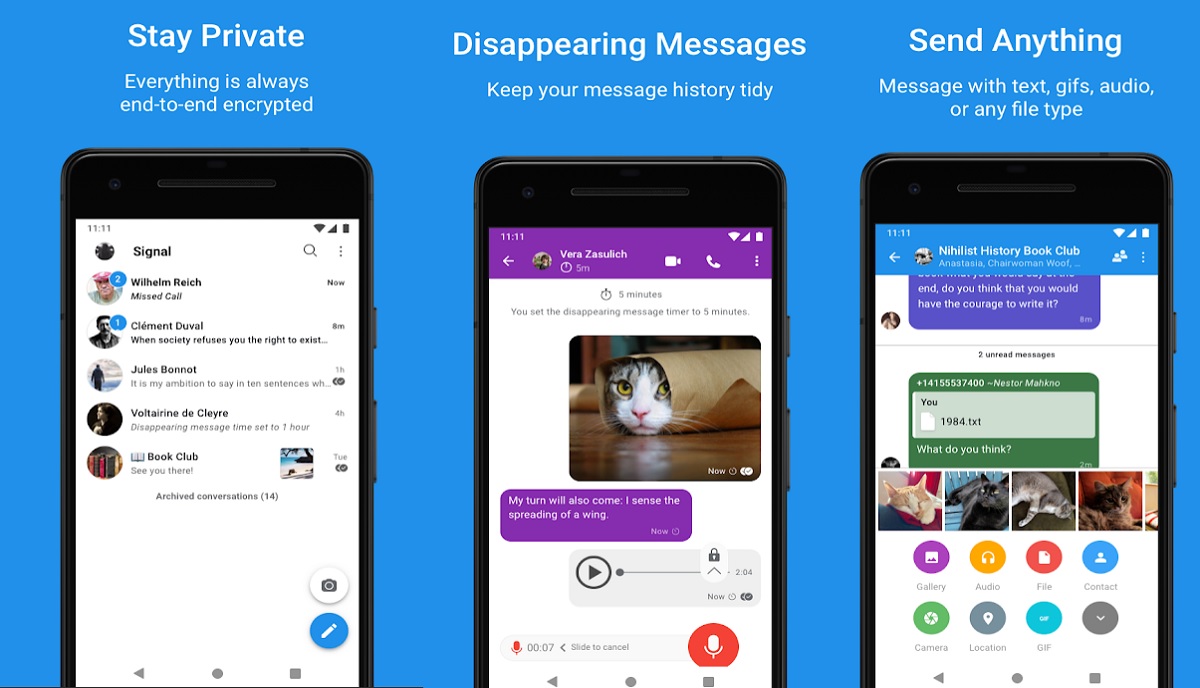 The signal is one of the private chat apps. It is the first choice of millions of people. This one is the best app for free, instant, and encrypted communication.
It is a more secure messaging app than the other marketed apps. Signal secure messages through modern technology privacy-preserving is always enabled.
Its default system ensures that messages and photos will never be shared with any non-intended recipient.
Signal provides an encrypted messaging service. There are facilities of end-to-end encrypted text messaging and encrypted voice calling.
Features
It works through an open-source protocol
You can destroy messages yourself after selecting a time frame
The phone data connection of the user is void for free MSS and SMS.
It offers to encrypt stickers
You can enjoy a group chat through this messaging app.
You can view one media through this app.
Read more: How To Download Xbox App for Mac?
Wire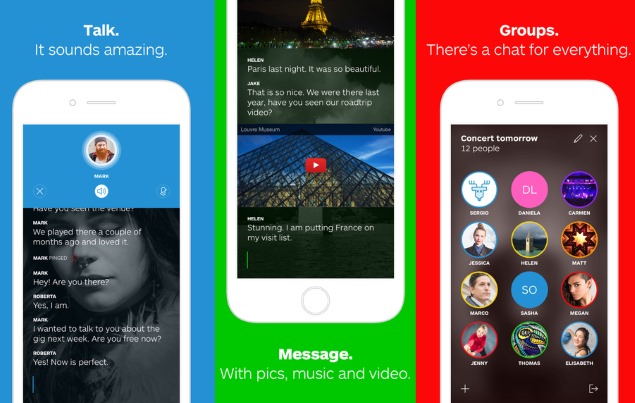 A wire is another private chat app option that is frequently used by millions of people. Wire also offers an end-to-end encrypt massaging. The encryption is set as a default and works transparently in the background. This app secures your images, messages, and files.
Wire's encryption does not need activation.  Furthermore, there is also an option of a new encryption key for every message, this feature reduces the significance of a single compromised key.
A Wire is an open-source application, free for everyone. Only a security code is required to verify the users in this app. This app improves and inspects through the GitHub service. The security of this app is affiliated with the data protection laws in the European Union and Switzerland.
Features
It offers a service of conferencing so that you can enjoy sharing the remote location, and video conferencing.
It is free for everyone, as it is an open-source application.
You can easily share your file through it.
You can enjoy a private chat, as well as a fully encrypted group chat.
Threema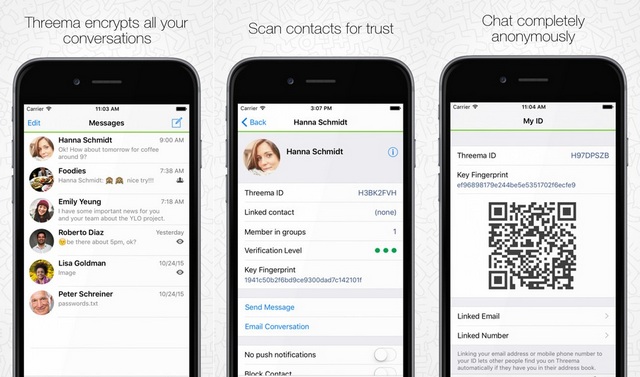 Threema is an admirable private messaging app. It works through a guiding principle so that the metadata is restraint. The servers of this app, permanently delete the messages after sending them to the recipient so that there is a full surety that your data will not be misused by anyone.
Information manages on the server locally on the device, which protects the conversation from eavesdropping. Except for the selected recipient, no one else can read the messages on Threema, as there is no fallback to decrypt the connection.
Threema is also an open-source app, everyone can easily verify the encryption. Moreover, it doesn't need any email ID or phone number to sign up for the further security of the users.
Feature
It creates polls.
It provides chat anonymously.
This one manages distribution lists.
It doesn't show any confidential chats.
There is a passwords system to protect your chats.
It offers the verification of the user's contacts list through the QR code.
Read more: How To Block Out Listening Devices?
WhatsApp
WhatsApp, one of the secure massaging apps for private chats. The best feature is that it is the only app in which the users are warned when they don't apply end-to-end encryption to a particular chat.
WhatsApp implemented end-to-end encryption before any other apps. The messages do not store on its servers, therefore, it secures its user from cybercrimes to hack the account.
Because the hacker could not decrypt any messages of the user's chat. Furthermore, there is no additional key to see encrypted chats. By default, WhatsApp allows the user to back up the stored messages to the cloud by Android or iOS.
Although, these clouds can easily be removed from the backup chats. There is also a drawback of WhatsApp that it is dependent on the big tech company.
Features
WhatsApp offers its users to share photos, messages, and videos with up to 256 contacts at the same time.
It doesn't charge for video calls, and you can enjoy video calling by using the Internet connection of your phone.
There is a feature of a built-in camera in this app.
You can share even a large document.
You can operate this app also on your laptop.
Wickr
Wickr is well-known for its safe and secure messaging. This app can be used anonymously. Wickr offers secure private communication with, either a one-to-one user or in a group, which is fully encrypted. You can share voice messages, text messages, and memos.
Another best feature is that it works as a collaboration tool for sharing the screens, online statuses, and locations. The registration is quite easy and does not need any email ID or phone number so that it makes sure that the data is not stored.
Therefore, the application is free from the app access to the user's data. Additionally, there are also features of Two-Factor Authentication (2FA), and Perfect Forward Secrecy (PFS).
Features
Massages are destructed automatically to ensure security.
It is an open-source application.
You can search almost all files and messages.
You can also share the videos, photos, and files, as there is a free plan of 1 GB for file transfer.
It can use it for your business by creating networks and teams.
It securely shares your screen, online status, and live locations.
Your data will retain for up to 30 days.
It indirectly integrates with the email system, internal database, CRM, as well as directly integrates with Zendesk, Jira, Salesforce, etc.
Read more: How To Uninstall Chromium Windows 10?
Viber
Viber is one of the best chats to send a voice messages, text messages, videos, and photos to large size groups.
It features fully encrypted video and voice chats as a default on your devices. The company will also launch a game with end-to-end encryption very soon. The chats are color-coded, which are fully secured by E2E.
Features
You can enjoy HD video calls.
You can search for GIFs, restaurants, videos, events, etc. through websites.
The contacts list verify by exchanging the secret keys between the users.
There is a feature of the instant text, voice messages, stickers, and service messages, etc.
iMessage
iMessage is a private massaging app of end-to-end encryption. Users have control over how long your messages stay in the device, as well as how many times your contact recipient can see these messages. However, it can back up iMessages to the iCloud of the device.
Features
You can leave any group chat, mute the notifications, or block your contacts
It offers a Backup of iMessages to iCloud
This app allows control over Reading Receipts
You can feely enjoy animations, GIFs, and Memojis.
Line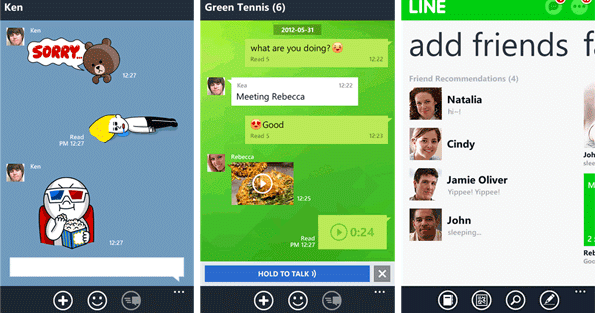 The line is another messaging app. This app is fully secure and developed by Japanese engineers. The communications are encrypted end-to-end.
However, this app turns on manually. This app offers free sharing of messages, photos, and videos, either in a group or to another user.
Read more: How To Download Google Home App for PC?
Features
There are more than 10K Stickers of various celebrities and characters.
It also follows the official line accounts of some celebrities, brands, artists, and TV shows.
It offers to share photos, text, and videos on your timeline.
You can enjoy free live video chat.
Telegram
Telegram is the globe secrete massaging app, which is best known for its security. This app offers the most secure features, therefore, no one else can access your private data.
There is also an option of "secrets chats" function, so when the users enable these features, the texts, as well as the account are self-destructed automatically.
Features
There is an option of self-destruction of your private chat.
Their servers are distributed globally for security.
You can enjoy unlimited media and chats
It can make a large group of up to 200K group members.
You can send any type of private documents.
Read more: What is Msvcp140.dll? How To Use It?
Silence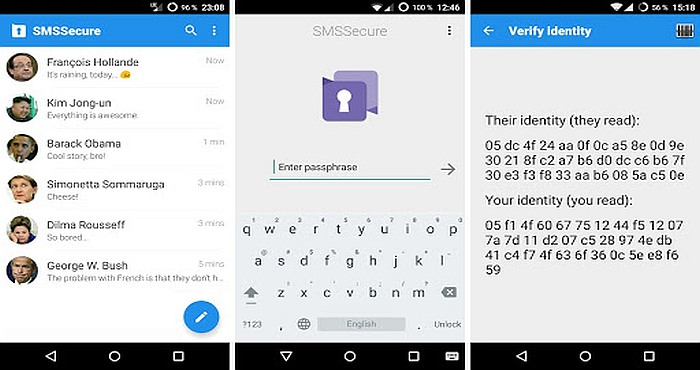 Silence is well-known for its "SMS Secure" feature. There is end-to-end encryption of text messages and voice messages.
This app offers free SMS and MMS application, even when your internet connection is off.
Features
There is no need for servers for internet connection.
Messages are locally encrypted
It is an open-source app that anyone can be used.