A high-tech home is a dream for everyone. You can also live this dream with the help of the best smart plugs for Alexa which is an uncomplicated and inexpensive way to upgrade your ordinary home appliances, lighting, and other household electronics into smart home devices that you can easily control through your smartphone.
What is a Smart Plug and what do they do?
Smart plugs and smart power strips are eventually plug-in outlets that let you smarten up your normal home non-smart devices and you can control them without being at home.
Such as connecting a lightning luminaire to smart plug benefits in such a way that you can turn on or off the lamp with your smartphone.
These smart plugs are just not made for the inside of your home, as there are smart plugs for outdoor use as well. Thus, the best smart plugs are those that can easily interact with the smart speakers and smart displays that you already have.
Such as, you will get the best experience with a smart plug if you use Amazon Alexa with Echo Dot.
10 Best Smart Plugs for Alexa 2023
In this article, you will get the best smart plugs that can raise your home's IQ.
Wyze Plug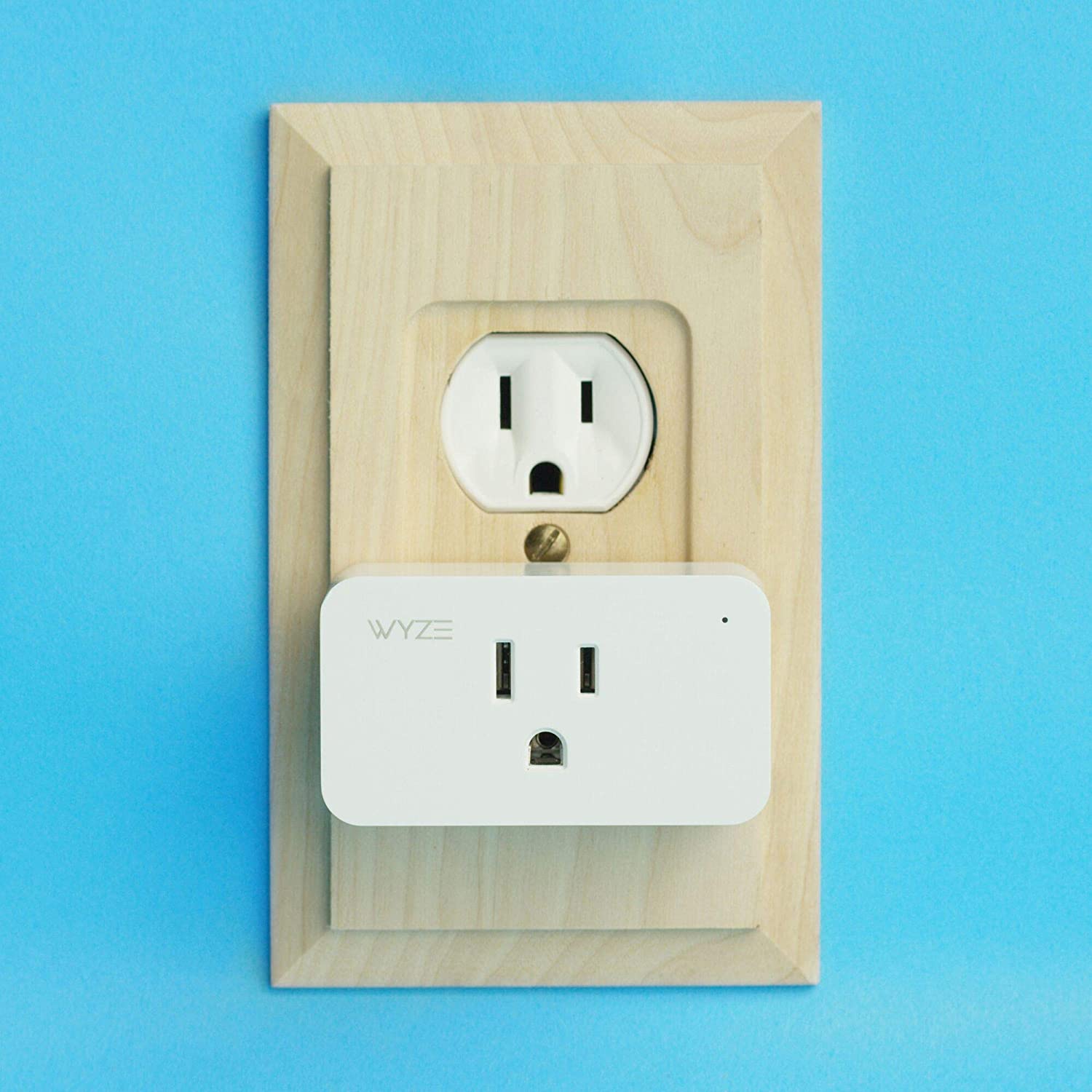 Wyze is famous for making low-cost and reliable accessories, and you won't find a better smart plug to command your home with your voice instructions while your hands are occupied. Image source: here
It comes in a pack of two deals which cost very little as compared to other best smart plugs on the market.
Furthermore, this smart plug Works well with Alexa, Google Assistant, and IFTTT, which empowers you with added control and automation.
It features a Vacation mode setting, in which the smart plug randomly turns your home electronics on and off, shows that you are at home to uninvited people.
Features
Without needing a bridge service, Wyze smart plugs are compact and straightforward to set up.
This smart plug comes with a physical on and off button on its one side.
This smart gadget comes in a compact size and design of 2.7 x 2.0 x 1.5 inches, which is suitable enough and will not interfere with other outlets.
Without any difficulty, it can be synchronized and custom scheduling with the help of the Wyze app.
This app enables you to connect with the multiple Wyze smart plugs in a group at one time. Its Electrical rating is 15A.
Embrace Wyze Sense so that you can control your appliances based on the motions.
Wemo Mini Smart Plug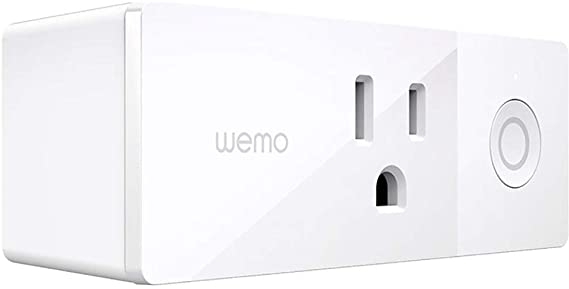 Wemo Mini is the best overall smart plug that works with almost all the major smart assistants such as Alexa, HomeKit witch, and Google Home. So, it's widely compatible and also integrates with both Android and IOS devices.
To connect a smart plug, you will need to download the smart app on your phone that is easy and only takes 5 minutes. In such a way you can control your home electronic devices straight from your tablet or phone.
Moreover, if you don't want a clunky and unattractive smart plug, then Wemo mini smart plug is your definite choice with the sleek and compact size of 1.3 x 2.0 x 1.8 inches in a rectangular shape. It fits well in the outlet without interfering with other outlets.
Features
It has a physical control button on its side, in case you don't want to use any voice assistant to command.
A led light on the side of this smart plug shows its status. It has an electrical rating of 120V~/15A/60Hz/1800W.
It has a Home and Away mode, which pretends that you are at home when you are not, by intermittently turning on and off a lamp.
This smart plug connects with the Wi-Fi network of your home.
Kasa Smart HS300 Plug Power Strip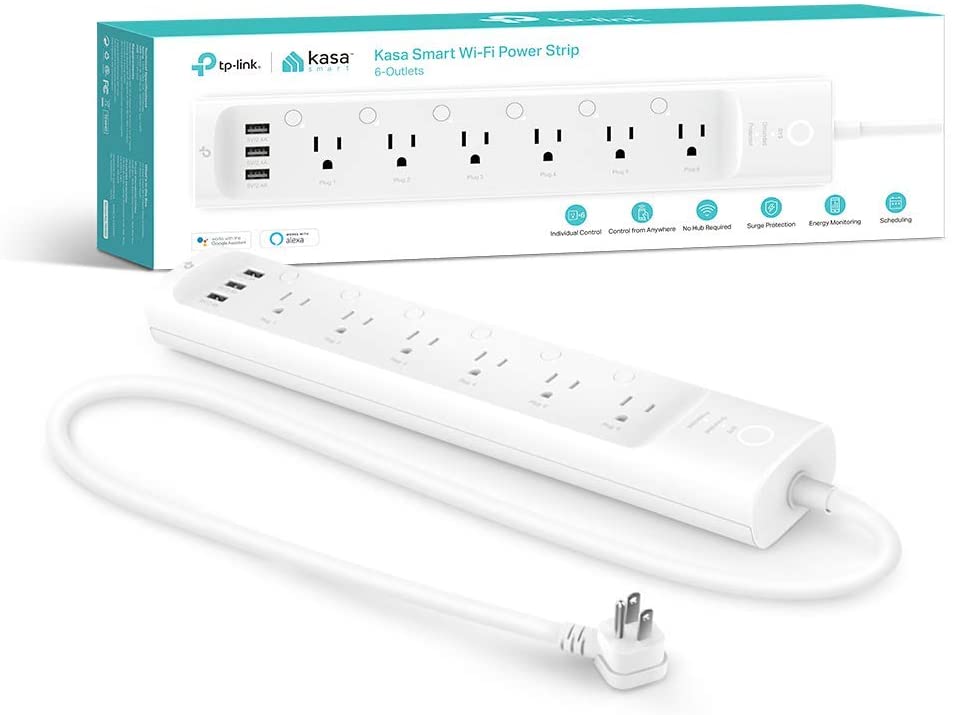 This smarter power strip from Kasa works with Wi-Fi and features 6 smart outlets that independently control multiple home electronics. It works with Alexa, Google Assistant, and Microsoft Cortana. You can give voice commands to control devices that are plugged into the power strip from anywhere at home.
Additionally, provides you amazing surge protection that shields your sensitive electrical appliances from sudden power flow. This occurs due to severe weather conditions and causes irreparable damages.
Kasa Smart HS300 Plug Power Strip holds an energy monitoring feature that detects and shows how much energy is consumed by the electronic devices separately through Kasa smart app. Through this, you can save power costs by turning of high power taking devices.
Main Features
You can control your home electronics or office appliances from anywhere with the help of the Kasa Smart app.
It has three USB ports that enable you to charge three devices at one time.
The 6 outlets are sufficiently placed on this power strip and it is 14.17 x 2.49 x 1.48 inches in size.
Their electrical rating is 15A.
Read more: 5 Best Benchmark Software
Amazon Smart plug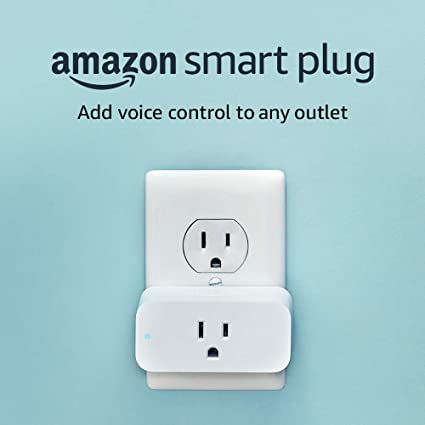 The best way to come into Amazon's smart ecosystem is to spend on Amazon products themselves. This feature-rich smart plug is exclusively integrated with Alexa and can be set without any complications. You just need to the plug-in, have the Alexa app, and go.
The Amazon smart plug embraces to have helpful routines such as organizing a morning routine that consists of turning on lights and your coffee maker.
Further, it seamlessly works with Alexa enabled-devices such as Echo, Fire TV, and Sonos One and lets you control your home appliances through voice commands and the Alexa app all thanks to easy Wi-Fi connectivity.
Moreover, it has a physical on/off switch and an LED light to indicate its status. This will be helpful when someone in the house does have an Alexa app in access but the electronic appliance still is in control.
Features
This smart plug is compact and sleek, comes in a rectangular shape and2 x 2.2 x 1.5 inches in size. Its size is adequate not to block the other plugin the two-outlet wall receptacle.
Its electrical rating is 120V/15.
You can also set timers and other latest automation.
You can create a smart scenario for multiple devices when you are not at home.
Gosund Smart Plug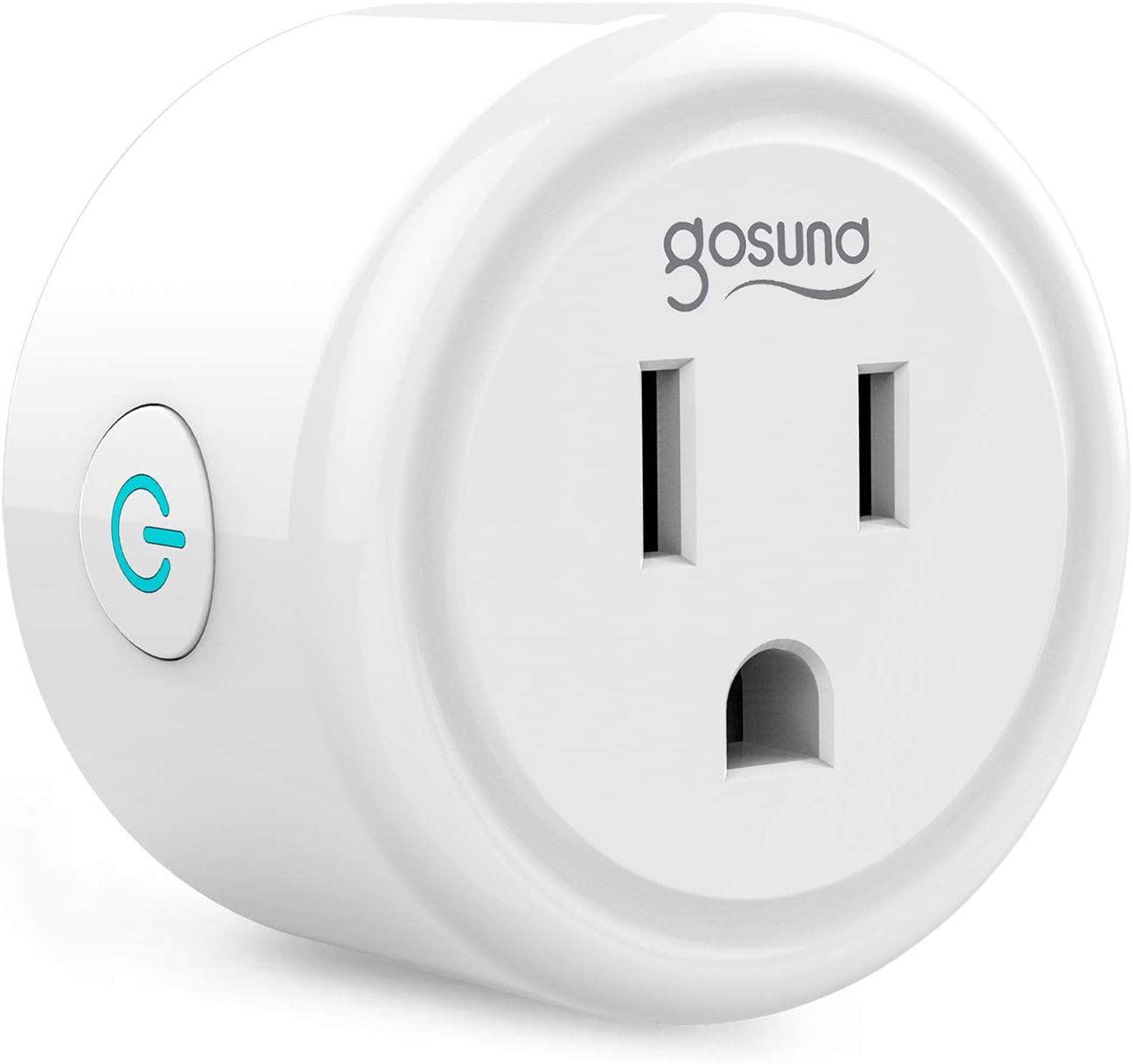 Like other popular smart plugs, Gosund is not much famous but provides top-rated smart outlets. This smart plug seamlessly works with Amazon Alexa and Google Assistant. You can simply use your voice directions to control most of the home or office devices.
This Gosund smart plug enables you to have a smart home, you can set schedules and times, such as setting a time of crockpot meal, and when you get home, your dinner's ready.
Besides this Gosund smart plug and Gosund app features to create a group of all family members in which you can share your Wi-Fi plugs and enables everyone to control them easily.
Features
With the help of a smartphone and Gosund app, you can turn on and off the connected electronic devices.
It does not require any separate center for connection. This smart outlet plug integrates directly with a stable 2.4GHz network.
Its compact and 1.8 x 1.25 inches in size.
Its electrical rating is 240V/10A/1100W.
Gosund smart plug is made of high-quality materials and the latest technology. ETL certifies complete protection. It can prevent fire hazards and provide surge protection to ensure the safety of all the family members.
Avatar Controls Smart Plugs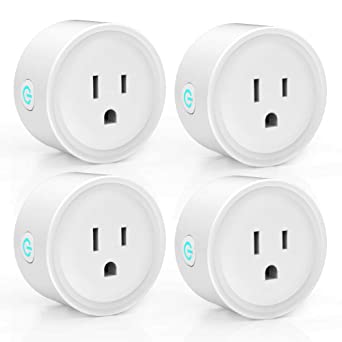 Avatar Controls is a successful high-tech company that provides Alexa-enabled devices. Smart Plugs are best to provide a smart and intelligent lifestyle that makes your daily work life simpler and more effective. You can connect it with Amazon Alexa and Google Assistant through Avatar controls app and smart life app.
Moreover, this smart plug is widely applicable in many indoor places and specially designed for TV, fans, lights, reading, and bed lamps.
Features
This smart plug supports Wi-Fi at 2.4 GHz. You can have seamless integration of smart plug with your smartphone via a smart app.
With the help of the Avatar Controls smart plug, you can easily schedule an automatic timer for turning on your lights at dusk and turn off at dawn without any hassle to move.
You can give convenience to other family members by creating a common group including smart plugs control and share with all.
Read more: 15 Best Rainmeter Skins For Desktop Customization
Kasa Smart Plug HS103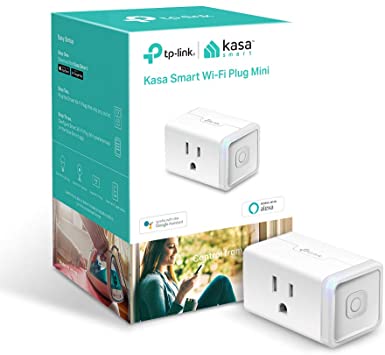 Kasa Smart Plug HS103 is a super affordable, sleek, and compact smart outlet that gives you the hands-free comfort of controlling your home electrical appliances with your voice directions through Alexa and googles assistant.
This smart plug gives you the option of viewing runtime and usage to cut down those electronic devices' time that uses more power and safe cost. No matter where you are at the home, office, and on a vacation, you can simply use Kasa App and control your home devices.
What else you want when this smart plug holds the timer and countdown, to intelligently turn on or off the lights, fans, charismas lights, and humidifier on a set time. Kasa Smart Plug HS103 is manufactured in Silicon Valley and it is durable and of high build quality.
Features
You can easily set up this smart plug with 2.4 GHz Wi-Fi support, as it does not require any other hub.
Specifically designed for electrical appliances that consume less than 12 amps of power.
It is simple and small in size that measures 1.5 x 2.6 x 1.5 inches (HWD).
It has a three-point receptacle on the front and a three-point plug on the back.
Moreover, you will get the physical on and off button on the right side.
Kasa Smart KP400 Outdoor Smart Plug by TP-Link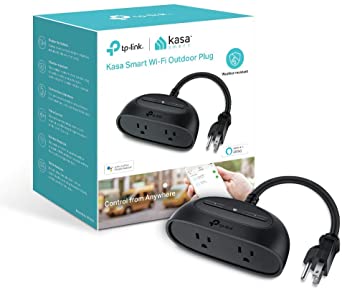 This smart plug with a dual-outlet is specifically designed for outdoor use. You can control it with your voice and your smartphone. It can be ideally used for landscape lighting, holiday lights, and swimming pool pumps.
Furthermore, you can also connect this smart plug with your Kasa smart camera that features motion detection. So, when there is movement in your outdoor area and your camera detects it, the plug automatically turns on the lights. You can enable all family members to control electrical devices through sharing and grouping.
Kasa Smart KP400 is IP64 weather-resistant certified that can prevent dust and water. By selecting this smart plug you will have a true smart home experience.
Features
It features a black enclosure that is 2.2 x 4.9 x 2.3 inches (HWD) in measurement and has an 8-inch long cord with a three-prong socket.
At the front of this smart plug has backlit power buttons for an individual outlet and an LED that indicates Wi-Fi.
This smart plug supports 2.4 GHz Wi-Fi and it has a long-range that goes up to 300 feet.
This smart plug is featured with a runtime button that lets you see the usage of outlets on a daily, weekly, and monthly basis.
Lutron Caseta Dimmer Plug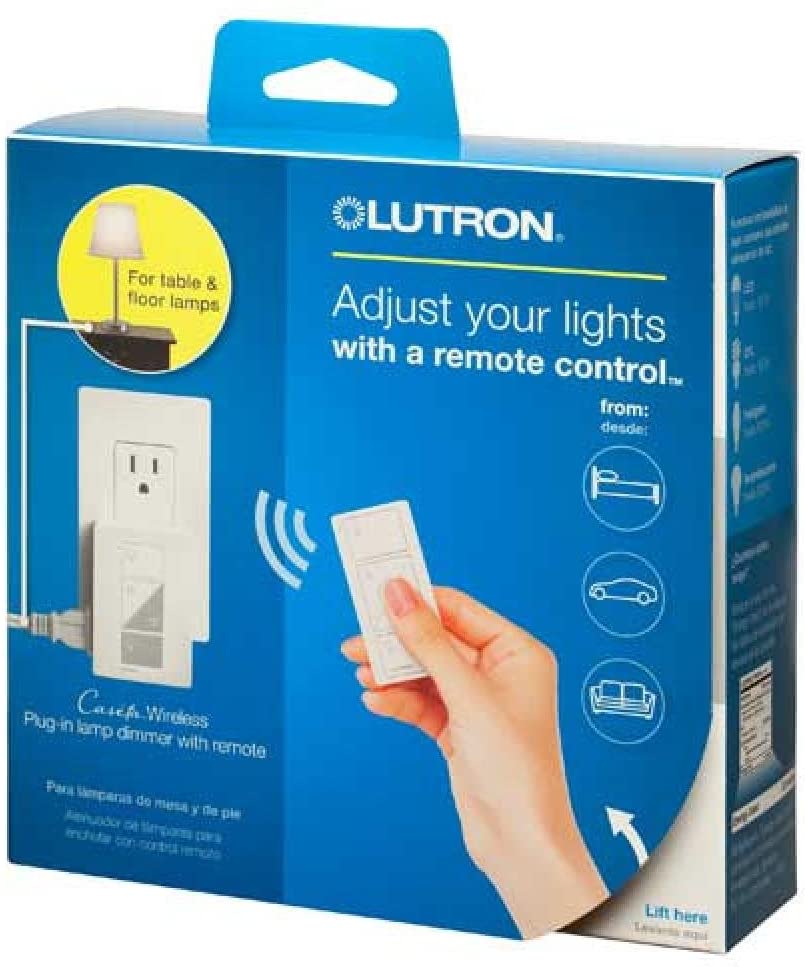 If you want to have peace of mind and convenience at home then you can surely pick the Lutron Caseta Dimmer plug. With this smart plug, you are always welcome with the well-lit home via scheduling lights to turn on at dusk and turn off at dawn.
This smart plug enables you to set up your home lights at automatic adjustable mode with changing seasons. It has long-distance connectivity up to 2 floors and table lamps. In addition to this, The Lutron Caseta Smart dimmer plug features a wireless Pico remote to turn on, off, dim, and brighten your lights with the touch of a button.
Furthermore, in whatever way you want to control the home appliances, this smart outlet enables you with three options. You can control with your voice, smart app, or directly from the wall.
Features
It has a broad spectrum of connections with the leading smart home devices such as Amazon Alexa, Apple HomeKit, Serena share, and the Google assistant as compared to its competitors on this list.
With one smart plug, you can control many bulbs at the same time, which saves you money and provide vast utility.
You can easily place this smart plug and the Pico by mounting it to any wall surface.
Technically it works with dimmable LED light up to 100 watts and halogen bulbs up to 300 watts. It has a physical on and off switch on the left side.
Read more: 10 Best Taxi Driver Game for Android
Philips Hue Smart Plug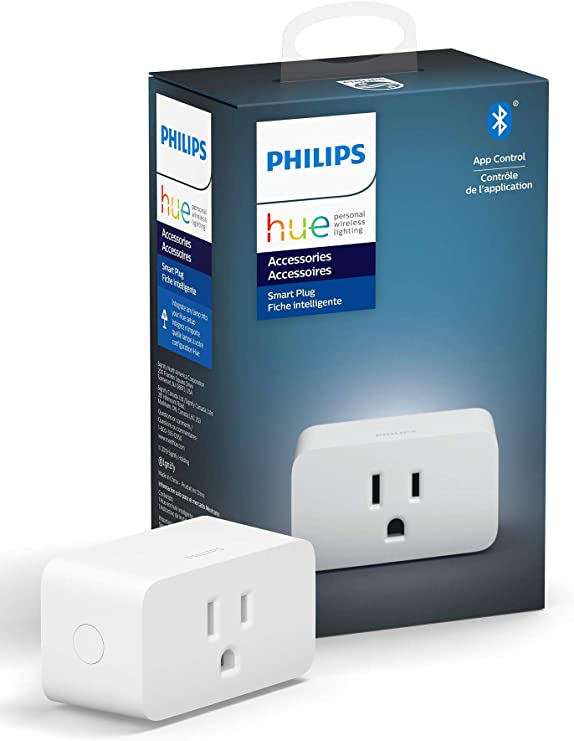 When you want to get a complete smart home, then you must select Philips Hue smart plug because it is the only smart outlet that enables you to control indoor and outdoor smart lights with a tap of a button. Moreover, you can extend your Hue ecosystem to those non-connected lighting exactly in the same way as Hue light point.
Like other smart plugs, you can set a timer and schedule to turn off and turn on the lights. You can further customize the light settings to create any atmosphere. This smart plug works with major voice assistants and can be controllable with the Phillips Hue App. 
Features
This smart plug comes in a compact size of 2.7 x 1.5 x 2.1 inches that is suitable enough to not obstruct other outlets.
You can control the light from where ever you are, whether kitchen, hallway, and front door.
What else you want when you can sync this smart plug with your movies, music, and games.
You don't have to worry to switch off the lights before sleeping as it wakes up and goes to sleep naturally.
Its electrical ratings are 120 Volts.
You can add any lamp to the Hue ecosystem, just plug in this smart outlet.
Final Thoughts
There are factually thousands of smart appliances that are compatible with Alexa and other voice control platforms, but the Smart plugs provide multipurpose uses, and they are straightforward to set with the given requirement watts of electrical appliances.
It feels like magic to control your reading lamp and other smart devices with just your voice command. You can choose any of the above-listed smart plugs according to your preferences and requirements.
Read more: 10 Best Budget SSD Drives