15 Best Rainmeter Skins For Desktop Customization
Updated on February 7th, 2021
Everyone uses his laptops and computers in his daily routine. It is natural if we see one thing the same and every day, we get bored. Many software helps us change and reshape the desktop screens and format according to our own choice.
One of the best software to use for this purpose is Rainmeter. Let's discuss it. I hope you will like it and choose one according to your comfort.
To know about the best rainmeter skins, one should first have an idea about what rainmeter skins are. In this age of gadgets and machines, people have become friendly to technology such as PC. But the mode of bringing novelty in the use of these gadgets, day by day, keeps this relation healthy.
Rainmeter skins also give you the freedom to customize the desktop icons, widgets, toolbars, and wallpapers according to your taste. It arranges your tools according to your preference in things that depend on your mind and whether to make it monochromatic, simple, or colorful attractive.
These useful skins can be gotten by installing the rainmeter app, which can work efficiently in any window operating system. Kimmo Rainy Pekkola developed it in 2001.
There are no disadvantages and harmful effects of rainmeter on your computer. There is a rumor about rainmeter that they are the cause of virus in computer or laptop.
But many experts have checked and performed experiments on it with more than fifty viruses, they found that rainmeter skin is safe and good for laptops and computers.
15 Best Rainmeter skins for Desktop customization
It will change the look of the desktop and make you feel comfortable. It is not permanent. This one can quickly be deleted and uninstalled from the computer in a straightforward and easy process.
So, let's get to know about the most conventional, attractive, and useful rainmeter skins. Here is the list of our best 15 rainmeter skins:
Battlefield 3
This skin perfectly suits you if you are a digital gamer. As its name shows, battlefield 3 demonstrates your longing for playing games and enables us to manage shortcuts to our most underuse apps.
Your nature of liking and playing games will compel you to choose this skin, as, our young generation mostly keep themselves busy in playing such digital games, if you're like that, this skin will not disappoint you to give you excitement, in addition to it, its mode of display widgets is perfect.
Moreover, skin widgets also show weather, network usage, CPU and RAM usage, etc. Many people like Battlefield and use it on their computer.
Neon Space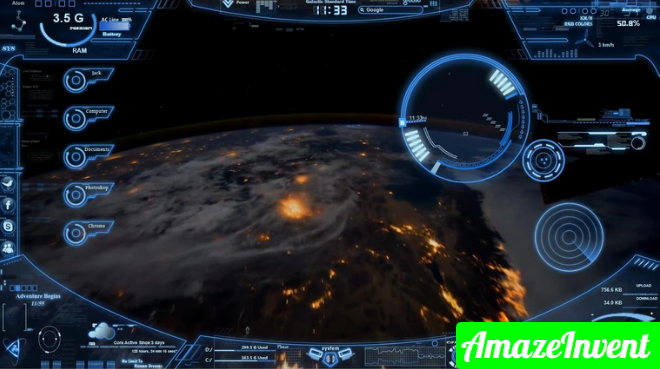 The most advanced rainmeter skins, neon space, is one of them. It arranges your desktop like a spaceship cockpit. The blue and black visual appearance and arrangement of widgets like time, clock look precisely like a spaceship.
It has the power to give you the feeling that you are the moderator of a spaceship because most of the tools are arranged in that systematic way. Moreover, it enables organizing shortcuts to open apps, showing network usage, CPU, and RAM usage.
The images of spaceship and alien also give a wonderful experience and disclosure to such things. The person who likes adventures will like it.
Enigma
It is considered one of the most customizable rainmeter skin. It is a popular skin as it helps you personalize and customize your desktop in more than 100 ways.
You can arrange and customize your widgets according to your preference, and it cares for them. Enigma never fails to be effective and such use, and it has used worldwide, as it enables its users to be such practically wide to select applications and arrange them.
Enigma skin displays quick notes, CPU and RAM storage, World time, real-time active process, and whatnot.
Razor
Razor stands in best skins as it can be customized into the complex full desktop screen to minimal, precise display. It is glass-like skin with translucent widgets.
The color scheme and type of production might seem dull at first sight, but it's catchy, and options through this skin are quite manageable and practical to use, too.
These skin widgets display the weather, power and network supply status, customizable dock, date, time, and much more.
Newspaper
If you want to enjoy rainmeter skin just like vintage 90's wealthy people, this newspaper skin is highly suggested. It gives you pure old feelings like you are reading newspaper apart of it there's a pocket watch which displays the time.
In addition to that, it'll enhance your daily knowledge basis about what's happening in the world around you, and people will take you as an educated being. The newspaper contains daily headlines all over the world with current weather and the date.
You can approach 14 desktop launchers and 4 SSR feeds through it. Moreover, the mailbox widget there in newspaper skin also works for G-mail.
Before Dawn
Before dawn is the skier of simplicity in perfection, dawn is the rising sun or moon or start of any other process, but before dawn, there's silence, peace, rest, and perfectly describes and matches this skin. If you like simple things the easiest to handle and give catchy looks, then before dawn, it will happen on your PC.
It displays widgets of many types managed and designed in the best appropriate way like date, time, and locally applicable.
Due to this rainmeter, user can obtain pictures, music, songs, different programs and also go to other social platforms like Google search engine, Facebook, that is the biggest social network nowadays where billions of people are associated and linked with each other and Gmail to send and receive emails from others.
It is not very difficult to install and use; one can easily install, activate, and use it on his computer.
Read more: How to Open Realtek Audio Manager Windows 10?
Speed
The fastest skin among other skins of rainmeter is speed. Time is the key to success either you want respect or wealth to be on time. Managing time is one of our youth's problems, and this skin rainmeter will help you to mind it. It displays CPU and RAM usage as the speedometer.
One of the best advantages of the speed rainmeter is that It will change the user's working area and show him that he is living in a world of technology and digital place.
There are many precise widgets on the desktop to use them quickly, like date, time, etc. If you are punctual and conscious about your time management, this skin will help you a lot.
Ironman-Jarvis V2
One of the best conventional skin is Ironman Jarvis V2, which can entertain you and take care of your likeliness and preference. Movies and the characters leave a lasting effect on people's minds so that even when they leave the cinema, they can't get out of the feeling it's a role.
To appreciate one of those characters, here is another best skin. Almost we are all fans of iron-man. This skin has been designed to work as an iron-man assistant, depicting Jarvi's character.
It's updated to different colors that are blue, red, yellow, and green. If you are a marvel series fan, it's the best way to keep yourself entertained and connected with your hero.
Greenzo
The next best skin on the list is a green zoo. To love with nature is the essence of our meaningful existence.
When one thinks about the most beautiful thing in nature, he/she talks about the greenery around us, which soothe your minds with a peaceful feeling of relaxation. Greenzo works just like that. It's all green skin for your PC desktop.
The widgets of this skin are all in green with different shades. Talking about its best qualities, you can access any webpage without leaving the desktop. Moreover, it displays notes, RSS reader, slide show, and whatnot.
Desktop music visualizer
Everyone likes music, and music successfully prevails in our lives. It can either bring you peace or be a source of excitement and restlessness; it all depends on your taste and choice.
So, if you are a music lover, this skin will entertain you likewise. It has a real-time FFT music visualizer, which shows scalable bars and colors. It has several versions, and each of them has its characteristics and settings.
This one is easy to use with such helpful widgets displayed on the desktop. This rainmeter is very simple and easy to use. Hence, every new person tries this because it has an effortless setup to customize.
Moonglow
This skin shines like the moon glow. It gives your desktop natural moon effects, which refresh your mind with such attractive color vibrations. The beauty in color variation and tools arrangement technique can't be ignored as these are essentials of moonlight skins.
The primary significance of Moonglow skin for rainmeter is that it can measure and detect the temperature of a computer or laptop, or system in which it is installed.
You can type your notes directly on the desktop, and widgets display your battery status, time, date, and many more.
Read more: How To Reduce Memory Usage Windows 10?
Taboo
Taboo does not work positively in all ways. It takes generations to go against them, sometimes. A person having such a personality to raise a voice against society's wrong pattern without considering the negative response to his/her self-image can use this skin as a source of encouragement.
This skin is quite impressive because of its simplicity and its color combination of white and black. One can use it effectively to have access to its applications.
It shows the person is relevant and clear to him in a clean, simple way. The widgets of this skin display time/date, CPU and RAM usage, and battery usage.
Darkness fall
This skin is the sign of peace, and whenever you look at your desktop with this skin, it will never fail to give you a feeling of relief with its color variation.
Everything in this universe is colorful, and man likes color to bring excitement and livingness in his life.
As the name suggests, darkness fall is all colorful and vibrant with shades. The widgets include battery and network supply usage, date and time, weather, and whatnot.
LIM!T
In more concise and practical skin types, LIM!T is also on the list as it can help its users be manageable and effective in work by providing precise and useful toolbars at the display of desktop.
It enables users to access such applications of use with no time and makes their job more manageable through direct processing. Time, date, weather, and quick notes are displayed as widgets of this screen. The sky is the limit.
I-steve
If you are an apple brand user and familiar with Steve Jobs, this skin will resemble your taste and choice.
Options are the very basic and best depiction of minimal rainmeter skins with excellent and clean use. It is elegant and perfect in simplicity.
This skin displays widgets of all basics types that one needed like weather, network consumption, battery usage, and many more.
Conclusion
So, these were the best 15 Rainmeter skins for desktop customization. From the above explanations of the best fifteen rainmeter, and at least you will use one of them on your computer or laptop according to your own choice and taste. But in my opinion, the first three are highly recommended and the best rainmeter among fifteen.
One can adapt own choice and taste of the skin. These will give your desktop a refined and beautiful look and make it more attractive, conventionally.
In a nutshell, everyone in this universe has his/her type of taste and comfort, and rainmeter skins care for all of them and provide their services accordingly to make your lives more joyful and happy to manage.
Read more: How to Add Widgets To Windows 10 Desktop?