With streaming services like Netflix, unable to change the language on Netflix? you can access hundreds of titles from your phone, tablet, or laptop. However, if the title you are viewing is not in the language you understand, you will need to change it.
The era of waiting for another episode to drop after a week has changed. What happened and how to change the language on Netflix? Never would we have thought that we can watch all the episodes of a single show, without waiting for them for a week.
Netflix has changed the viewing experience for some people, but maybe it has realized that people have become generally impatient.
Why is Netflix a success?
Netflix is a success because it has realized the core problem of people; they can't wait! It is so hard to wait for episodes every week, and sometimes people even forget that they were watching a show.
Most shows with weekly episodes have a habit of going off-air, for at least a month when they release a cliffhanger episode.
In this brief month, there are so many other shows that people can watch that by the time their first show comes back on the air, they have already moved on.
Moreover, not many people would want to go to the cinema to watch a movie. With Netflix, they can easily watch a movie within the comfort of their home and even invite friends over.
Variety of Shows
Another reason why Netflix is a success is that it provides users with a variety of shows. The best part is that these shows and movies are available in different languages because they belong to different countries.
For example, on Netflix, users can watch British shows, Asian shows, and Spanish shows as well. The subtitles provided by Netflix make it easier for people to understand what they are watching.
Switching Language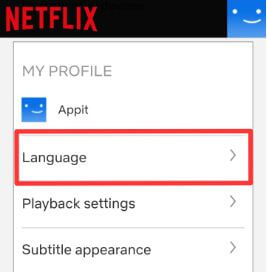 Change Language on Netflix
If the audience wants to switch a language in a Netflix show or movie, they just have to follow some simple steps.
Most shows which are available in foreign languages are also dubbed in the English language for the convenience of people.
Open the Netflix Website
Select the option of Manage Profiles.
Select your user profile of which you want to change the language.
A drop-down menu will appear, and you can select the language you prefer.
Sign out and sign in, as it will save your new settings.
Change Subtitle language
If a user wants to change the language their subtitles appear in, then they can follow the steps given below:
Sign in to Netflix
Open manage profiles
Select your profile
Select the preferred subtitle language from the drop-down menu.
Try playing your show again, with the changes you have made.
Change audio language
If you want to change the audio language, know that Netflix displays only limited options for that. If you are changing the audio language for Apple TV 2 or 3, then follow the steps below:
Choose the settings option, which you can see on the Apple TV home screen.
Select audio and language from the menu.
Select your preferred language.
Return to Netflix and play the show again.
The changes will be implemented.
Netflix has given foreign shows a large audience. For example, a person sitting in India can now watch American shows on Netflix, legally.
Those who have a hearing disability can watch shows by reading subtitles. There are subtitles for every show, and they are pretty accurate most of the time.
Watch from where you Left
The best part of Netflix is that it lets the user watch shows, from exactly the point they switched it off.
Most people, when they are watching shows on their laptops, don't remember the last scene they watch and it takes an awful lot of time to get back to that very minute.
In 'Continue Watching', the users can easily continue the shows they were watching. If they don't want others to see the names of the shows they are watching, they can remove them.
Just go to the viewing activity, which you will find on your profile's settings page, but make sure you are using a browser when you are making this change.
The viewing activity of Netflix shows what you have been watching, and you can simply press the cross button, and remove the series from the list.
In 24 hours, the show you don't want to see on the list will disappear.
Download Option
Another great feature that Netflix has for its users is the download option. They can download videos on their mobile app of Netflix, for later offline viewing.
For example, if someone is going on a vacation, where there will be limited Wi-Fi service, then they can download the shows they want and view them during their vacation.
However, there is no way for viewers to download Netflix videos like they can with YouTube videos. Those who have a subscription don't need to download illegally, and those who don't can easily get one!
There are several subscription packages that people can make use of.
These are cheap packages and expensive packages, and with each fee increase, the quality of the image gets better as well.
There is a separate package for mobile users, which is cheaper than all packages. However, when you buy a mobile package from Netflix, you can only see it on your mobile and not on your smart TV app.
A great Past-time
Netflix is a great pastime and an entertainment tool. Those, who want to see old movies, can find many of their favorites on Netflix
You can search for movies and shows of particular people by typing in their name. For example, if you want to watch movies with Tom Cruise in them, then type in the name in the search bar. Every movie that Netflix has of Tom Cruise will appear on the screen.
Similarly, you can even type in the name of a language, in which you want to watch movies and shows. The screen will show you every movie in that language and that would save you time.
Netflix is fun when you are watching with friends and family, and there is a genre for everyone. Kids, tweens, teens, and adults, all can watch Netflix, because there is something for everyone.
Why is Netflix in a different language?
If your audio, subtitles, or Netflix profile is completely in the wrong language, or a preferred language on a topic is missing.
It may indicate a problem with your profile or device settings. Follow the instructions below to adjust your language setting.
How do you change the language on Netflix Mobile?
Scroll down to the "My Profile" section.
Tap "Language".
Choose your preferred language from the list by tapping the radio button next to it.
Tap "Save" to change the default Netflix language.
How do I change my settings on Netflix?
To change your preferences, click Your Account, located below your profile picture.
Then click Taste Preferences from the My Profile menu.
In turn, select the taste profile in the top menu bar.
Select Taste Preferences from the drop-down menu.
Can I change the language?
On your Android phone or tablet, touch and hold the Home button or say "OK Google". Languages
To change the default language, tap your current language. To add another language, tap Add language.
How do you change the language on the Netflix app?
On an iOS or Android device, tap anywhere on the screen and then click the dialog box icon.
From there, you'll see the option to change the language (audio or subtitle) for the show you're currently watching.
After you tap OK, it will resume playback in the language you selected.