Window 10 is one of the best windows which is specially designed to use the touchscreen of the devices.
In the modern world, touchscreens are the common feature of almost all the latest devices of Windows 10, such as tablets, laptops, 2-in-1 devices, etc.
The touchscreen itself has a great impact because it has the capability of functioning diversely, as a secondary input, such as on a laptop desktop, or as the only input, such as on a tablet screen, or may function on 2-in-1 devices, such as in many advanced laptops, DELL.
Why do you need to disable it?
Although, touchscreen inputs are a very useful feature on tablets, as well as 2-in-1 devices. Because you feel free to use it. Usually, people disable the touchscreen in their traditional devices, like an old model of laptop, or when it became a headache. They don't have any other choice to disable it.
Other common reasons to remove a touchscreen input from the device are children, who unable to stop reaching the screen while watching a video or playing the games.
Someone people have lost the control on their screens and screen behave like someone is touching it but isn't, is another reason to remove it.
How can you disable your touchscreen in Windows 10?
The method for removing a touchscreen input in the Windows 10 devices follows almost the same steps as on all other types of devices, such as desktops, laptops, 2-in-1 devices, tablets, and specific manufacturer's computers, including touchscreen Dell laptops and touchscreen HP laptops.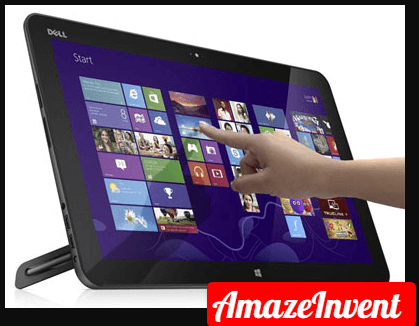 How many methods are there to disable the touchscreen in Windows 10?
There are two different methods through which you can disable the touchscreen from any device in Windows 10, depending on the need of users.
Temporary remove of touchscreen in Windows 10
Temporary removal of touchscreen in Windows 10 is reversible, which means you can enable it whenever you want after disable it.
Read more: Best Xbox One Emulator For PC
Touchscreen in Windows 10 can be disabled through the Windows Device Manager. Usually, it does when the device also has another input method
The following are the steps used for temporary disable of touchscreen in Windows 10.
First of all, goes to the search box that is located on the taskbar.
Then write the word Device Manager in your search box.
Once Device Manager saw, select it in the listed search results.
Put your mouse arrow next to the Human Interface Devices.
Then select the words HID-compliant touch screen.
Go to the Action present at the top left of the window.
Once the drop-down menu opens, go to Disable Device in that menu.
Select Yes, if you will get a pop-up warning which says that Disabling this device will cause it to stop functioning. Do you want to disable it?
Now the touch screen has disabled in your window operating system, verify it by checking.
Permanently remove of touchscreen in Windows 10
Touchscreen in Windows 10 can also be permanently disabled in your device through Windows Registry Editor when there is no need for a touch screen.
The touchscreen cannot be enabled again by any method. Following are the steps below to disable the touchscreen in Window 10
Press the combination keys of WINKEY + R from your keyboard to open the run utility.
Once it opens, type Regedit in the tap and hit on entering.
When the Windows Registry Editor opens, navigate it.
Then navigate to the following registry key:
Computer\HKEY_CURRENT_USER\Software\Microsoft\Wisp\Touch
Create a new entry of DWORD 32-bit with the name of TouchGate, in the right-hand pane,
Ensure that the value of this entry is 0.
Then restart the device, and the touch screen will enable to show.
Verified it by checking the touch screen of Windows.
Read more: Best iOS Emulator For PC
Conclusion
The touchscreen of devices, like laptops, tablets, and many others is an important feature that everyone wants to enjoy. Sometimes it becomes a headache, like when you lose control of your devices, and when children cannot properly work it. Many old people also don't like this feature, as they don't habit of using this feature.
Don't worry about removing the touchscreen input from your device in Windows 10, as it can be disabled by two easy methods, either permanently or temporarily, it's depending on you.
If you want to temporarily disable the touchscreen, you need to disable it through Windows Device Manager, or if you want to disable it presently, then you must disable it through Windows Registry Editor.