Most of the camera drones also offer you to control them from very far distances (the Mavic 2 has a control range of KM) while viewing a live video feed on the drone controller, or your smartphone. Are you bored? Let's have a good feed on DJI Mavic pro 2 beginners guide.
What is Mavic?
The Mavic is a type of drone from the company DJI. Check price. Technically, the Mavic is a special type of drone which is called a quadcopter, which gets its name from the four rotors which generate lift and it allows it to fly. Quadcopters have been around since the 1920s, but only recently has the design been used for radio-controlled aircraft.
Since the launch of the Parrot AR Drone in 2010, the user's interest in drones has skyrocketed. The DJI's ubiquitous Phantom, which was released in 2013, has spawned in multiple and the company has further made further developed product lines such as the Spark and Mavic to fill different niches and price points.
You must be wondering, what is the difference between a camera drone and a normal drone? Don't all of the drone s have cameras? Well, not exactly. Some of the drones do have cameras, but they can be used for other things such as drone racing.
Camera drones
Camera drones are simply drones that have stabilized cameras on them. They are mostly used for taking high-quality photos and videos.
The drone has become a tool in the storytelling arsenal with its capability to capture incredibly high-quality stills and video from a view that was once reserved only for the helicopters or for the expensive commercial units.
What Can A Mavic Do?
The Mavic is a great drone. You can say that it is the jack of all the trades. Most people use the Mavic for shooting aerial videos, but you can also use it for photography, mapping, search and rescue, surveillance, or literally anything which requires a bird's eye view.
Before getting into the details, you should know that the DJI has made many different Mavic models, but all of the features that I will mention in this section apply to every single model available.
You can easily fold it up and go anywhere. Unlike most of the drones out there, the Mavic is foldable so you can take it with you anywhere you want.
If you have never owned a drone, you may overlook this feature, but believe me, you do not want to be carrying a big heavy drone with you on a plane, on a boat, while riding a bike, hiking up a mountain, or doing whatever it is which you do.
Mavic Online testing
With having the larger drones, they result in not getting the amazing shots which you see online because it is very hard to travel with them, but with a Mavic, the controller, batteries, charger, and drone fit into a bag which is smaller than most the DSLR camera bags.
If you have never owned a drone before, it can be a little scary going for your first flight, but with the Mavic, there is nothing to worry about. When you get one, it comes almost assembled completely. You will only need to mount the propellers and then charge up the battery.
When you have the drone on, before flying there is a flying simulator that will allow you to learn the controls before you even start flying.
When it is time to fly it for real, the app will start you off in beginner mode. This limits some of the functions to keep you from flying too fast or too far away.
When you get the Mavic in the air, you will see that it is super easy to fly. You only just tell it where to go with your fingers and it heads straight in that direction.
Shoot 4K with a Mavic
No matter what model you get, if you buy a Mavic, it will allow you to capture super-smooth 4K videos. If you do not want to shoot 4K, you can also record in 1080p to save hard drive space, or shoot the slow-motion shots.
Mavic's are very great at capturing the stabilized video all thanks to the 3 axes stabilized gimbal which holds the camera. Having a 3 axis gimbal is a must feature if you want your videos to look cinematic. 2 axis and digitally stabilized cameras are just not good enough to get the smooth shots.
Videos are all the rage these days, but when you buy a Mavic, you are also getting a pretty good and decent camera for still photos.
12 megapixels is the standard resolution on all of the models and if you get the Mavic 2Pro, it will capture 20-megapixel photos. All of the Mavic models will also shoot in the Adobe DNG RAW format (for those of you who are photography nerds).
Mavic Control
One of the best things about the Mavic is that you can have as little or as much control over the camera as you want.
If you are new to cameras, the Mavic camera comes in auto mode, so all of you will have to learn is how to press the record button and then switch from photo mode to video mode.
If you are a little more advanced, you can do things such as adjust the white balance or maybe make the picture even sharper. You can even make the exposure a little brighter or darker without messing with the more advanced controls.
If you really want to have full control, you can do that too. You can full access to advanced features such as shutter speed, ISO, white balance, sharpness, color profile, frame rate, and many more.
Do you want the framing guides for the lining up of shots? you can do it. If you want to change how fast the camera moves up and down, you can also do that too.
Here is a guide that you can follow for DJI Mavic Pro 2.
DJI Mavic Air 2
This is a much-improved drone then the original Mavic Air, the Mavic Air 2 is the best all-rounder drone for beginners and newbies. It is like a mini version of the Mavic 2 Pro, it combines the ability to shoot a great 4K / 60p video, there is an enormous range of shooting features, and an impressive 34 minute flight time
There is also a new ½ inch sensor which makes sure a better ISO performance than its predecessor and it also supports slow-motion 1080p video up to 240fps.
The Mavic Air 2's new controller, in the meantime, brings Ocusync 2.0 connectivity, which boosts its range up to 10km and it improves the stability of its signal to the DLI Fly app. With subject tracking and all of the familiar Quickshot automated modes, it is the perfect sweet spot between the more basic DJI until it stopped altogether until it stopped altogetherMavic Mini and it is a bit pricier than Mavic 2 series.
DJI Mavic 2 Pro
The DJI Mavic 2 Pro is no doubt the best premium drone that you can buy for some of the reasons – it has a large sensor, it is a great joy to fly, and the foldable design makes it portable and travels friendly.
If you want to zoom or serious portability, then the Mavic 2 Zoom and Mavic Mini are worth investigating. But otherwise, this is a good all-rounder for those who do need a bit more quality than just the Mavic Air 2, it has a 20MP one-inch sensor which is capable of shooting Raw stills and 4K video at 30fps.
Whereas the aperture is adjustable between f/2.8 and f/11, which means there is less need for ND filters. In addition to that, it also has an impressive skill set, the Mavic 2 Pro is straightforward and easy to fly, and it has an intuitive to control the use of its partner app, there is a range of intelligent shooting and flight modes which make the capturing cinematic shots a certainty.
It also comes with some of the most advanced flight and camera tech which is currently available, which makes it capable of delivering pro-grade images, yet it is still accessible even for beginners.
You do not even need optical zoom, this is no doubt a perfect drone for most people, only if you can afford it.
DJI Mavic Mini
The DJI Mavic Mini is a greatly timed masterstroke on DJI's part, it tackles the drone law changes across the US and UK head-on, whereas it also delivers a great video quality in a premium, and compact body.
Laws of UK and US now states that the drone weighing over 250g have to be registered with aviation authorities – the FAA in the US and Civil Aviation Authority in the UK – and before the Mavic Mini was launched, there were not any well-reviewed options in this featherweight class.
It means that, right now, DJI has secured itself a monopoly n the sub-250g premium drone market, because, unlike one of its rivals, the Parrot Anafi, which weighs around 300g, the Mavic Mini does not have to be registered.
It is not quite a dream drone as it has no 4K, or 2.6K 60fps video recording is felt, but the DJI Mavic Mini is still in a league of its own and its own class, which contains a compact, light in weight body with a robust flying experience and a decent quality video capture.
DJI Mavic 2 Zoom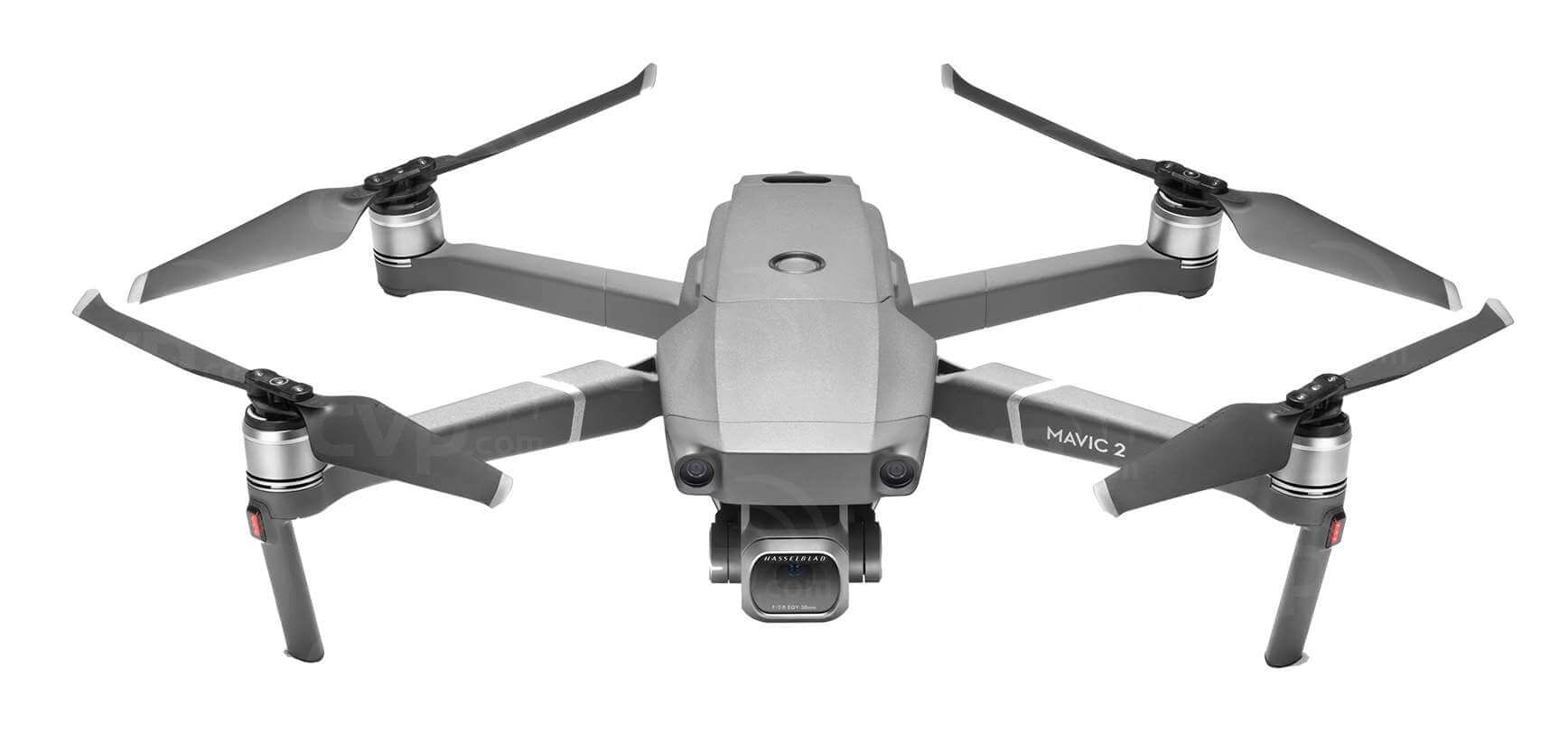 This DJI Mavic 2 Zoom is mostly identical to the Mavic 2 Pro, despite one main difference, which is its camera system.
While both of the drones are greatly portable, they share the same lightweight foldable design, and it provides a range of high spec features as well, the Zoom pairs a smaller 12MP sensor with a 24-48mm optical zoom lens.
It means that you can capture close-up shots of subjects like the people, while still maintaining the safe and legal distance of 50mm. Because of the smaller sensor, the image quality does not quite match the Mavic 2 Pro and the f/2.8 aperture is fixed, but the photos and videos are still more than just being good for professional use.
The real benefit is that zoom lens, which unlocks a world of creative shooting potential. The range is also good, distortion minimal and the control is intuitive via the partner app.
On top of all that, you get all of the intelligent flight modes which you would expect from a DJI drone, which includes Active Track and Hyperlapse, as well as a decent 30 minute flight time. If you want a drone with zoom, this is the one to go for.
DJI Mavic Pro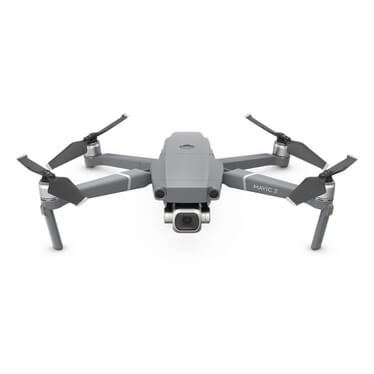 This drone is now been superseded by the DJI Mavic 2 Pro which is mentioned above, but this is still one of the best consumer drones around – and now it is more affordable too. Until the DJI Spark came, the Mavic Pro was the smallest drone in the DJI's lineup.
Do not let its little size fool you – this tiny sized flyer boasts the kind of performance which the DJI's larger drones are famous for.
The camera is situated on a gimbal, which is unusual for drones of this size. It delivers great results with both photos and video in good lighting, even though the small size of the sensor means low-light shooting can sometimes be a bit tricky.
The top speed of Mavic Pro is around 40 mph, so it is no slump in that department, and the battery is also good for around 20 to 25 minutes of aerial usage.
As it is the case with the other DJI drones, the Mavic Pro comes with a dedicated remote control that uses your phone's display to show you exactly what the device is seeing.
The range is quoted as being over four miles, which offers you the opportunity to capture some of the amazing stills and video without having to worry about the connection dropping.
Prepping the Unit
There is a surplus of YouTube videos on how to set up your drone if you are not inclined to read directions, and this was the route that most people take.
In fact, the set up is simple. You must be thinking that attaching the propellers was going to be a scary task, but the design makes the assembling is very easy which cannot be screwed up.
Mavic 2 connects
Just like other drones, the Mavic 2 connects to your smartphone (Android or iPhone) by using the DJI app (your phone is used as the live monitor), whereas the controller offers you the RF connection to the drone.
It is better to update the firmware or both devices and update the geofencing database – it is a mechanism available on most consumer drones to avoid flying in restricted areas.
Fly More
The "Fly More" kit offers you additional batteries and a charging hub that holds up to 4 batteries. But be careful! The hub does not charge the batteries at the same time – it changes them in sequence with priority given to the battery with the most charge.
3D space
Orienting yourself in 3D space takes some time. It is not that hard to fly the drone, and by most accounts, the Mavic 2 is mostly quieter than most of the drones. The left joystick controls the altitude and nose direction, whereas the right joystick controls the forward, backward, left, and right movement.
But you have to maintain the visual line of sight of the drone which is challenging because it was not intuitive to match what I say on the screen with the positive of the drone. The drone was mostly lower on the horizon, but still higher on the altimeter than I thought.
It has approximately 30 minute battery flight time which is going by in a flash during my first flight of the drone.
There was so much to see, and soon the controller's low battery warning which comes at 25 percent by default. You are going to need multiple batteries for any serious or longer use.
In the year 2015, DJI bought a minority stake in Hasselblad. In early 2017, the minority stake becomes a majority stake, and the Mavic 2 Pro's camera is the company's first designed drone camera which features a 20MP 1-inch sensor – a pretty important update from the Mavic Pro's 1 / 2.3" sensor and same to the size to the Sony RX100.
camera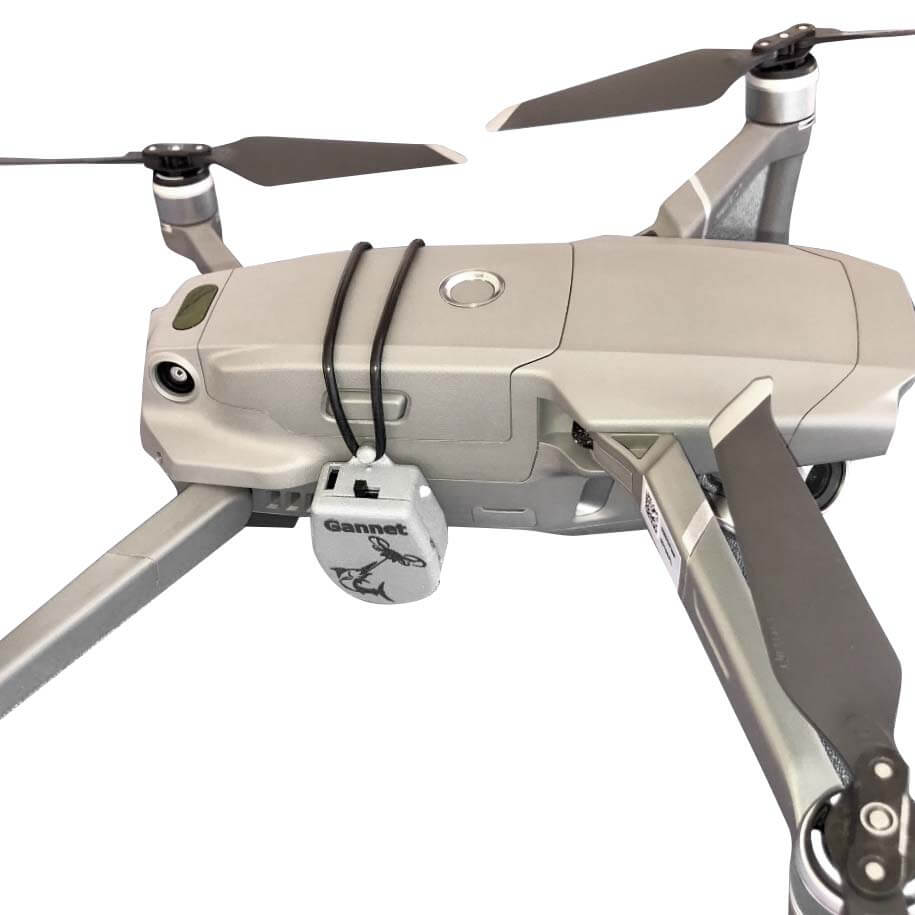 The camera has a variable aperture (f/2.8 – f/11), an ISO range up to 12,800, and a field of view which is about equivalent to an iPhone (28mm on full-frame)
DJI also boasts about integrating Hasselblad Natural Color Solution, which is an optimized color profile that delivers the best possible natural colors from the selected chip without having to select from multiple presets.
The JPGs are punchy with some images appearing with boosted saturation and contrast which is similar to an iPhone or Pixel.
You can also shoot in RAW which yields a DNG file (not a Hasselblad 3FR file), which can also be processed in your favorite image editing program, or you can download the Hasselblad Phocus for free.
The user interface offers you to toggle between the still and video modes. You cannot do both at the same time, although you can obviously use a video grab if there is enough light.
Taking a picture
Taking a picture is accomplished by pressing the virtual shutter button, which for a moment freezes the display. There is a burst mode, but I selected to use the single-shot mode. Timing became very important.
It could take a few days of shooting to find which angles worked best from a birdseye view, but the results are worth it.
The camera's light meter tended to blow the highlights. This was especially noticeable when shooting video in high dynamic range situations. But you can dial in some of the exposure compensation, or you can set the camera in a completely manual mode.
Read more: Best Alternative to SoundCloud
In the basic video mode, controlling the camera and drone movement is completely manual. Even though, there are some complex camera movements (for e.g circling a subject at a constant distance).
Add in the ability to tilt the camera up and down, and you can suddenly realize why DJI created the pre-programmed modes.
Drone auto-track
For example, the drone can auto-track a subject, which also has the added benefit of enabling all of the omnidirectional collision avoidance sensors. And let me tell you that seeing the drone track something or someone while avoiding the things around it is pretty great.
Tracking is not perfect with fast-moving subjects or when the camera loses the contrast-detection but is good enough for many other applications.
The camera supports the DJI's 10-bit Blog M Color Profile. For the video amateurs or new beginners, this means that the tonally flatter output is easier to color grade in post.
It is also a demonstration of the gimbal. Even in the situations where it was getting the high wind speed warnings, the video was mostly amazingly stable.
Clearly, the state of consumer gimbal technology has improved to almost near to professional quality levels – and DJI has leveraged their experience in their Ronin line of camera stabilizers.
But the gimbal can only do so much. In high wind areas, excessive movement of the drone will make it a jelly-like appearance of the rolling shutter.
As a part of the drone's start-up sequence, it calibrates an IMU or inertial measurement unit.
Conclusion
This electronics is responsible for ensuring the drone is where it thinks it is and it is moving in the direction which it should be.
As such, it is somewhat sensitive to magnetic interference, and it is surprising to find things such as metal fences and rebar in concrete sometimes cause the unit to throw an error.
The process of the controller to the drone degraded and it became continually more difficult to pair it until it stopped altogether.
Read more: Best Clicker Games iOS And Android