'Idle clicker' is a concept that not many people have heard of.
The idle clicker is all about tapping on the screen, to perform some actions.
Such games are not boring, and their difficulty starts to increase as a gamer passes levels, and moves upwards. There are some levels in idle clickers, which are time-bound as well.
10 Best Clicker Games iOS And Android 2023
There are many clicker games that users can play, whether they are using Android or iOS.
In this article, I have discussed some of the best ones, so you won't get bored while staying indoors during the pandemic!
Evolution: Heroes of Utopia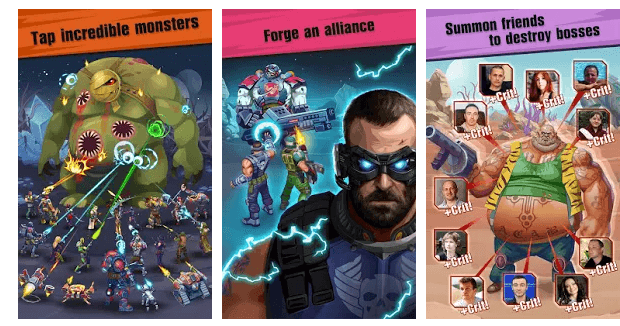 This clicker game is developed by My.com B.V., and it is a free game. This game has a strong rating because it is a wonderful RPG game. The gamer doesn't need any special training in this game or read its back-story.
To play the game, the gamer needs to tap on the screen, and they will start destroying enemies. There are so many weapons and companions in this game, along with a commander that plans strategy.
To fire the enemy, keep tapping on the screen; this is a cool clicker game, which you can download from both Apple Store and Google Play Store.
AdVenture Capitalist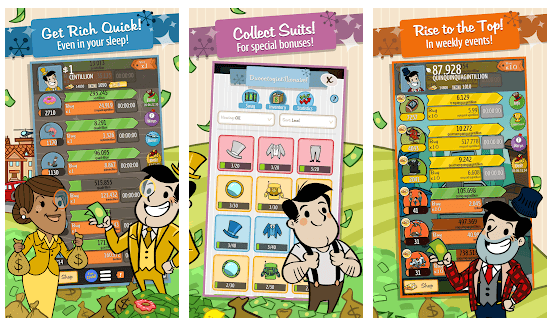 This game is created by Kongregate and it is a really good clicker game. Those who have played it have become quickly addicted to it.
When the user keeps on tapping the screen, they get more money. This is a simulation game, which shows a capitalist world; in a capitalist world, money is the most important thing.
The gamer is becoming a capitalist and would start with a lemon stand. However, there are other things that the gamer can expand to like newspaper delivery, or a donut shop.
Such ventures offer the use of a lot of revenue, and when they get tired of tapping the screen, they can hire a manager! The whole setting of the game is pretty funny and interesting and would keep the gamer glued to the screen. You won't be able to wait to get rich!
This game is available for Android and iOS, both.
Tap 'n' Build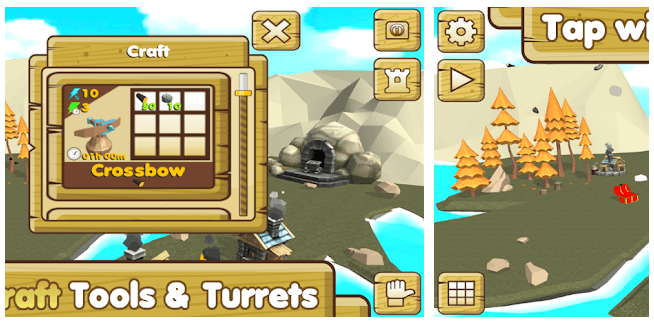 Download
This game is developed by Risto Pins. This is a clicker game, which most people have heard of. In this game, the user would be building stuff, which makes things very interesting. The user has to keep clicking on things if they want to achieve the best result possible.
They will be able to get gold and diamonds from mines, and from that, they can update their building machinery. This game is more like a click-and-check-your-craft game because the user would be building new things.
The graphics of this clicker game are really good, even if the game is in 2D. This is a different clicker game because it doesn't require you to fight people or kill zombies; it requires you to build stuff. If you want to progress in this game, then make something new!
Egg Inc.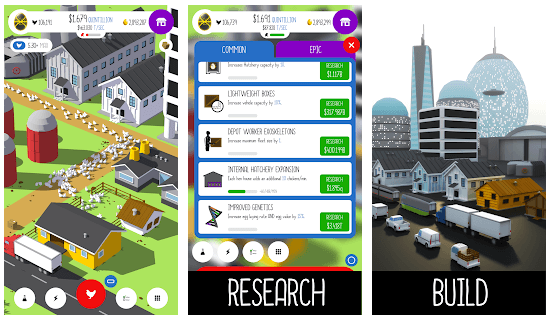 Egg, Inc. is such a peculiar name for a clicker game, and it is very interesting and fun too! If you want to use all your fingers and tap on the screen, then this is the perfect game for you. In this game, the player is running an egg factory, and from there, they can earn a lot of money.
The player would have to hatch chickens, and then make houses; when they perform such actions, their progress increases or even multiplies.
The player would have to look after things like transporting eggs of the best quality. When they move forward, they will be able to unlock other healthy eggs, and then sell them for profit. Unlocking more egg types will also increase the total value of the eggs.
This game kills time like no other game does, and it is interesting to look after eggs and transport them. If you want a clicker game, but also a challenging one, then this is the best one for you.
Tap Titans 2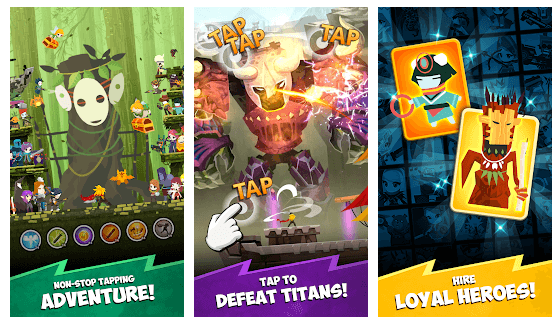 This game is developed by Game Hive Corporation, and it has about 5 million downloads. This is a high-rating game and is one of the best clicker games that the user can find on both iOS and Android.
The graphics of this amazing game are very rich, and the storyline supporting the game is good too. This is a fun game as you tap on the screen, and kill the enemies for once and all.
If you think that you have to come up with proper strategies to kill off the enemies, then there is no such thing. All you have to do is tap on the screen, and have fun. This is a pretty stress-less game, which will for sure give you a really good time.
Cow Evolution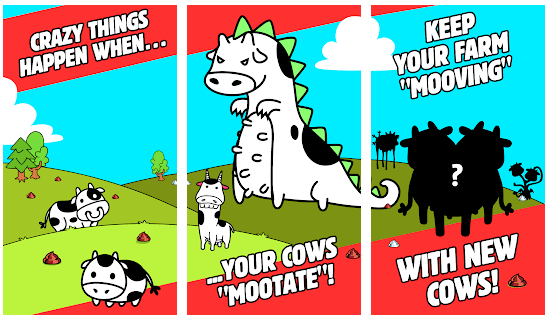 This game is developed by Tapps Games, and it has a pretty good rating on both Google Play Store and Android. If someone doesn't want to grow chickens, but raise cows on the land that they have, then this game is just the thing for them.
It is a very casual game and has several interesting scenarios. For example, there are two cows, and they are of the same size. Now, the player can combine the cows, and create a brand new cow!
This sounds pretty fun, doesn't it? The player will get to earn many coins by playing this game, like through the Fusion bar. Once you download this game on your iOS or Android, you won't get bored at all!
Read more: Best Slideshow App for Windows
Doomsday Clicker
Who doesn't like dark games? They have a very rich and amazing feeling to them, and such a clicker game is developed by PikPok.
The Doomsday Clicker game has a 4.2 rating, and it is pretty much an idle game.
The player has the chance to create unlimited resources, and create doomsday on earth. Then, the resources they have created earlier, they have the option of selling them to the people on earth, who need them.
Even though this is a clicker game, it has many surprises for the players. There are special offers and deals from which the player can benefit from.
The player would be able to earn a lot of money if they sell their resources, and this way, they can conquer the earth as well.
Enchanted Heroes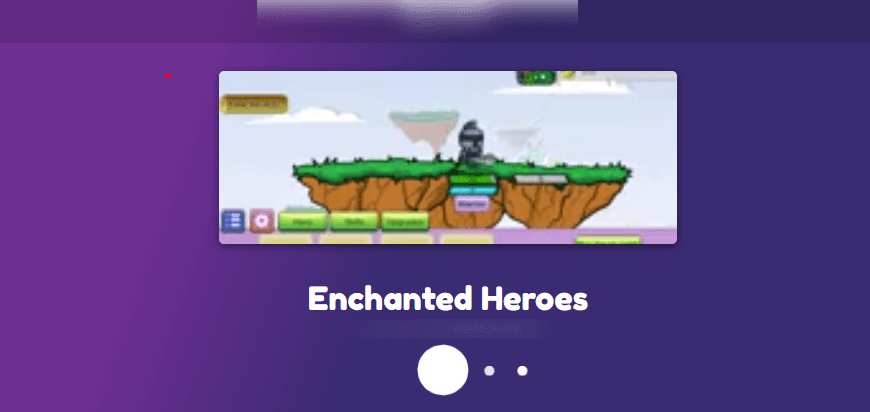 This is a really fun clicker game, where the RPG fans can have a really good time. In this game, the user can be a knight and attack the enemies by clicking only once.
If you want to punish the monsters, then you won't have to make multiple moves, but just one.
Just click on the monster that you want to defeat and that would be it.
When you click on yourself in the game, then the healing process will start.
When this clicker game was updated, the player got access to new weapons and even armor. This makes them feel like a hero, and the interesting part is that, as soon as the gamer takes a break, other heroes will slay the beasts.
When you have earned an income from slaying beasts, then you will be able to upgrade and increase your power in the game.
Grow Defense
Those who like clicker games might also like them more if they turn out to be challenging. This game has 3D graphics and has a very cool look to it.
The gamer would be playing a very stylish game, where he has to click to defend the castle.
First, the user has to start with a tiny gatehouse, which is attacked by monsters similar to goombahs that you probably have seen in Super Mario.
Don't just click or tap anywhere on the screen; in fact, tap directly on the enemy that you want to kill. There are so many rounds in this game that, the player will stay interested. The player can even upgrade to a bigger fortress, and fight much stronger enemies.
This is a real-time strategy game, and a good clicker game; nobody will get bored after playing this.
Clicker Heroes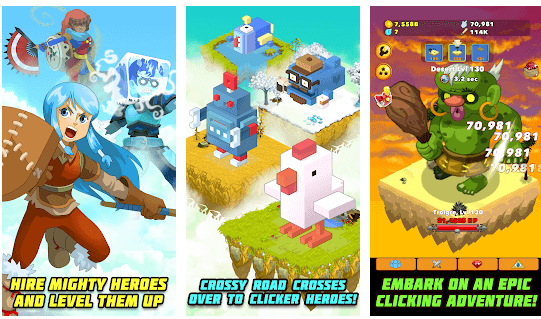 This game is developed by Playsaurus. This is an RPG-based idle clicker game, which every player must try. The player has to keep on clicking on the screen so that he can kill the enemy. This game is very popular on both PC, and Steam, and has about 1000 zones.
These 1000 zones keep the players interested, and they explore the game further and further. Every zone in the game provides them with a unique experience.
If you want to make things more interesting, then ask your friends to join you in this game, because the multiplayer option is available in this one! This game has a good rating on both iOS and Apple.
Conclusion
Clicker games are developed to let the player play, but without any added stress. Most people just want a simple and interesting game, which they can play over and over.
Read more: Best Offline Translators