It can be used for translating text messages, billboard text in a language that you don't understand, foreign conversations, handwritten notes, cross-device syncing, or when you open a website in another language.
While most people can get access to Wi-Fi to run translation apps on their phones, not everyone would have an internet connection nearby.
10 Best Offline Translators 2023 [ List ]
For example, if you are going hiking or a mountainous region in a new area, then you are most likely to not have mobile service or internet service available in those regions.
Google Translator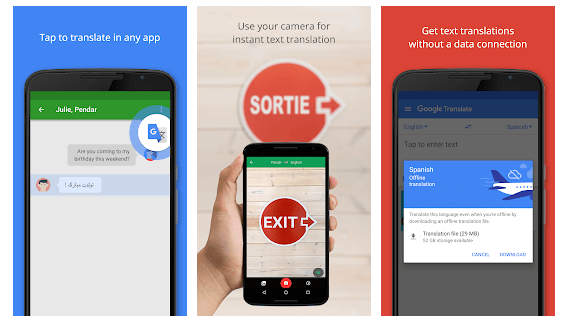 Google Translator is an app, which people can use offline as well. If they download the languages that they frequently use, then they can use the app even when there is no Wi-Fi around them.
There are several languages that people can download from Google Translator for offline use like Esperanto, Japanese, Chinese, Albanian, Polish, and Turkish.
Whether it is about reading a website in a foreign language, or a book, Google Translator is always available for offline use.
People use Google Translator more than any other app on Android, because it has an easy-to-use interface, and it not very hard to figure the app out.
Dict Box-Universal Offline Dictionary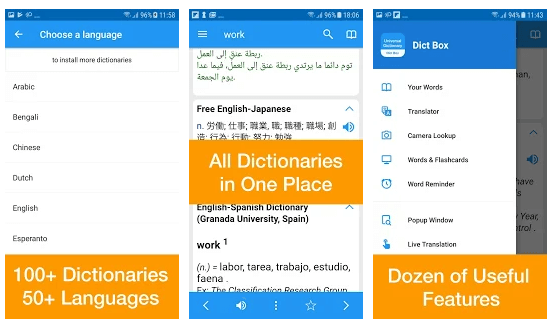 This app is developed by Evol.App, and it is an offline translation and dictionary app for Android. It is very easy to use, and it is quicker compared to other Android translation apps.
If the user wants pronunciation for a text, then they can easily get it. Also, if they take a picture of the text they want a translation of, then the app will translate it for them.
If the user mistypes a word, this app will correct it right away. The user can also use this app to find similar phrases and sentences, and download dictionaries in more languages.
The app has a cloud backup available for users, and it synchronizes word lists on more than one device that is in the use of the user.
The languages in which a user can download dictionaries are Spanish, Italian, Farsi, Thai, Indonesian, Malay, and many others.
Dictionary Linguee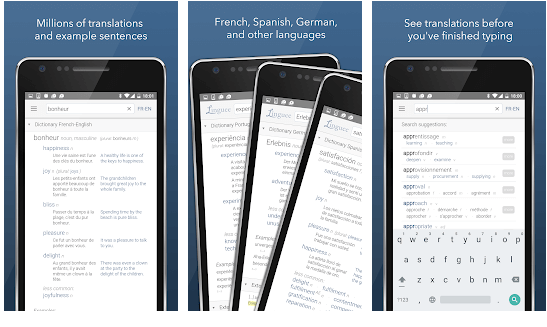 This app is developed by Linguee, and it is a really good dictionary app. When a person uses this app, they would be able to translate into languages like French, Spanish, German, and many more. The best offline translators part of this app is that 400 lexicographers have contributed towards the creation of this app.
The translations are truly quick, and the app is very intuitive; users just have to type a few letters, and the translation app will get what the user wants to search for.
This dictionary is free, and it is available for offline use as well.
The user can search for translation in both online and offline modes.
This app even has example sentences, which the user can use to get a better translation for their content.
Speak and Translate Offline-Languages Translator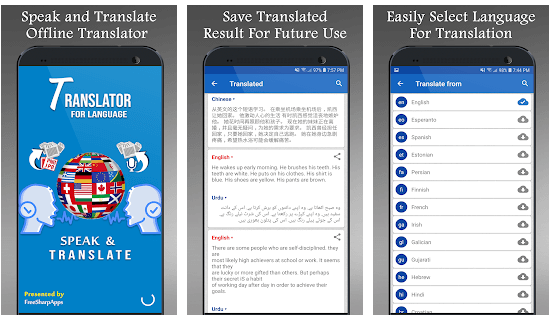 This app is developed by FreeSharp Apps, and it has a 4-star rating on Google Play. The most unique feature of this app is that it is an act as a text, voice, image, and conversation translator. Further, these translations happen in offline mode, and it has multiple features that the user can benefit from.
This app listens to the voice of the person and then translates it into any language that they want to.
If they want to use translated sentences in a conversation, then they only have to copy and paste them.
This app supports about 50+ languages and can translate images as well.
The translations by this app are pretty quick because it is available for offline use.
Air Translate-offline Translation

The developer of this app is Mini Tools. This offline translation app can translate voice, camera, and text. It is a powerful translation tool, which has good reviews on Google Play. There are many features from which the user can benefit.
They can translate text by using their camera, dialogues, any phrases that they don't understand, and history.
The app gives the user access to several languages, and the best offline translators part is that the app is very easy to use.
The translations are done instantly, and it is very easy to copy the text translated using just one button.
The user can listen to translations and even benefit from the advanced features available on the app.
Free Dictionary Offline: All Language Translator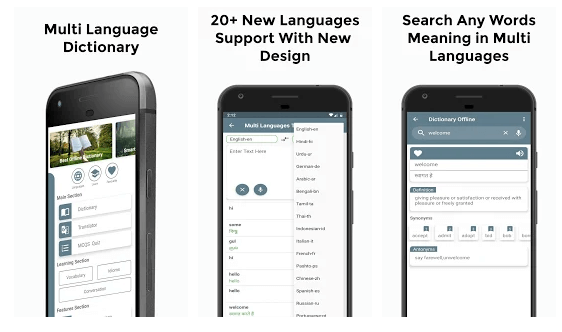 This app is developed by SS Technology, and it supports about 20+ languages. It has a multi-language dictionary, using which the user can search any words and sentences.
This free dictionary offers the user to learn words in different languages, and if the user feels that some words are missing, then they can request them.
The user can ask questions from the app so that they can improve their knowledge about a language.
The vocabulary that the app offers the user, is very helpful and it can be translated into multiple languages.
If the user wants to use their voice for input, then this app has that feature available as well.
This app can help you learn idioms and grammar in multiple languages.
Translate-Offline Translator and Dictionary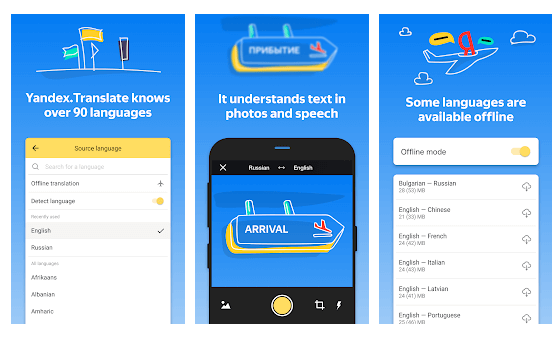 This is one of the best offline translators app on Google Play, with a reputable name and performance. There are about 90 languages that the user can download and use offline. Languages like German, Turkish, Russian, and others are available for the user to learn and use in translation.
This app is very easy to use; if the user wants to know what a menu in Italian would translate to English, then they can just take a picture of the app.
They can take a picture of the road signs, book pages, and much more.
This app has the ability to translate a whole website.
The user can select a phrase or a single word, and the app would be able to translate it right away.
If someone is having trouble with a website, they can translate it right away.
The app even has a predictive feature, which would save the time of the user.
Offline Translator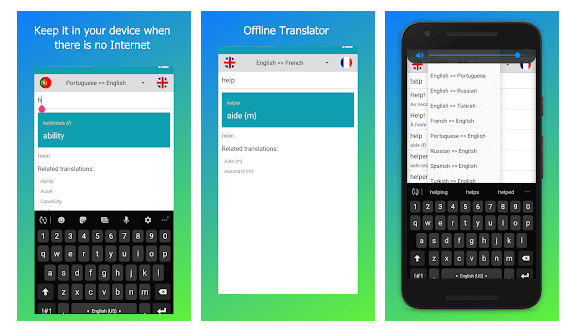 This app has a 3.5 rating on Google Play, and it offers the user access to a dictionary and translation between several languages.
The user can use this app when they go abroad and don't know the local language. The person would be able to save on roaming charges when they travel around the world.
The user would be able to translate full sentences and every text even if they don't have access to the internet. The translation happens quickly, as the user types a search term offline.
Read more: How to Hide Apps on Android & iOS?
The translator has the ability to recognize words and display their translation in the desired language.
If the user wants to revisit the words or sentences that he translated, then there is a history option available.
It is a free app, which anyone can use.
All Language Translator & Offline Dictionary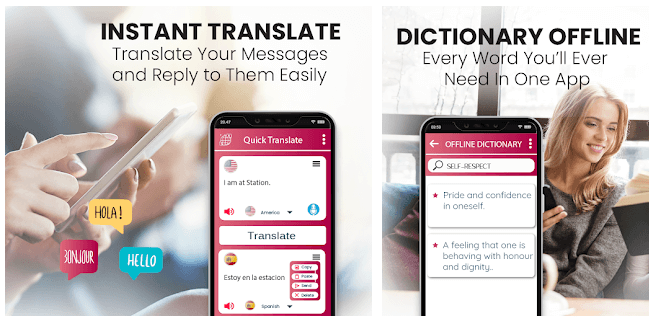 This is a free application, which can translate multiple languages. Whether you want to translate English to Spanish, or German to English, this app can work wonders. The dictionary is offline, which means you can look up a word in any language that you want to, anytime.
The spoken text can be translated very easily, and the translation process is always fast.
This app is free, and it has a solution for every translation issue that the user has.
This app offers text to speech support, and the sentences that are translated, they can be copy/paste to any place the user wants to share.
Translator App Free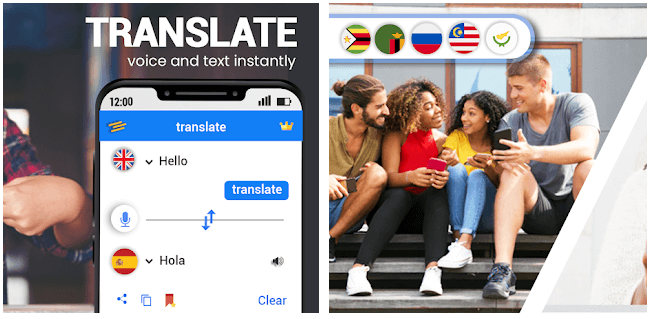 This is a translator app, with the help of which the user can speak and translate text very easily. The app translates text live, and the accuracy of sentences and words is pretty good.
It can even translate and convert audio to text in multiple languages.
If someone wants to translate an image, and then share it with friends, this app makes it very easy to do so.
There is a dictionary in this app, which the user can use for translation.
The voice translator has a very clear voice, and users would be able to make sense of them clearly.
Conclusion
Even though all these apps have amazing features, Google Translator works pretty well as an offline translator, and it is easy to use the app as well.
Read more: Best Tasker Profiles for Android & iOS