ES File Explorer is available for both Android and iOS devices.
Before looking at how to download ES File Explorer on both platforms, it is best to look at its features first.
ES File Explorer
This is a very powerful file Android file manager, which is free and the user can use it with ease on their phone. This file manager doesn't occupy much space on the phone and can manage multiple things like music, videos, pictures, and documents.
Regardless of what is installed on the phone, the user would be able to manage it through ES File Explorer.
The user would be able to manage files on their desktop, laptop, and phone. They can move their files, rename them, search for files, send them to others, create shortcuts, and even bookmark them. With the help of this application, the user would be able to manage their apps and see the ones that they have installed.
ES File Explorer Feature
This application manager can perform the following functions:
It supports about 20+ languages
It can uninstall apps, create a backup for them, delete and create them
The user can search for files and share them
Users can compress and decompress files
The user can cut, copy, paste, delete, and extract files
It has multiple resolutions available for the user
There is a list and grid view in the file manager
Thumbnails are available for images, video clips, and apk files
There is a lot of support available for multiple selections and sorting
The user can create file shortcuts on their Home Screen, to easily access them
It can act as an internal music player, image viewer, text editor
It can manage files and folders on internal and external storage
The files and documents are sorted as per their genre, like videos and documents
Analysis of local storage, to clean up any useless files
If the user wants to download ES File Explorer on Android, simply go to this link Here.
The user has to tap on the Install button, and then run it once it is installed. This app is compatible with Android 5.0 and up, and it was developed by Greensoft Infotech. The current version of the app is 1.3, and it was last updated on September 6, 2019.
Screenshots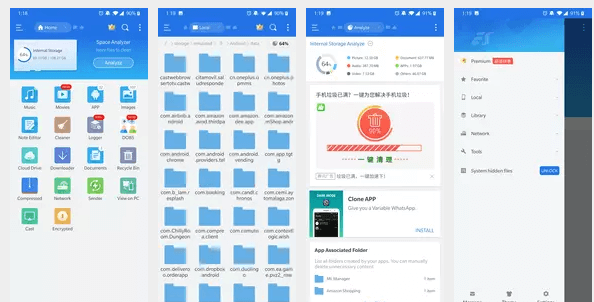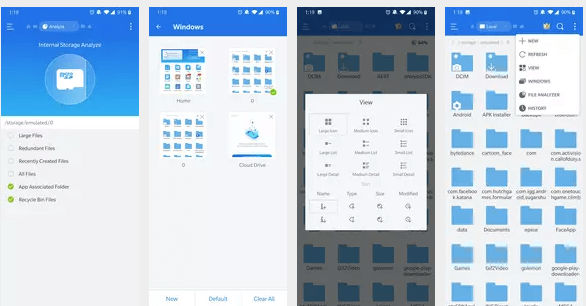 iOS Device
To get this app on iOS, go to this link here, and you can easily install it using Apple ID. The compatibility of this app is iOS 9.1 or later, and it works with all iOS devices.
The app in iOS is known as ES File Explorer-Zip Unzip. It has similar features to the app that users use on Android.
The main function of this app in iOS is to create new directories, delete files, rename, and move them. The user can support file sorting by name, date, and size. There are multiple formats that apps support:
In-text, txt, doc, PDF, PPT, PPTX, pages, and many more
In images, JPG, JPEG, HEIC, PNG, GIF, SWF, and many more
In the video, FLV, MP4, MVB, 3GP, MPEG, MKV, and many more
In audio, WMA, MP3, AIFC, M4A, and many others
In compressed, RAR, ZIP, and others
When the app was updated last time, the developers added several things to it. The user can now add a bookmark function at the bottom of the browser, and the browser offers both mobile/Pc mode switching features.
Conclusion
The e-book reader performance is further optimized, and the video floating now supports the full-screen feature. It has fixed the previous bugs, which users complained about in the past.
The installation process of both apps is fairly simple, and the user won't have any problem in finding these two apps. The user interface on both Android and iOS is fairly simple, and users should be able to manage their files very easily.
A file management system is particularly helpful for those, who download many files in a day and want them to be categorized as per their types like music, videos, documents, APK files, and images. So, do download ES File Explorer, to make managing things less difficult.
Read more: How to Free Up Google Cloud Storage?