Last updated: June 18, 2022
If you are an Apple iTunes user, then you surely know about the dark mode and how to enable iTunes dark mode windows 10?.
The iTune dark mode is available in both Windows 10 and Mac, and it comes in handy when you use iTunes during night time.
Some users are simply addicted to iTunes, and this could cause them either insomnia or eye strains. The brightness of a system's display, if it is high, can surely impact the eyesight of the user.
Those who edit their music during the night using iTunes would want a solution for this problem, and that is where the dark mode comes in.
iTunes
iTunes is many things; a media player, a radio broadcaster, and a mobile device management application.
Apple users use this application for playing, downloading, and organizing their media files like music and video clips on PC.
They have iTunes application on either Windows 10 or Mac, to sort through files and arrange them as per their taste.
Dark Mode In iTunes
When the macOS Mojave was launched, Apple also announced a new feature called Dark Mode.
When the user switches this feature on, then everything on their screen will turn dark.
The theme and the color contrast would be either darker black or grey, and that includes the search bar as well.
Dock, Safari, System Preferences, and Finder will turn dark too.
This dark mode will give your screen a new look, a new user interface, theme, and background.
The text on iTunes will change into white, and the background will be black.
When the dark mode is enabled on iTunes, then that would save the person's eye-sight from blue light, and they won't feel any sort of eye strain either.
Such an eye strain can also cause sleep issues, and the best way to get away from it is through the dark mode.
iTunes Dark Mode-How to Turn it On
If you are using Windows 10, then follow the instructions below to turn the Dark Mode on:
Go to Settings in Windows 10
Click on Personalization
Click on the Colors option (you will find this on the left side of the screen)
Scroll down, you will see a line that says "choose your default app mode"
Choose dark from the two options given
When you choose the dark option, the feature will be enabled on the PC
Now, you can see the changes on your screen.
iTunes Dark Mode on Mac
If you are using Mac, and you want to turn on the Dark mode, then follow the steps below:
Click on the Apple logo on screen (it is on the left upper corner)
Select the System Preferences
Click on General
Click on Dark Mode
The next time you open the iTunes application, you will be able to see it in Dark mode and enjoy the impact that it brings along.
Those who like dark colors can enable this feature during day time as well. This can make their screen look really appealing, and they won't feel tired even after a good day's work.
Fixing iTunes Dark Mode Issue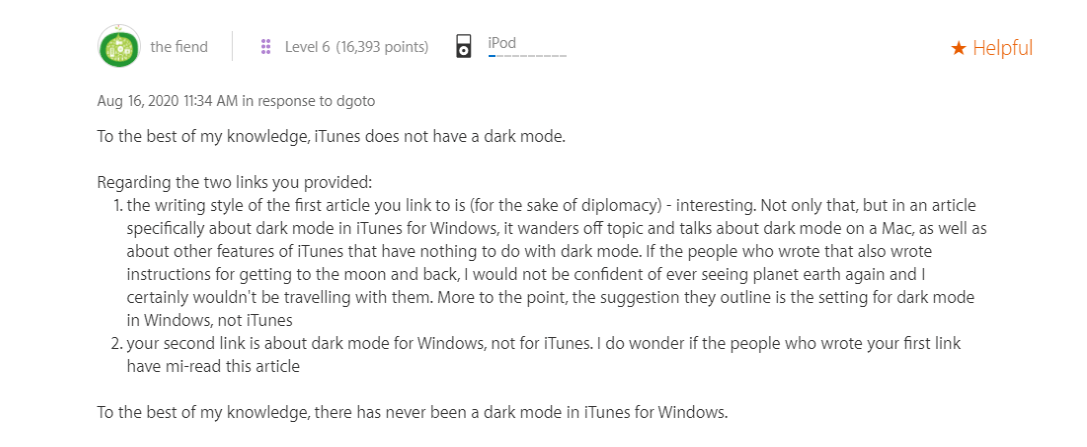 In case the Dark Mode of iTunes doesn't work, then you can look for a repair software for iTunes, like iMyFone TunesFix. Downloading this software will surely fix the problem, and the dark mode will work again.
For those who don't know, iTunes doesn't only play what you have installed on your phone or PC. In fact, when you download iTunes, you get access to many songs, movies, TV shows, and podcasts.
Podcasts are something that you can really enjoy on iTunes, because of the quality of sound, and the choices available for users. It is a really good application to stream your favorite music and files and play them offline when there is no internet connection.
Users of Apple know the importance of iTunes, and how it lets them manage their files properly. If you want to sort out songs as per their genre or your mood, then this would be the perfect way to do it.
Thus, the best thing do to here is download iTunes, and enjoy it in dark mode, when you are late working till the middle of the night.
Read more: How to Install Kodi on Xbox One & Xbox 360?
I would like to recommend you a simple and easy way: here