If you are looking for the best spreadsheet app for your Android devices then you have come to the right place because here I have curated the 5 best Spreadsheet apps for Android in 2023 for you.
Stick through the end of the article to know their best features. And see which fits you best.
5 Best Spreadsheet Apps for Android In 2023
Microsoft Excel

You all must be aware of Microsoft Excel on your PC but this is an android version of Microsoft excel. It offers complete editing tools that one might find in the older version on their PC. And if anything this Microsoft excel for android is a better version of it. Because it offers many more additional features which make it is the best spreadsheet app for android. All it requires is for you to sign in with your outlook account and that is it.
You can simply start working on the spreadsheet you want. You can create spreadsheets, make tasks list or even do financial analysis.
And it also offers rich formatting tools. It also offers free inbuilt calculation features as well. It also comes with the feature of visual representation of data through charts and graphs to give you a better understanding and help in the analysis of the data as well. This one also lets you review your spreadsheet and edit it as well through your phone.
It also automatically saves all your data on the cloud so that you can access your spreadsheet from anywhere you want. This one also gives you the option to share it with other people and give them access to make edits in your spreadsheet as well.
It is the best application for making and maintaining a spreadsheet from your android phone.
Google Sheet App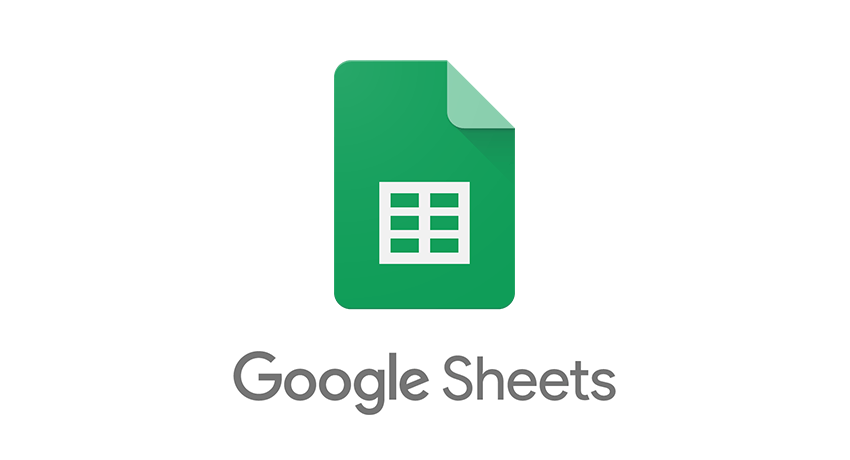 It is a free spreadsheet application for android. And it comes with all the editing, creating, and managing tools. All you need is your Google account to start using the spreadsheet app. And it also comes with cloud storage which means it lets you access your sheets from anywhere. You can easily create as many spreadsheets as you want. And manage them with ease as well.
It also allows you to download your spreadsheets as well. You can make a spreadsheet file and share it with your partners as well so that they can enter and edit their input into it as well. Very convenient for group assignments. It also offers all the rich spreadsheet functions as well, like formatting, adjustments, and editing.
One of the interesting features is that you can now make spreadsheets offline as well. So even if you do not have the internet you can still make spreadsheets easily.
WPS Office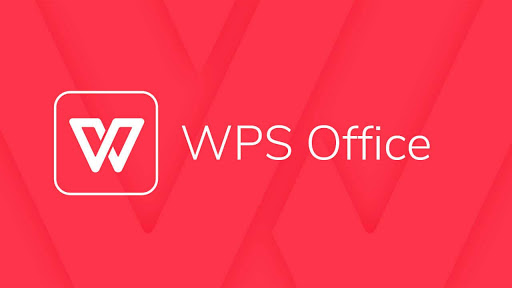 Is the most popular office suite available for android? It has the ability to support multiple formats of documents like DOC, PDF, or XLS. And for spreadsheet editing and creation, XSL is the best choice. This offers numerous spreadsheet templates for you to use. You can use any template and change it according to your needs. This offers a lot of rich spreadsheet functions for you to use.
It comes with various editing tools like row/column adjustments, fill color, change the sizes, etc. it also gives you the option to save all your files to the cloud for getting access anywhere. It comes with an additional feature where you can merge different spreadsheets into one, isn't it great?
Total Spreadsheet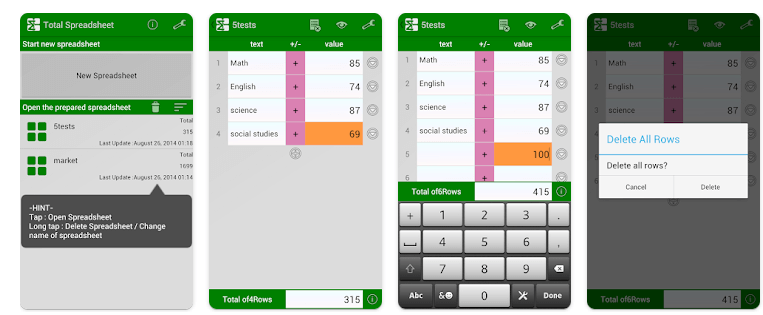 It is also another free spreadsheet application for your android phones. It does not offer any advanced features for your spreadsheet and only performs simple and basic features. So it is not very compatible with office work. But a student can use it for their school assignments.
It is suitable for a beginner who wants to get started on using spreadsheets. It is suitable for professional use. This one comes with simple features like chart building, formatting, and sizing of rows and columns. And it also offers a handful of calculation features as well like addition, average, and maximum.
Polaris Office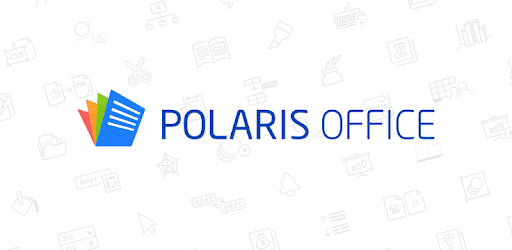 It is also another office suite for android which gives multiple features like making spreadsheets, editing documents, and viewing presentations. This one gives you certain features for editing your spreadsheets. It also provides you with multiple templates for your spreadsheets. Gives you various editing tools.
It also has some functions as well which you can run on your spreadsheet. Visual representation of data is also possible in terms of charts and graphs. Let's save your data on the Polaris cloud.
Conclusion
These are all the 5 best spreadsheet apps for android in 2023. Which offers a variety of features like storage, template, data sharing, and much more.
I hope I cleared all your queries regarding spreadsheet apps for android.