The PlayStation 4 controller, also known as Dual Shock 4, can connect to the console via Bluetooth.
If you see, one of the best things about modern console gaming nowadays is the wireless controller.
These controllers are no doubt a plus point for modern gaming but sometimes, these can have a bone in the neck, especially when these controllers stop working for no specific reason.
Wireless controllers of PlayStation 4 are called DualShock 4 controllers.
These DualShocks are connected with the console via Bluetooth connection which can have interrupted sometimes and created some connectivity issues which can piss you off at that intense moment of gaming.
To resist these types of connectivity issues, you need to sync your DualShock with your PlayStation and the procedure is easy.
How To Sync A PS4 Controller?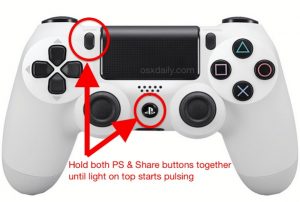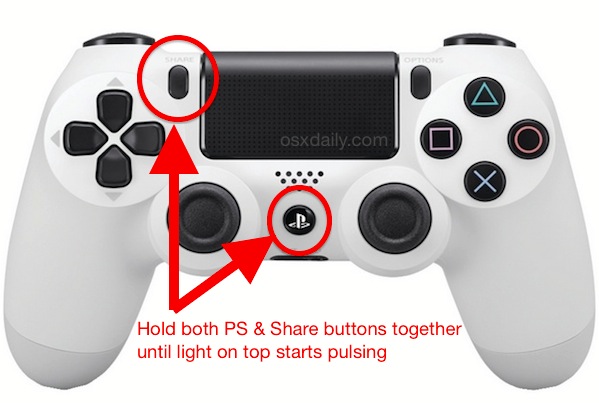 I am now going to write the whole procedure with a detailed explanation. Follow the steps just as I have described them below.
Get A USB Cable
Though the syncing process of the PlayStation 4 DualShock controller to a PS4 is an extremely easy job to do, it requires one piece of hardware which is a USB cable.
To sync new controllers with your PlayStation 4, you will need a USB cable because there is no wireless workaround for pairing controllers with the help of Bluetooth.
Your wireless controller DualShock 4 comes with a cable packed in it, but if you don't have it or you misplaced it, unfortunately, then any USB 2.0 Micro B cable can work with your DualShock 4 controller.
Plugin the USB cable into the controller and then connect it with the USB port on the PlayStation 4 console.
Power On Your Playstation 4
When you will turn on your PlayStation 4, your DualShock 4 controller will automatically connect with your PlayStation 4 console with the help of the USB cable.
Further, you will have to push the PlayStation button in the center of your DualShock 4 controller to power on the controller.
When you will do this, the PlayStation 4 console will take you to the login screen to select a player account to have access to that DualShock 4 controller.
You would know that your controller is working fine because of the LED light bar on the top of your DualShock 4 controller according to the Player Number your controller is set on.
LED light bar on the top of your DualShock 4 controller turns blue for player 1, red for Player 2, green for Player 3, and pink for Player 4.
This cable can have used to charge your DualShock 4 controller as well. The LED light bar will turn yellow if your controller is not being used but it is only on a charge.
Controller Charging
Whenever a PlayStation 4 console gamer encounters a problem with the controller for not working wirelessly with your console, the usual and common issue is with the pairing which is causing problems because the controller is not charged or undercharged.
Sometimes, the unplug it and plug it back in solution works to this problem.
Make sure that your DualShock 4 controller is charging when you plug it in.
While the DualShock 4 controller is not being used, you will see the LED light bar will turn yellow.
And if it is not charging, then you might have a bad USB cable or it might be another problem.
Reset Your Controller
If you have a controller that is still working, you can do that in the Settings menu of your PlayStation 4, which can have found on the Home Screen of your PS4 and it is represented by an icon of a suitcase.
Open the settings menu and then locate the menu which says "DEVICES".
Open the DEVICES menu and then click on the "Bluetooth Devices" option.
Select it, and then hit X to continue the procedure further.
Click the "Options" button on your controller and then click on "Forget Device."
After you have done this, reconnect your controller with the console with the help of a USB cable.
This should possibly solve the issue for you, but if not, read further. Official forum
Hard Reset Your Controller
If re-pairing didn't help, you will have to reset your controller individually now.
Turn off your PS4 and unplug it completely when you are resetting it.
Flip over the controller and push the paper clip for a maximum of 10 seconds in the small hole on the right side.
After completing your 10 seconds on pushing this secret button on the controller, plug in both your router and PS4 again.
Power on the PS4 console and then plug your controller through the USB cable into the console that's sync a ps4 controller to pc automatically.
This procedure should completely and successfully sync the DualShock 4 controller with your PlayStation 4 console. Official site
How do I connect my PS4 controller?
PS4 controller, hold the PS button and the share button simultaneously for 5 seconds.
When a new controller appears in the list of Bluetooth devices, select it with another controller.
The new controller will then sync with your PS4.
Why isn't my PS4 controller connecting?
A common solution is to try different USB cables if the original cable fails.
Resetting the PS4 controller by pressing the reset button on the back of the controller, behind the L2 button.
If your controller is still not connected to your PS4, you may need Sony support.
How do you sync a cordless PS4 controller?
Press and hold the PS and Sharing buttons until the lightbars start stroking fast (about 3 3-5 seconds).
While it's quick double-strobing, it's paired like any other Bluetooth device.
If the strobe is slow and off, the controller is trying to connect to your PS4 or PC.