Have you ever thought and wished "I had some Bluetooth earbuds, but I am not so sure what to buy"? If that's the case, then you are probably overwhelmed by the number of truly wireless earbuds on the market these days.
Here, we have used and reviewed a fair few of them, and today, we are going to be reviewing the Tronsmart Apollo Bold which is a truly wireless Bluetooth earbud. These are the Tronsmart's foray into the flagship earbud space, with the advertised features and specifications to match.
Review of Box and Design
The Tronsmart Apollo Bold comes in with some of the pretty fancy packagings, making a significant departure from Tronsmart's usual basic purple and orange cardboard. Image source: here
The box opens like a book, with having a magnet that is holding it closed. On the inner side of the cardboard, there is a whole bunch of text about how to Apollo Bold work, and what active noise cancellation it does.
Now, moving to the right side, there is a clear plastic window of sorts that shows you the earbuds and charging case, all of it snapped into fitted holes in a sheet of black plastic.
When lifting that it reveals the manuals and warranty card. Beneath those are the replacement earbud tips and a charging cable on top of their black plastic sheet. Under that layer, there is a handy little vinyl which is a carrying bag for the earbuds.
If we talk about the case, firstly, it is a pretty nice case. It's a simple, low-profile black disc, which is having a magnetic hinged cover. On the front side, there is a little charge and battery indicator light, which is below the grip for opening the lid.
On the rear side, there is the USB-C charging port, which is the only way to charge it as there are no wireless charging coils. Opening the magnetically latched lid, the hinge feels a bit fragile and weak. Like the Realme Buds Q, it moves back and forth a bit, which is a bit worrying when you are buying this at this price point.
After some difficulty, I was to pull the earbuds out of the plastic and then put them onto the case to charge them, which was really nice and very easy. These earbuds are huge. They are not heavy though, which is very impressive for its size.
There are a few reasons for its large size. One is that it means that there is more space for bigger batteries, which explains the advertised 7 hours of playback with active noise cancellation enabled. The earbuds also have a large touchpad on each of the earbuds, which makes them easy to tap.
The Tronsmart Apollo Bold may be easy to put into the case, but I cannot say the same for taking them out of the case. Something about the way they rest in the case just makes it a bit difficult to get them back out of them. Well, luckily this is the only issue and it does not seem like an issue at all, it is a minor and neglecting issue.
While pairing them to the laptop was very easy and simple.
Like a lot of truly wireless earbuds, the Tronsmart Apollo Bold has the audio indicators to tell you when the mode changes.
There is also no disconnect indicator, so if the Tronsmart Apollo buds disconnect and you are not listening to any of the audio, you won't even know.
The Tronsmart Apollo Buds are flagship-grade earbuds, which is set to compete with the likes of the Samsung Galaxy Buds Plus.
The flagship-grade earbuds need the flagship-grade specs also, and this Tronsmart seems to have delivered and you can see it for yourself.
Specifications:
Silicon
Qualcomm QCC5124 with support for TrueWireless Stereo Plus
Bluetooth Version
5.0
Bluetooth Range
15m/50ft
Codecs
aptX, AAC, SBC
Active Noise Cancellation
35dB
Driver Size
10mm
Frequency Range
20Hz – 20KHz
IP Rating
IP45
Battery Capacity
Per Earbud: 85mAh
Case: 500mAh
Play and Charge Times
Play Time: up to 7 hours with ANC
up to 10 hours without ANC
charging case adds over 20 hours total
Charge Time: earbuds: 2-2.5 hours
case: 2.5 hours
Dimensions
Per Earbud: 16.86mm x 23.13mm x 23.96mm
0.66in x 0.91in x 0.94in
Case: 29.45mm x 19.03mm
1.16in x 0.75in
Weight
Per Earbud: 7g/0.24oz
Case: 54g/1.9oz
Controls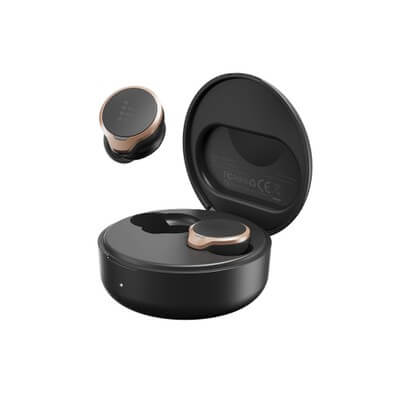 I just love seeing all of these options. Whereas, so many of the truly wireless earbuds come with only two gestures and maybe just 3 actions. Tronsmart went all-in with as many controls as it could offer.
And it is not like they have sacrificed the reliability for all of these controls, either. Read more: How to Type the Cent Symbol on PC, Mac?
There is that one gesture that I did not list above is one to enter pairing mode. If you tap three times and then hold it for 2 to 3 seconds on the third tap on one of the earbuds, it enters in pairing mode. Do this gesture on both of the earbuds at the same time and they will enter in unified pairing mode.
If you want to pair with only one at a time, the other one needs to be in the case and the case has to be closed. Otherwise, the gesture just won't be doing anything.
This is nice to see as a feature since it means that you do not need to case if you just want to quickly switch connections between the paired devices.
I am not fond of every gesture, though. The gesture to go to the previous track has some problems. It is not that it is unreliable, but rather because it is a flawed design.
Tronsmart is assigned the previous track gesture to a 2-second long press. It is a bit difficult to use it to go back to a track. This is odd behavior, to be honest since the previous earbuds from Tronsmart use a tap-based gesture to the previous track.
As for the Tronsmart app is concerned, the Tronsmart app is said to do quite a lot of stuff. You can update the earbud firmware from it. You can customize what the gestures do from it. And you can also modify the default sound equalization from the Tronsmart app.
Unfortunately, the app is not available yet. Tronsmart says that the app would be available in September. If after reading all of this review you are considering buying the Tronsmart Apollo Bold, I recommend you hold off a bit until the app goes live and available. Read more: What Does INB4 Mean? You Need To Know
Well, when I first put the earbuds in, they did not feel like they were in as they are very light in weight.  After a while, I forgot about they were really in, they never fall out and they are comfortable, even after a few hours.
And it is a really good thing that they do not fall out since the Tronsmart Apollo Bold has a sensor for wear detection, ie. the auto-play/pause feature seen in a lot of high tech earbuds.
Take one out of your ear, and your music will automatically pause. Put them back in, and it will resume. The wear detection is also amazingly reliable and very quick to respond. As soon as you take them out, your music is paused.
Strangely, the earbuds do not seem to disconnect when this happens – the audio just stops working. If you want to use these earphones for a phone or VoIP call, then just go right ahead, because the Tronsmart Apollo Bold is passable. Whereas the headset mode does not sound very good, it will be good enough for a phone call and even some VoIP calls as well.
These being earbuds, the microphones are not exactly the studio-quality but again, if you are just on a call, the other people will be able to hear you just fine.
The next one is the fitness feature, The Tronsmart Apollo Bold does not have any of the fancy features like a heart rate sensor, but they are IP45-rated, I would not recommend you to take them with you for a swim, but a small splash of water should not be a problem at all. You also do not have to worry about frying them if you are out running on a 95°F day.
You may also like the other feature which the Tronsmart Bold provides is the Independence. Like a lot of truly wireless earbuds, you can take one earbud out of the case and use it while the other one is on a charge. Test your earbuds by: App
Like some others also, either of the earbuds can do this. But that is not all, the Tronsmart Apollo Bold work completely independently of each other.  If you want, you can just pair the left earbud to your phone and the right one to your laptop.
Read more: How to Read iBooks on Windows?
Conclusion
The Tronsmart Apollo Bold is Tronsmart's first "flagship" truly wireless earbuds. In the past days, the company has focused much on mid-range and budget options. Overall, I think these earbuds are pretty solid and great.
You have got tons of reliable controls on these earbuds, it has good audio quality, water resistance, and plenty of extra features as well, all in a relatively small, comfortable package.
If you are looking for a pair of high-end Bluetooth earbuds that do not break the bank, and you are fine with the little compromises which I have listed, then the Tronsmart Apollo Bold is arguably a good choice.