Blender is a 3D graphic art software, which allows the user to create 3D artwork on their computer. The items and shapes that the user makes on Blender, is actually made of connected vertices.
When two items are joined, then their vertices join together as well. The user can select the linked vertices, as well as keyboard shortcuts so that they can unjoin two items. This will allow them to edit the item, into two individual pieces.
How To Unjoin Objects In Blender?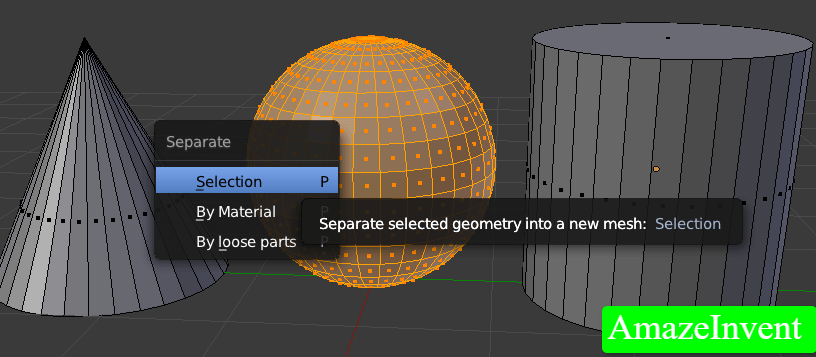 Just follow the simple steps below, to make this happen:
Step #1
Press the tab.
This will put you in the edit mode.
Step #2
You can right-click on the vertices to select them.
This connects two items
Step #3
Hold the keys Ctrl+L, so that all the linked vertices are selected.
Step #4
Step #5
The option of 'Selected' will appear on the menu.
And now two objects converted into two items, that are connected.
Features of Blender
There are so many features of this free graphic software, which you will surely love to use it.
The first feature in Blender is rendering. The rendering in Blender is very realistic. When the user downloads this software, they can try out different things like cycles. Cycles can be best described as a ray trace-based production render engine.
Under cycles,  there are several things that the user can adjust. These things include lighting, shading, subdivision and displacement, geometry, interactivity, layers and passes, camera and effects, motion blur, and volume.
Users can use Blender's modeling tools for creating, transforming, and editing models. These tools are very easy to use, and they can complete work in a breeze.
For example, they can use modifiers, which means applying effects that would be very tedious to apply otherwise.
Animation, Rigging
The animation and rigging feature is very easy to use, and it is specially designed for animation. It has also been used for short animated and featured films, which have received awards on occasions.
Another feature that users can benefit from is the grease pencil, which can really make art look cool. It will show the user the 2D and 3D concept design, and the user would be able to apply or show good effects in storytelling.
As for visual effects, or VFX, the user has access to compositing. In compositing, they would be able to come up with an impressive library of nodes, where they can do color grading and camera fx.
The software also offers powerful simulation tools, which users can use for showing effects like planes bursting into flames.
Video editor
There is a video editor included in this software as well. Even though the tools in the editor are very basic, they are still efficient and easy to use.
The major problem with editing tools or editors is that the user has to spend a lot of time trying to make sense of everything, but in the end, they are not able to achieve the objective. However, Blender's software editor is different, and will surely help the user.
There are tools available for scripting and customization. For users who want extensive Python API, they should definitely download the Blender software.
Benefits of Using Blender
The user interface of Blender is very easy to use. There is a window layout, where you can come up with shortcuts for different tasks, and completely customize the user experience.
There are so many benefits of using Blender. Firstly, you get to use features like rendering, fast rigging, video editing, and masking. You can download it from: here
You can create games, short animated movies, and even simulations for your class. The user interface can be easily customized, and you get to use shortcuts.
As this software has the cycles feature, the lightning of every scene looks very realistic. The rendering process is quick because Blender doesn't use the CPU but the graphics card so that it can perform rendering.
Blender can be used for creating 3D games, and the models can be ported to a third-party engine. Blender unjoin objects are now most requiring. Users can code the game logic, and they will find the prototypes of the game, and the visualizations very interactive.
This is perfect software for those, who want to make animated movies, or something related to animation.
Read more: How To Save A Rendered Image In Blender?