Last Updated on January 20, 2021 by admin
Discord themes can be changed without any hassle, but it isn't as simple as changing the theme of your mobile phone. Discord doesn't support themes at the moment, which is how BetterDiscord comes into the picture.
There are two themes in Discord, originally; dark and light. The light theme of Discord is not very appealing, but BetterDiscord does offer you multiple themes, plugins, and even backgrounds.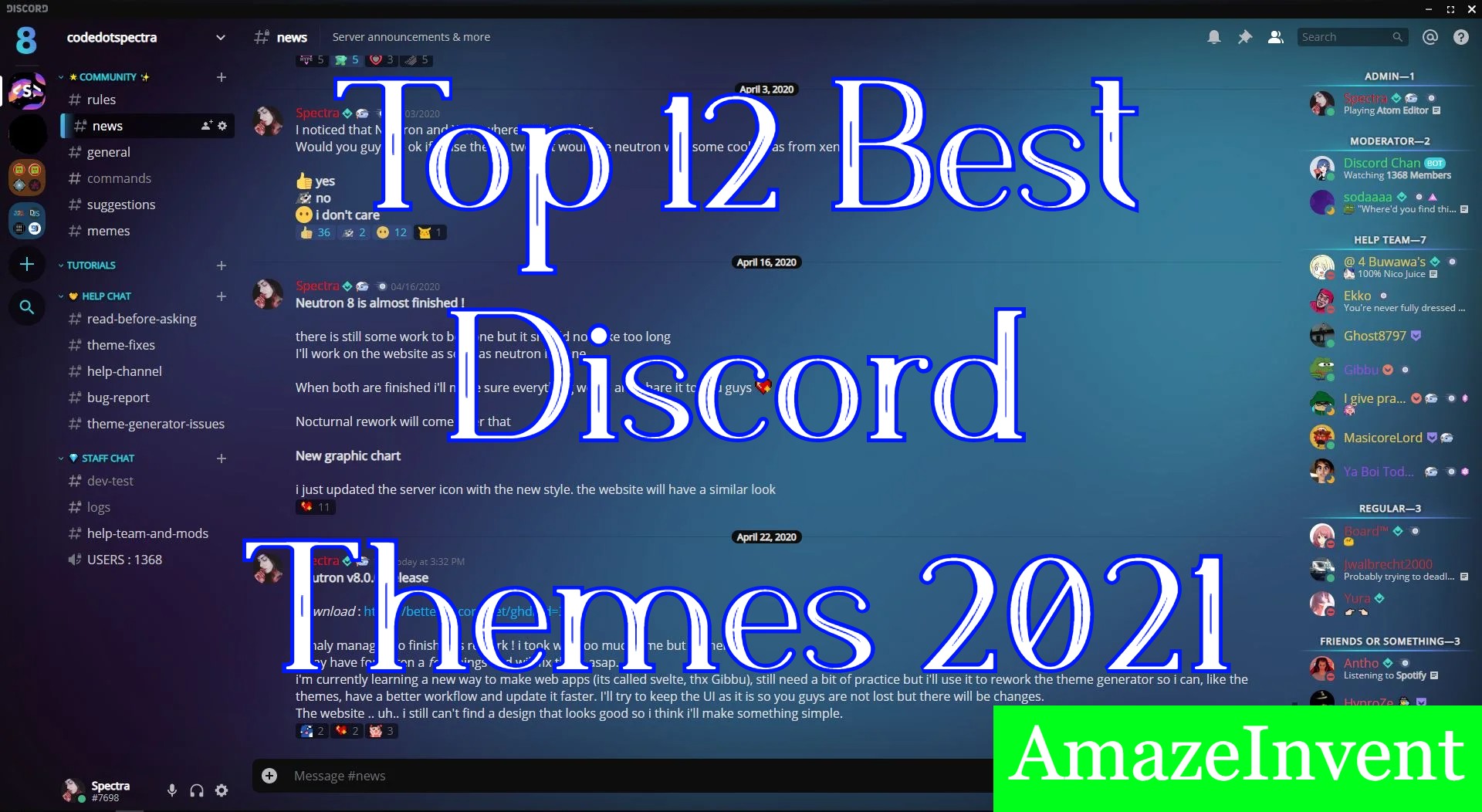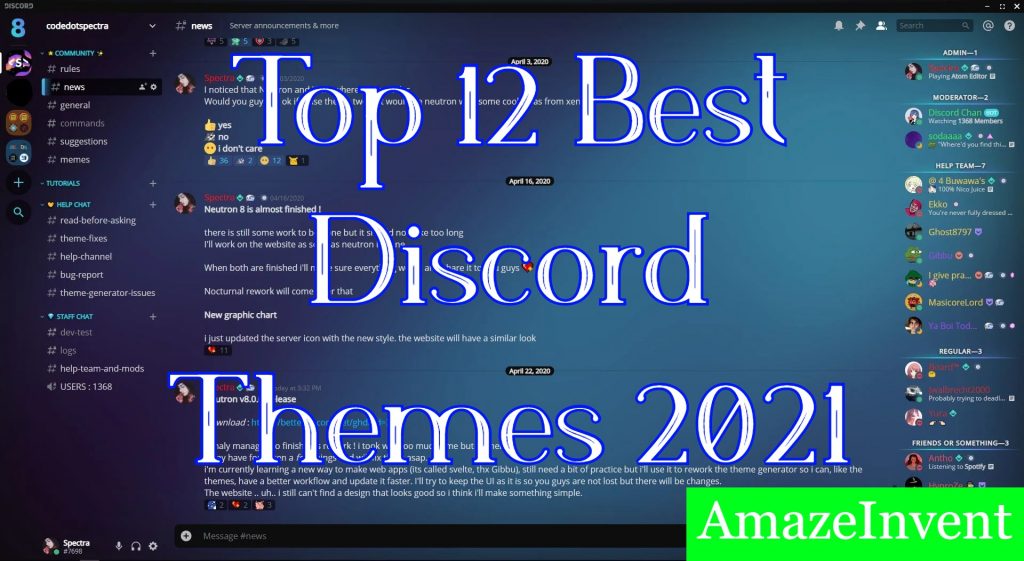 While there is something about BetterDiscord that violates the Terms of Service of Discord, there are still better themes on BetterDiscord that the user can use.
Some users do say that using BetterDiscord results in the banning of the user account, but if the user doesn't include any sketchy plugins, then they are good to go.
BetterDiscord
The user can download BetterDiscord from its official website, which is here.
When you click on the download button, make sure that you use the right file considering the OS in use.
There is a separate download file for Mac, and one for Windows.
When you are done downloading BetterDiscord, then you need to get the themes.
For this, go to the themes library in BetterDiscord, and just pick a theme that you like the most.
Click on download and then copy and paste the theme in Discord.
Top 12 Best Discord Themes 2021
Some of the best Discord themes are described in detail below:
Sunset Theme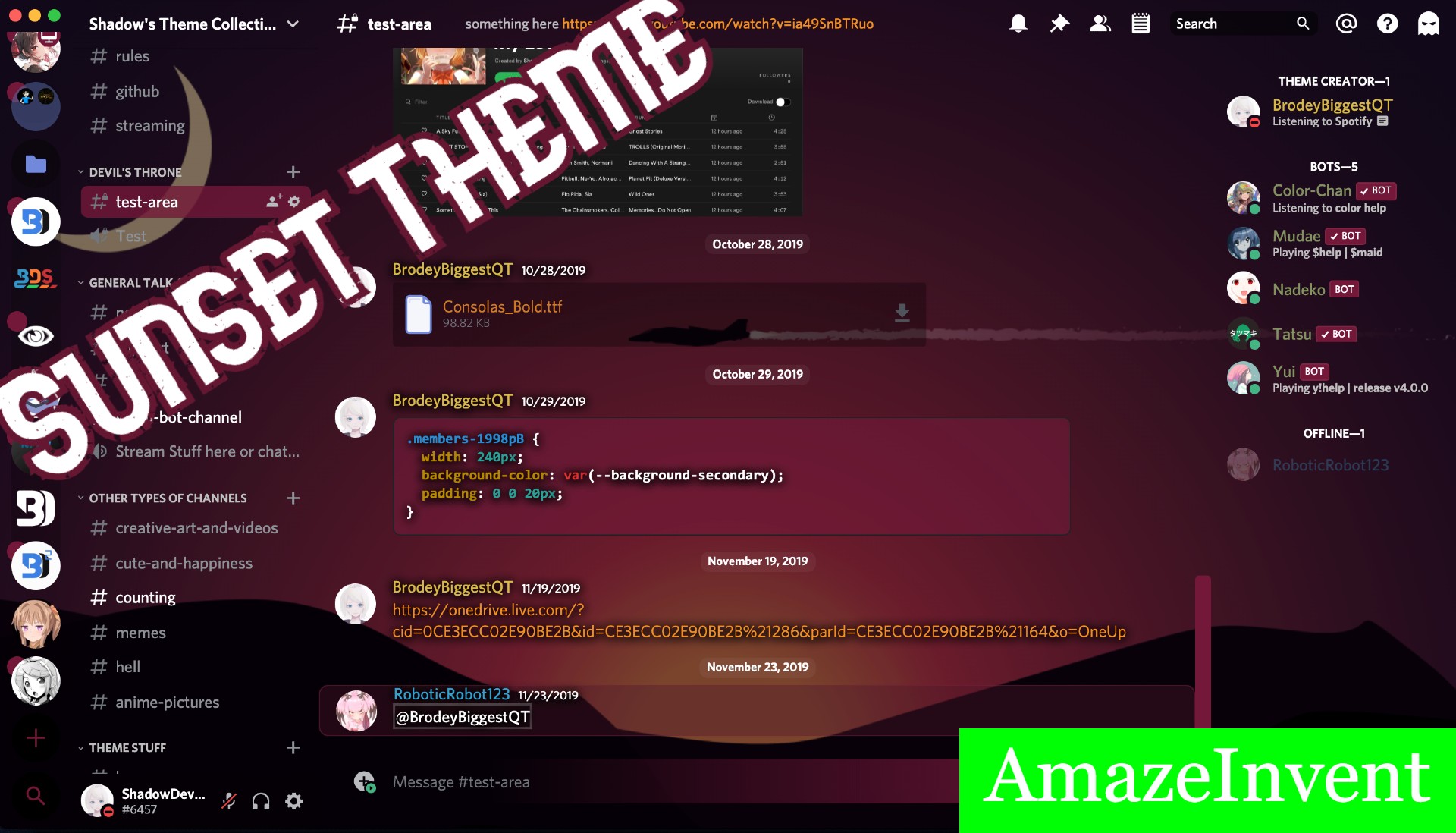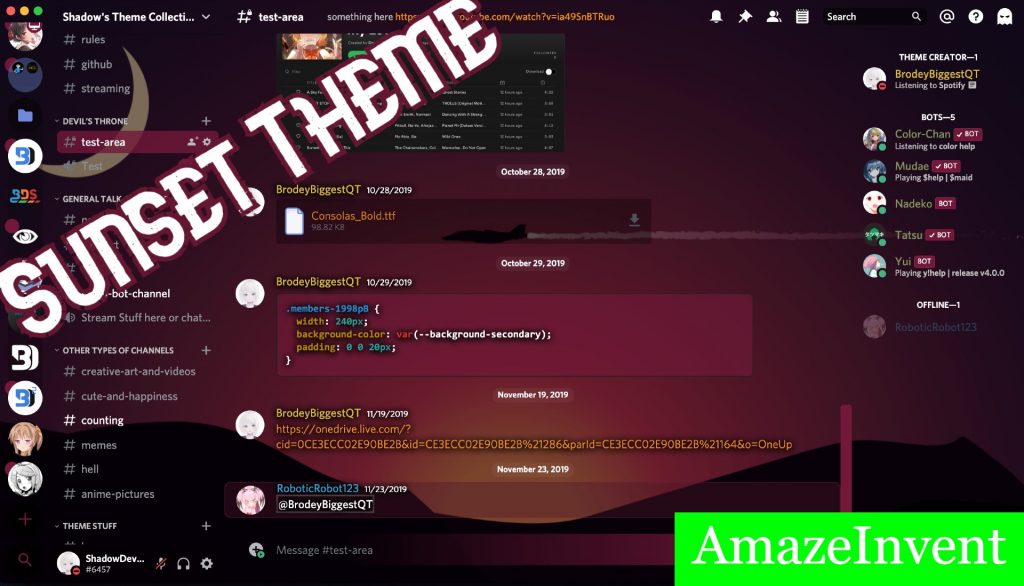 The Sunset Theme is developed by DevilsLynAvenged, and it is a very appealing theme. When you apply this theme on Discord, then you will get to see a sunset in the background, and it has a pink accent.
The shadows used in the Sunset theme, makes the text look more prominent. The shadows look bold and make the theme very eye-catchy.
The Wonderful and Green Forrest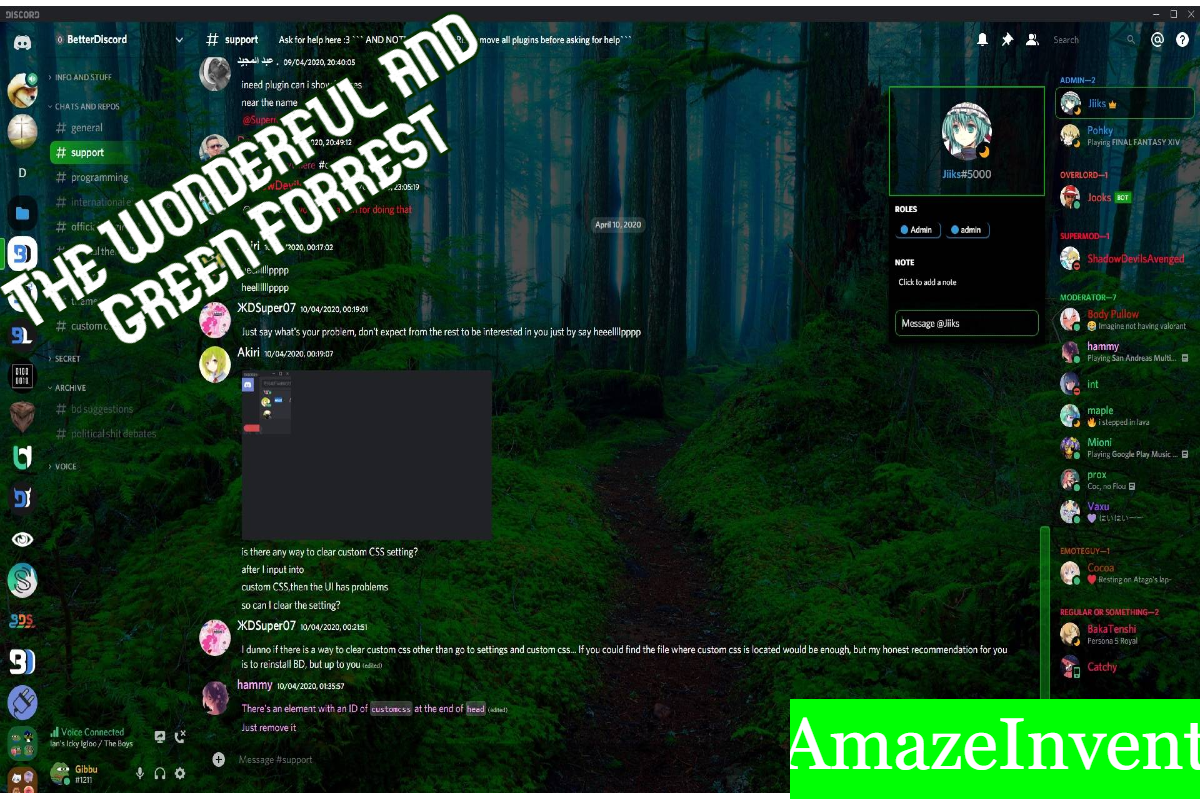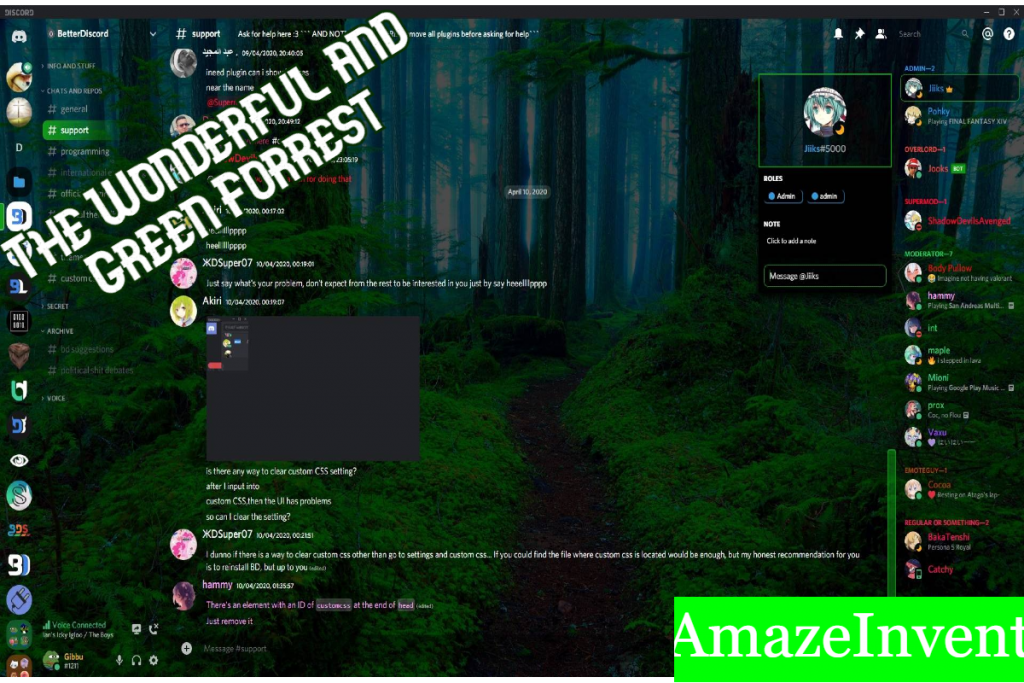 DevilsLynAvenged also develops this theme, and it is very green. When you set this theme in the background of Discord, then it will have a very relaxing impact on you.
Even though it is a picture of a forest, making the greenery and the trees prominent, the theme isn't overwhelming. You really get to admire the beauty that the theme holds, and many Discord users have downloaded this theme.
If you really want to admire the beauty that nature holds, then look no further than this theme.
Noctural Theme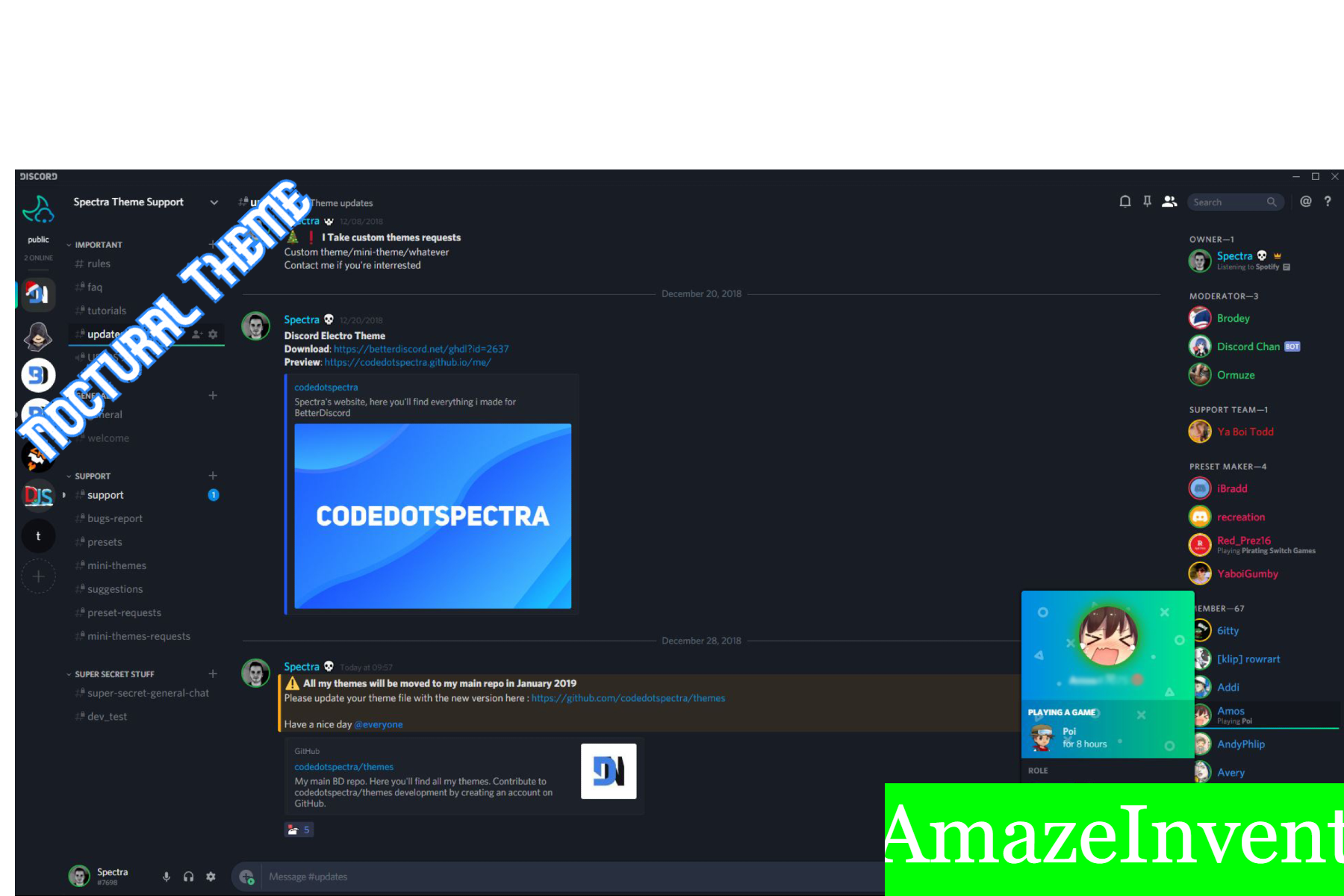 Nocturnal is a very strong name, and immediately grabs the attention of the user. This theme is similar to what users have seen on Discord's dark theme.
However, while Discord's dark theme is matte black, the nocturnal theme is dark purple. It doesn't give you an overwhelming feeling of despair and doesn't have a gloomy impact either.
If you put up this theme on Discord, then know that a few things are going to be resized, but the feel would be the same as Discord. It only changes the overall look by a few degrees.
The Elysia Theme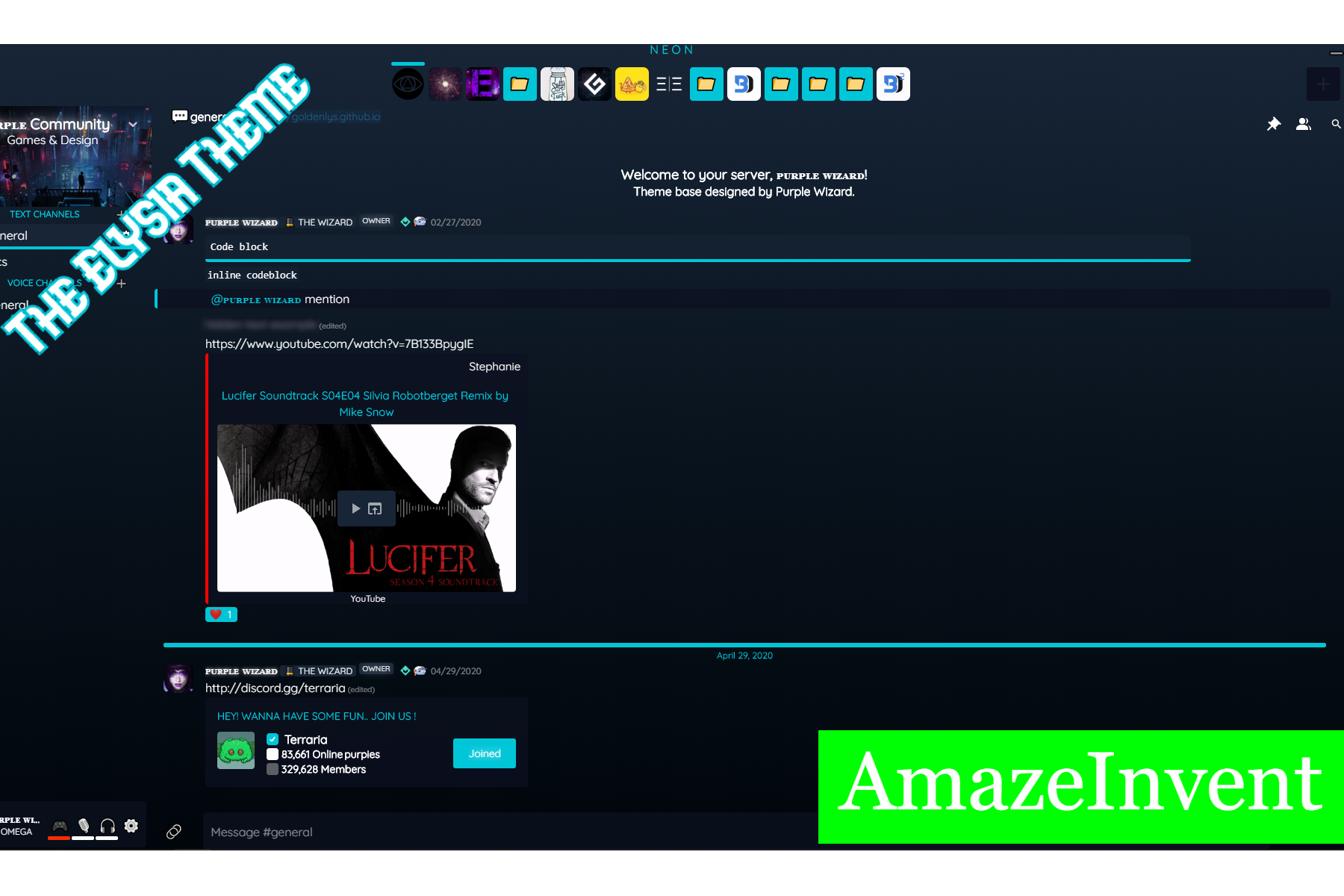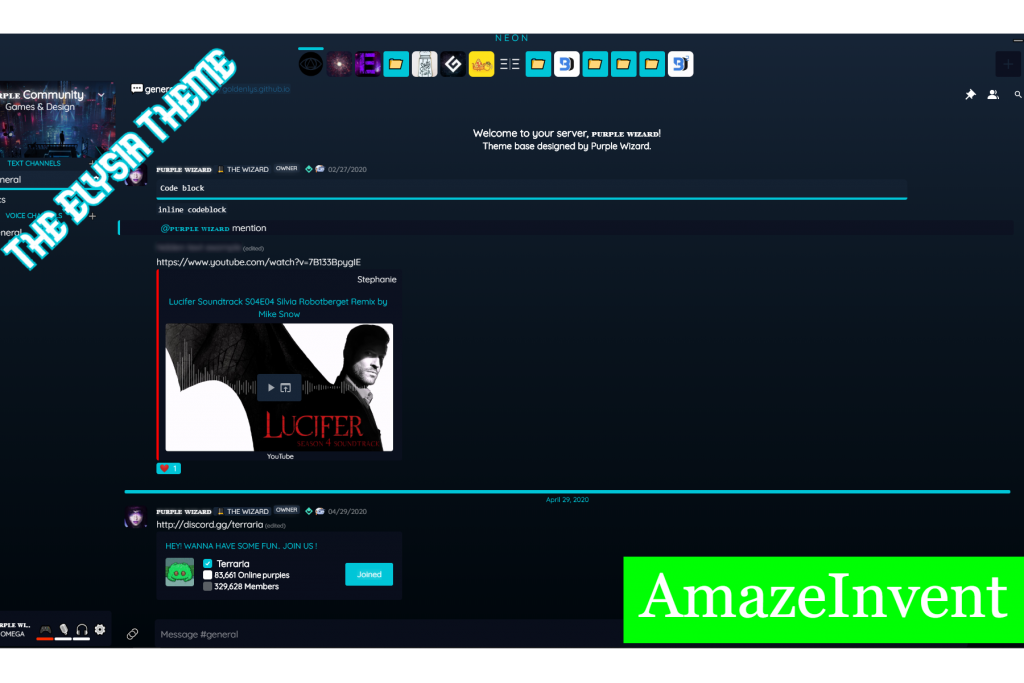 This BetterDiscord theme is one of the best that users can get access to. It is developed by Purple Wizard and has more than 20,000 downloads on BetterDiscord.
It has a really cool galaxy and stars look, and you can even customize this theme as per what you want.
You can put text on it, using text editor, and get the presets from the Elysia Discord Server.
Midnight UI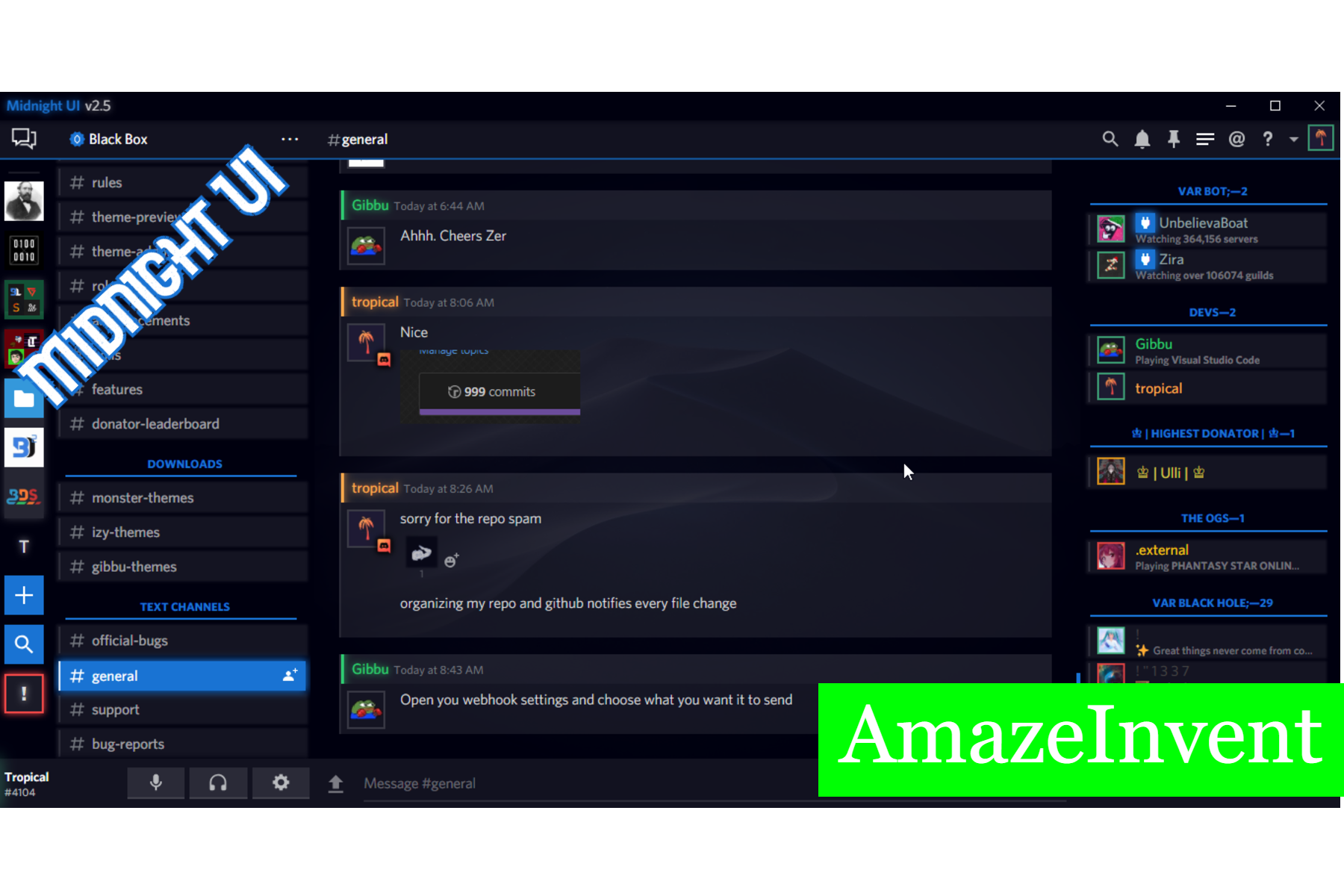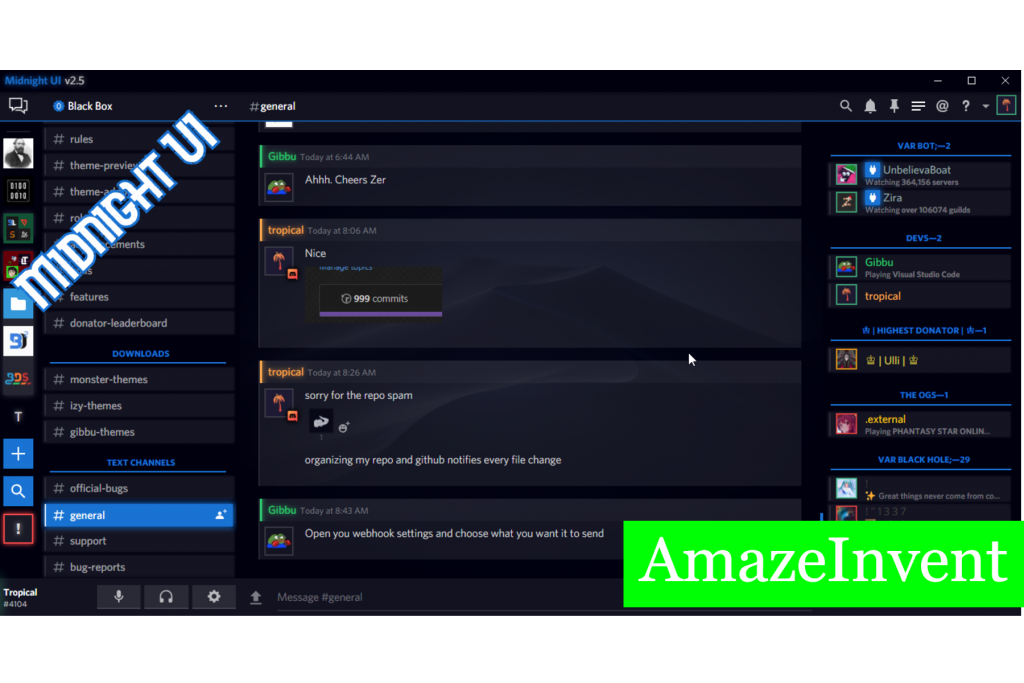 Midnight UI might look like an ordinary Discord theme, but it has a very polished and unique look.
It doesn't look or feel anything like a traditional Discord theme. This is a simple theme and can be customized as well.
It is popular among users, as there have been more than 20,000 downloads of this theme.
While the theme has a dark look, there is a dune visible in the background of the theme, which has a very dark night feel to it.
This theme is a must for those who love black color and would want their Discord theme to have a similar feeling.
Reborn Theme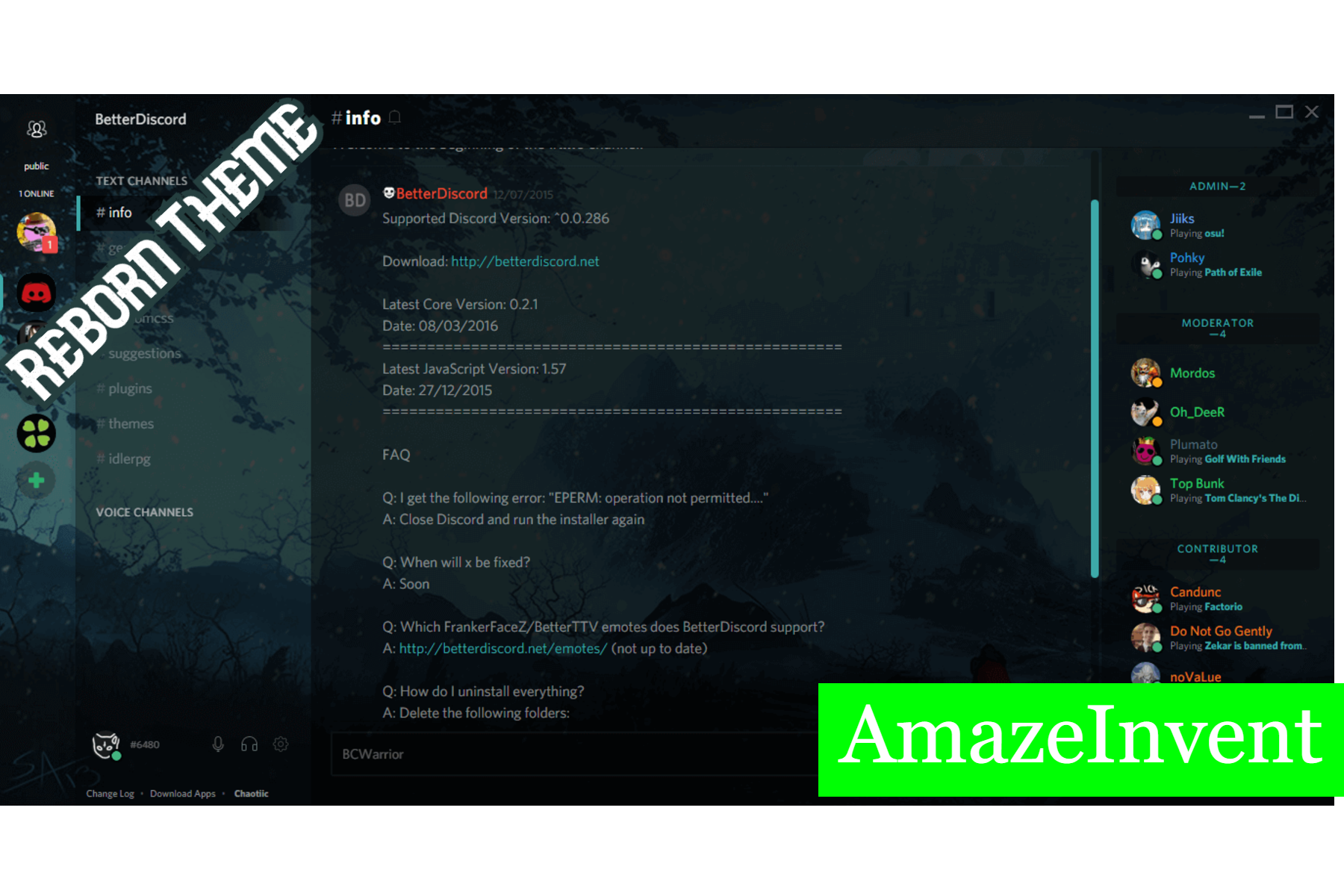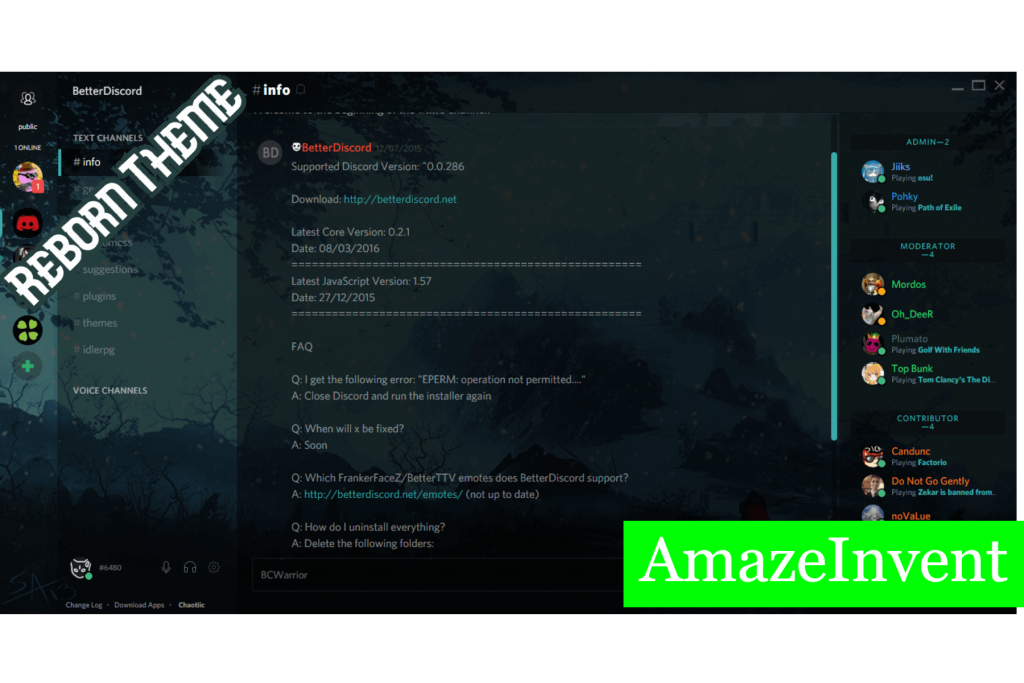 When you look at this theme, then you will realize why the name of the theme is 'Reborn'. This theme is made by MonsterDev, and it has a very striking look.
You can see clouds emerging in the sky, while dark trees set the look of the theme.
This theme can be easily customized and is similar to the ClearVision theme.
The user can apply both these themes, and then figure out the best one.
This theme is popular on BetterDiscord, and it has more than 24,000 downloads.
ClearVision Theme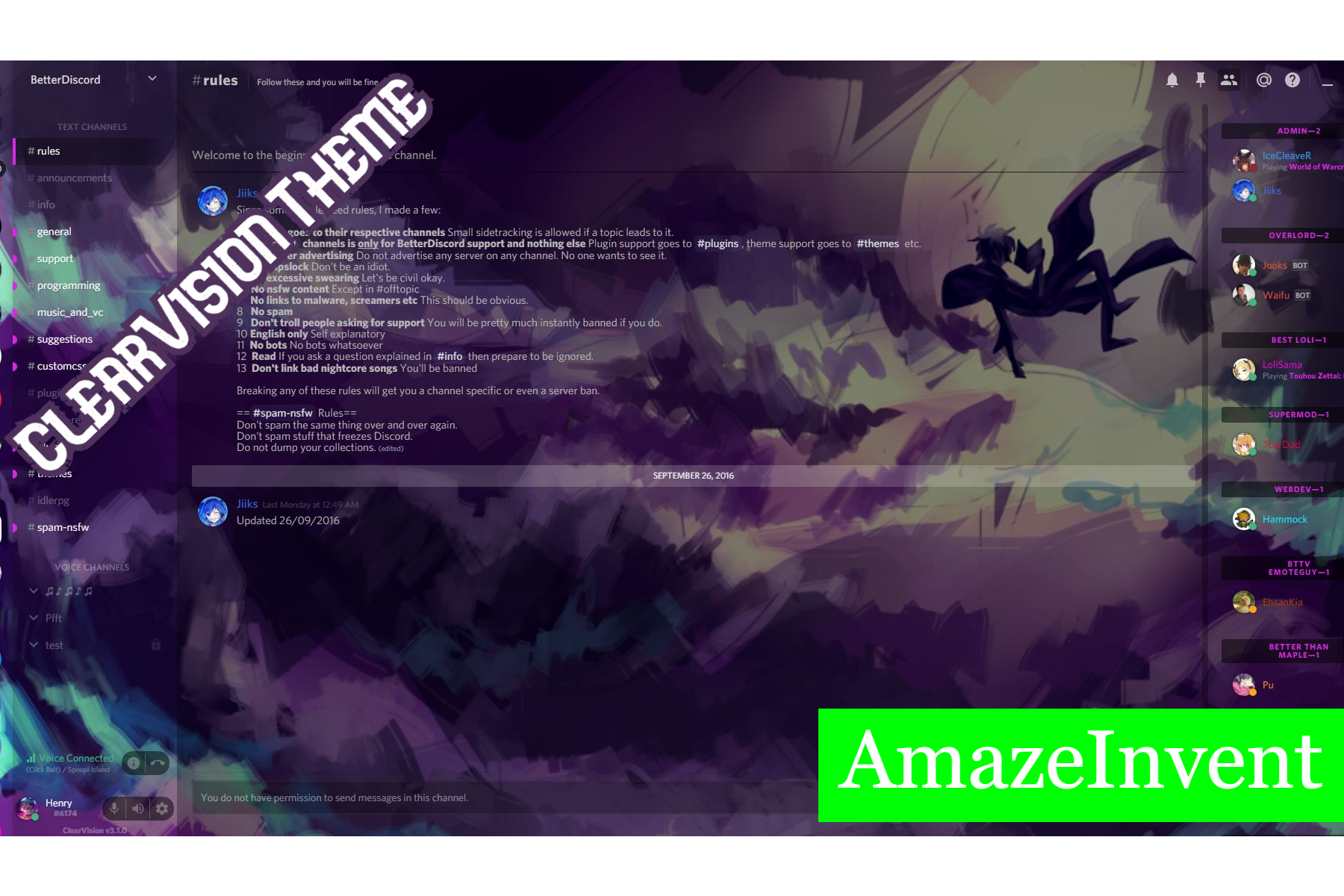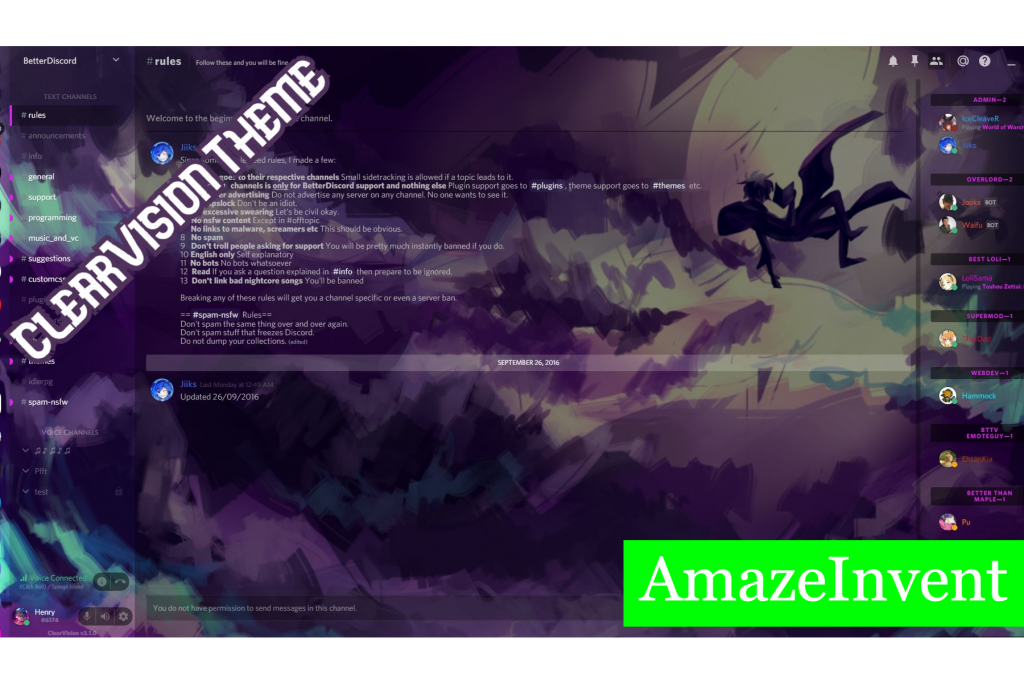 In terms of aesthetics, ClearVision is similar to the Reborn Theme. In this, the user will see a halo on the top, while an animal grazing the field.
It has a very dark and mysterious look to it, and the halo is very prominent.
The blue accents in the theme make it look really appealing to the user, and it has a futuristic feel to it as well.
You can easily customize this theme, like changing the color accents or adjust the blur percentage more.
The font of the theme can be changed as well, along with the background image.
As this theme can be easily customized, it is one of the most popular ones available on BetterDiscord.
Great Mountain Site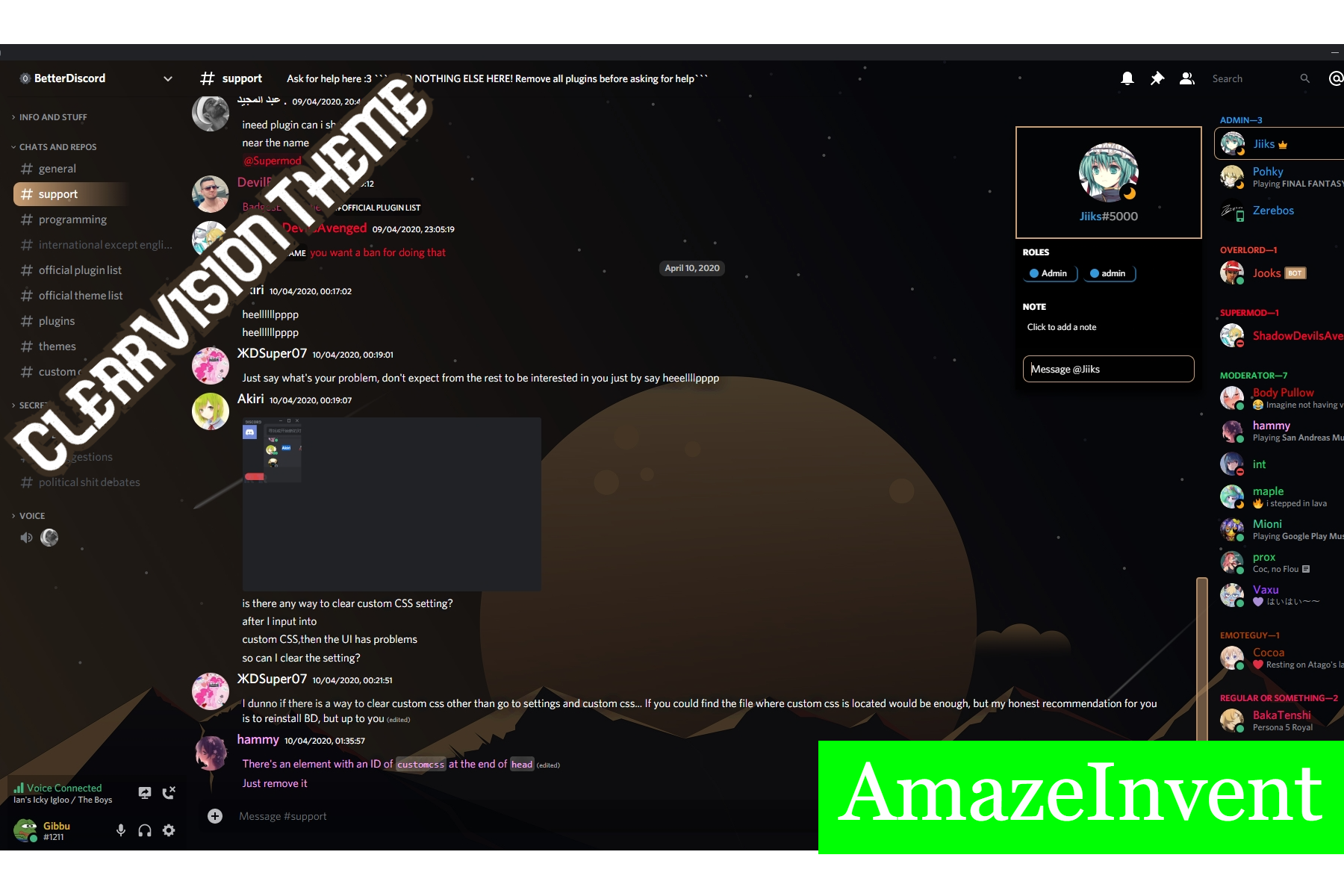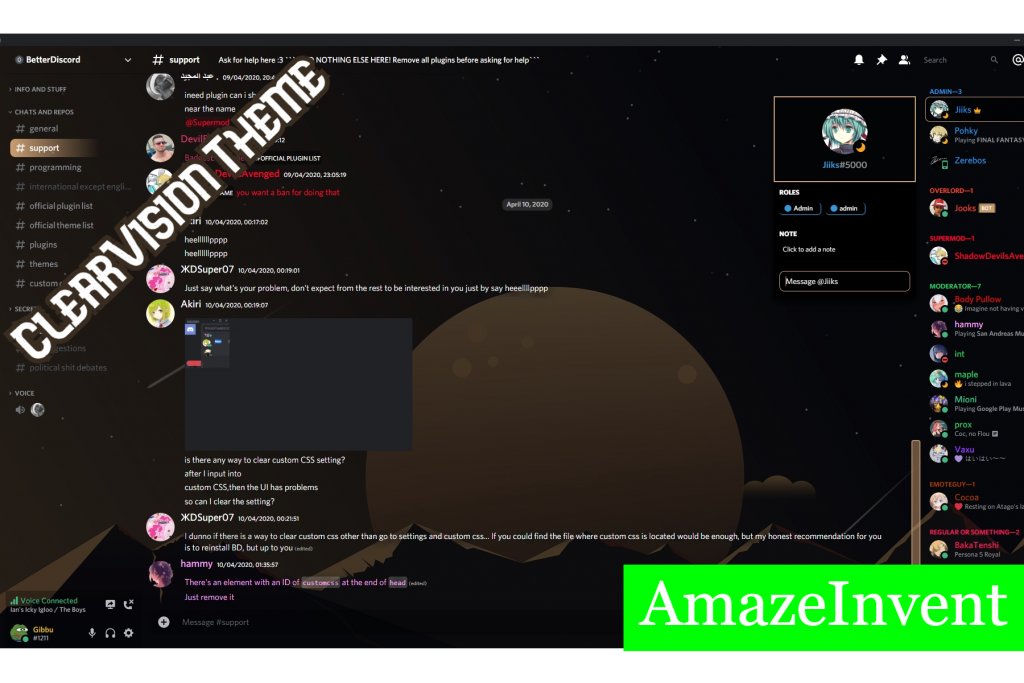 When you were young, perhaps the picture that you drew frequently consisted of mountains, clouds, and the rising moon.
This theme is going to remind you of that time; it has a very appealing look.
DevilsLynAvenged develops the theme, and it is prevalent on BetterDiscord.
Further, the opacity of the rising moon, and the colors of the theme, all seem very unique and polished.
The mountain site shown in the theme adds to its beauty, but the most beautiful thing about the theme is how well the moon is presented.
Server Columns Theme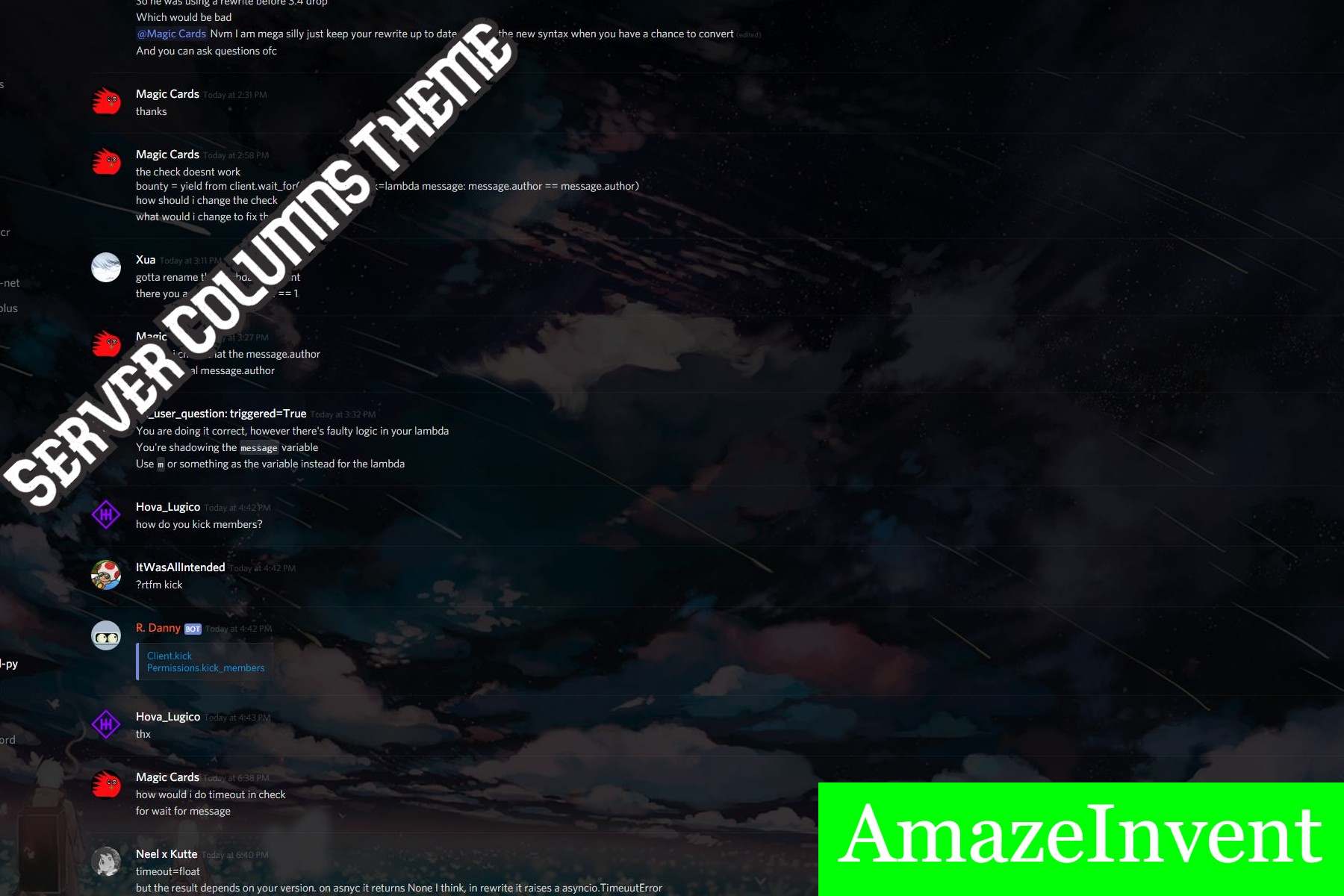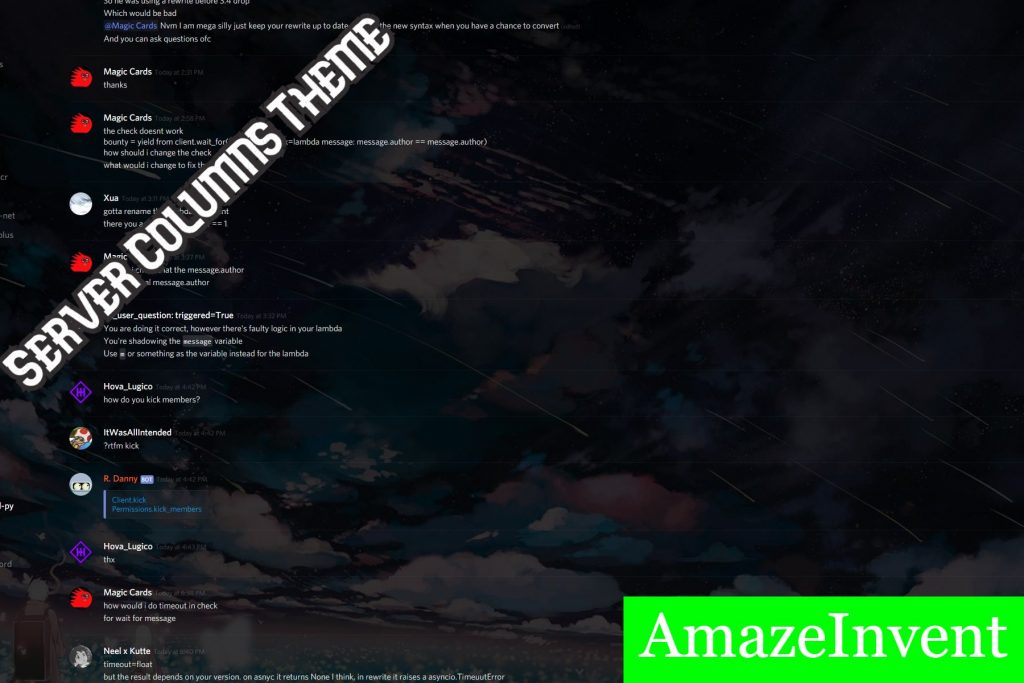 This is a very simple, yet elegant theme that you will find on BetterDiscord. It is made by DevilBro, and it doesn't change the appearance of Discord much.
The server list that you are used to seeing on Discord, will remain the same.
The server list will change to a grid-like container so that you can see the servers in columns.
There is a .css file that you can find, and change the number of columns displayed.
In Discord, there is only one column available. However, if you are part of more than one Discord server, then you can easily scroll through one column to find the server you are looking for.
This server column is not popular, but it is a very useful theme in terms of functionality.
Frosted Glass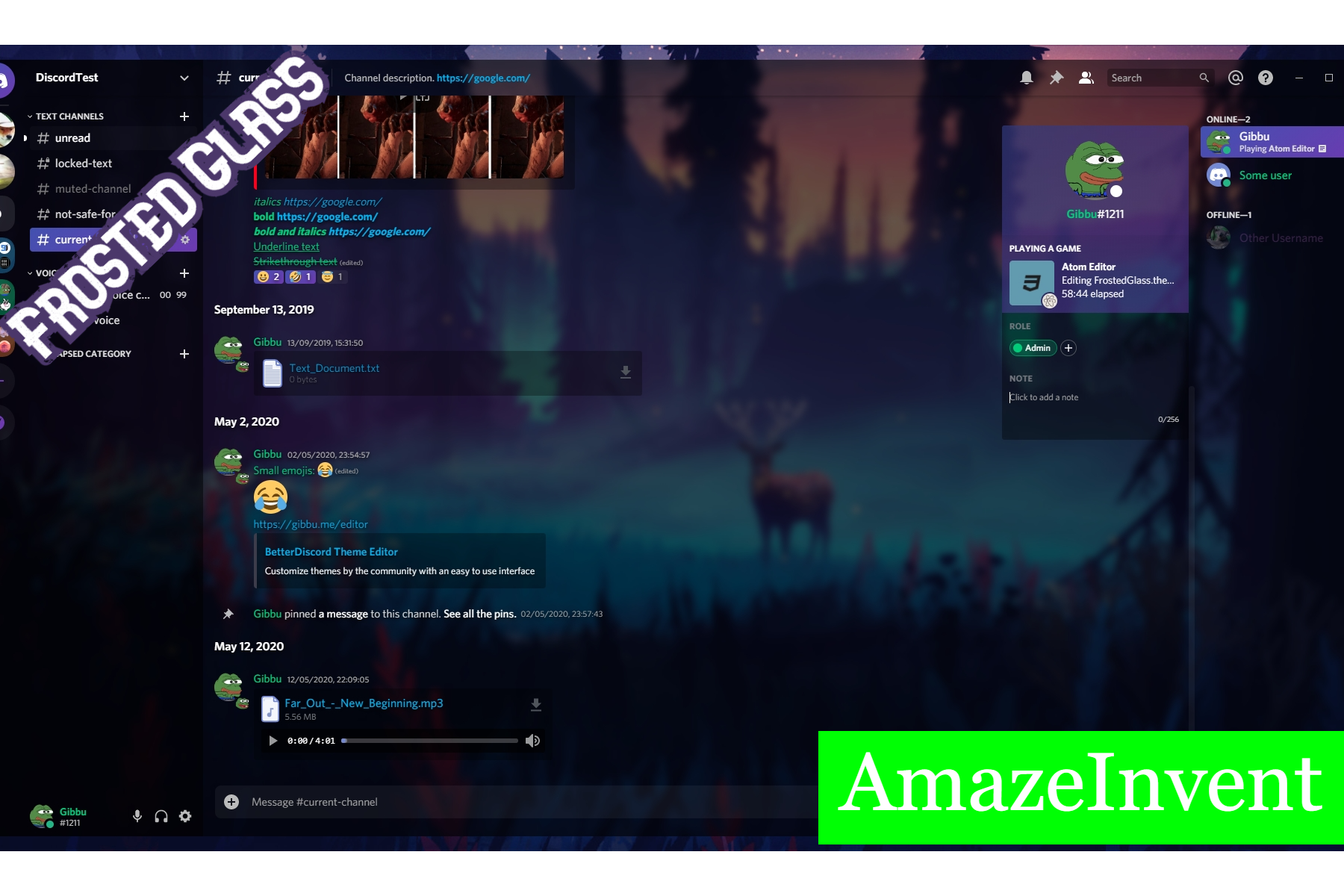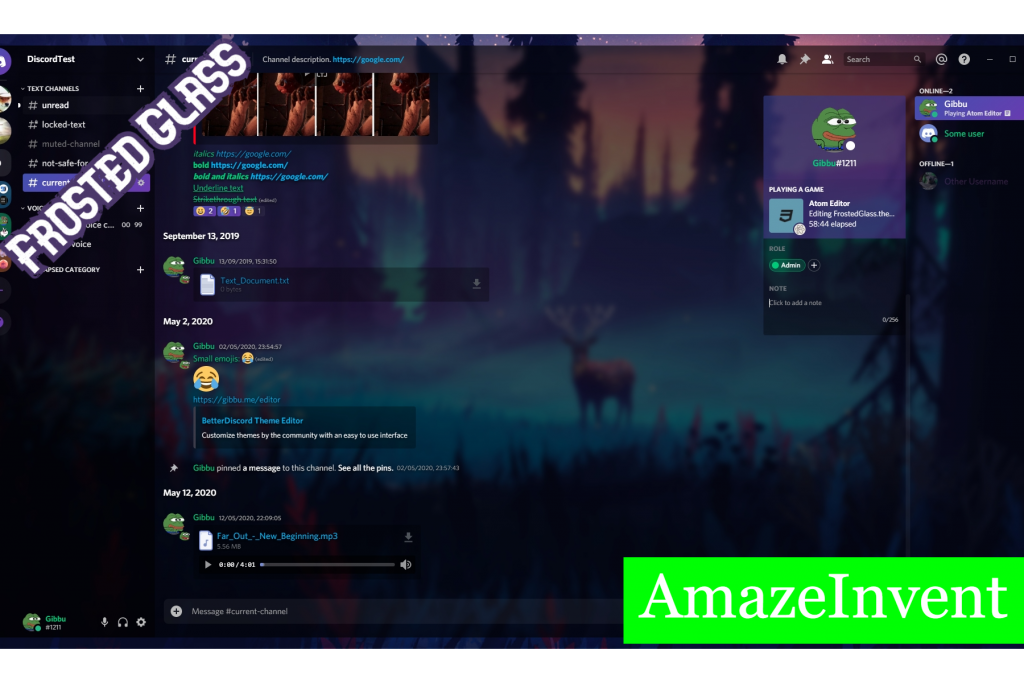 This is a very beautiful and appealing theme. It is developed by Gibbs, and when you set this theme on Discord, it will change its whole look.
You will feel like you are looking at a picture through frosted glass.
There is a reindeer in the middle of the picture, and beautiful scenery at the back with trees and hills.
The user interface of Discord shrinks down a little when you apply this theme, but it still looks very pleasing to the eye. There are about 78 thousand downloads of this theme, and that is mainly because of its appealing looks.
Link: here
Black Hole Theme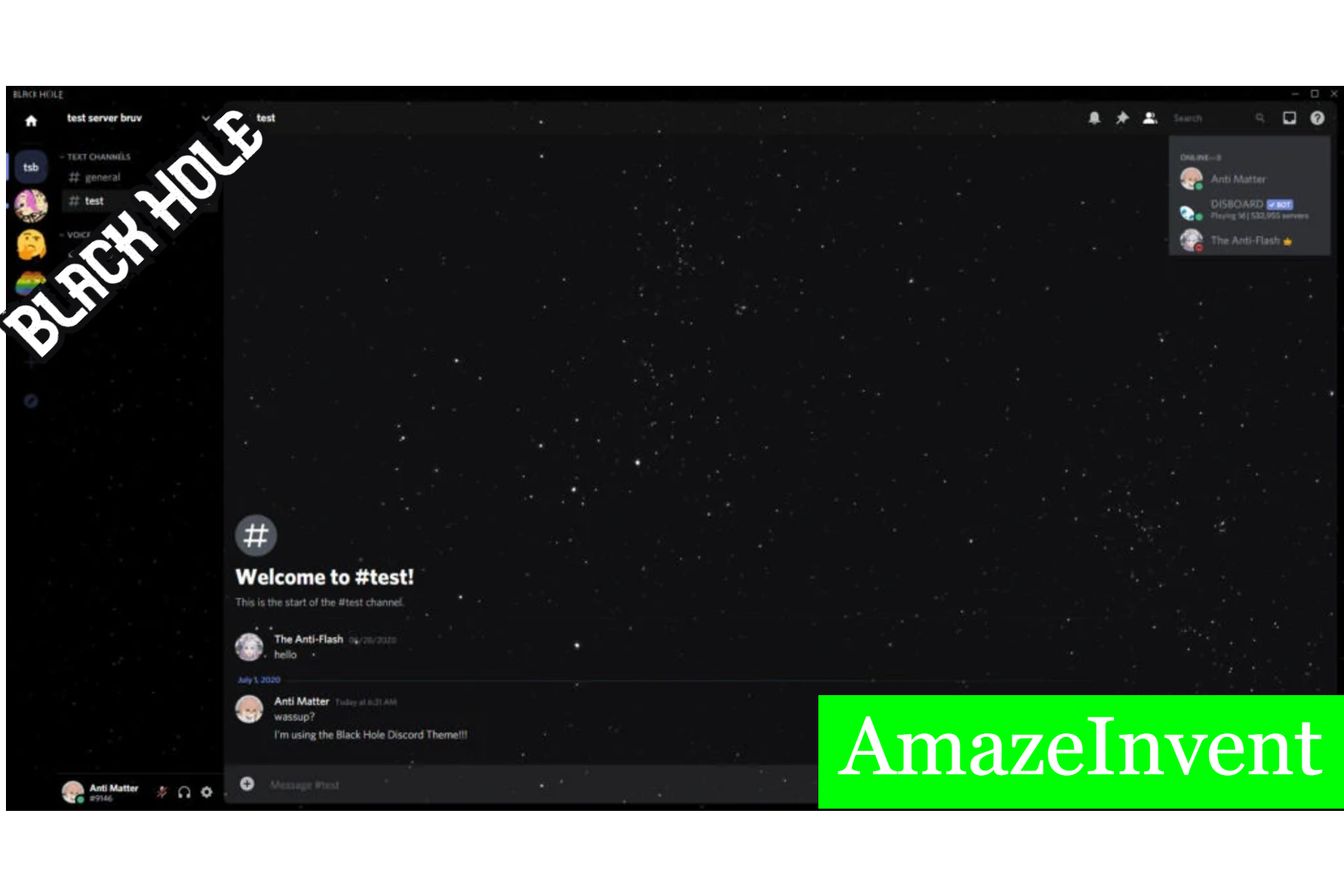 While there is nothing different about this theme, except the stars against a black background, it is still very appealing. The aesthetics of this theme are really good, and it will make you feel like you are looking into space.
The background is dark black, making this theme very popular.
It has about 35 thousand downloads, which shows its popularity on BetterDiscord.
Basic Background Theme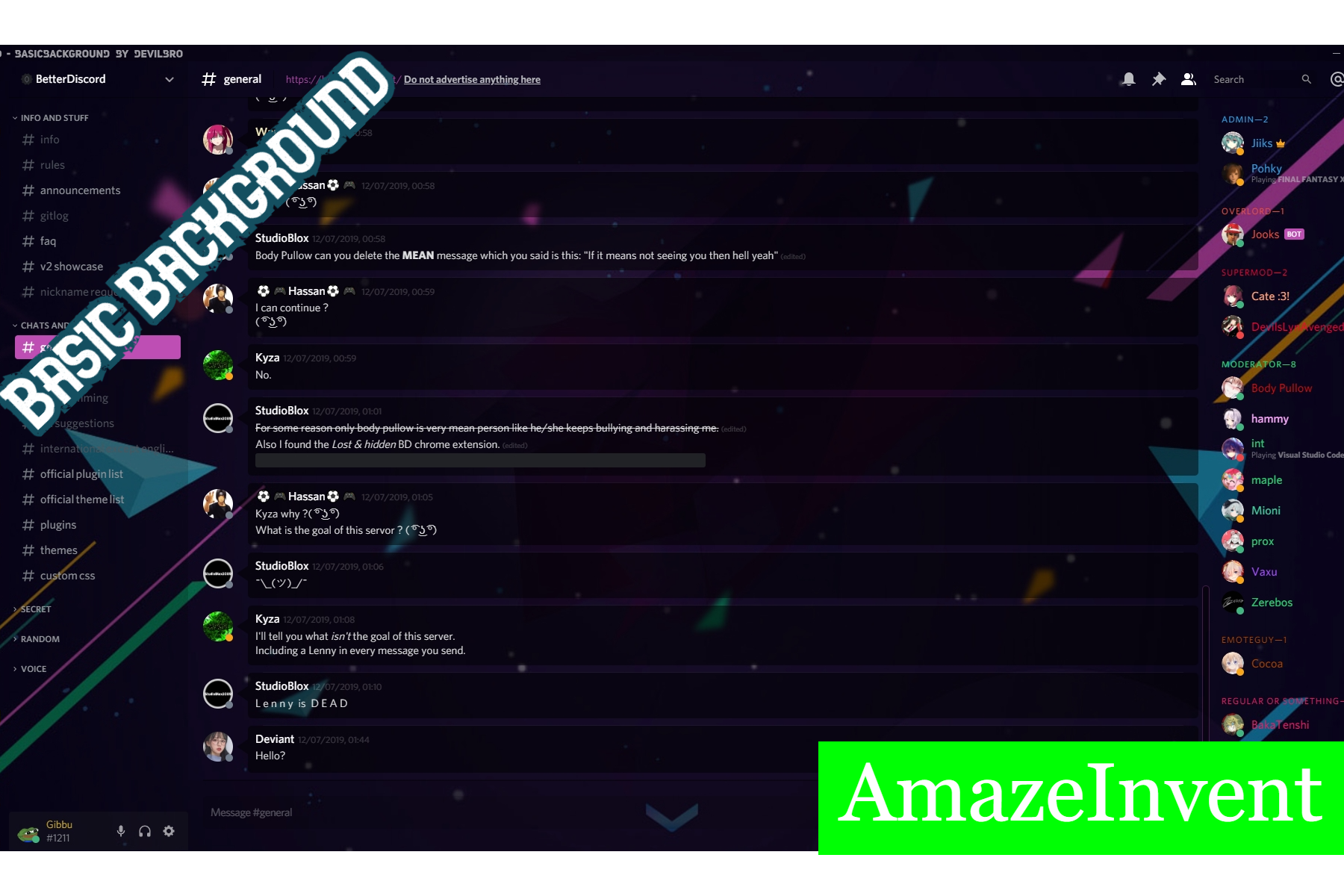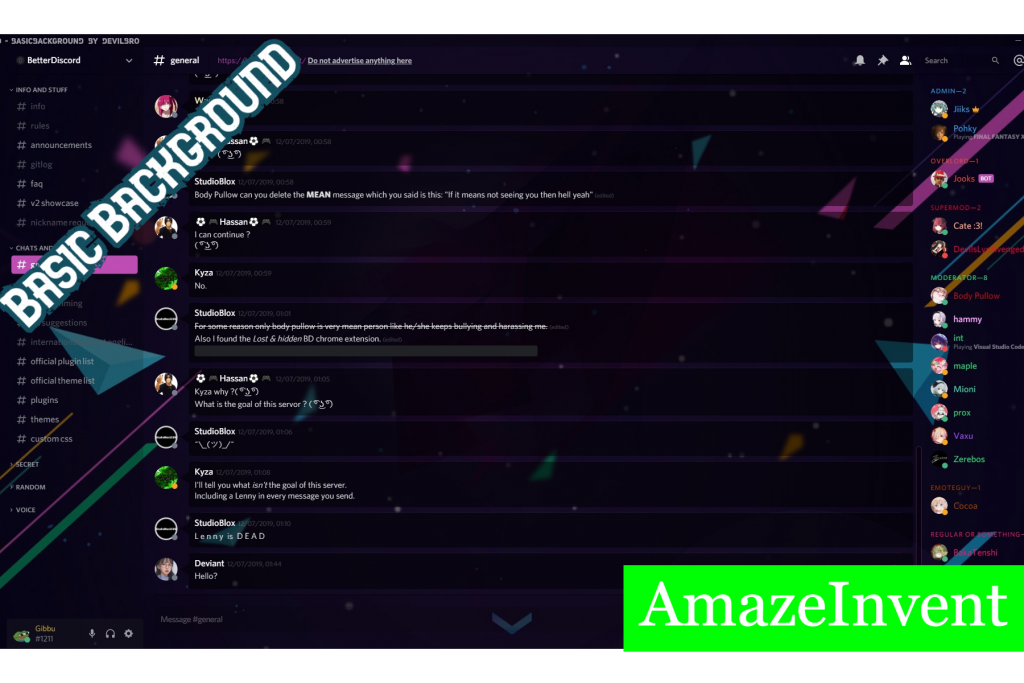 This is a basic theme, as the name suggests, which allows you to set any background on Discord. You can change the opacity of the basic background theme, set the accent colors, and customize it as per your own requirement.
Conclusion
The theme changes the look of Discord and has about 78 thousand downloads. However, it doesn't change the theme of Discord to a great extent.
Read more: How To Install BetterDiscord Theme?