Caring for health is an essential part of your life, as it concerns your physical and mental health or vice Versa. When you are not fit mentally, then you might be physically unhealthy.
Proper exercise, diets, and medication may improve your mental and physical health. However, there are many options to maintain your health, here in this article we present the top ten best applications to maintain your daily workout.
10 Best Home Workout Android Apps – iPhone Apps 2023
My Fitness Pal (Overall health plan)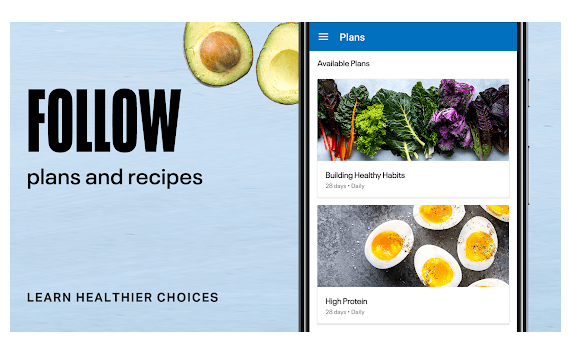 My Fitness Pal is the topmost fitness application on the list, as it has seemingly endless capabilities and has received nods from the top publishers.
This fitness app records your exercise stats and caloric intake every day with unparalleled customization. Resulting in a change in your habits to achieve personal health goals. It also offers to sync your daily workouts with all of the devices.
It integrates with 50+ apps and has a large library of more than 350 strength and cardio sessions.
Additionally, My Fitness Pal has a vast food database with more than six million foods of low calorie with restaurant logger It has one half million positive reviews in the iTunes Store.
Daily Workouts Fitness Trainer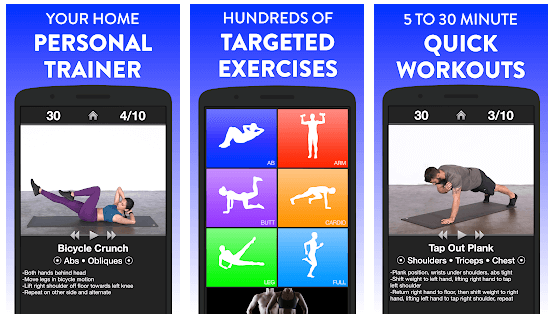 It is the best app for everyone who wants to plan a daily workout routine on a budget. Daily Workouts Fitness Trainer is a free app for everyone.
It also provides health sessions from 5 to 30 minutes for both genders. It offers all the home-based activities, so you don't have to go to the gym. Therefore, it's one of the best choices for all the people who cannot afford a gym membership, are uncomfortable in the gym.
Read more: Best Android Dialer Apps
In this app, many certified personal trainers guide you in crafting your workouts with 95+ the best moves to get the body in gear and through easy-to-follow video instructions.
Fooducate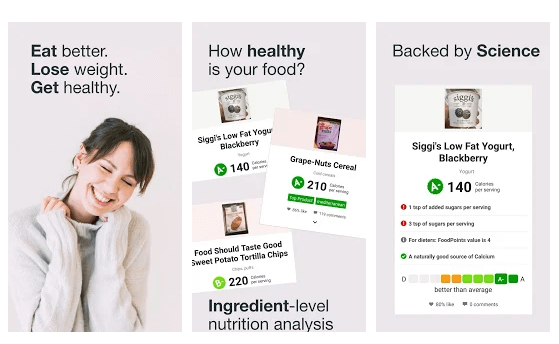 Fooducate is the best app for nutrition monitoring and looks at your eating schedule. It's an old but good application. It is a complete nutrition breakdown and launched in 2010.
This app provides a barcode scanner when you go to the market for grocery shopping and scan each item, then this app gives you a letter grade to determine, whether it belongs in your diet chart or not
This app ensures that what is the exact quantity of vital protein, minerals, carbohydrates, fats, etc., in your food and drinks that you're consuming. Fooducate will tell you if you're missing even the optimal percent of all the essential nutrition so that you can boost your intake.
It also determines Want should you focus on, either a low-carb or low-fat diet? It provides pie charts that show the good to bad carbs ratio, as well as micronutrient ratios in your daily routine.
It's an application that shows a complete picture of your health routine with an easy-to-use interface. This app also shares a section that contains all the healthy recipes, as well as community support for good dinner ideas.
Zones for Training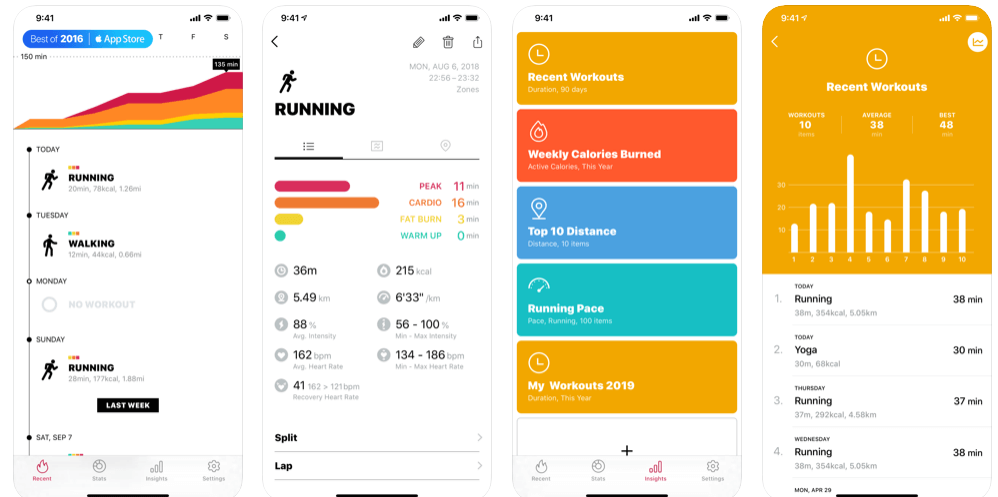 This app is designed to stay you in the heart rate zone. Apple Watch keeps an eye on your pulse zones and carefully monitors your heart rate at both the active and resting conditions.
It measures all the parameters to determine your burning fat phase, and peak activity level. Therefore, it helps you to stay in the fat-burning phase yourself.

Perfect health care for all Apple Watch users. It offers a built-in first-rate heart rate monitor. This application is best to know more nitty-gritty details and to enjoy some bonus heart-monitoring features.
Read more: Free Instagram Video Maker 
YogaGlo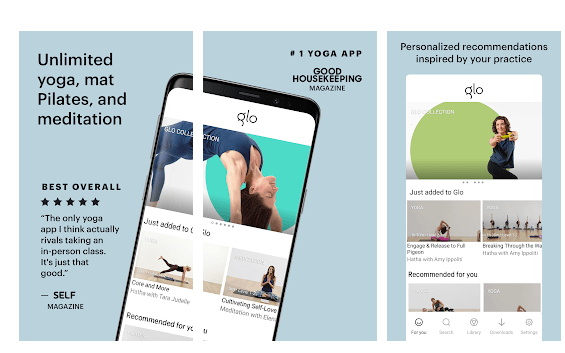 YogaGlo is a great app for an inexperienced newcomer who is trying to find out the tree pose, or for advanced students who are ready to serve for humanity. This app conducts daily online classes to fulfill your basic needs.
It includes training for proper sleeping, general strength, or stress reduction. There are several experts and knowledgeable Yoga instructors, and you can choose your favorite one to be up-to-date on the latest classes.
YogaGlo offers highly customizable sessions for your daily health instruction. Moreover, you can download the classes of any instructor for offline use, such as while traveling, or any place where you don't have internet service.
You can also enjoy a good app's superior customer service. YogaGlo integrated with the Apple Watch, so you can also enjoy using your fitness data while a Yoga session. It supports all the Mac devices for your online classes.
Sworkit
A fan-favorite app on Google Play or iTunes, here is Sworkit. It is best known for its vast and flexible offers, so you can select your goal from cardio, strength, yoga, or stretching categories.
You may pick up your monthly goals from online classes, different skill levels, or your favorite trainers.
Sworkit trains you gradually by increasing the diverse workload, through a vast variety of classes. It is a perfect choice for those peoples who want to do several types of exercises at home without a gym membership and exercising equipment.
Read more: Best Flight Simulators for PC And Mac
You'll have soon a perfect body shape. You can message the app's trainers in private chat for questions or concerns.
JEFIT Workout Planner Gym Log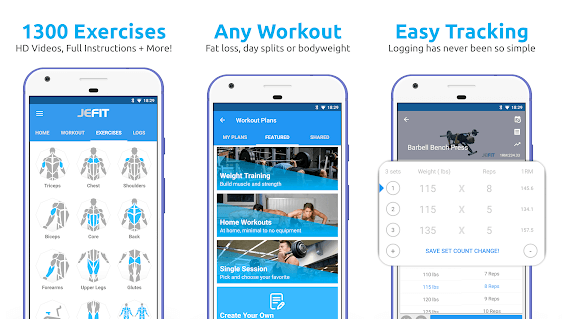 JEFIT Workout Planner Gym Log is best for people who are interested in weightlifting. It is mobile support, as well as a web-based app. It also supports Google Play Editor's Choice pick that's ideal for health, fitness, and body figure.
This one also allows you to create custom weight-training sessions along with your friends. So you can learn and progress with scientifically-backed principles. It also offers peer support for your motivation.
This one can use anywhere and anytime, you can use it while exercising in the gym for step by step recording of your exercise. There is an especial feature of breaks for you while weight training so that you can pause during the session.
Additionally, it offers a fun feature to analyze the essential elements of your daily workout that you may break down during the training.
Therefore, the data automatically transfers to the JEFIT server for the analysis of your workouts. In the last, JEFIT's one of the perfect apps for weightlifters and the peoples who like to go to the gym.
Headspace
Fresh mental health is essential to achieve all the goals of your life. You can maintain your optimal physical health by taking care of your mental health. Headspace is one of the great apps for everyone who wants to integrate stress-reduction in your fitness and health plan.
This app helps you to refresh your mind and focus on your workouts. In short, Headspace serves as a gold standard for meditation.
Along with the general health care sessions, the program also offers a comprehensive "Basics" package, so that you can learn how to meditate yourself. This app more focuses on breathing. There is more than one level of learning.
So when you complete the Basics, you can pursue to the other levels, like managing your depression, chronic pain, anxiety, and learn even how to cool down after these situations.
Read more: Download Google Meet for PC and Mac?
Headspace also offers researches on their product to validate that the app adds some effective, and positive things in their users' lives.
PEAR Personal Fitness Coach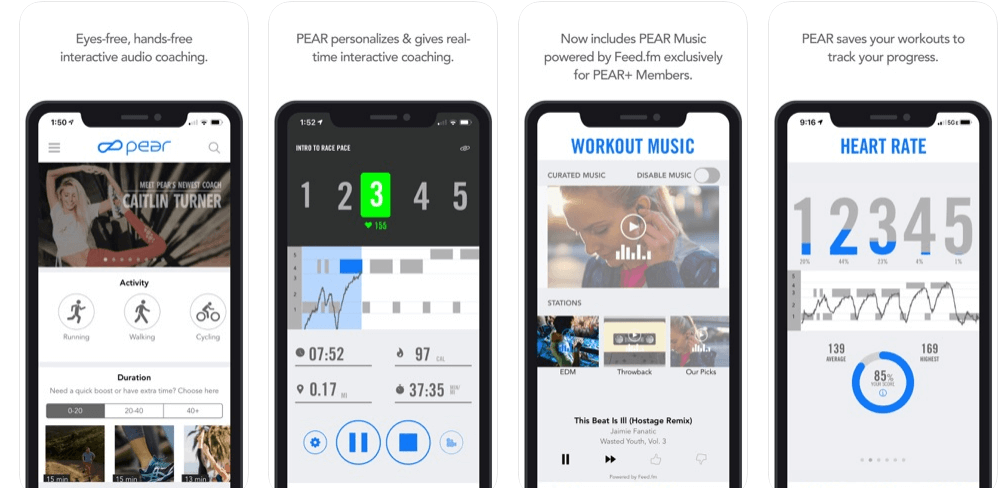 PEAR's Personal Fitness Coach is a pocket trainer. It integrates with several other health care apps, including My Fitness Coach.
Moreover, it is not only the calorie counter and activity tracker, but also collects all the daily health care data from your smartphone or smartwatch, and based on this information, it makes a personalized workout.
And when your data changes, PEAR's Personal Fitness Coach pays attention to these changes and adjusts your new workouts to increase your work efficiency.
Read more: Best Barcode Scanner Apps for Android And iPhone
You won't just be:
PEAR has several expert trainers from around the world who include Olympians, professional athletes, and record holders.
Best of all, this app integrates with a lot of wireless headphones to provide the service of automated voice listening. In short, it offers full freedom of movement while learning through this app.
The 7 Minute Workout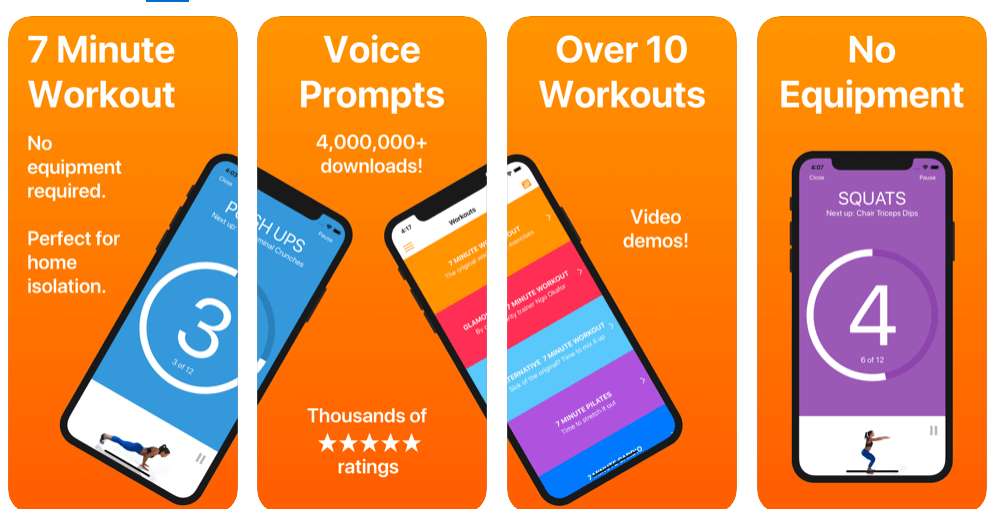 The 7 Minute Workout is the best option for someone who has their busy schedules and who cannot go to the gym time, who is frequent travelers, or for a beginner who just starts to set some smaller goals. This app has a very simple and easy-to-understand interface.
Additionally, it offers three types of workout sessions on its home screen, including a basic workout, a seven-minute high-intensity workout, and seven minutes focused on your ABS session.
A pre-workout demonstration session proves to be very helpful to learn the workouts within a manageable time limit.