Whether you're a lifelong fan of Turkish dramas or looking to dive into this exciting new genre, there are countless series to choose from.
Let's begin!
Stream Turkish Series with English Subs: 7 Top Sites
The main objective of this article is to list down the websites that provide English subtitles for Turkish shows so that people won't face the problem of finding them.
Turkish 123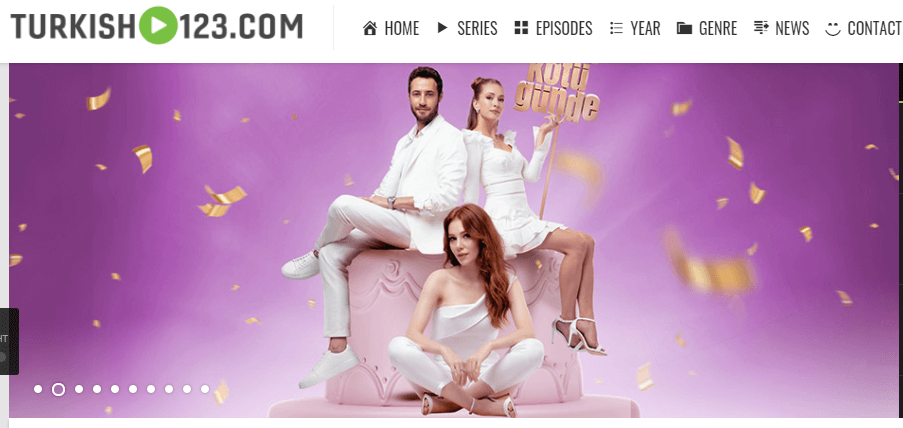 Visit Website
This website is not just a place for people to watch their favorite Turkish shows with English subtitles, but also a show for them to read news about the latest happenings.
For example, if a fan wants to know how Kivanc Tatititug spent his summer holidays, then this is the website for you.
The website is very finely organized, as you will be able to see the current series on the homepage of the website; there are subcategories like series, episodes, year, genre, and much more.
If you remember the year when a TV show was released, then you can go to the year. If you want to search by genre, then go to the genre section of the website, the user interface of the website is fairly simple, with each thing properly labeled.
In fact, the website is also available in night mode, which most websites aren't. There is a contact page, where you can talk to the admin of the page, and request a show if it is not already on the website.
So, whether you want to watch Baraj or Ramo, this is the best website to visit.
WT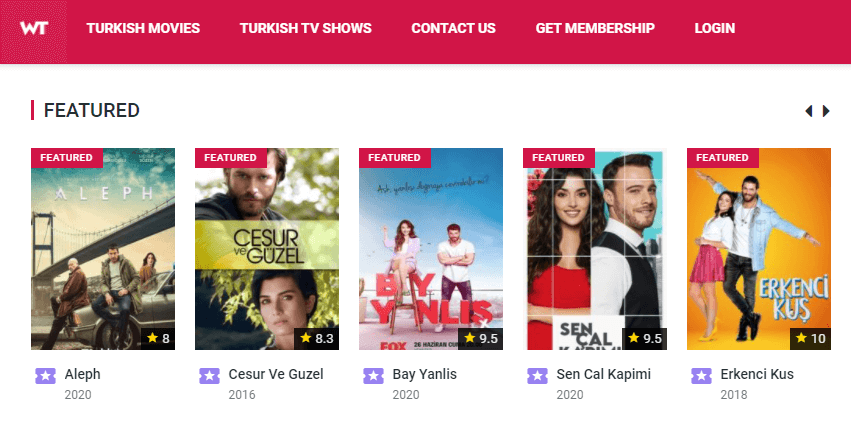 Visit Website
WatchTurks or WT is another website, where people can watch their favorite Turkish shows with subtitles. However, this website is different from the other, because there are Turkish movies added as well.
Most people wanted to watch Miracle in Cell No. 7, which is an amazing story of a father, who is separated from his daughter. The main role is played by Aras Bulut Iynemli, and this movie made quite some noise at the Turkish box office.
There are the latest episodes of new Turkish shows, as well as a good record of the old shows as well. However, the downside of this website is that the user has to buy a subscription to access the content. This applies to the movies available on the website and the TV series as well.
The best part of the website is that there are no popping ads, or malware, which makes buying a subscription, worth it. The page has a safety certificate so that the user can pay without the fear of having their data stolen.
People also ask: Where can I watch Turkish series with english subtitles, Stream Chinese Drama with English Subs, How do I add captions to video for free? How to Turn Off Subtitles on Roku?, How to Turn Off Subtitles on Hulu?, How To Download YouTube Subtitles in SRT Format?, Sites to watch Chinese drama.
Kinemania
Kinemania is another place where users can watch Turkish TV series with English subtitles. They can look for old and new series on the website, and can even request the admin, to translate a series.
The downside of this website is that the user interface is not very comprehensive. Instead of genres and years, the two options that the user gets for browsing our archives and features.
However, there is a list of Turkish series with English subtitles on the right-hand side of the website.
Moreover, there is a search option, where the user can type in the series he is looking for, and press enter. If you want to watch Binbir or 'Sana Bir Sir Verecegim', then this website lets you access each and every series for free.
Turk Sub 24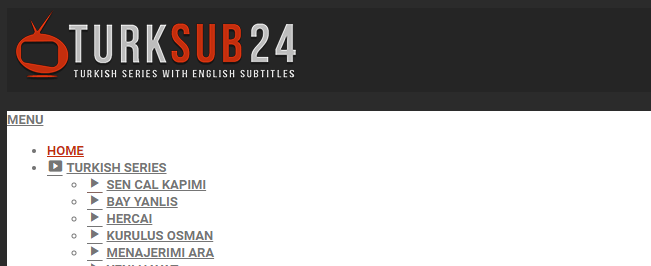 Even though this website is not secure, it has a good database of Turkish series with English subtitles.
There are Turkish movies available on this website, and that too, for free. You can watch the latest episodes of the Turkish series on this website, access movie trailers in the English language, and even the movie. All this content is available for the user, without any cost or subscription.
However, the main problem with this website is that it is not secure. As soon as you open the website, there will be popup ads, and the website might try to infect your device.
However, if you have a very good antivirus or even an ad blocker, then you are good to go. You no longer have to wait for months to watch your favorite series with English subtitles, because the website is uploaded regularly.
Natabanu
Natabanu is a popular website, because of the content that people get access to. Even though the website doesn't have a safety and security certificate, there aren't many popup ads on this one.
A user can find Turkish series and movies, with English subtitles. There is a forum too, where they can discuss the latest series, and even request translation.
The website has a very easy-to-use interface, and the links available on the website are of good quality.
Moreover, the website posts multiple links for one episode, so that the user can open one which suits them well. However, there are two problems with this website.
The first one is that the website is in the Turkish language, so it can be a little complex for non-Turkish speakers to find the series they are looking for.
The second problem with the website is that, even though there are multiple links available for websites, the user won't be able to download any episode for offline viewing, and can only stream on the website.
WLext

This is an international TV show website, where people can binge on their favorite telenovelas and movies. This website is not only for Turkish series fans, who want English subtitles, but users will find the Philippine and Thai shows as well.
There are links for users, where they can watch their favorite latest movies and television series episodes. However, the main problem with the website is that it takes time for subbers to translate the shows, so users should be patient.
Mexican soaps are loved by anyone, because of their uniqueness of dialogue delivery and storyline. Those who love such a series should definitely go to this website.
The users of the website can request a TV series or a movie, and the admins will check to see if they have the required content.
Turk Tv Series
This is a really good website for watching Turkish series with English subtitles and even Urdu.
This is a free and secure website, where the user can even read Turkish shows reviews. They can get the latest news about the Turkish series, and see the different categories available.
Whether you want to see horror, history, love story, romantic, detective, comedy, or horror, all these shows are available on this website.
This is one of the best websites that users can find on the internet because this website has the latest episodes, is well maintained, and is constantly updated for users. If you visit this website, the entertainment will be non-stop!
Conclusion
All these websites are really good, and if you don't find one show on one website, you can always search for that on another website. There are plenty of links on these websites, and if one doesn't work, the other one will.
Turkish shows are very interesting because apart from showing the beautiful country, the plot and the dialogues are very well written. People know Turkish stars all over the world now because their series have even reached Netflix and other streaming platforms.
Where can I watch Turkish dramas in Hindi?
I suggest Zee5, and MX player are the most popular sites and help you to watch Turkish dramas in Hindi as well.
Why Turkish series are so popular in India?
They are not allowing kissing scenes in the series most of the time. They show reality shows.
Are there any Turkish series like Kara Sevda?
I recommend you to watch Aşk Laftan Anlamaz once. It is good series. Now season 2 has been released.